Our focus lately has been on saving more money. One of the most effective ways to do that with pretty immediate results is through a grocery budget. So a couple weeks ago, we got more serious about bread-making. While I would love to make bread every morning, it just doesn't happen. My husband has actually been the one doing most of the bread-making, which I am so grateful for.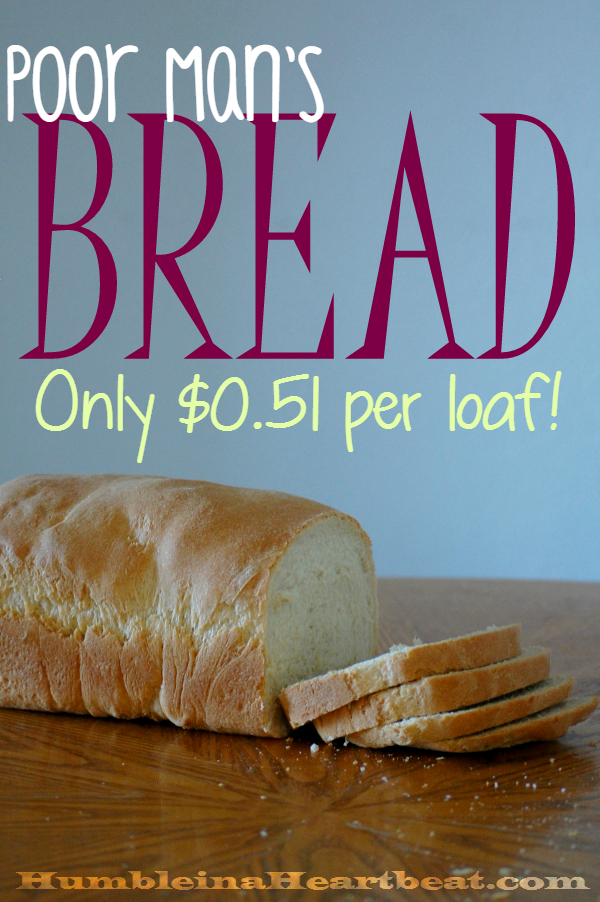 He has pretty much schooled me in bread. Not bread making, but bread eating. I'm so glad because, without it, we couldn't enjoy the last bit of sauce left on our plates. Without it, we would only have crackers to go with our mate (pronounced MA-tay) in the morning or at merienda (ok, so I don't drink mate, but my husband is pretty serious about it). Without it, we would be utterly lost (ok, a bit dramatic, I admit).
A couple of months ago, we tried a recipe from my Bread Bonanza board on Pinterest. We loved it, and it only requires 4 ingredients. The process is very simple, so hubby doesn't even have to refer to the recipe. While he loves my cooking and knows that I follow recipes, he doesn't enjoy following recipes himself.
This Poor Man's Bread is flavorful and simple, two things that we pretty much require from a great bread recipe. Plus, it's 4x cheaper than buying bread at the store! I used to buy 1-2 loaves of bread each week. Each loaf cost me about $1.98. This Poor Man's Bread only costs $0.51 so we can eat more bread for the same price!
I have discussed the cost of bread before, but when I did that post, I was using bread recipes that had several more ingredients than this one to compare to the bread from the grocery store. If I had compared store-bought bread with this specific bread recipe, I probably would have made the switch to homemade bread then!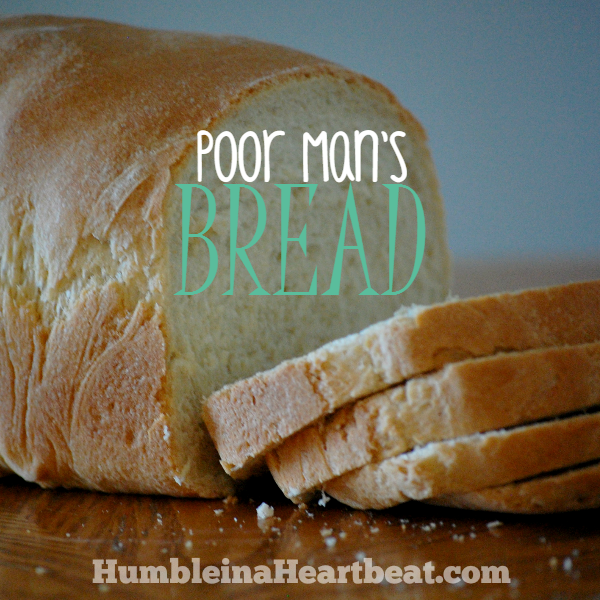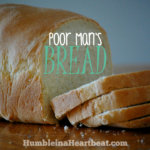 Poor Man's Bread
Resting Time
5
hours
10
minutes
Total Time
6
hours
15
minutes
Ingredients
1 1/2

cups

water

1

tsp.

instant yeast

4-5

cups

flour

2

tsp.

salt
Instructions
In the bowl of a stand mixer, add the water, yeast, salt, and flour (start with 4 cups). Mix with the hook attachment. If you can tell that the dough is still really sticky, add more flour. You want the dough to be smooth and elastic and not stick to your fingers. Don't add too much flour or you will get a really dense bread.

Knead the dough with the dough hook for about 10 minutes until the dough has become smooth and elastic. Coat a large bowl with olive oil and put the dough in the bowl, making sure the oil gets all over it.

Cover the bowl with a light towel and let it rise for about 2-4 hours until it doubles in volume.

Take the dough out of the bowl and place on a clean counter surface to roll out. Add some flour to the counter if the dough is sticking. Roll it out to 8×11-inches, cover it with a towel, and let it rest for 10 minutes.

Roll up the dough from the shortest side to make it into a loaf. Place into a greased 9×5-inch loaf pan, cover with the towel, and let it rise again for another hour. About 30 minutes before you put it in the oven, preheat the oven to 350F.

Put the bread into the oven once it has risen at least 1-2 inches above the rim of the loaf pan. Let it bake for 45 minutes. It should have a nice golden color when it is done.

Once you take it out of the oven, let it cool before slicing. Enjoy! Makes 1 loaf of bread.
I like to make two loaves at a time, but my mixer only has enough room to do one at a time. I just mix and knead the first batch, move it to another bowl, and start the next batch. This bread tends to be on the crusty side, but I've found that if you coat the bread with olive oil for the first rise and then again for the rise in the bread pan that it is much less crusty. Also, let the bread cool outside of the bread pan, and then put it in a bag as soon as it is room temperature. Usually the crust becomes very soft after sitting in the bag.
UPDATE MARCH 2016: Someone in the comments asked if they could make this bread with whole wheat flour. I had never done it before, but I was certain that you probably could. Well, I decided to try it a few weeks ago with just 1 cup of whole wheat flour and 3 cups of regular white flour. I thought it turned out wonderful! The main difference is that it will take longer for the dough to rise. I also noticed that it was much softer than when I use all white flour. The crust, especially, was very soft.
How much do you normally pay for bread?

Latest posts by Charlee Flaminio
(see all)