Welcome back to the sixth update of the 12-Month Produce Challenge! We are at the halfway mark!
If you're late to the challenge, that's a-okay! You can learn all the "rules" in THIS post and then return here to find out what the vegetable of the month is.
The point of this challenge is essentially to become better at giving our families a variety of fruits and vegetables. Sometimes I think we get stuck buying the same foods over and over, but our bodies crave a variety of foods for optimal health.
Other reasons to do this challenge are to eat in season and to discover new ways to enjoy foods that we might normally shy away from.
June's Veggie: Green Onions
In June, my family and I tried several different meals that had green onions in them. They included everything from pasta salad, chicken salad, quinoa salad, and salad dressing!
Why Green Onions?
I chose green onions this month so I could collect more recipes that use green onions. Whenever I buy green onions for a meal, it seems like whatever I don't use goes bad because I don't use them up. I wanted to start building a recipe collection with green onions so I can plan to use them up rather than waste them.
My Inhibitions About Green Onions
I've had a long history with onions. They were my least favorite food until I got married. Then I decided I was going to try to like them. Green onions, on the other hand, have always been easier for me to handle than just normal onions. The one thing that bothers me about green onions is the white part and knowing when to use it in a recipe vs. cutting it off.
How I Used Green Onions in Our Meals & My Family's Honest Opinions
It wasn't hard at all to find recipes for using green onions. They are very easy to throw on top of a lot of different meals, so even if you don't like following recipes you can find a way to add green onions to your diet.
Tangy Cucumber Salad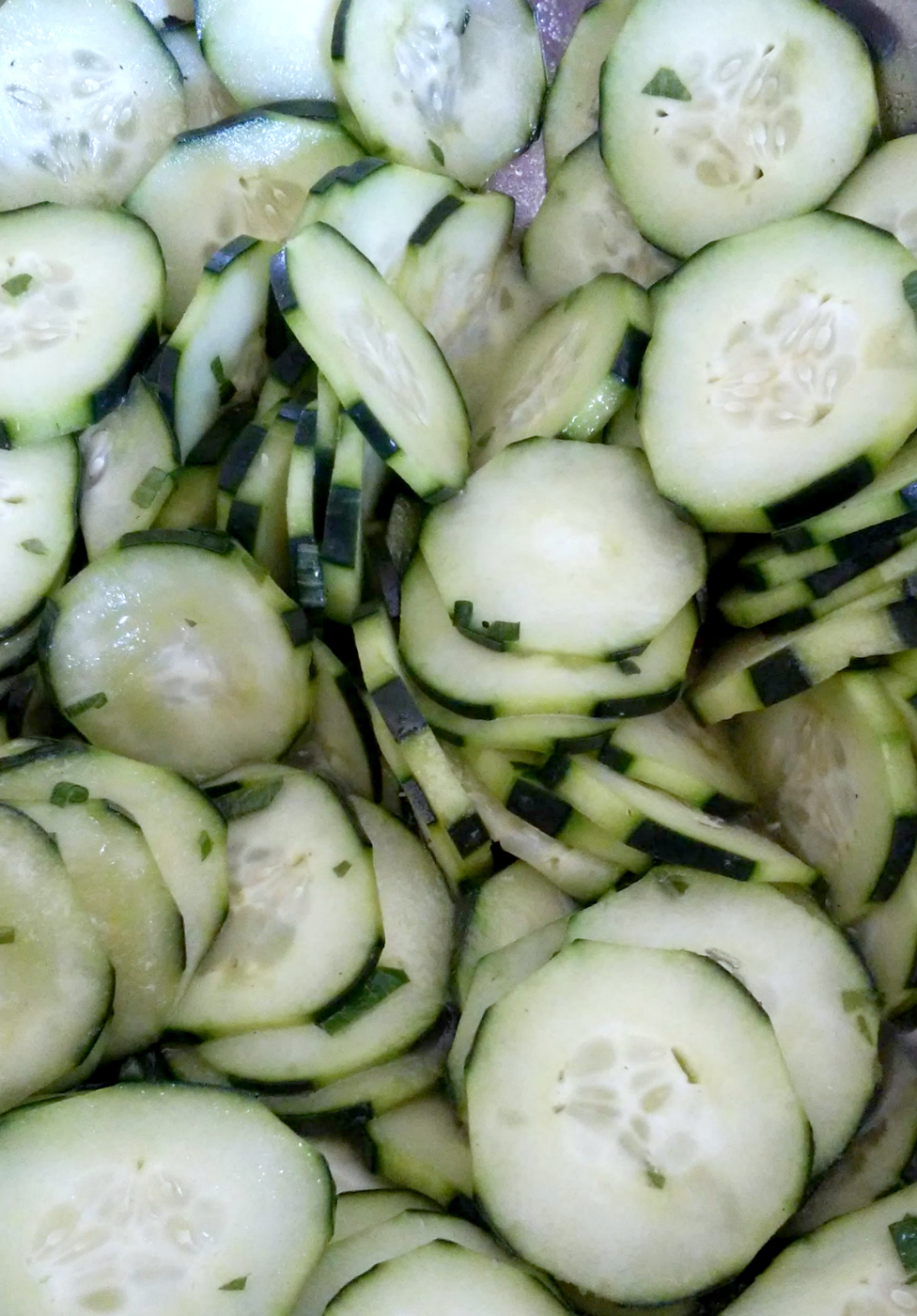 This Tangy Cucumber Salad (link no longer available) is a simple side dish and works really well to make ahead. It actually called for chives, not green onions or scallions. I didn't realize this until I was ready to make it, but I had already bought all the ingredients for it. I'm not sure if the taste would have changed much if I had used chives. As the recipe is written, it's a great side dish for a large BBQ gathering (it says it serves 4-6, but it's probably more like 10-12). Otherwise, when you make it as a weeknight side dish, it's wise to halve the recipe so you don't make so much. It only keeps for about 3 days in the fridge.
Only one of my kids and I liked this salad. My husband and other two kids didn't really appreciate it. It does have a strong vinegar taste, which is why it's called "Tangy" Cucumber Salad, but I think it's a great side dish for a summer BBQ.
Easy Pancit Noodles and Veggies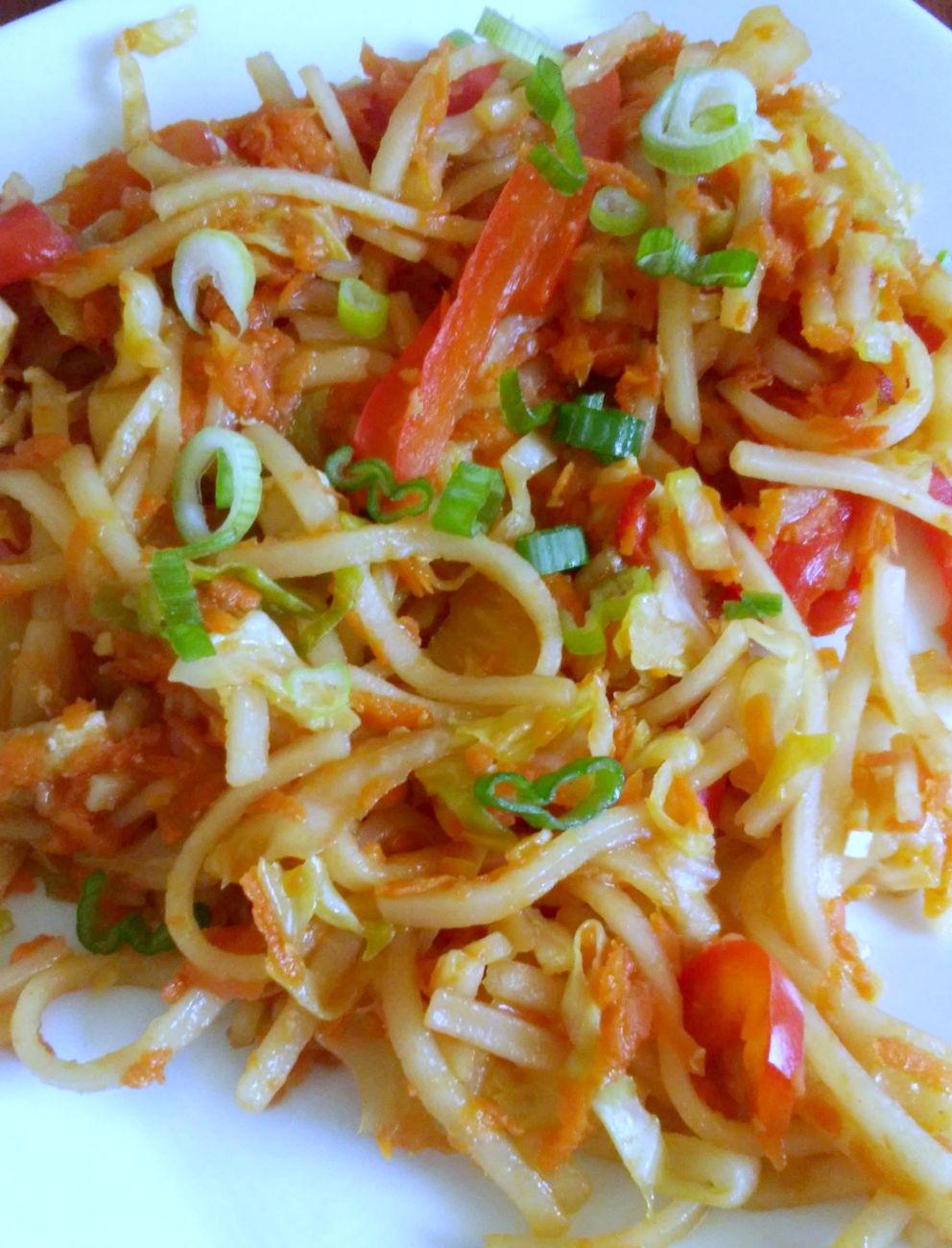 I had never heard of Pancit Noodles before, but I'm so glad I ran across this recipe when looking for recipes with green onions. It's economical, very easy, customizable, and tasty. Easy Pancit Noodles and Veggies reminds me of stir-fry because you can use any vegetables or proteins you have on hand. While it is an easy recipe, I wouldn't say it's necessarily "quick." You do have to chop veggies and get your protein ready. If you have the veggies and protein prepared ahead of time, you can get this made in probably 20 minutes or less. You can use the same concept for my stir-fry kits to freeze veggies and protein for this meal.
This recipe made it to our family favorite list! All my kids gobbled it right up, my husband enjoyed it, and my mother-in-law and sister-in-law both liked it. My sister-in-law especially loved that it was gluten free.
Bacon and Green Onion Pasta Salad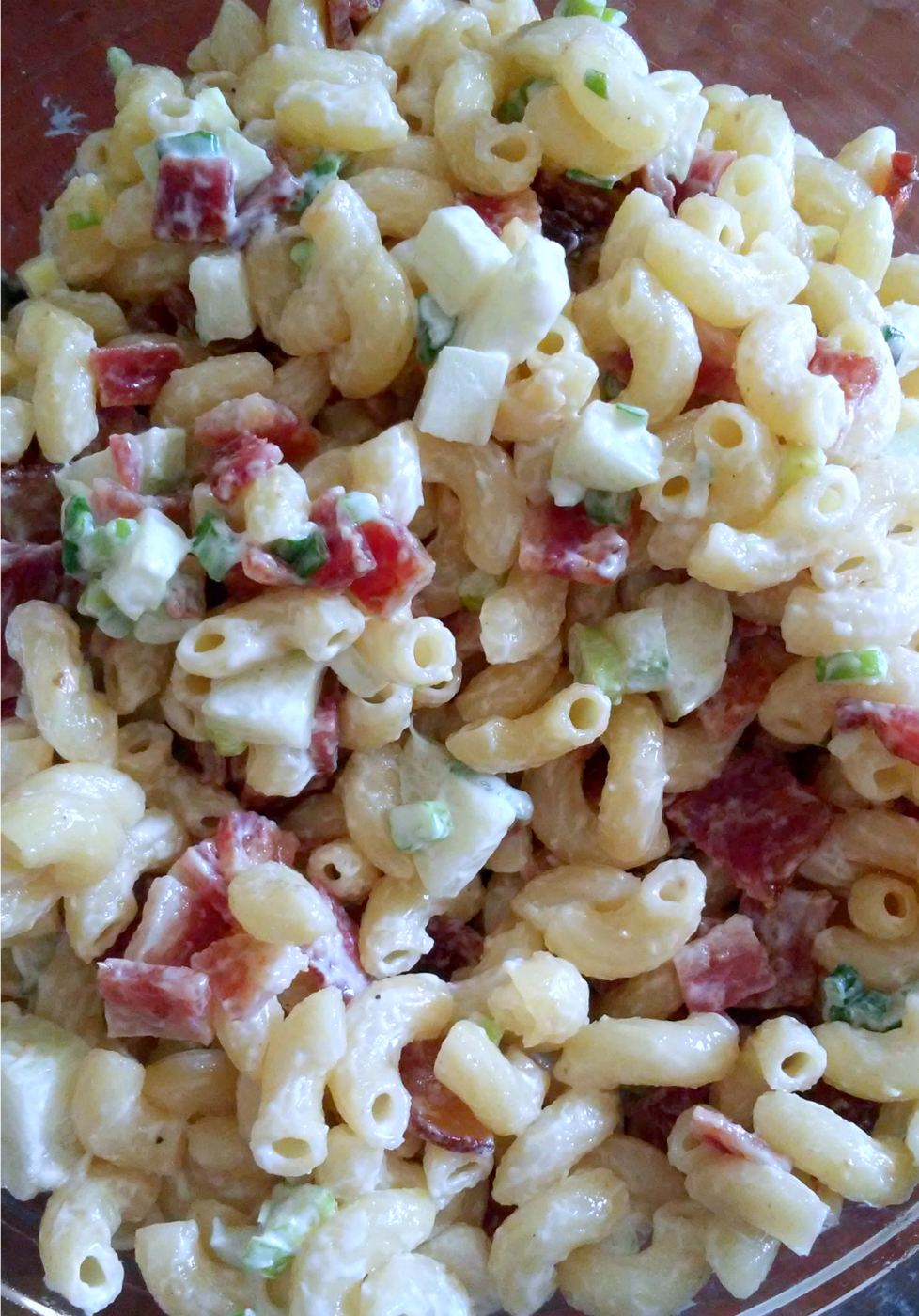 Bacon and Green Onion Pasta Salad is a super quick and easy dish to throw together. You could eat it as a main dish (we did) or use it as a side for a summer BBQ. We ate our salad with watermelon and grapes. Because the salad has bacon, you've got your protein covered, but you could easily make some chicken, pork, or even fish to eat with this.
Four out of five of us loved this pasta salad. My middle child didn't care for it, but I bet when I make it again, she'll eat it up. She hates a food one day and loves the same exact food the very next!
Texas Caviar
I think this Texas Caviar goes by a lot of different names (including Cowboy Caviar and Shrapnel Dip). I made the Shrapnel Dip at least once a week back in April. I'd say both recipes I tried have a great taste, but I prefered the Texas Caviar. You can totally eat this for lunch or even as a light dinner and serve it with chips and guacamole.
My family all liked Texas Caviar, but I think I liked it the most. I made plenty and stored the leftovers in a quart-size mason jar. The next day when we got home just in time for lunch, we pulled this out and ate it. It's really the perfect lunch.
Quinoa with Corn and Scallions
Oh. My. Word. This Quinoa with Corn and Scallions was amazing. We ate it with some marinated, grilled chicken thighs, and it was just perfect. The recipe calls for ears of corn, but you could just as easily make it with frozen corn. I halved the recipe once I realized how much quinoa it called for. I'm glad I did because we didn't eat all of what I made and still had a lot leftover.
I might be the only person in my family who loved this, but it's still going on our family favorite list. 😉
Mediterranean Quinoa Salad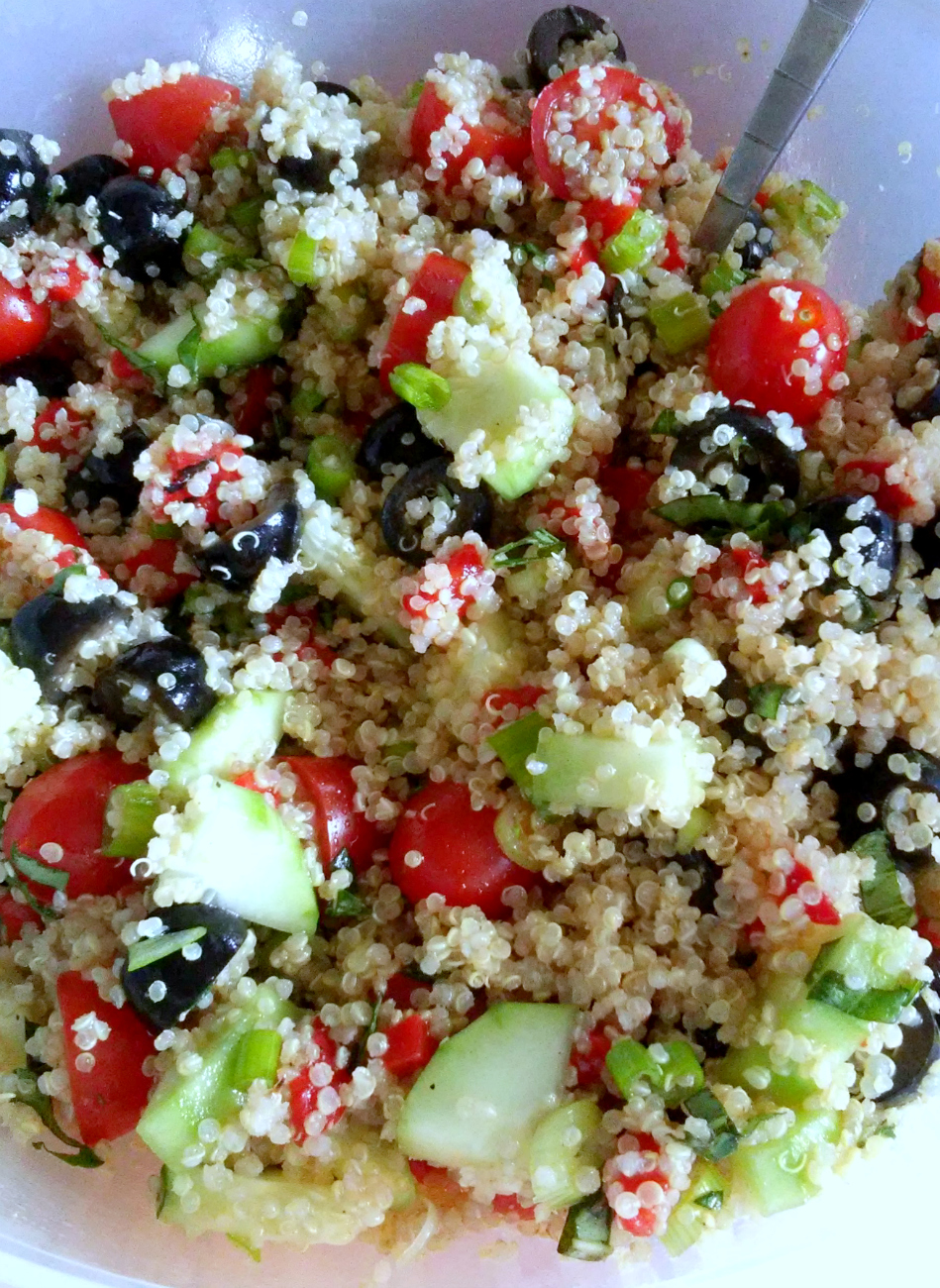 Mediterranean Quinoa Salad is very easy to make ahead and would work great for a summer BBQ as well. We left out the feta cheese because we eat mostly dairy-free, but I bet it would have tasted great with it. We ate our quinoa salad with coconut lime grilled chicken and it was perfect.
Not everyone loved this, but everyone ate it. We even had it with breakfast the next morning because it sounded good to me at the moment. Ha! I already put this on our family favorite list for summer side dishes.
Fruit Curry Chicken Salad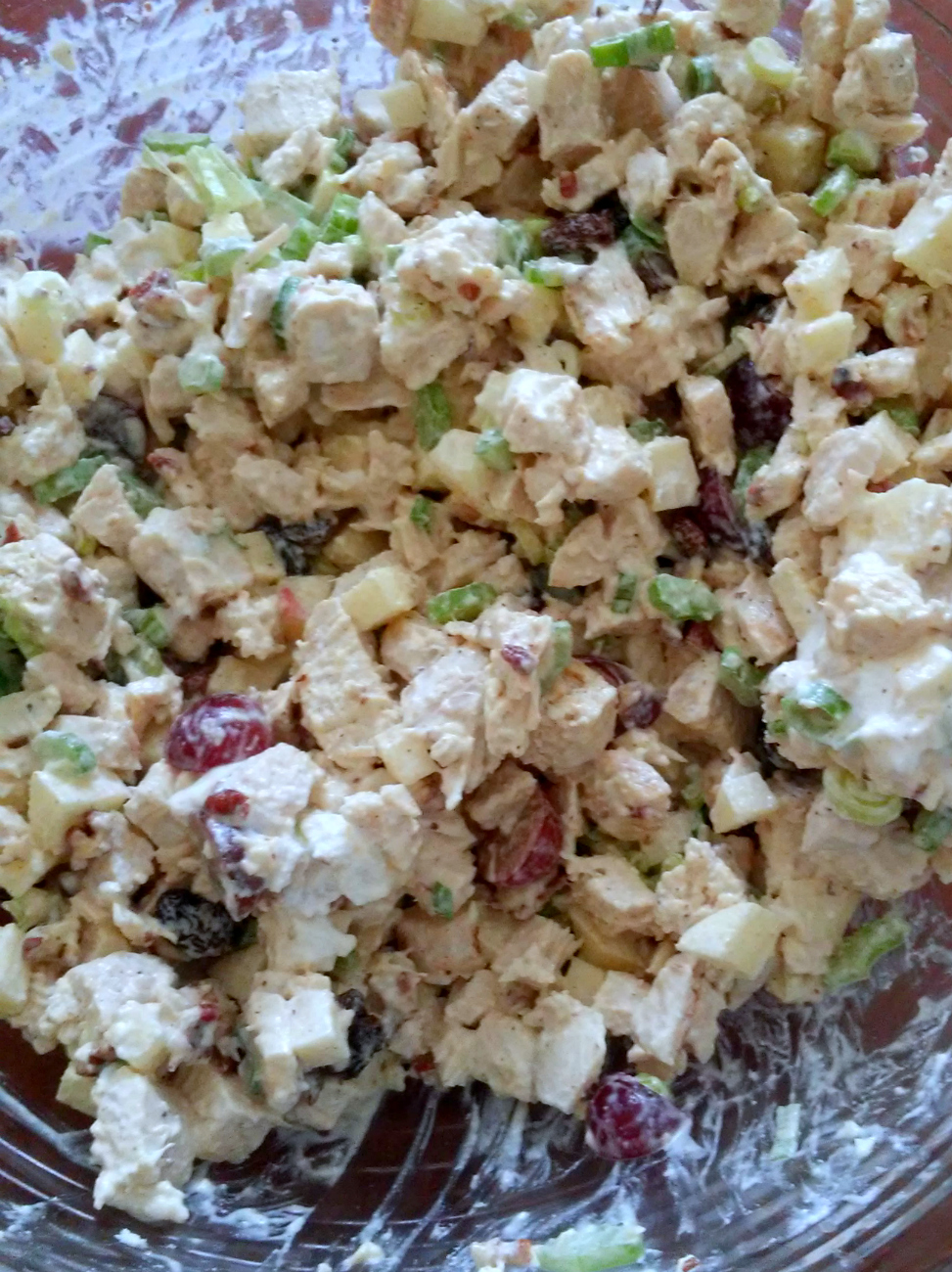 I'm not a big chicken salad fanatic, but I do think that everyone should have at least one or two good recipes up their sleeves for easy lunches or dinners. I halved this Fruit Curry Chicken Salad knowing that my husband wouldn't eat much of it (because FRUIT). I ran out of mayo and added yogurt to make it more creamy. I liked the addition of the grapes and raisins and will try that again in the future. Of course, the green onion worked really well with it.
Honestly, this wasn't our favorite chicken salad we've ever tried. But I should have made it the day before to let the flavors meld, as many commenters on the original recipe noted.
Homemade Ranch Dressing (Chicken Taco Salad)
I had planned to make this chicken taco salad, which calls for 3-4 green onions, but after I made the homemade ranch dressing to go with it, I used up all the green onions we had. So it ended up that we really tried the green onions in the dressing rather than on the salad. The dressing was easy to make and made a ton, so I'm glad I made it.
I think my 1 year old loved this dressing the most. When we ate it with some raw veggies, he dipped his vegetable in the dressing and sucked it right off and dipped again. Hahahaha. I liked it as well, and plan to make it again. It does call for dairy, which we don't eat a lot of anymore, so I won't make it all the time.
How Much Do Green Onions Cost?
Green onions are very inexpensive. They come as a bunch (usually about 5-7 stalks), and are priced this way. Green onions ranged in price from $0.38-$0.50 per bunch where I live (in June). I spent a total of $1.74 on green onions in June or about $0.22 per meal (there were 8 meals).
Selecting and Storing Green Onions
When shopping for green onions, look at the green ends to make sure they aren't starting to wilt. The bulbs should be a bright white color and should be firm.
I'll be honest, I don't store my green onions the way I should. I just throw them in my crisper in the plastic bag I put them in at the store. But if you want them to last for a while, put them in a jar with some water. You can then cover with a plastic bag and put them in your fridge. If I had a large fridge or two fridges, I would do this because then there would be room to actually put them upright in my fridge without worrying about them tipping over.
If you don't think you'll use your green onions in time, you can always chop them up and freeze them for later use (although they won't taste very fresh so you will only be able to use them cooked). You can learn more about freezing green onions HERE.
Preparing Green Onions
Wash your green onions, cut off the root end and white part (unless your recipe indicates you should use it), and chop according to how you need it for your recipe. You can slice them or dice them small.
Nutritional Benefits of Green Onions
Green onions are full of Vitamin K, a nutrient that is essential for blood clotting. They are also a good food to eat for strengthening your immune system, heart, and bones. You can read more about the nutritional benefits of green onions on Dr. Axe.
July's Veggie: Radishes
We've made it past the half year mark! Can you believe it? If you have been following along with this challenge, then you and your family have tried parsnips, cabbage, collard greens, asparagus, arugula, and green onions.
I really enjoyed the green onions challenge this past month because I noticed that every single recipe we tried them in called for other vegetables as well. So we weren't just getting in one vegetable at those meals; we were trying at least 2 every time.
July's vegetable of the month will be radishes. I have only ever tried radishes sliced thin on salads, dipped in salad dressing, and roasted, so I'm excited to try them in other ways.
Good luck to you!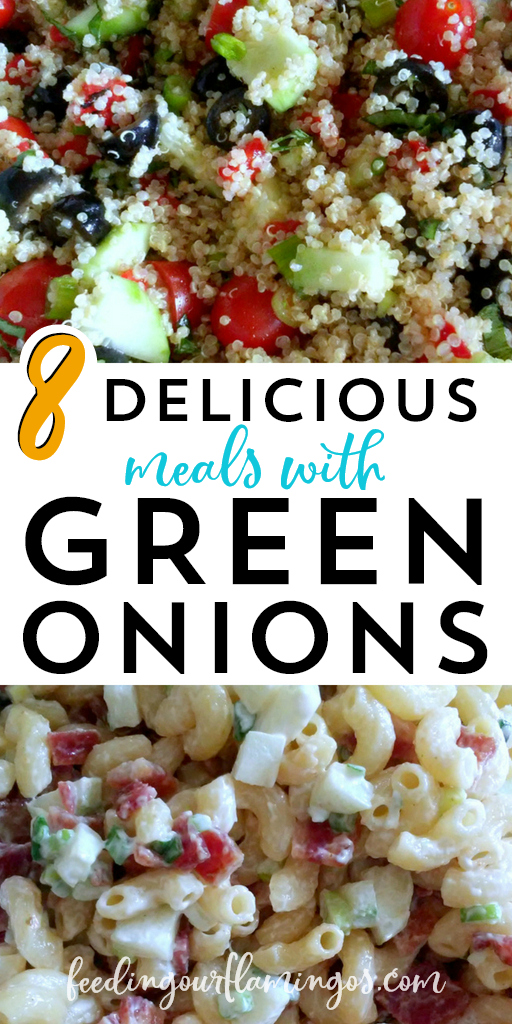 Latest posts by Charlee Flaminio
(see all)