One of the best ways to give our families more variety and nutrition is by eating in season. With all the wonderful produce available in the summer, it shouldn't be too hard, either!
Every year I mention to my husband that I would like to go to the Farmer's Market, but we never make it. I want to make it a priority this year, because I want to start a family tradition of going to the Farmer's Market at least once a month during the summer, and I truly desire for our family to start eating locally.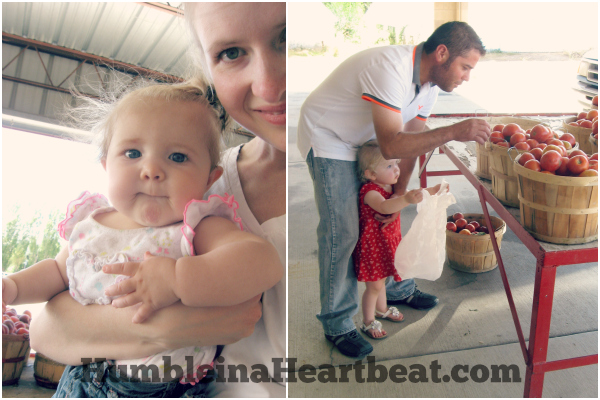 A few summers ago, we took a drive to my grandma's to visit. Afterward, we went to a local farm to get a big box of peaches that were huge, juicy, and very ripe. We also stopped at a roadside fruit stand to grab some tomatoes and apples.
Then while we were in Washington three years ago, we picked blueberries at a U-pick farm. It was such a fun time even if our toddler has no recollection of that experience.
Those are the kinds of family traditions that I want to start. I want my kids to have fun eating fresh, delicious food, and I think going to the source, or at least really close to the source, will be so helpful.
Summer Produce
While eating in season is often tastier than eating produce that is not in season, it is also more affordable most of the time. Many of the fruits and vegetables on this list of summer produce will be at a much lower price than they were in spring, if they were even available then.
So take note of all the produce you want to try this summer and start adding these fresh foods to your meal plans!
Base your meal plan off what is in season in your area. At the bottom of the post, I will list the websites where I got the information for what is in season in summer. These sites are mainly intended for the United States. I highly encourage you to check out the first resource because you can search more specifically in your own state and find out what to look for at the Farmer's Market.
Apples
Apricots
Avocados
Basil
Bell Peppers/Sweet Peppers
Beets
Blackberries
Blueberries
Boysenberries
Cantaloupes
Carrots
Chard
Cherries
Chickpeas
Chiles
Cilantro
Corn
Cucumbers
Eggplant
Fennel
Figs
Garlic
Gooseberries
Grapes
Green Beans
Green onions
Huckleberries
Lemongrass
Lettuce
Limes
Mangoes
Marionberries
Melons (honeydew)
Nectarines
Okra
Onions
Passion Fruit
Peaches
Peas
Plums
Potatoes
Raddichio
Radishes
Raspberries
Rhubarb
Shallots
Spinach
Strawberries
Sweet Onions
Tomatoes
Watermelon
Zucchini and other summer squash
Since I have started writing these seasonal produce posts and being more intentional about eating variety as a family, we have tried so many different fruits and veggies that we may have never considered before. It is a lot of fun to try new recipes with these foods!
You can find all my posts about eating in season right here.
What are some of your favorite summer fruits and vegetables?
Resources:
Seasonal Food Guide from Sustainable Table
Summer Fruits and Vegetables from About Food
What's in Season? Summer from Fruits & Veggies: More Matters
What's in Season? A Guide to Seasonal Food in Britain

Latest posts by Charlee Flaminio
(see all)