Every summer, it seems, my grandma brings a large box to my mom just brimming with gorgeous, ripe, and juicy peaches. This year, we're going to head up north ourselves to get in on this deliciousness. Brigham City Peach Days are something my mom looks forward to; she grew up in Brigham and the surrounding area so she has numerous memories from this special time. I don't know why she's never taken me there, but I have to go this year and see what I've been missing – and pick up a few peaches while I'm at it!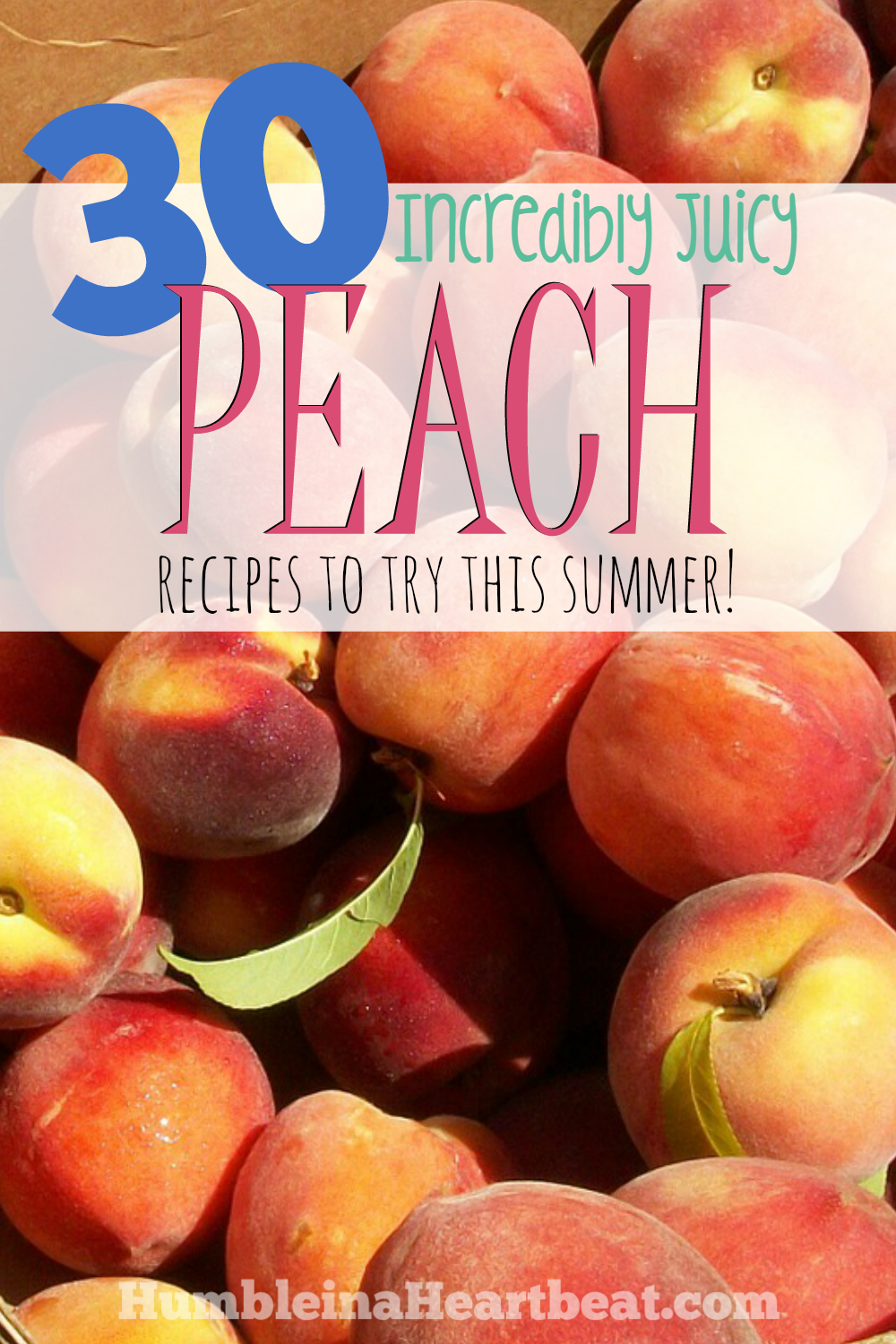 I am excited to bring home a box full of peaches. So many possibilities! I know what you're thinking, though. Don't you dare let them go to waste! That is something I want to drill into my readers' heads: throwing away food is just like throwing away money.
I have already given you tons of ways to use up leftover red cabbage, blueberries, and watermelon. So now I'm going to give you even more ways to use up peaches and get the most out of your hard-earned money.
First, these are some simple ways to use up your peaches:
Make some Peach, Apple, and Pear Puree for your baby
Add to your oatmeal in the morning
Have a peach-eating contest at your next family reunion!
Whip up a delicious peach pie using your mad baking skills
Add a peach or two to your favorite summery fruit salad
Get all healthy and throw some peaches in this colorful quinoa salad
Show-off your home ec skills by making some fresh peach jam for breakfast (THIS ONE is a freezer jam)
Throw together this Raspberry Peach Crisp for a summery, delightful dessert
Can 'em! That's what my grandma does with hers!
And while you're at it, use those canned peaches to make this phenomenal Two Two Easy Peach Cobbler
If you still have plenty of peaches left, go ahead and freeze them to use for smoothies and other special treats during the long, cold winter. It'll help you remember summer in the best possible way 🙂
Here are all the recipes I thought sounded amazing and that I'd like to try with the peaches I'll be getting at Peach Days this year. For each recipe, I've listed the amount of peaches required, all the other ingredients you need to make it, and any other useful information. 
Breakfast
Peach Coconut Banana Bread from Lil' Luna
1 cup diced peaches
Sugar, butter, egg, milk, flour, baking powder, salt, bananas, and shredded coconut
Makes 1 loaf
Peach Streusel Muffins from Sally's Baking Addiction
3 peaches
Brown sugar, sugar, cinnamon, unsalted butter, flour, eggs, yogurt, vanilla extract, baking soda, baking powder, allspice, salt, milk, confectioners' sugar, and heavy cream
Makes 12 muffins
Vanilla Honey Peach Butter from Nutmeg Nanny
18 peaches
Water, sugar, honey, and vanilla beans
Makes 6 half pint jars
Lunch
Blueberry Peach Chicken Salad from Peanut Butter & Peppers
2 peaches
Mixed greens, onion, blueberries, chicken, goat cheese, dijon mustard, balsamic vinegar, olive oil, and water
Serves 2
Grilled Chicken, Peach and Avocado Salad from What's Gaby Cooking
2 peaches
Plain Greek yogurt, olive oil, lemon, garlic, coriander, salt, pepper, boneless skinless chicken thighs, lettuce, cucumbers, avocado, red onion, cherry tomatoes, red wine vinegar, sugar, and red pepper flakes
Summer Peach and Balsamic Pizza from Love & Olive Oil
4 peaches
Pizza dough, balsamic vinegar, olive oil, mozzarella, goat cheese, and basil
Tomato, Peach, and Burrata Salad from Two Peas and Their Pod
2 peaches
Balsamic vinegar, tomatoes, burrata cheese, and basil
Serves 4
Kid-Friendly
Peachy Pineapple-ade Popsicles from Mommie and Wee (link no longer available)
Can of peaches (you can bet I'll be using my juicy ones!)
Lemons, pineapple juice, sugar, and water
Vanilla Peach Pops from Love & Lemons
4-5 peaches
Almond milk, coconut oil, maple syrup, and salt
Need to freeze for 10 hours
Appetizers
Fresh Peach Salsa from Natasha's Kitchen
1 1/2 lbs. peaches
Tomatoes, bell pepper, jalapenos, onion, cilantro, lime juice, salt, and pepper
Serves 6-8
Grilled Peaches with Vanilla-Cinnamon Glaze from Foxes Love Lemons (link no longer available)
4 peaches
Powdered sugar, Coffee-mate vanilla, cinnamon, and mint
Serves 4
Desserts/Sweets
Baked Brown Sugar Peaches from Crunchy, Crafty, and Highly Caffeinated
6 peaches
Unsalted butter and brown sugar
Fresh Peach Sorbet from To Work With My Hands
6 peaches
Lemon juice, sugar, and water
No Bake Peach Cheesecake Cups from Inside BruCrew Life
1 1/2 cups peaches
Gingersnap cookies, sugar, butter, plain gelatin, water, cottage cheese, peach yogurt, vanilla extract
Makes 10-4 oz. jars
Peach Caramels from Love & Olive Oil
1 peach
Heavy cream, unsalted butter, salt, sugar, corn syrup, and vanilla extract
Makes about 50 caramels
Drinks
Mango Peach Smoothie from Erica's Recipes
1 peach
Mango, plain Greek yogurt, and honey
Peach Lemonade Slush from Mom Endeavors
3 peaches
Frozen lemonade, water, and ice
 Peach n' Blueberry Bash Smoothie from Krafts and Kiddos
2 peaches
Apple juice, honey Greek yogurt, blueberries, and ice
Makes 34 oz.
White Peach Floats from Real Simple
4 pounds peaches
Sugar, ginger, lemon, and vanilla ice cream
Serves 4
What's your favorite way to eat a peach?
Photo credit: Pixabay

Latest posts by Charlee Flaminio
(see all)