Welcome back to the ninth update of the 12-Month Produce Challenge!
Late to the party? No worries! All the "rules" for the challenge can be found in THIS post. Just return here afterwards and find out the vegetable of the month for October.
I wanted to do this challenge with my family in the first place because I felt like we were stuck in a rut with eating the same vegetables over and over again. After completing 9 months of the challenge now, I feel like I'm doing a much better job at giving my family the variety that we all need for our bodies for optimal health.
I also wanted to do this challenge so we could learn to eat in season as well as discover new ways to enjoy foods that we aren't too keen on eating.
September's Veggie: Eggplant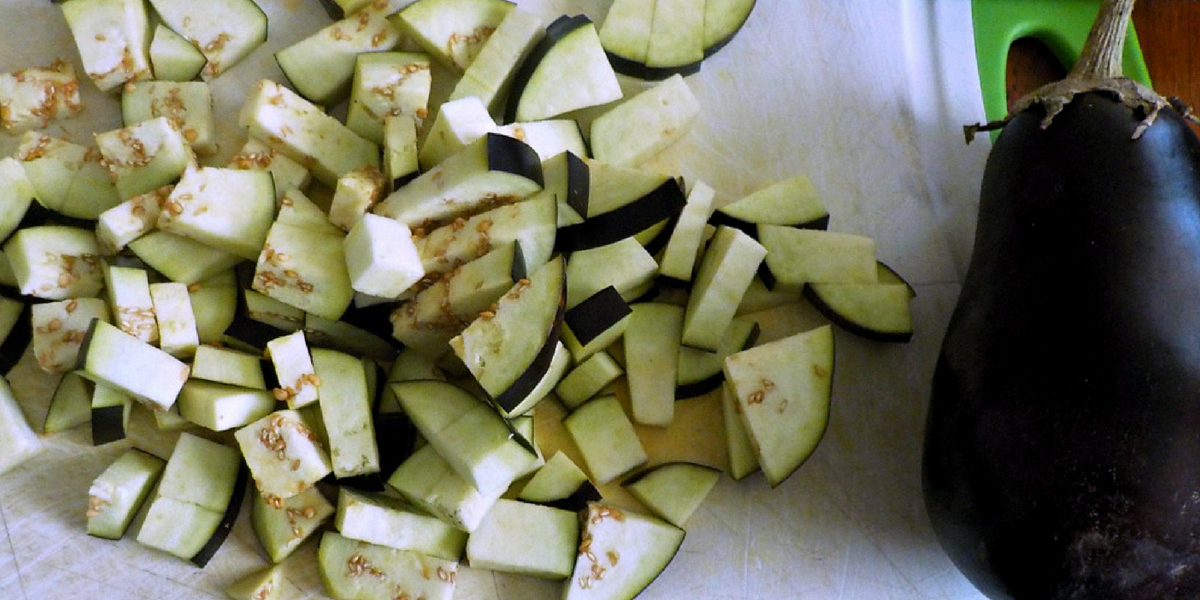 If you've been following along with the challenge, then you may have noticed that I changed the veggie of the month for September from radicchio to eggplant. The reason was because I couldn't find any radicchio in the stores where I shop. I decided on eggplant because my husband had just bought a bag full at a produce stand when he went to buy peaches. I had no idea what I was going to do with it, so I figured I'd better use it for the challenge this month.
We ended up eating 5 different meals with eggplant in September, including chicken and rice, pasta, wraps, and a dip.
Why Eggplant?
Besides the fact that we had a bunch sitting on our counter already, I chose eggplant because it's a vegetable that I've tried in the past and haven't really enjoyed. My kids haven't had it in years, either. I figured it was high time to give this purple veggie a second chance.
My Inhibitions About Eggplant
When I have eaten eggplant in the past, the texture or the taste has been off for me. I made slow cooker eggplant parmesan over 2 years ago, and I was sorely disappointed. All the reviews were like, "this is wonderful, you won't even know you're eating a vegetarian version." Well, I totally noticed and I didn't like it.
How I Used Eggplant in Our Meals & My Family's Honest Opinions
In September, my family and I ate eggplant 5 different times. We tried it in wrap form, as a dip, in pasta, and in a rice dish. Read on to find out the details of each meal and how we felt about eggplant overall.
Veggie Wraps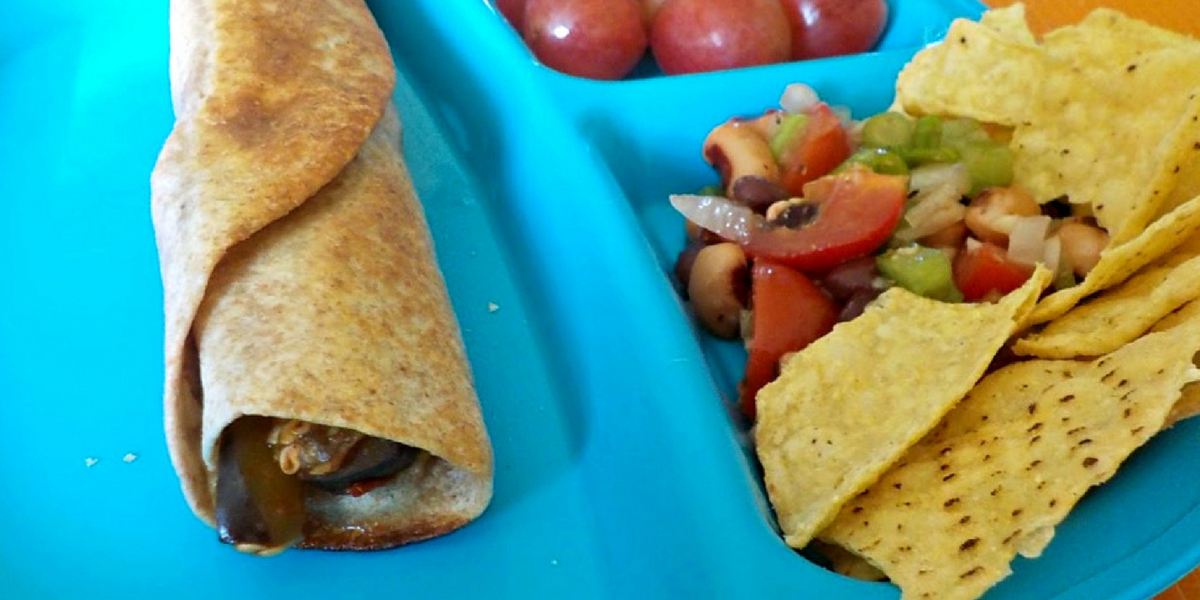 While I was making these Veggie Wraps I was quite worried that nobody would eat them, including myself. I mean, I already knew that I didn't care much for eggplant and my kids have a hard time trying new foods that are really different. But I was pleasantly surprised.
All 3 of my kids ended up eating at least half of their wrap, and I wanted seconds. My husband only took one bite because he was full from eating a late lunch at work, but he seemed to like it just fine.
It was a cinch to make these veggie wraps. They probably took less than 15 minutes total. They are definitely a healthy and quick weeknight meal, and they will be going on our family favorites list. I served the wraps with grapes, Texas Caviar, and chips.
Baba Ganoush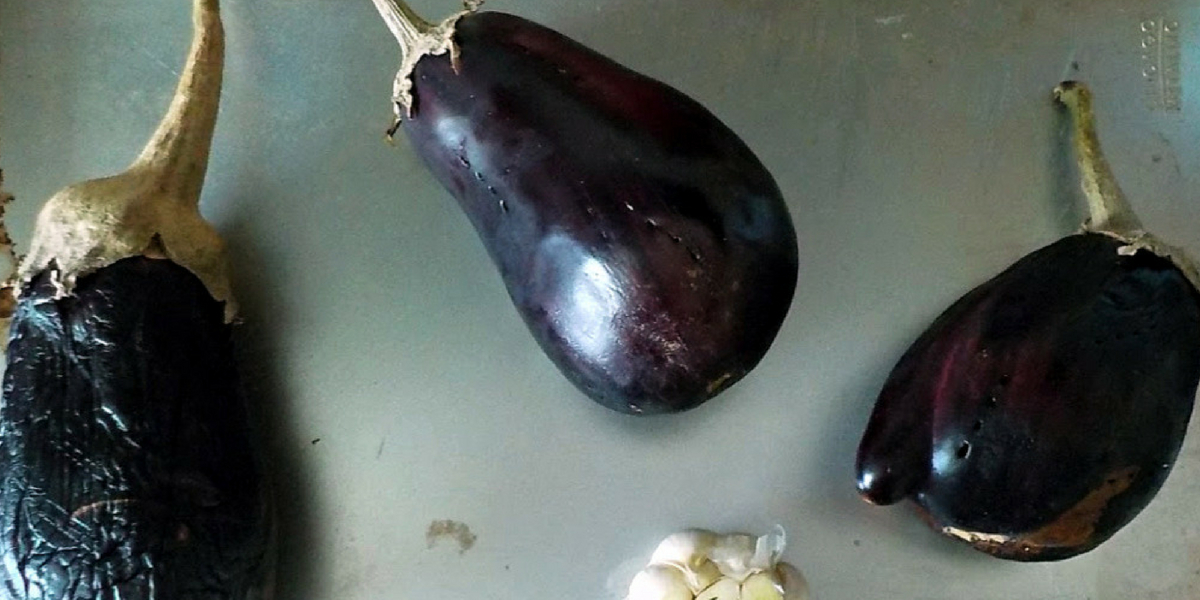 You can't do an eggplant challenge without trying Baba Ganoush! This was the first time I've ever made or eaten Baba Ganoush. It was quite easy to make, although it does require some extra effort to roast the eggplant and garlic before you can throw it together. We ate it with raw veggies, but you can also try it with pita. FYI, that picture above is not what Baba Ganoush looks like. Haha. I didn't end up getting a picture of it, and those were the eggplant and garlic I was about to roast for it.
My 2 year old was a big fan of this dip. It's not surprising because it tastes a lot like hummus and he adores hummus as well. My daughters weren't really into it, but they aren't into hummus either. As for my husband and myself, I think my husband liked it more than I did. I liked it, but it definitely wasn't my favorite dip in the history of ever.
Roasted Balsamic Vegetable Pasta Sauce
If you're looking for a vegetarian pasta dish, this Roasted Balsamic Vegetable Pasta Sauce fits the bill quite well. It's definitely not a quick weeknight meal, but it's perfect for an evening when you have some extra time and want to make a special dinner for your family. We ate ours with chicken thighs and bread.
If I'm being honest, I was definitely nervous to try this sauce. I love, love, love roasted veggies, but I wasn't so sure how everything would taste in a pasta sauce. Turns out, it was actually a fabulous way to eat the veggies. I thought it tasted excellent, and I even ate the large pieces of roasted onion. My kids weren't loving it, except for my 2 year old who didn't seem to mind the large chunks of veggies in his pasta. My husband and his mom both went for seconds, so I'm pretty sure they thought it was tasty, too.
One Pot Greek Eggplant and Rice
Since we eat a lot of chicken and rice, I decided to make this One Pot Greek Eggplant and Rice with some chicken thighs to make it a well-rounded meal. I'm so glad I did. My 6 year old daughter also wanted to try making a basic spinach and arugula salad for the meal, so we ate it the chicken and rice with salad as well.
I'm going to go off on a limb here and proclaim that this was probably the best tasting rice dish I've ever had. I didn't add the cheese or butter called for in the recipe, but it was just really delicious. My husband agreed. My kids had mixed feelings about it at first, but when we ate it for leftovers, they ate it right up.
Ratatouille Bake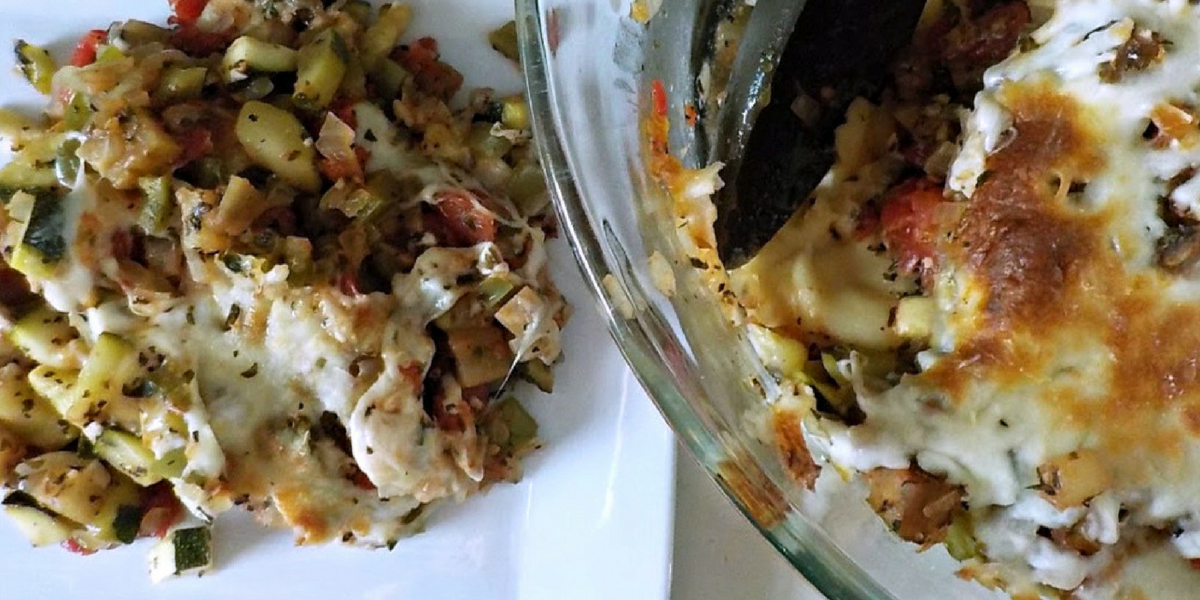 I try to avoid making too many meals with dairy, but I just had to try this Ratatouille Bake. I'm glad I did, too. It was a really easy dish to make. It did take a little extra time than I thought it would, so if I make it again I will save it for a Sunday dinner. Or, I will start prepping ingredients the day before. The comments for this recipe were mixed. Some people loved it and others hated it. My suggestion is just to add a little salt to the veggies while they are cooking. In total I added about 1 ¼ tsp salt.
My kids mostly picked at this because it is full of veggies and I think they were just trying to find the cheese and ravioli, lol. My husband and I, on the other hand, both really liked it. I think the eggplant was perfect.
How Much Does Eggplant Cost?
You would think eggplant would be priced per pound, but it's priced per eggplant. I bought 3 eggplant from the grocery store this month and they ranged in price from $1.48-$1.68 each. I am just going to guess how much my husband paid for the eggplant at the produce stand in early September. He got 7 smallish eggplants, so I'm guessing they were about $7 for all of them. All in all, I spent a total of about $11.74 (give or take a little) on eggplant in September or about $2.35 per meal.
Selecting and Storing Eggplant
When you're shopping for eggplant, there are a couple things you should take note of before you decide to take any home. Make sure the eggplant feels heavy for its size, has shiny and smooth skin, has a green stem, feels firm (not soft like a fruit), and is small to medium rather than large.
You can buy eggplant all year long, but it is at its peak in August and September.
The best way to store eggplant is on your counter rather than in the fridge. For this reason, you need to use it within a few days after buying it.
If you won't be able to use it right away, you can freeze it for later use. This is a great guide on freezing eggplant. In fact I used this guide to freeze some roasted eggplant to use for eggplant parmesan in the near future.
Preparing Eggplant
Depending on the recipe you use, you may want to leave the skin on your eggplant for extra fiber and antioxidants. Most recipes require either slicing the eggplant or dicing it.
A lot of sources advise to salt the eggplant before cooking it since it can be too bitter for most people. You can put the eggplant in a colander, salt it, and let it sit for ½ hour to 3 hours. Then you can rinse it and pat dry and use like normal in your recipe.
Nutritional Benefits of Eggplant
Eggplant is full of fiber and antioxidants. It can help prevent cancer growth, lower high cholesterol, improve digestion, and more. Get more details about this purple veggie on Dr. Axe.
October's Veggie: Butternut Squash
October is probably going to be my favorite month so far because we'll be eating tons of butternut squash! Pumpkin is a bit overdone, and butternut squash is a little less popular, so I thought I'd throw it in this challenge to see what we can make. I have to admit I've only tried it a few times in my life!
Do you have a favorite eggplant recipe you can link to in the comments below?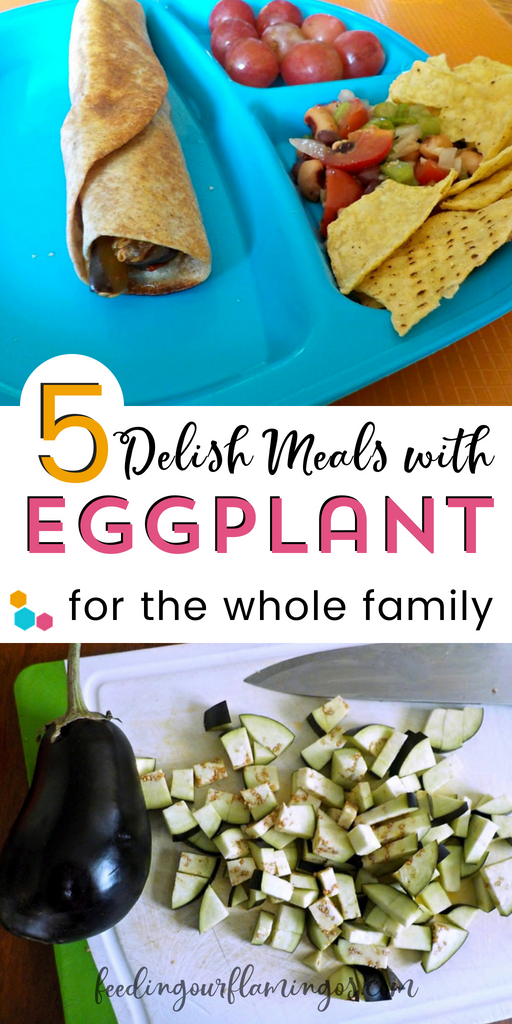 Join the 12 Month Produce Challenge!
It's free and you'll get reminders to keep you on track. If you've been trying to give your family healthier food, this is the challenge you need! By signing up, you also agree to receive other emails from me.

Latest posts by Charlee Flaminio
(see all)