This is the summer of watermelon for us. We normally only buy one or two watermelons every summer, but we've already bought four! Our daughter loves it, it's a great way to get some more liquids into our bodies, and it's super refreshing and healthy!
Last week, my husband brought home two watermelons from the store. I told him we better eat them before we go out of town this weekend, so he cut up both of them! You see, that's what happens when you don't say exactly what you want! I really thought we should eat the first watermelon before cutting into the second one! Oh well. So our fridge has been full of watermelon the past few days.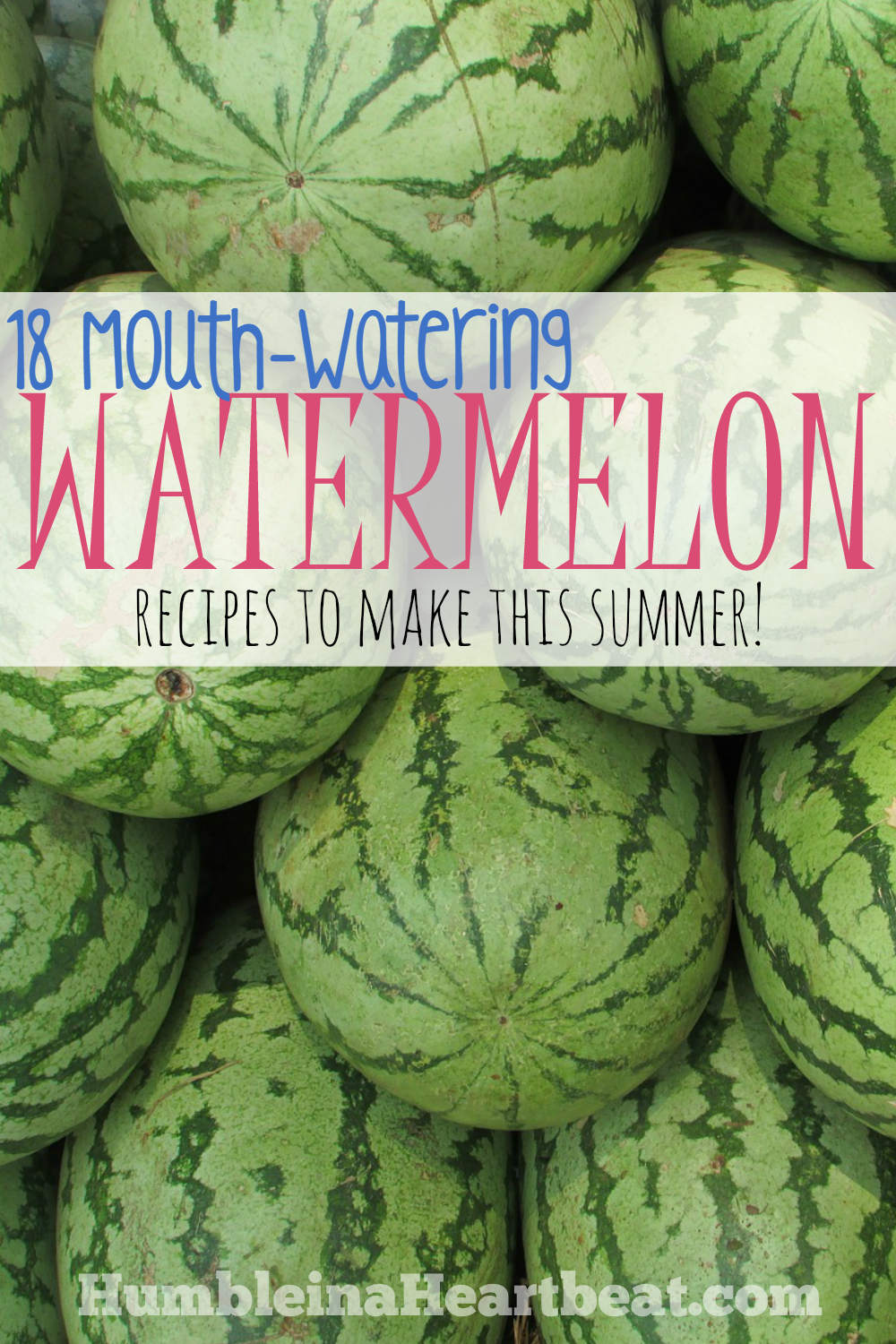 We paid 49 cents a pound for the first watermelon we bought this summer, but you can usually find it closer to 25 cents a pound once summer is in full swing.
I love eating watermelon warm. Is that weird? It always seems way more juicy and sweet without refrigeration. My husband has to have it chilled. No thanks!
Since I know we will be buying more watermelon this summer, I wanted to find some great recipes that highlight watermelon. I really don't enjoy throwing away food, and I love variety, so here are 18 recipes that I found to reference so I can use up the watermelon in our fridge.
For each recipe, I've listed how much watermelon is required, all the other ingredients you will need to make it, and any other useful information.
Lunch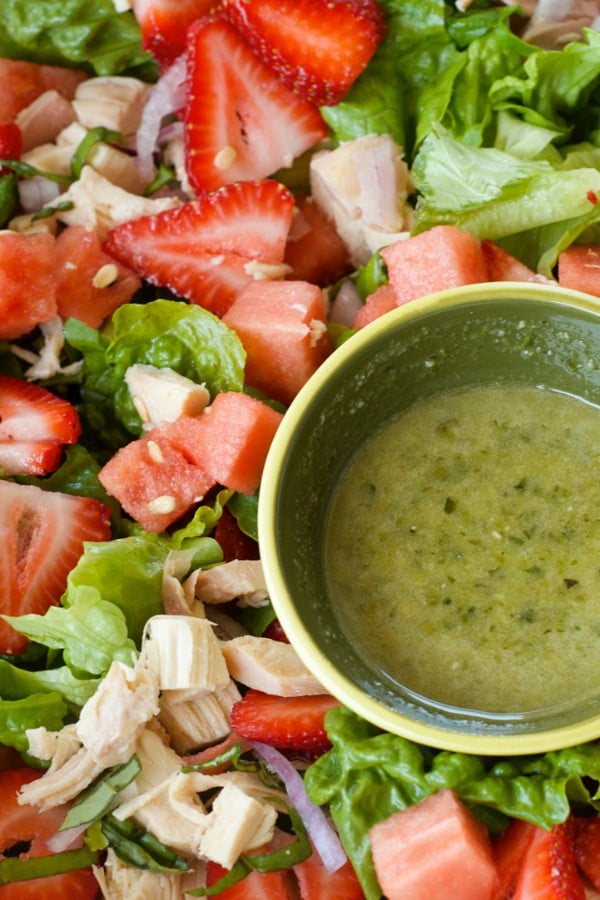 Strawberry Watermelon Chicken Salad from Reluctant Entertainer
2 cups watermelon
Lettuce, strawberries, chicken, red onion, basil, pesto, honey, and lime juice
Serves 6
Watermelon Mint Salad from Balm to my Soul
4 cups watermelon
Lime juice, sugar, and mint
Kid-Friendly
Petite Watermelons from CookingChannelTV.com by Victoria Belanger
No watermelon is used in this recipe, but they were just too cute not to share!
Water, strawberry-flavored gelatin, strawberries, cold water, limes, black sesame seeds (or poppy seeds or basil seeds)
Watermelon Frosty from Healthy. Happy. Life.
2 1/4 cups frozen watermelon
Water, maple syrup, lemon or lime, and banana
Serves 2
Watermelon Kiwi Popsicles from Yummy Healthy Easy
2 cups watermelon
Kiwi, lime juice, and agave
Makes 5 popsicles
Watermelon Slush from Say Yes (link no longer available)
3 cups watermelon
Lime, ice, sugar, and water
Watermelon Smoothie from Krafts and Kiddos (link no longer available)
2 cups watermelon
Apple juice, strawberries, yogurt, and ice cubes
Makes 2 8-oz. smoothies
I've made this 4 times now! We tried it with strawberries first, then with frozen cherries, frozen blackberries, and blueberries. We love the strawberries and cherries best!
Appetizers
Grilled Pineapple and Watermelon Fruit Kabobs from A Night Owl Blog
Fresh watermelon (how much is up to you)
Fresh pineapple, coconut milk, pineapple juice
You need to soak the skewers 30 minutes beforehand
Watermelon Salsa from Savoring the Seasons With Our Best Bites (I have this book and love it! Get it from the library!) on Gourmet Girls
1 cup watermelon
Peaches, jalapeño, Roma tomatoes, orange bell pepper, red onion, cilantro, sugar, salt, pepper, and lime
Dessert/Sweets
4 Ingredient Watermelon Sorbet from Cincy Shopper
8 cups watermelon
Sugar, water, and lemon juice
No need for an ice cream maker!
Creamy Watermelon Pie from Taste of Home
2 cups watermelon
Watermelon gelatin, water, frozen whipped topping, and graham cracker crust
Serves 6-8 people
Watermelon Cake from The Deliberate Mom
Whole watermelon
Fruit of choice for decorating (blueberries, raspberries, kiwis, blackberries, strawberries, bananas, grapes, etc.) and coconut whipped cream
Makes 1 healthy birthday cake
Watermelon Cake from Bird on a Cake
1/2 cup watermelon puree
White cake mix, watermelon Jell-O powder, water, oil, eggs, chocolate chips, cream cheese, butter, powdered sugar, and green and red food coloring
Makes 1 birthday cake
Watermelon Rind Candy from Charlotte Fresh (link no longer available)
3 pounds watermelon
Kosher salt, sugar, water, mint, and basil
Makes 2 1/2 cups
Drinks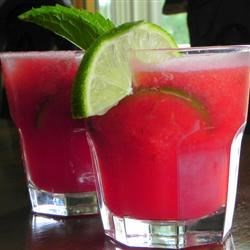 Watermelon Agua Fresca from Allrecipes.com by SB
4 cups watermelon
Water, sugar, lime, mint, and ice
Makes 8 servings
Watermelon Lemonade from Love Taza
1 pound watermelon
Lemon juice, agave, and water
Watermelon Piña Colada from Watermelon.org
2 cups watermelon
Pineapple, yogurt, ice, and cream of coconut
Serves 4-5 people
Watermelon can stay in your fridge for 3-5 days after you cut into it and still be good. You can leave it on your counter for up to 10 days after buying it without cutting into it. ("Shelf Life of Watermelon" on Eat By Date)
When I had morning sickness last summer, I read somewhere that watermelon helps with nausea. I tried it, but it didn't help much. Maybe it was because I was already pretty sick that morning.
Watermelon has a number of awesome health benefits that you can read about HERE.
How do you use up your watermelon?
Want to use up other ingredients in your kitchen? Here are my two past posts on ingredient highlights: Red Cabbage and Blueberries! It's so nice not wasting food!
Photo credit: "Watermelon Melon Citrullus Lanatus Red Fruit" by Vijayanarasimha on Pixabay is licensed under Public Domain CC0