Traveling – especially road trippin' – with a 1 year old can be tons of fun, but it can also take a turn for the worst if you don't prepare for it properly. We took our first family road trip with our oldest daughter when she was one and we had one baby on the way. Our final destination, Seattle, was 15 hours from our hometown, but we stopped at the 12 hour mark, which was Portland, to spend two days before heading up to Seattle.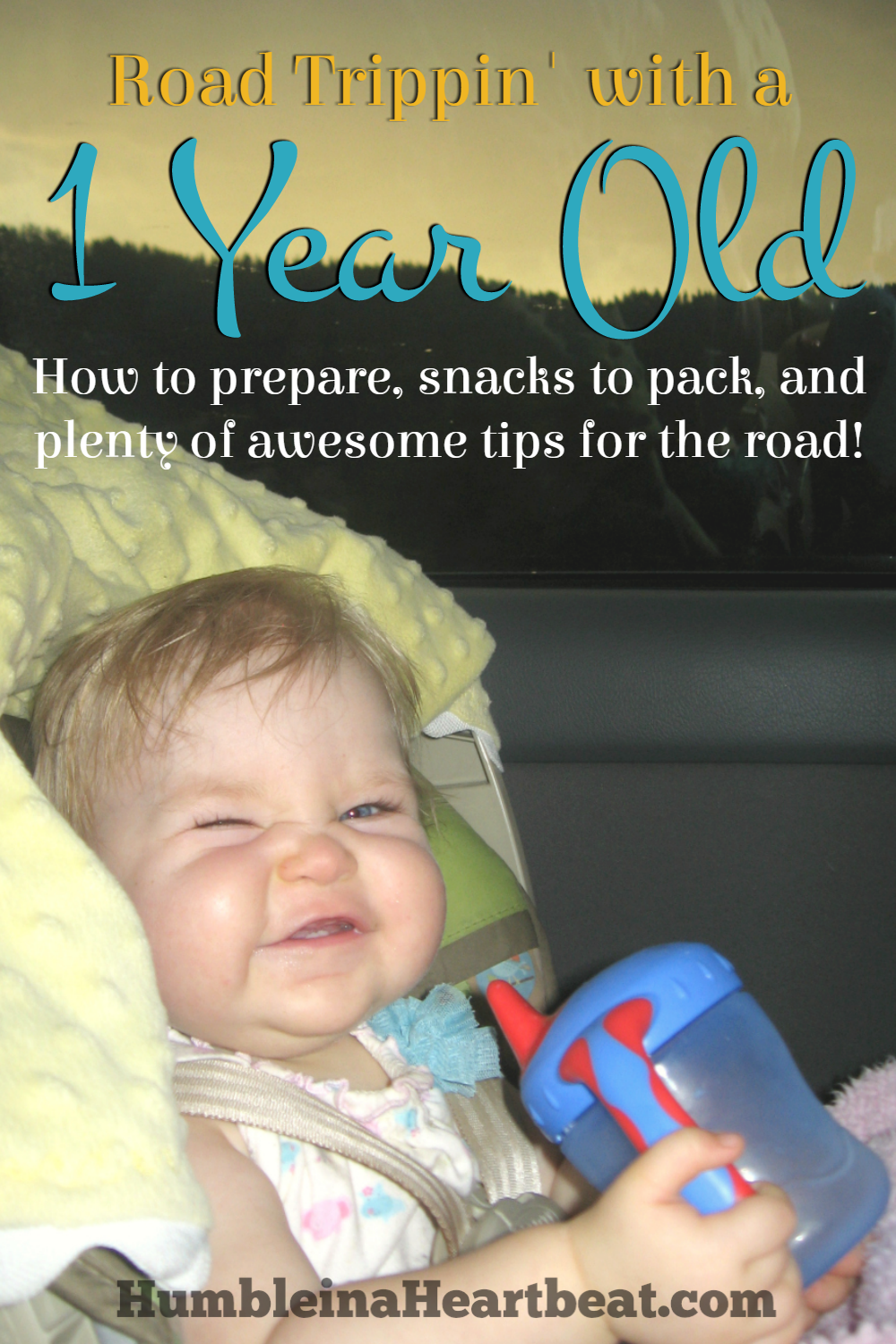 Before we went on this road trip a few years ago, I read tons of blog posts about taking road trips with babies and toddlers, but there were some things I never read about and then we dealt with those issues later. For this reason, I'd like to share my top tips for taking a road trip with a 1 year old.
Pack Plenty of Snacks and Water
One of my favorite things about road trips is all the snacking I get to do! Of course, I don't want it to be a full-blown snack-fest, but it does make the road trip go faster if you can eat along the way. While we normally only do one snack in our home each day, when we went on our road trip I let our daughter eat snacks several times along the way.
The best kinds of snacks for one year olds are finger foods, like fruits and veggies, cheese, crackers, muffins, dried fruit (if you already know your child can safely eat them without problems), etc. Yogurt is also a great idea if you can keep it cold and aren't worried about the mess. If your one year old is closer to two or has more teeth, you may want to take homemade trail mix, granola bars, and homemade cookies.
To save a little money, you will want to take most of your own food, and possibly even make your own homemade baby food to take on the road. I did that on this particular road trip, and I even had an entire week's worth of food I had prepared and frozen just for my daughter. We put the ice cube purees in the bottom of a cooler and covered them with ice, but we didn't realize that even after replacing the ice every time we stopped for gas, the food would not make it the whole way! I wish I would have had this list of 7 incredibly easy and healthy snack ideas instead so that I didn't have to deal with the stress of melty homemade baby food!
If you are still breastfeeding your child, be sure to take care of yourself, too, by drinking plenty of water and eating lots of snacks along the way!
Bring Music
Music is a wonderful distraction for littles that are restless and don't want to be stuck in their car seat. Be sure to have a list of songs at the ready that you can sing (you might have to sing until they zonk out!), or have a playlist on YouTube or a favorite Pandora radio station that your child can listen to and calm down. It's also fun to just be one of those families that is singing at the top of their lungs as people pass by and stare!
Remember Books and Toys
It's quite obvious that you will want some toys and books for your child to keep them further distracted, especially when snacks and songs just aren't working. A few days or weeks before your trip, set aside a few toys and books that your baby really likes but you know they won't really notice are missing. Then when you are on the road, and they need something now, get out one book or one toy and they will be excited to see it! You could also just buy some new toys and books for those moments when you feel like you are losing absolute control!
Drive at Night
One thing we did on this trip that I would highly recommend (especially for kids who can sleep well in their car seats) is to leave in the middle of the night or even right before bed time. If your destination is 10-12 hours away, this would be perfect to arrive in the morning. The only people who would probably not enjoy this solution so much is mom and dad, of course!
If you do decide to drive at night so that your baby can sleep for a lot of the ride, make sure you have something that can prop your child's head up if it falls down while they are sleeping.
Take Frequent Stops
You're probably not going to arrive at your destination as fast as you could without kids. With a 1-2 year old, you'll probably want to stop every 2 or 2 1/2 hours so they can walk around and explore for a good 15-30 minutes.
Before you leave on your trip, check along your travel route to see what places you could stop at. There will probably be some parks or a mall that would be great for running, walking, and just stretching your legs. We stopped at Walmart about 3 hours into our trip, and my daughter had a really good laugh when my husband kept hiding from her and popping out.
Block Out the Sun
The biggest complaint I noticed from our daughter was the sun in her eyes. We were traveling to the west and had left at 6 AM. Once the sun came up, it was hitting her eyes, because she was facing backward. So I put a thin blanket over the top of her car seat so she could be shielded from the sun until it got high enough in the sky.
The window coverings we had on both sides in the back were not very effective, and I would have loved to get the type that cover the entire window. The downside to those, though, is that reviewers said that you cannot see through them and it creates a problem when you are trying to change lanes and cannot see in your blind spot to safely move over.
Keep Baby Cool
Traveling in the summer? You will probably have to come up with a solution for keeping your baby cool as you drive. Turning on the A/C full blast in our car did not work very well, especially because her car seat was facing backwards. You could keep some cool water in a container and have a washcloth that you give to your child and change out after 10-15 minutes. This would work best if one parent is sitting in the back near the child and can help them do this. It would also work to have a fan and a spray bottle, again, if a parent is helping the child in the back seat.
One Parent Can Ride in the Back
Which leads me to my next point. If you only have one child, they will probably get bored in the back by themselves, so you may want to take turns sitting in the back with your child if it is just you and your spouse. We did this, and noticed that our daughter had a much better time because she could actually see us and interact throughout the trip. We could also give her toys, books, and snacks without stopping the car.
Bring Stuff for Messes
Obviously, you will want to remember to bring plenty of diapers and wipes for your baby, but you may also want to bring a few extra plastic changing pads. Not all rest stops are clean, and a plastic changing pad that you don't care about could be a lifesaver.
I would also suggest that you bring towels and paper towels to clean up any big messes that might happen in the car. Not all kids can handle a car ride for very long, and you may have to unfortunately deal with a child who has car sickness or lots of diaper blowouts. So remember some extra outfits as well!
Finally, you will want to keep a few empty sacks in your car for any trash that will inevitably happen.
Other Tips
There are just a few other things I would mention to help make your road trip one of the best ever (with kids!).
First, don't forget your baby's favorite "thing," whether that be a binky, blanket, bottle, or toy. A road trip can make kids all kinds of uncomfortable, so your child will be needing their lovey more than ever!
Second, if you think your child might struggle on a long road trip because they have shown signs of not enjoying car rides in the past, consider bringing calming bottles to hand over to them in these moments. A calming bottle is a wonderful way to soothe your baby and help them deal with their big emotions. You can find some really great ideas for calming bottles over on The Realistic Mama.
And finally, if you have room in your car bring the big stroller. We made the mistake of taking just our small umbrella stroller, and it was a bit difficult to push that thing around some of the places we went. A larger stroller also has space to hold bags and belongings, which would have been so nice since I was pregnant at the time and carrying one more thing on my shoulder wasn't my idea of a vacation!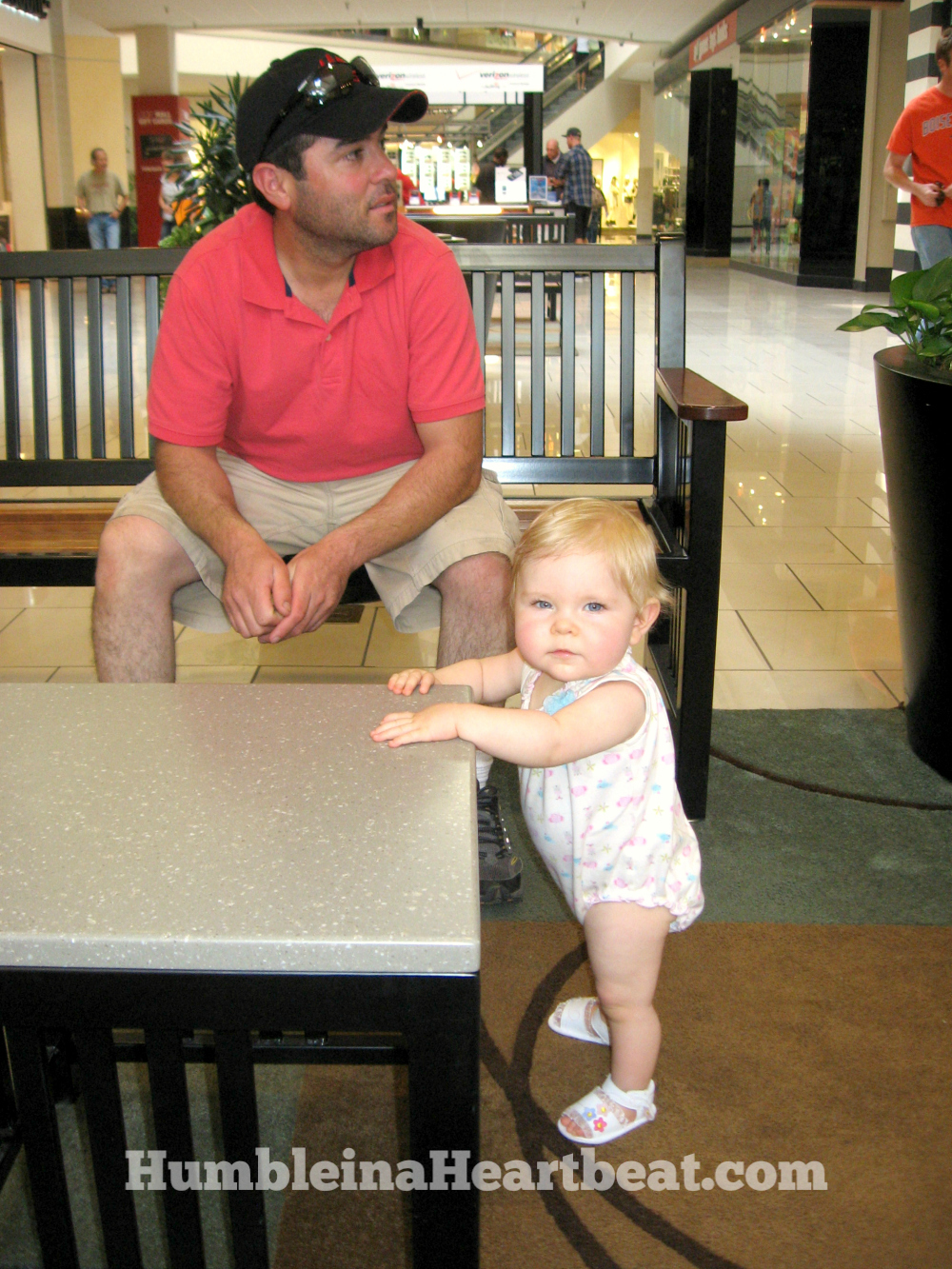 Taking your one year old on your next road trip could prove to be one of the best vacations you've ever had! Just don't forget to plan ahead and make sure you have thought out all kinds of scenarios and situations so your trip can be as smooth-sailing as possible. Of course, you're gonna want to lower your expectations, but hope for the best!
What tips would you add for traveling with a one year old?

Latest posts by Charlee Flaminio
(see all)