Welcome back to the fourth update of the 12-Month Produce Challenge! Have you stuck with us for this long? It's been an amazing journey for our family and we're still going strong! If you are sticking to the challenge, I bet you can agree with me when I say that it has really helped us get more veggies in our diet. Most of the recipes we have tried over the last four months have been full of more than one vegetable and they are often the main course.
If you are just joining us, you may want to head on over to THIS post first to get all the details of the challenge. Then come back and find out what the vegetable of the month is and get started adding variety to your family's diet.
The point of this challenge is essentially to become better at giving our families a variety of fruits and vegetables. Sometimes I think we get stuck buying the same foods over and over, but our bodies crave a variety of foods for optimal health.
Other reasons to do this challenge are to eat in season and to discover new ways to enjoy foods that we might normally shy away from.
April's Veggie: Asparagus
April featured one of the yummiest spring veggies out there: Asparagus. Our family tried it 9 different times in soup, as a topping for baked sweet potatoes, in pasta, roasted, and many other ways.
Why Asparagus?
Asparagus always makes an appearance on our spring meal plan, but it's almost always just roasted. We rarely eat it any other way. I wanted to see if there was another way my family enjoyed it, and I figured you could benefit from adding asparagus to your family's diet as well.
My Inhibitions About Asparagus
I'm not afraid to cook asparagus, but since I normally only prepare it roasted, I figured I could probably use this challenge to find out more ways to incorporate it into our diets.
How I Used Asparagus in Our Meals & My Family's Honest Opinions
I was so excited to use asparagus several times in April since it's only available for a short period in spring. Here are all the ways we ate it throughout the month.
Breakfast Frittata with Asparagus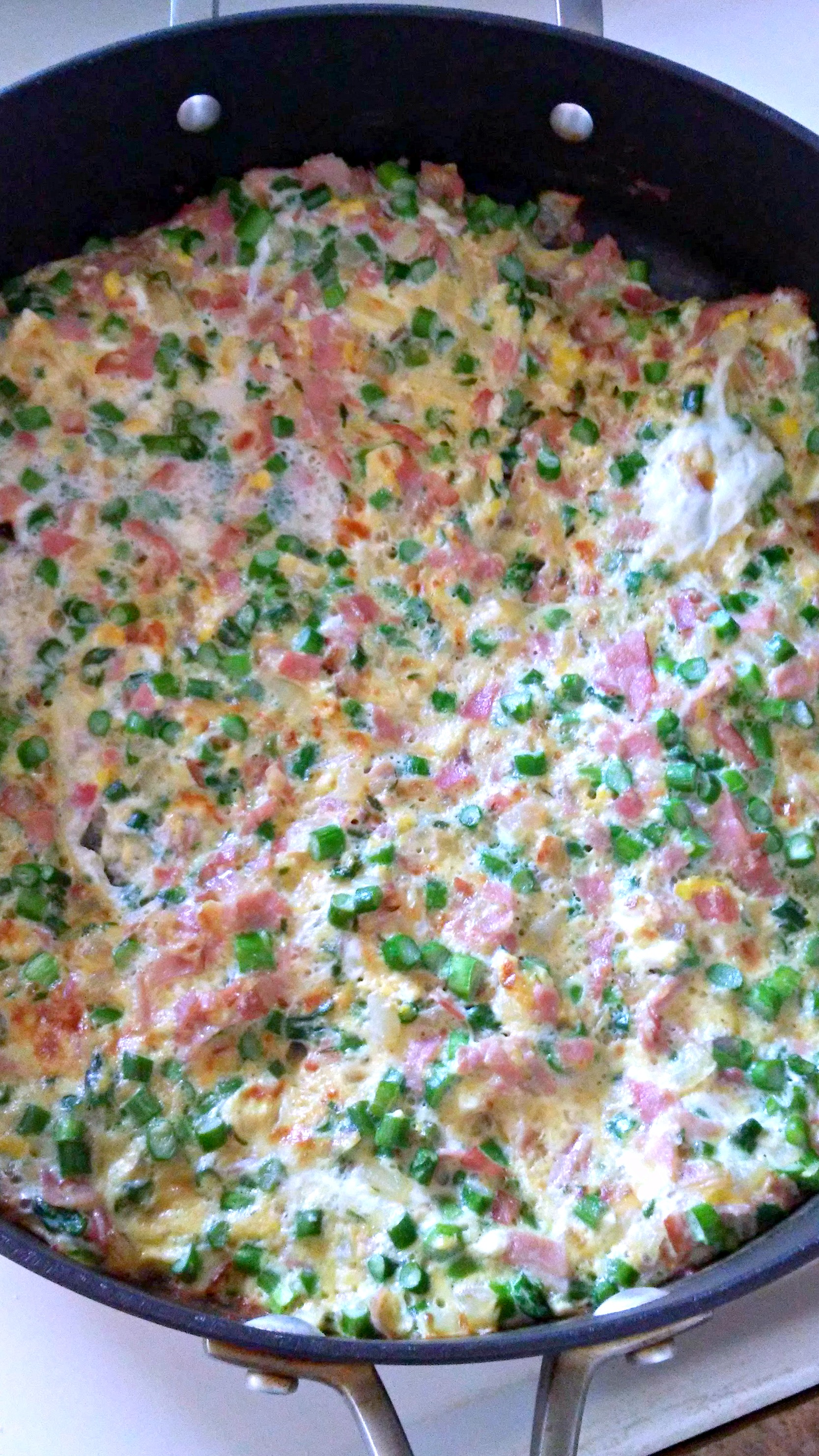 We ate Breakfast Frittata with Asparagus for Easter morning breakfast. I had never tried chopping asparagus up and adding it to a dish before this one. And it was a whole lot easier to chop than I thought.
Only one of my kids didn't finish their frittata, but my oldest asked for more and my 19 month old scarfed it down. It was pretty good!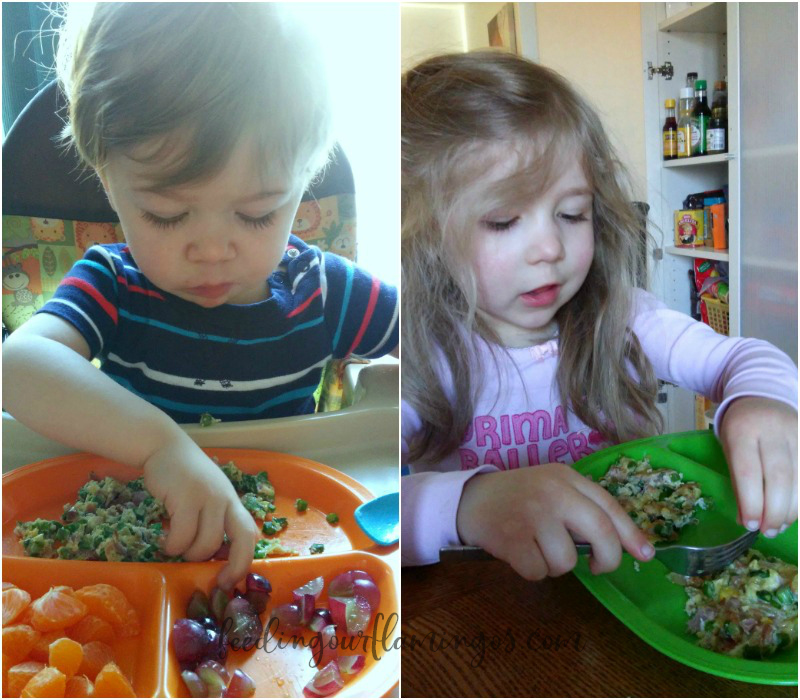 Asparagus Snack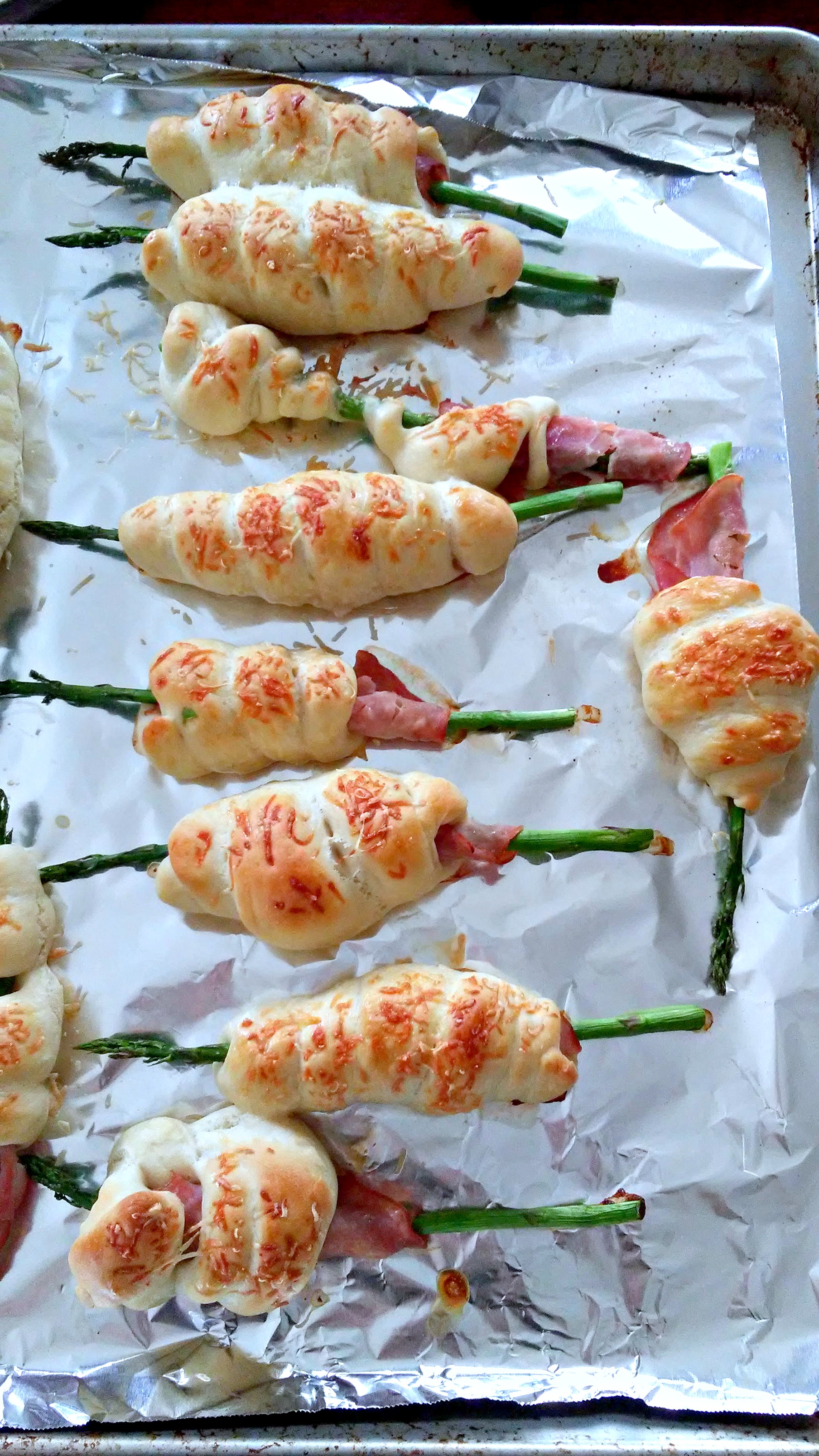 This Asparagus Snack was tons of fun to make with my girls. They were really excited to make their own and theirs turned out looking quite good for their ages.
As for the taste, it was just fine. I just wish I had used my pizza dough recipe for the dough rather than one that I found online.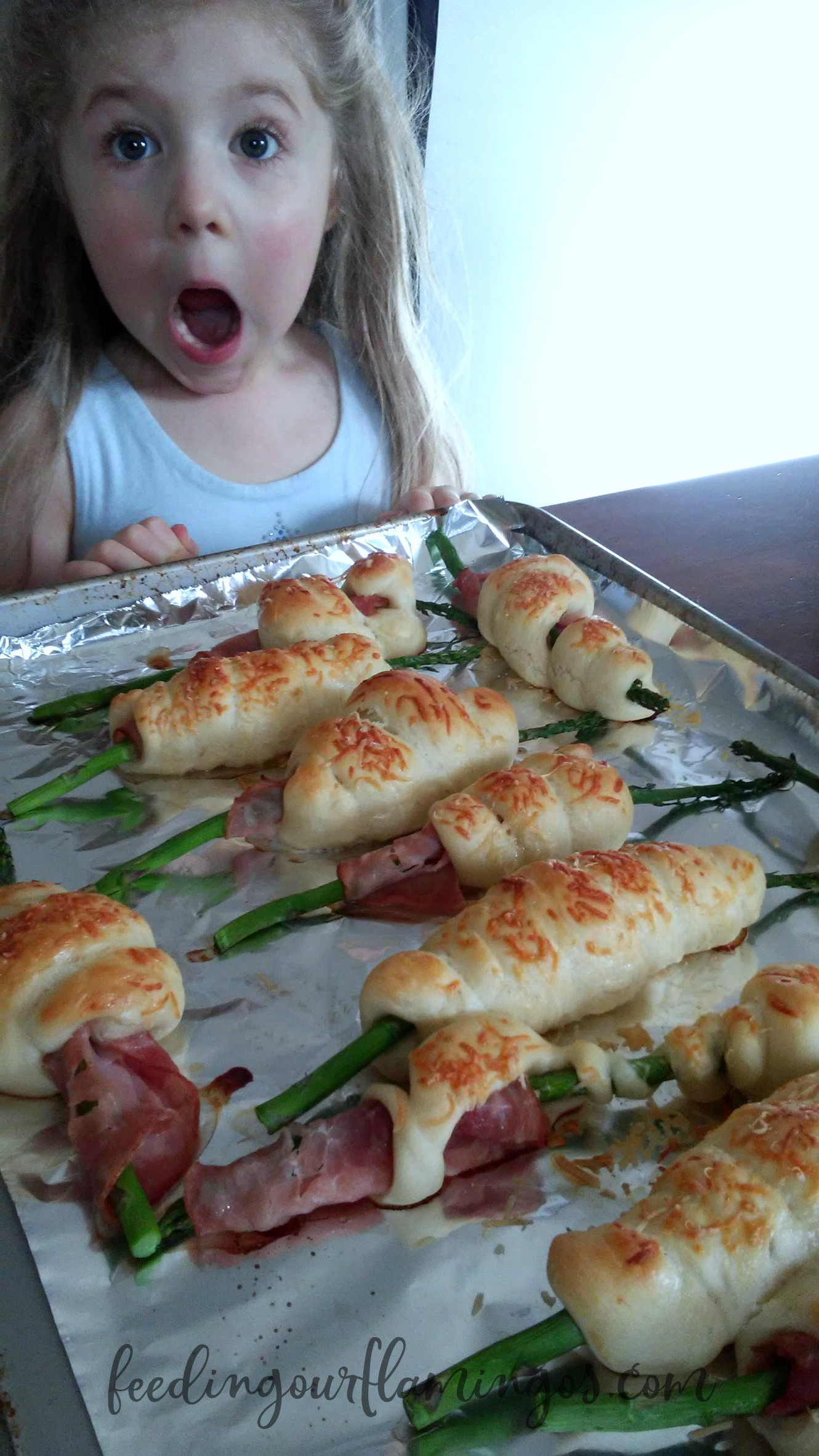 Brussels Butterfly Snack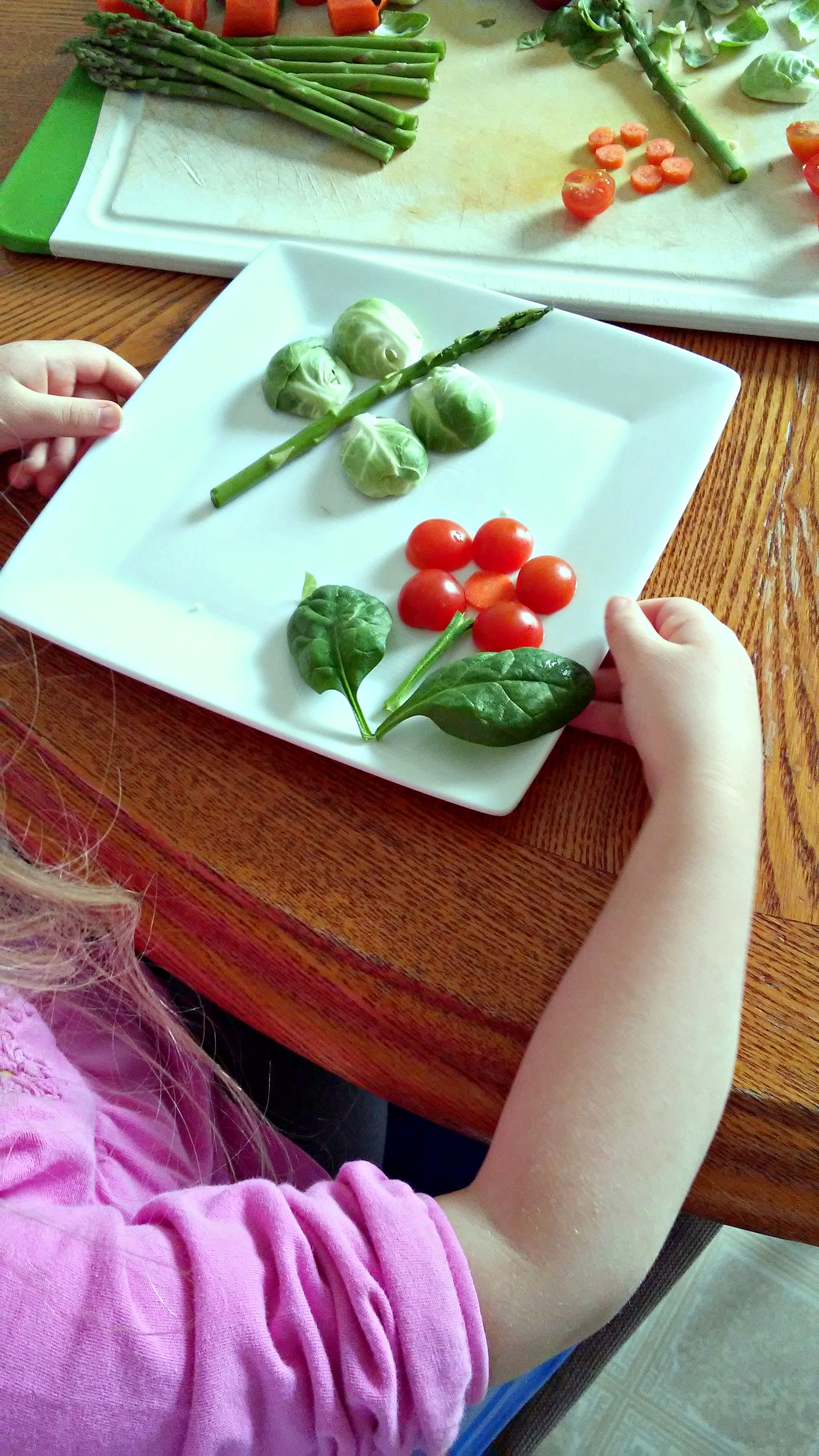 Before you get your feathers in a ruffle, let me explain that we do not make cutesy snacks on a regular basis. I bet we have made them twice in the past year.
This Brussels Butterfly Snack was cute. My daughters really loved making theirs. We had an unexpected visitor right after I finished helping my kids make theirs, so I have no idea if my kids liked this snack or not. I do know they liked the part where they got to make their own art on their plate, but I don't think they actually ate the vegetables. I wish I had steamed the asparagus first, because I don't think they would be that tasty/easy to eat without cooking. You can eat asparagus raw, but it's so much easier to eat when it's cooked.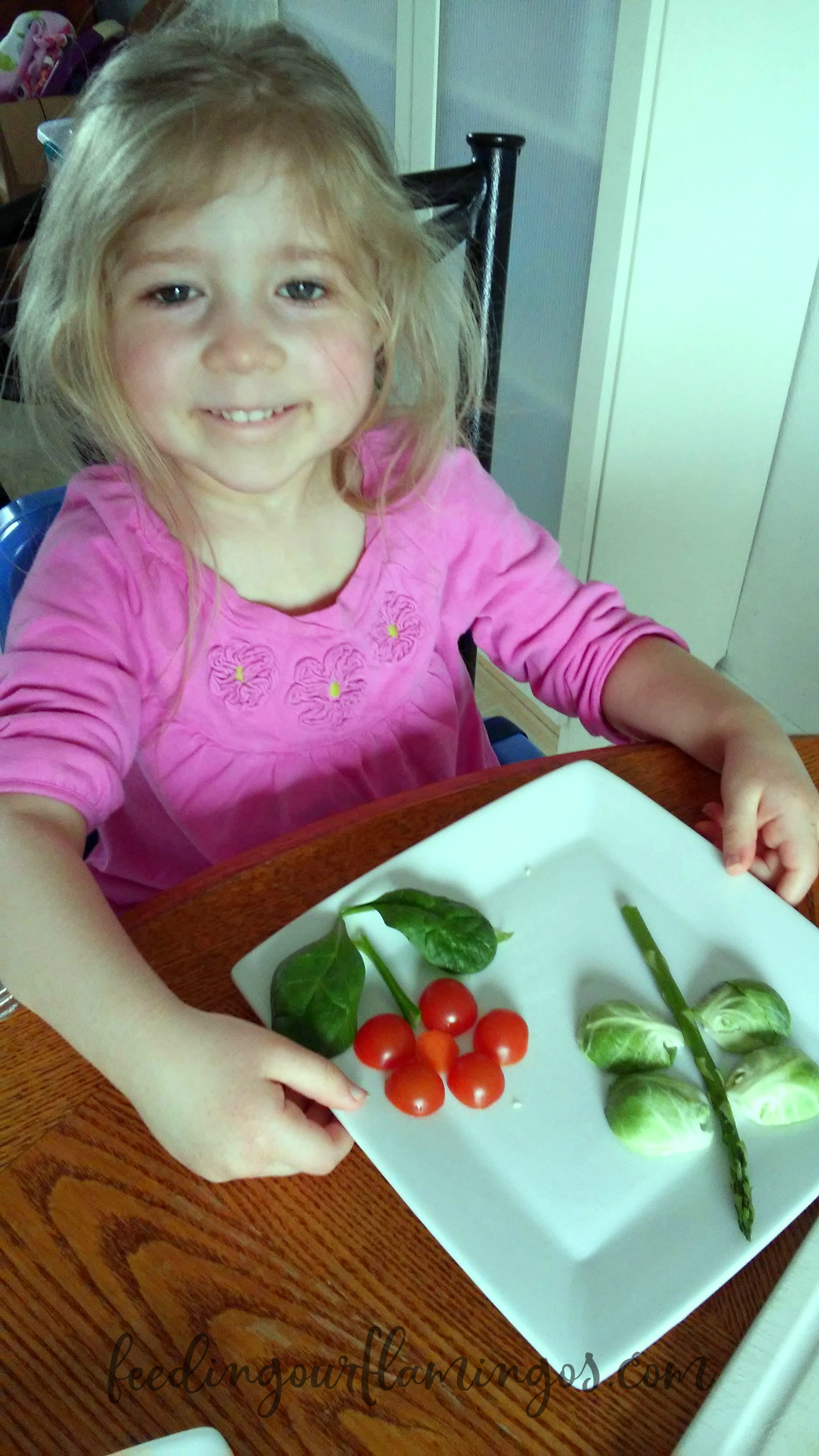 Creamy Roasted Garlic and Asparagus Soup
This Creamy Roasted Garlic and Asparagus Soup (sorry, no link since this was in a cookbook I have) was actually a very quick meal to put together, I just wish I had all the components on the table and ready to prep before starting. Sometimes I start making a recipe and none of the ingredients are ready to go, so it takes longer to execute. I also wish I had an immersion blender because it would have been easier to puree the soup. I had to use my blender and I didn't blend it well enough because it was hot so it turned out a little too stringy.
My 1 year old LOVED this. My husband did not, but he ate his bowl full. I liked it, especially with the toast we ate it with. I made this semi-dairy free for my daughter and myself (I used mostly coconut milk instead of all milk, but I still used the cream cheese). It did taste a little coconut-y, and my husband didn't care for that. My daughter had a stomach ache that night because of the milk and cream cheese, unfortunately.
Sweet Potato Bar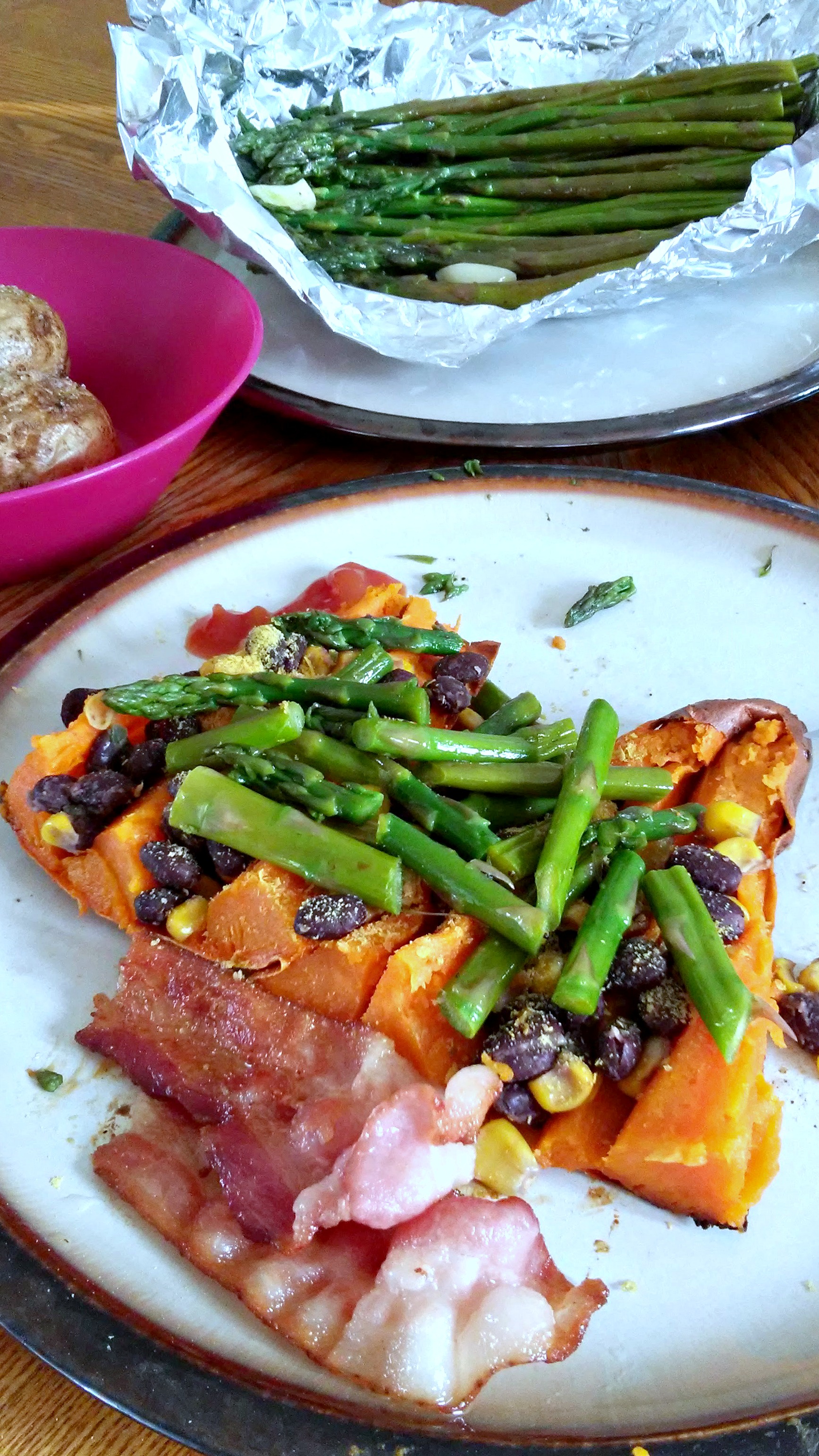 You can use whatever toppings you want for a sweet potato bar, but we chose to use asparagus since that is the veggie of the month. We also used bacon, beans and corn, nutritional yeast, and salsa. I made white potatoes for my sweet potato-hating husband. I have tried so many different ways to get him to eat them and he just won't. 🙁 I steamed the asparagus in my instant pot for this, but I prefer the roasted taste.
It was kind of a weird combination of food, but we all ate it and ⅔ of my kids gobbled it right up. I liked it too, and it was super filling.
Roasted Asparagus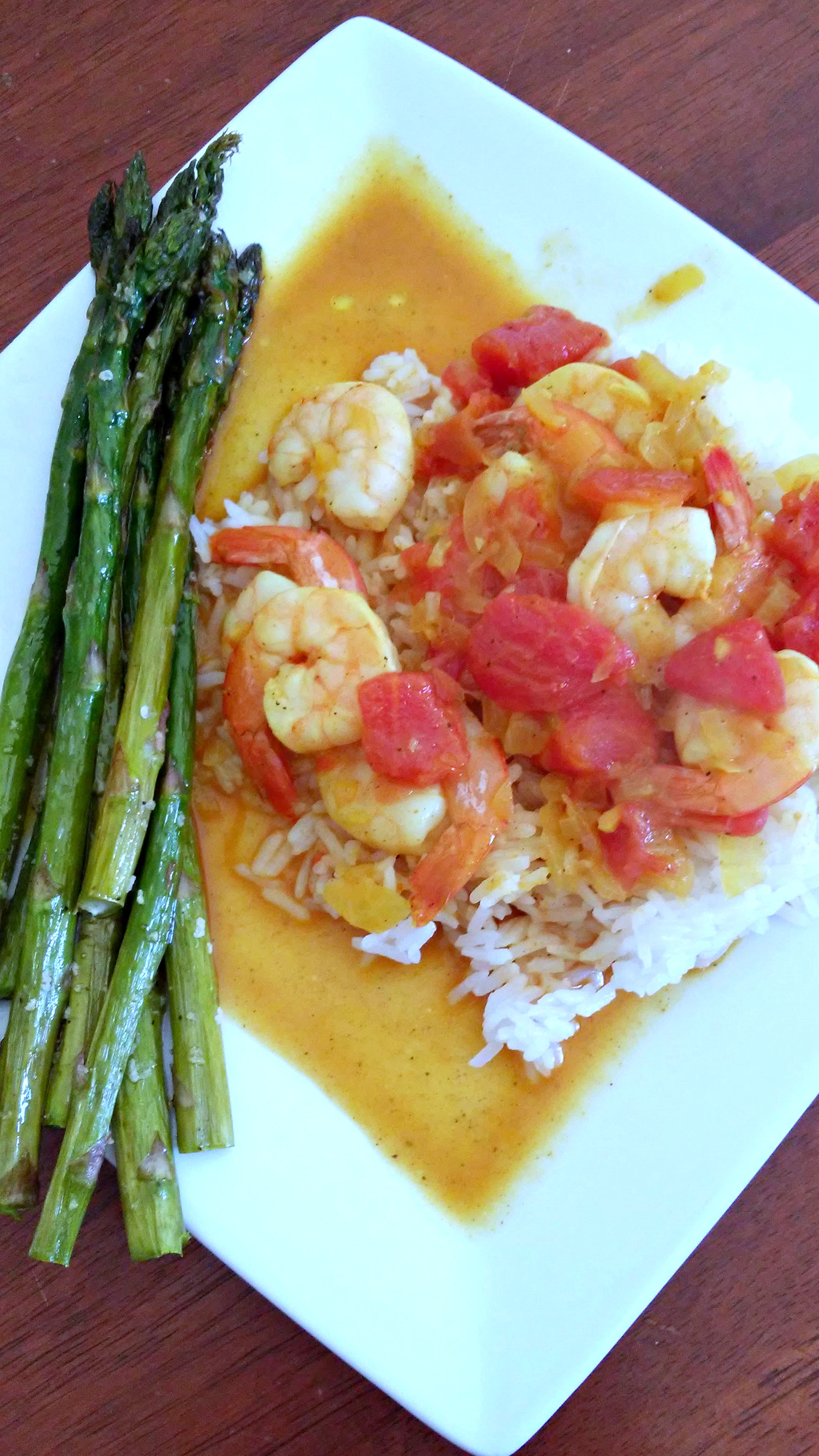 When we make asparagus, we usually roast it so we had to make it at least once this month that way. Roasted Asparagus is so easy and brings out the asparagus flavor so well. Plus, everyone likes it this way.
We paired our roasted asparagus with some shrimp curry and rice and it was perfect. My girls only wanted the asparagus, my 20 month old only wanted the curry, and my husband and I loved it all.
Dragon Tails and Chicken Pasta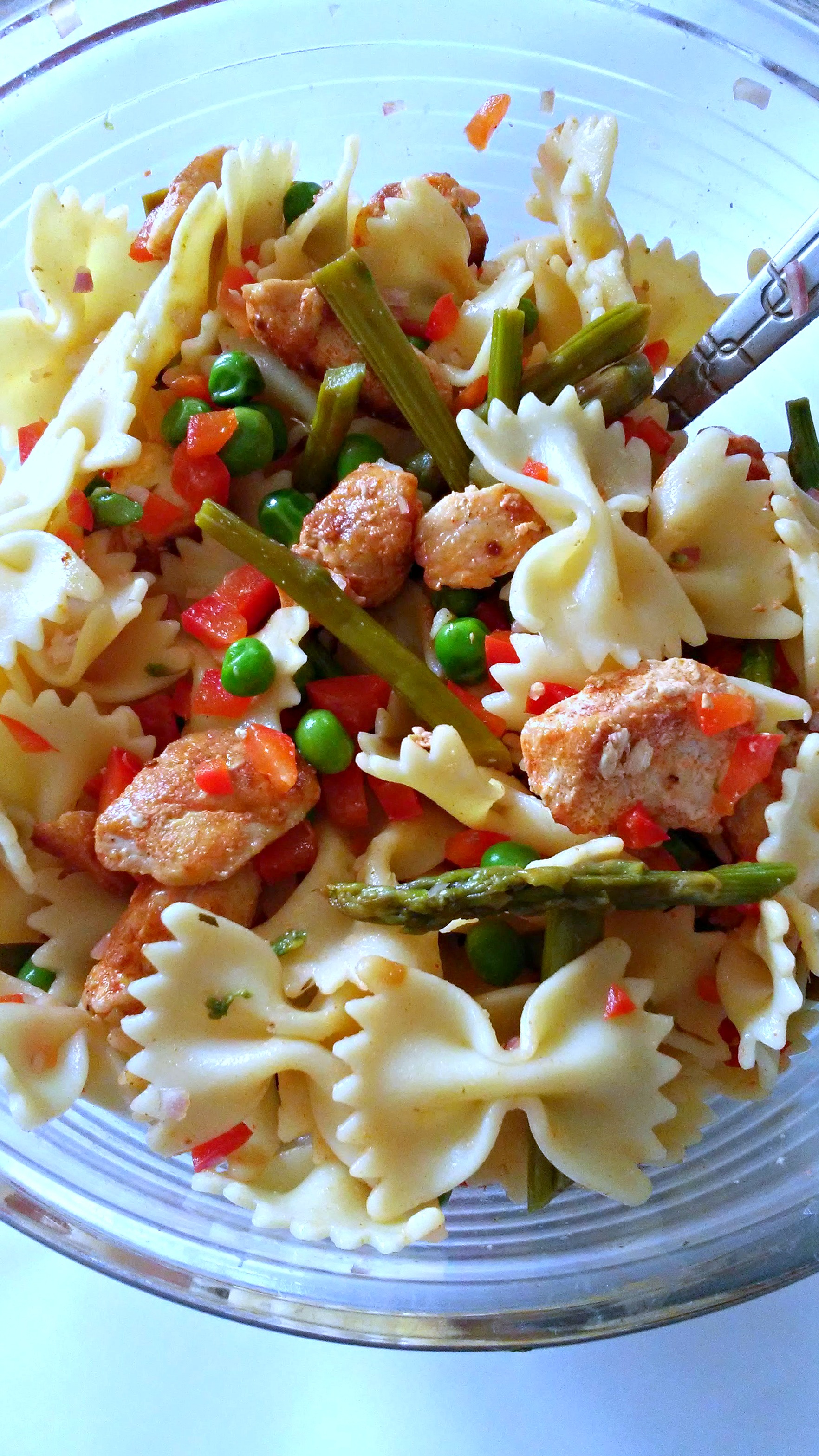 The first thing I thought when I saw this meal idea was "How cute! I just love the name." Mine didn't turn out nearly as cute, but my kids liked the name, too. I made this Dragon Tails and Chicken Pasta for a lunch during the week rather than for dinner just because I know my husband doesn't care for pasta salads.
I was so surprised at how tasty this meal turned out. I thought the vinegar would be overpowering, but it worked out really well. My kids liked it, but they did pick around the peas and peppers. They especially loved the chicken and pasta. Ha! What kid wouldn't?
One Pan Sausage with Sweet Potato and Asparagus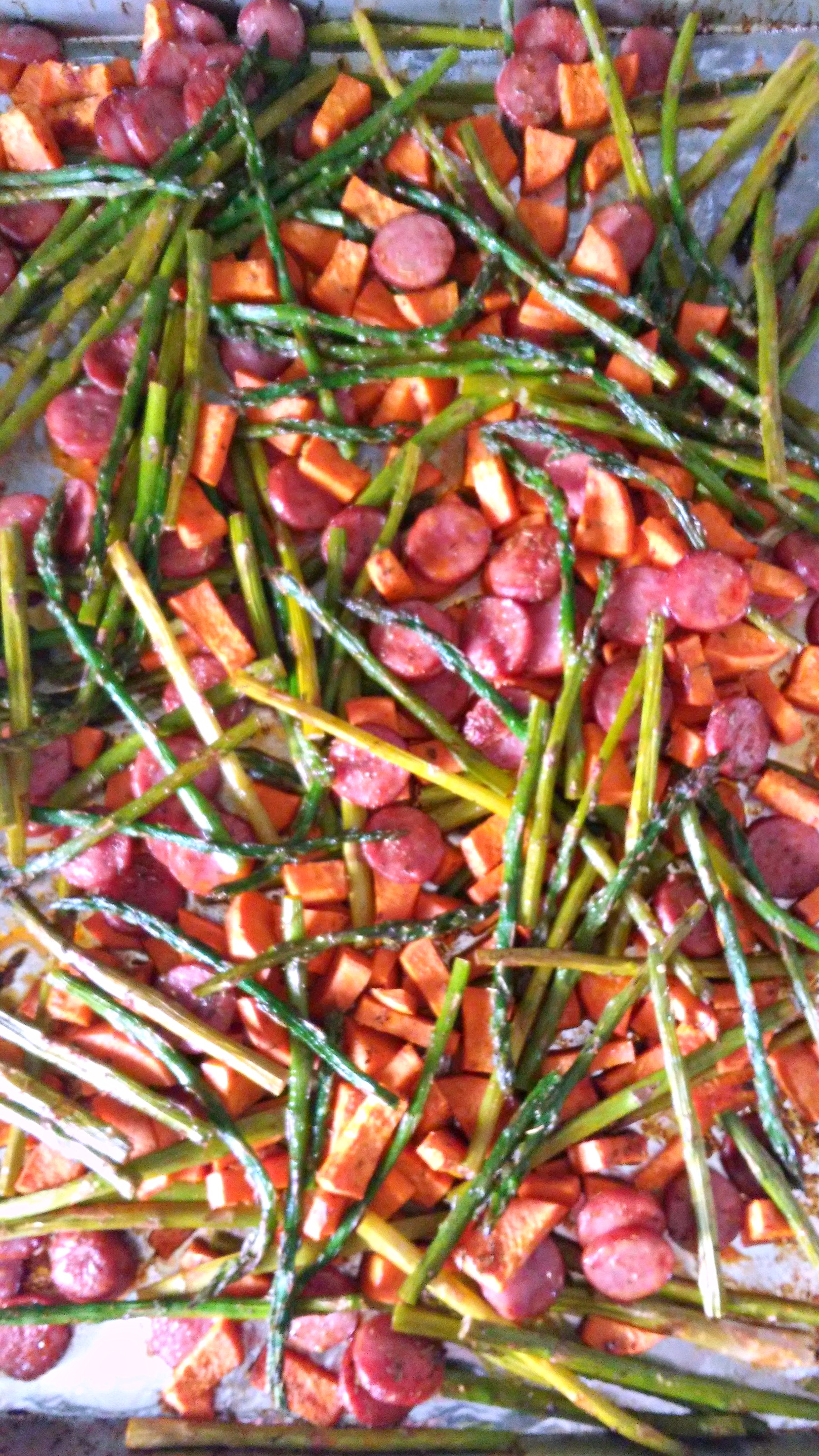 One Pan Sausage with Sweet Potato and Asparagus was a breeze to throw together. It is a great spring meal as long as the weather outside is not too warm, otherwise your house will feel like a sauna. I was a little surprised that all the ingredients would not fit in a single layer on my sheet pan. I really should have got out another sheet pan so everything could cook evenly, but I didn't, and that meant that the asparagus was a little undercooked for my taste.
My kids loved the sausage and sweet potato but didn't really eat the asparagus because of what I mentioned above. My husband avoided eating the sweet potato (that man needs a sweet potato intervention!), but thought the sausage and asparagus was great.
Sheet Pan Chicken with Spring Veggies
I made Sheet Pan Chicken with Spring Veggies with just one chicken breast that I had in my freezer. When I put the chicken breast on the sheet pan with the veggies, it was still a little frozen (even though I got it out the night before to thaw in my fridge). I really should have cut it into 4 pieces so it would cook as fast as the veggies, but I didn't and I ended up having to cook the chicken longer by itself.
Everyone loved this meal and thought the seasonings were just right. I could have served this with quinoa because I had some in the fridge, but I opted not to just because I knew I would have been the only one to actually eat it. Sometimes I go against everything I believe just to save my money and sanity. 😉
How Much Does Asparagus Cost?
Asparagus is priced by the pound and it ranged in price from $1.78/lb-$2.48/lb where I live (in April). I bought 6 bunches of asparagus for a total of $13.80 or $1.53 per meal (since there were 9 meals).
Selecting and Storing Asparagus
When choosing asparagus, be sure to look at the color and both ends. You want to take home a vibrant green bunch. The tips should look like a new paint brush, and the cut ends should not be brittle.
When you bring home your asparagus, you can trim the bottoms and put the bunch in a jar with some water. Place a plastic bag loosely over the entire bunch and put the jar in the fridge. If you change the water when you notice it looking murky, it should help the asparagus last much longer than it otherwise would. You should plan to use your asparagus within a few days of buying it for the freshest taste.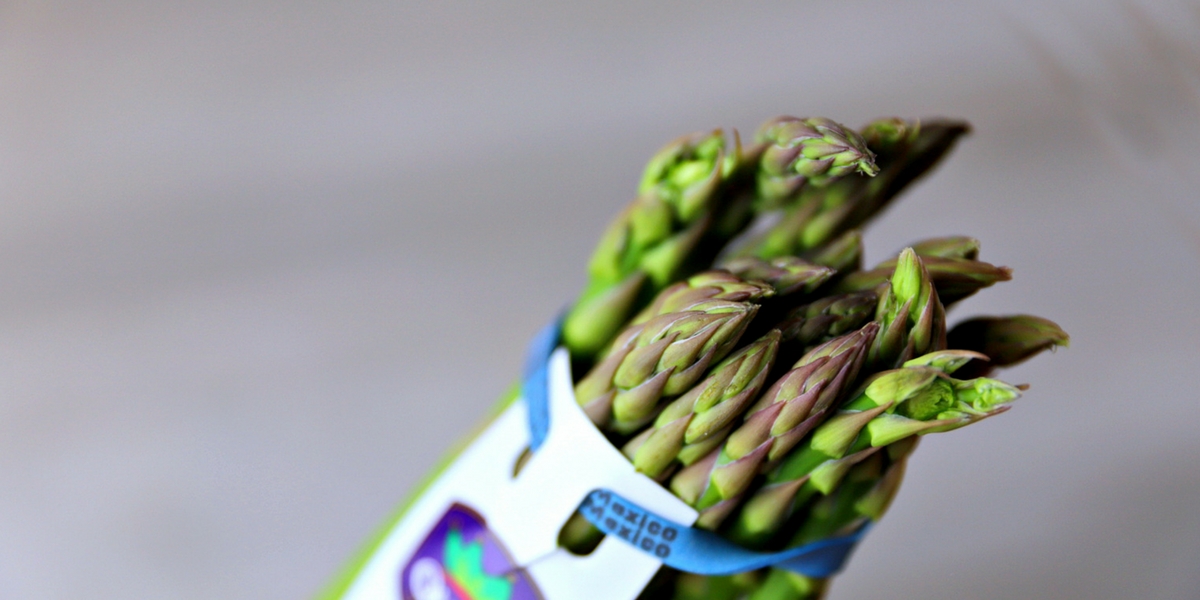 Preparing Asparagus
Asparagus needs to be trimmed on the bottoms before using. If your asparagus is too thick for your taste, you can use a vegetable peeler to remove the tough skin.
You can prepare asparagus however you'd like, but some ways include roasting, in soup, or in an egg dish.
Nutritional Benefits of Asparagus
Asparagus has plenty of vitamin K, which helps with blood clotting. It's also a great food to eat for antioxidants (you know, to fight free radicals which cause cancer) and to fight inflammation. There's even more to learn about this amazing vegetable over on Dr. Axe.
May's Veggie: Arugula
May is here (we're already ⅓ of the way through the year!!) and that means there's a new veggie of the month. This month we're going to be eating lots of arugula. Arugula is a type of lettuce, and some stores may not carry it, so if you can't find it, choose a different lettuce to try this month. Be sure to follow along on Instagram so you can see how we're using arugula this month.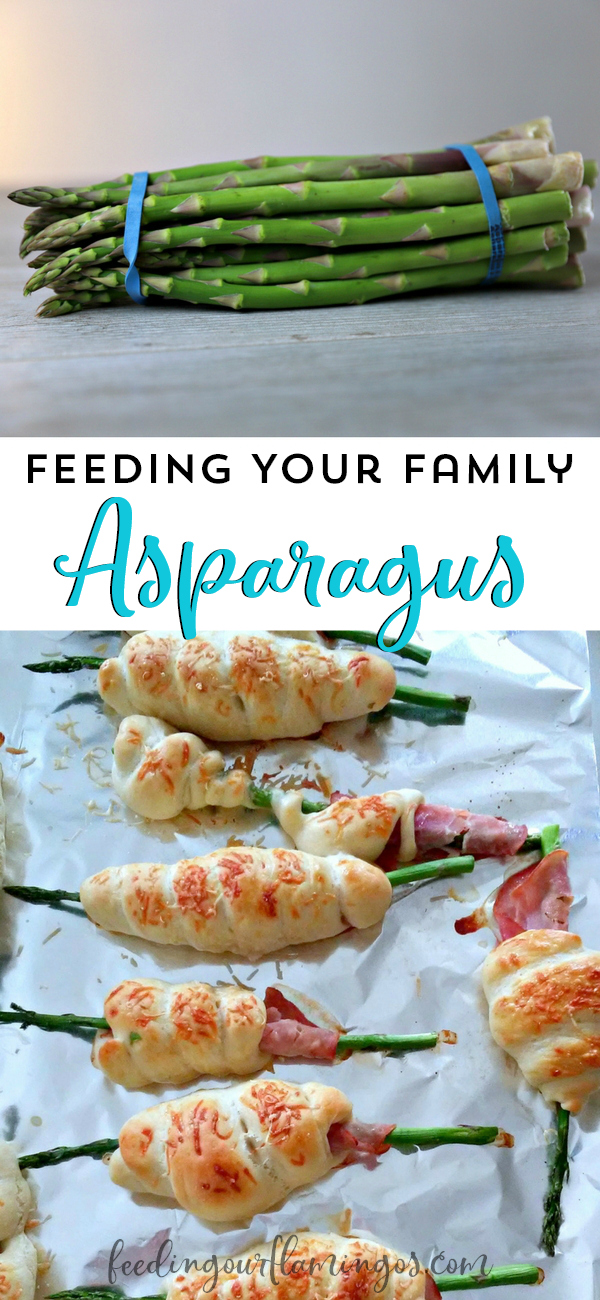 Join the 12 Month Produce Challenge!
It's free and you'll get reminders to keep you on track. If you've been trying to give your family healthier food, this is the challenge you need! By signing up, you also agree to receive other emails from me.

Latest posts by Charlee Flaminio
(see all)