Who here wants a nice slice of warm homemade bread smothered with fresh butter and jam? I know I do. Who wouldn't?
It's amazing to me that less than 100 years ago, eating fresh like this was the norm. Now it's so common to buy bread, jam, and butter (or margarine) that we get super excited over the real stuff. Ironically, in César's family, they call store-bought bread pan de plástico, or plastic bread. Gives you something to think about.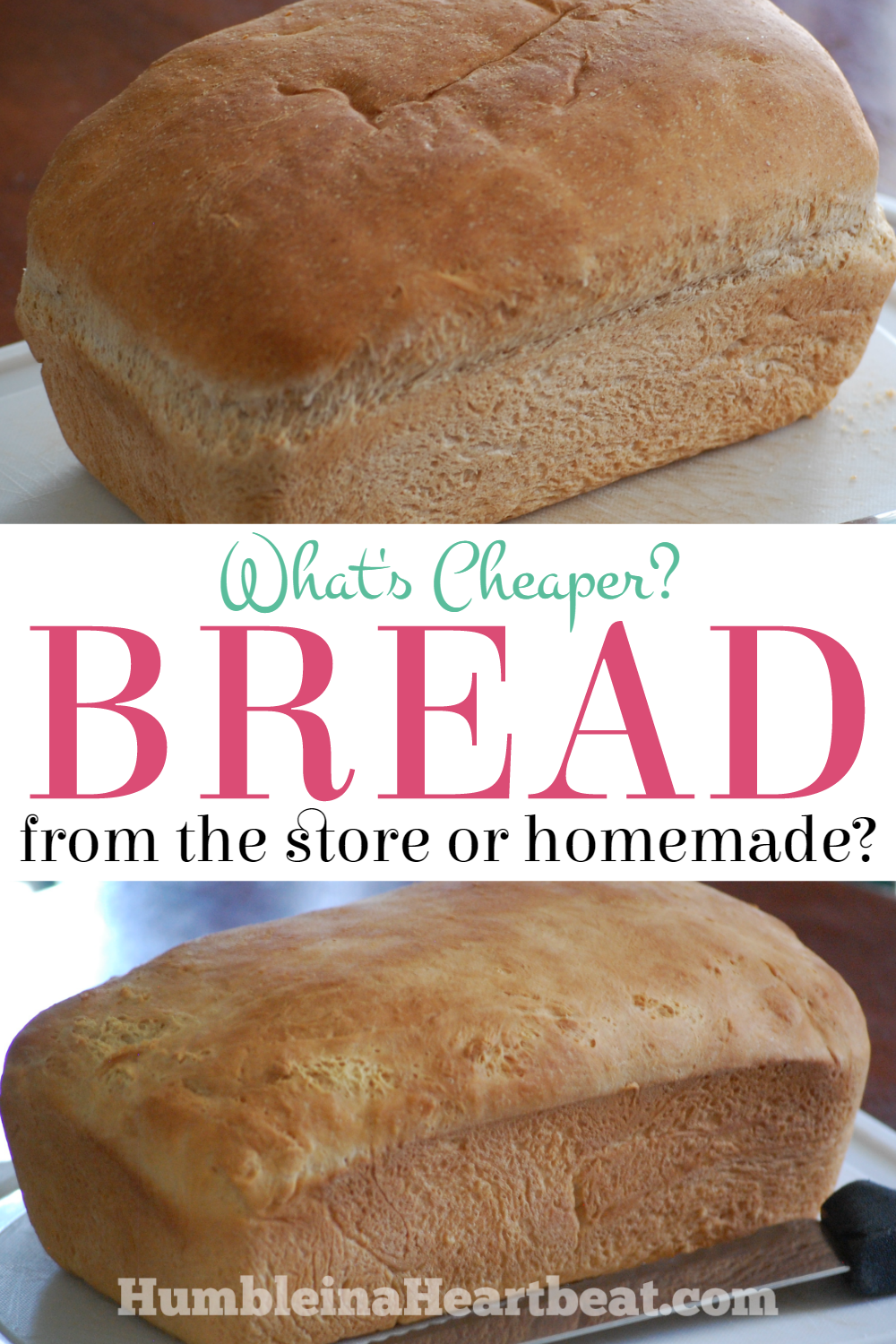 I love making bread, but I rarely get around to it (maybe once every 2 months) because of all the other things I need to do. This week, though, I've been making bread a lot more. Boy, is César happy! He is bread's #1 fan! If I make a meal, especially something Italian, and there is no bread in the house, that's all he can talk about, "Where's the bread? I can't enjoy this delicious sauce without some lovely bread!" It's a true crisis.
Disclosure: This post contains affiliate links. This basically means if you click on a link that takes you to Amazon, and you make a purchase, I will receive a small commission from your purchase.
Cost of Bread
What is the cost of bread nowadays? I've set out to find what is cheaper: store-bought bread or homemade bread.
Now, I know that I am one person, living in one city, buying bread from two stores, and only comparing two homemade bread recipes. It's possible that my cost comparison is actually wrong. However, I think that it could give you some great insight.
If you want to do a cost comparison yourself, please share the results in the comments! I would love it if others joined in on the search for the cheapest option.
Let's get to the comparison!
STORE-BOUGHT BREAD
I'll start with the cost of the store-bought bread. I went to Walmart and WinCo since I shop at those two stores the most.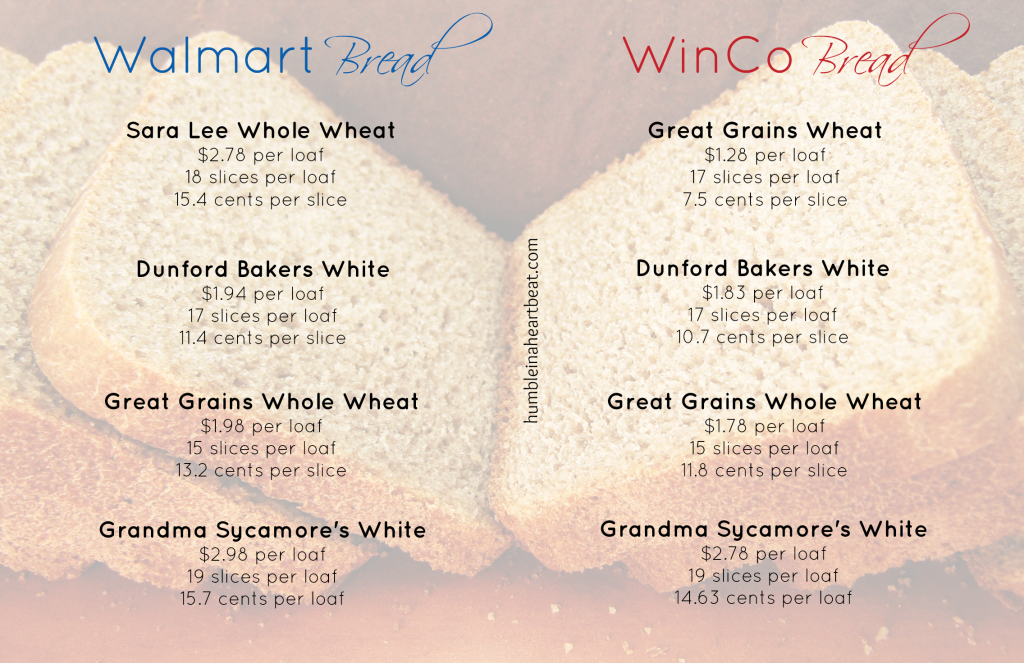 Walmart
Lowest cost of the 4 breads – 11.4 cents per slice
Average cost of white bread – 13.5 cents per slice
Average cost of wheat bread – 14.3 cents per slice
Overall average cost – 13.9 cents per slice
WinCo
Lowest cost of the 4 breads – 7.5 cents per slice
Average cost of white bread – 12.7 cents per slice
Average cost of wheat bread – 9.7 cents per slice
Overall average cost – 11.2 cents per slice
The average cost for wheat at both stores was 12 cents per slice, while the average cost for white was 13.1 cents per slice.
The best prices came from WinCo, so I'm glad I buy my bread there most of the time. I'd have to do an in-depth cost comparison to really make sure that WinCo had the best prices, but I don't have time for that.
Yearly cost per type of bread
Let's take a look at the yearly cost for both white and wheat at both stores just to get an idea of how much a few cents can make over time:
White – $170.07 per year
Wheat – $140.52 per year
I figured that we buy about 6 loaves of bread each month. The difference you would pay over a period of one year, for only a 1.1 cent difference, would be $29.56. It's only $2.46 per month, but if you are on a strict budget, that makes a bit of a difference.
Homemade Bread
(the recipe is at the bottom of the page when you click the link)
Total cost – $3.15
Cost per loaf – $1.58
Cost per slice (I got 13 pieces of bread out of it) – $0.12
Total cost – $1.51
Cost per slice (I got 16 pieces of bread out of it) – $0.09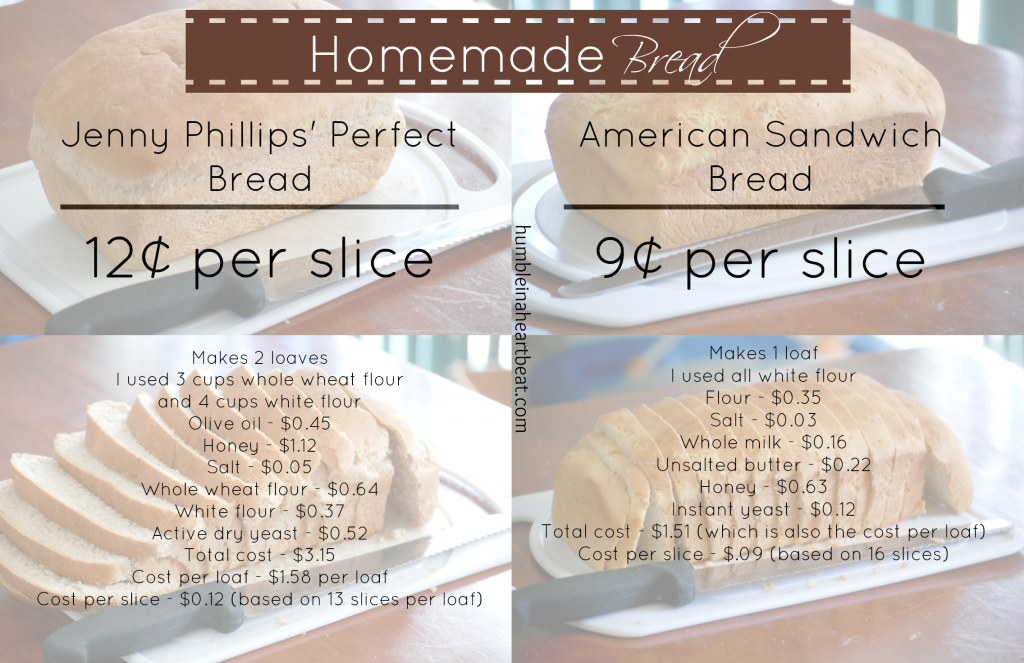 As you can see from the above graph, the American Sandwich Bread is 3 cents cheaper per slice. I think there are plenty of reasons for that. First, I was able to get 16 slices out of it, but the Jenny Phillips' Perfect Bread only got 13 slices. Also, it uses less honey and takes butter instead of olive oil. It also calls for instant yeast instead of active dry, which runs at a slightly higher price.
Average cost per slice of homemade bread: 10.5 cents
Things to consider (both good and bad) before making homemade bread:
You either need a stand mixer (THIS is the one I have), a bread machine, or some big guns (a.k.a. muscles) to make it
You'll probably need to use water, gas, and electricity to make it, which increases the cost per slice
You have to invest time to make bread
You have complete control over the ingredients in your bread
Homemade bread is so delicious, it will probably be eaten much faster than the store-bought kind
You need a lot of ingredients on hand to make it whenever you need it
You have to slice it yourself
Bread pans are normally required
You have to turn on your oven to make it (which could be a problem in the summer)
It makes your house smell like a bakery. The best darn bakery around.
You can make different recipes all the time, or you could stick to the same recipe
Things to consider about buying bread:
You have a lot of options, all the way from really healthy down to dirt cheap
You will probably pay more than homemade
There are many questionable ingredients in store-bought bread
It's a great option if you are busy and can't make your own
Not as tasty. Seriously. And it doesn't smell like bread should.
Here's my own dilemma. My husband enjoys bread so much that when I make homemade bread, it is eaten at least 5 times as fast as store-bought. So if it's true that homemade bread is cheaper, you'd think I would be happy. But because we eat it way faster, I have to make it more often, and it actually ends up costing more than store-bought bread because we go through it at lightning speed. Hm. What to do. What to do.
Do you think I should continue buying bread? What do you do?

Latest posts by Charlee Flaminio
(see all)