Although my husband was born and raised in Argentina he rarely ate anything with the popular caramel sauce, Dulce de Leche. His family lunches ended with a small amount of fruit (only on occasion), and that was dessert. How can you live in a country that offers such a beautiful sauce and never indulge? It's maddening, I tell ya.
Dulce de Leche is basically just milk sugar that has been cooked down into a caramel-like sauce. Its origins are supposedly from Argentina, but this sauce is known in all parts of the world as a delicious addition to breakfast or dessert.

Disclosure: This post contains affiliate links. If you click on one of these links and you make a purchase, I will receive a small commission from your purchase.
Soon after we were married, I attempted to make Dulce de Leche from scratch. I spent much too long hovering over the stove waiting for a miracle to happen. I like being domestic, but when it comes to Dulce de Leche, I'm going with the can!
Since my husband met me he has slowly adapted quite the sweet tooth. Now he really does dream about Dulce de Leche and wonders why there is never any waiting for him in the fridge when it is so.simple.to make. For real. It's like a 2 minute job instead of 3 hours of slaving away at the stove crossing your fingers that it will work out.
One Ingredient Dulce de Leche
After that first failed attempt at from-scratch Dulce de Leche, I turned to making it the easy way. With one ingredient. Yep, you read that right. One. Ingredient. All it takes is a can of Sweetened Condensed Milk
. Surprisingly, there are actually several ways you can make Dulce de Leche using just this one ingredient.
The Stovetop Method
The very first time I made Dulce de Leche with sweetened condensed milk, I used the stovetop method. To make Dulce de Leche this way, you place a can of sweetened condensed milk in a saucepan and cover the can completely with water. You turn on the heat and let it cook for about 2-3 hours, but you have to watch the level of the water.
This method is actually very dangerous because you run the risk of a huge explosion in your kitchen. You don't want to risk your life or your kitchen over a simple dessert. Ok, so maybe I'm exaggerating, but I can only imagine the damage it would create if a can did explode. Dulce de Leche is good, but not that good.
The Pressure Cooker Method
Since that time, I have switched between using the pressure cooker and the crockpot. This method is just like the stovetop method, but instead of using a saucepan, you use a pressure cooker. Instead of cooking for 2-3 hours, though, you only need to leave it on the stove for about 45 minutes to an hour.
The last time I used the pressure cooker, I caused a huge scene. Instead of letting the pressure cooker release pressure on its own, I wanted to speed up the process so I removed the little knobber dilly on the lid. That little knobber dilly (of course that's not the name, I just can't think of what it is!) is important to keep on. Here's why: water went shooting all over the ceiling and sprayed all over everything in the vicinity. I can only imagine it was similar to a can exploding! I even burnt my finger, and the whole thing scared the living bejeebees out of me. Everyone was downstairs and they heard me yelling and thought something even worse was happening!
If you use the pressure cooker, just be smart about it and don't touch the knobber dilly. 'Ight?
The Oven Method
For the oven method, you need to open your can(s) of sweetened condensed milk and pour it into a shallow pan. You place the pan on a baking sheet and put boiling water on the baking sheet so it is in a water bath. You need to cover the shallow pan with some tin foil. Then you put the baking sheet into the oven set at 425F for 1 hour to 1 1/2 hours.
For the purpose of this post, I wanted to make some Dulce de Leche in the oven to see if it was as easy as it sounded.
Major FAIL!! Perhaps I left it in the oven for too long or had the temperature too high, but when I pulled it out of the oven it looked like a baked custard, well-done. I tried it after it cooled off and it tasted nothing like Dulce de Leche. I still liked eating it because it reminded me a little bit of flan (strange, I know). You are more than welcome to try it this way. Just be careful about the temperature and length of time you have it in the oven.
The Crockpot Method
So now that we've eliminated three methods of making Dulce de Leche (for your safety and sanity), we are down to two ways you can make it in the crockpot.
The first way is just putting a can or two of sweetened condensed milk in your crockpot (don't forget to remove the labels). Stand them up or lay them on their sides. Pour water over the cans until the water is at least an inch above the tops of the cans. Plug in the crockpot and turn it on low for at least 6 hours. When it is done, pour the water out and take the cans out with an oven mitt. Let the cans cool down for an hour and then open them. Now you have Dulce de Leche!
The second way I have made Dulce de Leche in the crockpot is in a small glass bowl. I dumped the sweetened condensed milk into a small glass bowl, put it into the crockpot and poured water around it until it was about ¾ up the bowl. Then I put the lid on, turned the crockpot on low for 6 hours and let it cook.
When I tried my first attempts at Dulce de Leche all those years ago, I was grateful to virtually bump into other American bloggers who were also married to Argentines. Two of these bloggers have great tutorials on making Dulce de Leche HERE (link no longer available – crockpot method) and HERE (from scratch).
Cost to Make Dulce de Leche
Sweetened condensed milk – $2.00 for 14 oz.
You can always buy Dulce de Leche. I've never seen it at the grocery store, but you could probably find it at a Latin market and it's also on Amazon. In fact, this one called La Salamandra Dulce de Leche from Argentina
 is currently $15.49 for 16 oz. I tried the store-bought kind over a decade ago, so I can't remember what it tasted like, but I think the homemade version fulfills the same purpose at a fraction of the cost.
How to Serve Dulce de Leche
The sky is the limit with Dulce de Leche. Because it tastes similar to caramel, you can use it as a substitute for most any recipe that calls for caramel.
Here are all the ideas I can think of for using Dulce de Leche:
Put it on your waffles, pancakes, or crepes (in Argentina, they call these panqueques con dulce de leche)
Sandwich it between two cookies (in Argentina this dessert is called alfajores)
Spread it on your bread for a delicious morning treat or snack
Drizzle it over some ice cream or cheesecake (make sure it's a little warm so it runs easily)
Use it as a fruit dip (I personally like to spread a little on my apple slices or on a banana)
Put it in a cake (I had a chocolate cake for my birthday with Dulce de Leche in between the layers. Mmmmmmmmmmmmm!)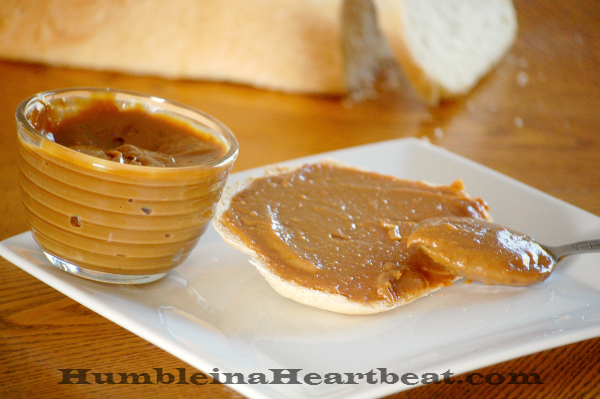 Each can (14 oz.) serves about 5-10 people depending on how you use it.
While there are several methods to making one ingredient Dulce de Leche, you will likely only want to stick to one that works for you. As soon as you find the perfect method, you'll be enjoying Dulce de Leche often and in a variety of ways!

Latest posts by Charlee Flaminio
(see all)