Looking for ways to spend less time in the kitchen without sacrificing the quality of your meals? Simple meals work wonders for my own family, and they could probably work well for yours!
Meet Meg, Meal Planning Diva. Every week, just like clockwork, she is writing out a meal plan and shopping list.
Unfortunately, when it comes to executing said meal plan, the name that more accurately describes her is The Way-in-Over-Her-Head Home Cook.
On any given day of the week, she is often found in her kitchen, chopping vegetables, whipping up delicious sauces, baking veggie chips, and roasting chicken.
Sure, her kids are running amuck through the house and there are 5 loads of laundry sitting on her couch, waiting to be folded and put away. But she's smiling away in the kitchen, putting the finishing touches on the 3-course dinner she'll be serving tonight.
She often says "No" to helping people in her neighborhood and taking her kids to fun, free events because that would mean she couldn't make the meals she planned on her meal plan. And that would mean she'd have to waste food and spend more money on convenience foods than she'd like.
She puts on a fake face, making everyone think she just loves spending time cooking. But behind the facade, she is dying inside. She wants more time to be with her kids. She wants to help neighbors and friends who are in need. But what about the healthy food she wants to serve?
What Is Meg Missing?
If Meg were sitting next to me, and she had asked me for some down-to-earth advice, I'd say:
Hey, Meg. I know you love making meals from scratch because it's healthy and more delicious, but you need some balance in your life, girl! Why not try planning some meals that take up less of your time? You could still make the more "complicated" meals once or twice a week, but the rest of the week, give yourself (and your kids, and your house) some slack. Eating healthy is important, I know. But your kids are important, too. And so is lending a helping hand to those in need. So, what do you say, Meg? Can you simplify your meals a bit and spend less time in the kitchen?
Wanna know something? I was once, and still often am, Meg.
It wasn't until my oldest daughter was two and my second child was a few months old that my husband finally spoke up, "Hey, Charlee, why don't you try simplifying the meals we eat?"
Boy, was that a load off my shoulders!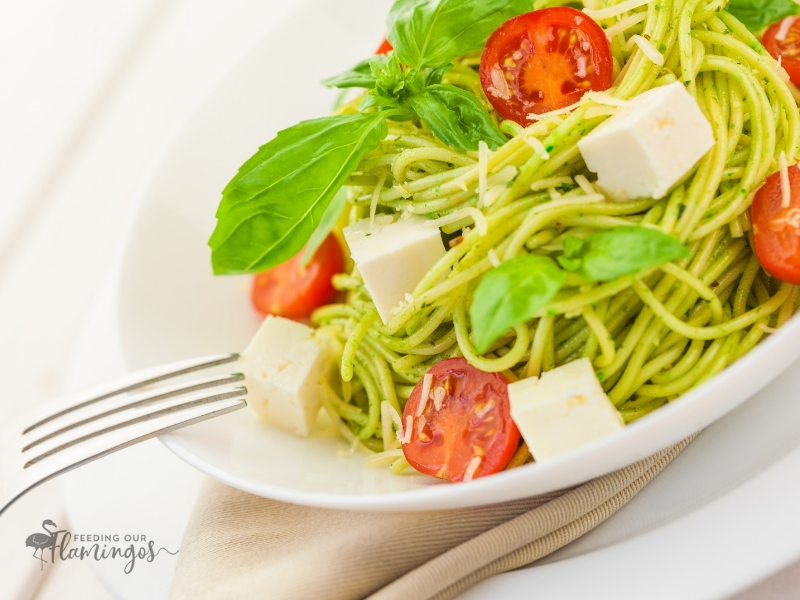 You would think it would be easy to just switch over to making simple meals all the time. But, nope. Nuh-uh. Not for me. It was such a habit for me to plan involved meals, that I still have to force myself to choose simpler meals…nearly 5 years later.
Something else kind of caught me off guard when trying to make faster and easier meals. How could I possibly make them healthy? I had no idea, really, since I was trying to give my family better food for the first time ever.
At first, I wasn't always successful at providing a fast meal or even a healthy meal. I really thought maybe you couldn't have the best of both worlds. It either had to be fast or it had to be healthy.
Probably about two years into the journey, I got curious about meal planning services. There were several ones I came across that provided a healthy meal plan or a quick meal plan, but not both in the same plan. So I tried a few of these services for a free trial period. While I really did love a lot of the meals I made with the different services, I was still spending way too much time cooking.
When Things Finally Clicked
When I stopped using the meal planning services and started doing my own meal plan again, I was able to plan for quick, healthy, simple meals. And once I came up with a better meal planning system, those simple meals became a more prevalent part of our weekly meal plan.
Related: How to Make Meal Planning Quick and Easy with Plan to Eat
Things finally started looking up! I wasn't starting dinner at 4 so I could finish by 6 anymore. Instead, I was starting dinner around 5:30 and having it on the table several minutes before 6.
The greatest thing, to me, was that I was actually reading to my kids and playing with them. I wasn't caught up in cooking all afternoon, and our meals were still really yummy and healthy. Win win all around!
Why I Believe Simple Meals Are Powerful
I am a huge advocate for simple meals now. Not only do they save me tons of time in the kitchen cooking, but they also allow me to feed healthy food to my family. Quick weeknight meals truly help me reach my desired goal of feeding my family well while also making sure I have plenty of time to spend with them.
Our simple meals are almost always tasty and most of the time it's these very simple meals that are the most well-received by my kids and husband. They usually don't like it when I try new things that look strange to them. They love familiarity, and if I can give that to them while still offering plenty of variety, I've done my job.

My Own Definition of Simple Meals
At this point, you might be wondering what I really mean by simple meals. Over the years, I have tweaked my thoughts on it.
All-in-all, I came up with my own idea of a balanced meal from the different sources of information I've encountered over the years.
What a simple, healthy meal really comes down to is spending less time cooking and increasing the nutritional value. You might want to call them quick weeknight meals or fast, easy meals instead. It's all up to you.
Below I'll share my own definition of a simple, healthy meal, and you can turn around and make up your own definition if needed.
Simple, Healthy Meal: A meal that can be made in less than 30 minutes, usually with few ingredients, and consists of protein, fruits/veggies, a starch, and a healthy fat.
Now, do all the simple meals I make completely follow that definition? No, they do not. I am not perfect, and neither are the circumstances in my life.
5 Secrets to Harnessing the Power of Simple Meals
Want in on a few secrets that will help you get started with simple meals on a regular basis? Alright!
Give Your Brain a Break
If you are a mom or even if you run a household, you sort of, kind of, really need that brain of yours for important matters, not monotonous ones. So take just a couple minutes this very instant and write down your family's favorite quick weeknight meals. You don't need meal ideas floating around in your head, because when it's crunch time and you need a meal idea right then your brain is going to have a rather difficult time retrieving any good, healthy ideas.
Plan for Simple Meals First
In my experience, most seasons of mom life are busy. From the sleepless newborn stage, to toddlers ransacking the pots and pans, to driving kids around for school and extracurriculars, it kind of never stops. So even if you don't have a lot of events going on, you should still plan to make several easy meals each week before you add in the more complicated meals you've been saving on Pinterest that you've been wanting to try. Why? Because things are likely to come up that you didn't anticipate. It's better to be prepared than to find yourself stressed out about making dinner because you planned such complicated meals.

Keep Ingredients for Simple Meals on Hand at All Times
Once you have meal ideas written down and planned, you need to follow through by getting all the ingredients needed for the meals. You'll probably want to always have those ingredients on hand, so write them on your pantry staples list. It's especially nice to be prepared with these ingredients when you can't make it to the grocery store.
Add Pizzazz to Your Simple Meals
It's easy to see the word "simple" and think boring or unappetizing. But from my experience with simple meals, it can be exactly the opposite, if you know what you're doing. Spices and sauces can literally make a simple meal go from boring to amazing.
Keep Your Simple Meals Flexible, if Possible
One more secret that I think you should know is that your quick weeknight meals should be flexible and customizable. For example, if you have chicken quesadillas on your list, you obviously don't have to use chicken, especially if you don't have it on hand. You can use beans, leftover meat, or just lots of veggies instead. It's about using what you have rather than trying to make each meal exactly how the recipe is written.
Bonus secret: Simple Meals Don't Require a Recipe
And, speaking of recipes, even if you're not a great cook, surely you can make something simple as long as you have made it several times before. Try to rely on easy meals that don't require recipes so you can keep them flexible and even change things up every so often. Besides, recipes often slow people down.
In a perfect world, you'd be able to feed your family well-rounded meals every day. But life is complex. So do yourself a favor and simplify your meals if you are finding that you are spending far too much time cooking. It might be a process, like it was for me, but I know you can do it, Mama!
Disclaimer: I am not a doctor or a dietitian. Anything I share on this website is for informational purposes only. Please seek a medical professional if you need medical advice.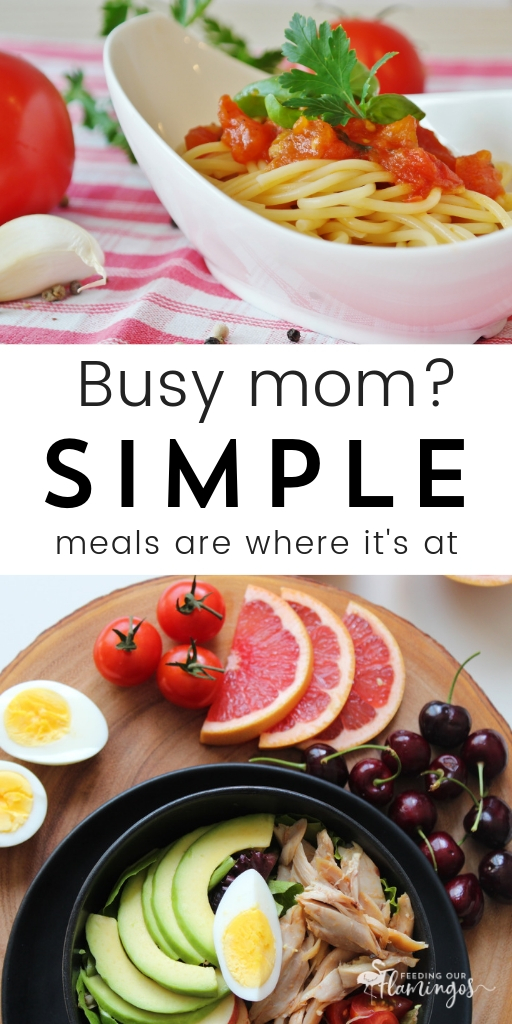 Latest posts by Charlee Flaminio
(see all)