How would you like to get this pesto pasta meal on the table in just 20 minutes? Read on to find out all the details for what you can make ahead, and get all the recipes I like to use for it as well.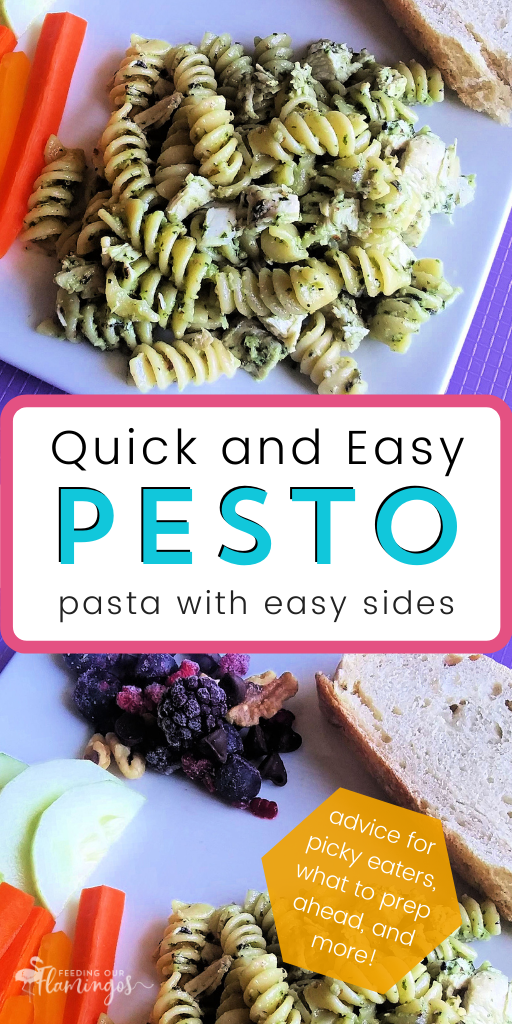 It is officially the first day of fall, and it really feels like it. I was not expecting that. You see, we just moved down to Texas this summer and figured we wouldn't get fall weather until closer to Thanksgiving. Looks like we're getting it much sooner than expected!
Today I've got a lightning-fast meal idea for you. From the looks of it, you'd think it would take an hour to pull off.  But, if you spend a little time in the days leading up to the meal, you'll find it can all come together in just 15 or 20 minutes.
Pesto Pasta with Chicken, Bread, Veggies and Dip, and a Berry Nutty Chocolate Treat
If there is anything I need to start growing stat, it's basil. That stuff is so expensive, and yet I find myself making pesto pasta all summer long! You'd better believe I'll be starting an indoor herb garden ASAP.
Where to Find the Recipes
Now, I know you can buy pesto sauce, but let me tell you from experience…it's waaaaayyyy better when you make it. Try to make it ahead of time and you will be so happy with the end result.
You could also just buy the artisan bread and veggie dip from the store. But, if you're like me and love to taste a fresher end product (and maybe benefit health-wise), here are links to these recipes.
Pesto Sauce – Just mix the entire recipe with 1 lb of pasta
Chicken – Try to always have chicken ready to go in the freezer. This recipe uses the Instant Pot, but you could also cook it in the oven, grill it, or put it in a skillet. Shred or dice the chicken, and put it in the freezer, or keep some out for upcoming meals.
Artisan Bread – This recipe makes 3 loaves!
Vinaigrette, Ranch, or Hummus – All 3 of these options are superb
Berry Nutty Chocolate Treat – No recipe 😉 I just mix chocolate chips with frozen berries (raspberries are the best!) and nuts, right before we eat
What Makes this Pesto Pasta Meal Healthy?
Pasta is not as healthy as we'd like it to be. However, it's a great vehicle for getting healthy foods in our bodies. Especially for picky eaters. Now, if you use brown rice or veggie pasta, or even just a whole grain pasta, it's much better than eating regular white pasta. But don't worry, I won't judge. We eat white pasta at least 80% of the time over here!
Vegetables: Basil (is that a veggie?), raw veggies
Fruits: Berries
Grains: Pasta, bread
Proteins: Chicken, nuts
Healthy Fats: Oil, nuts
How to Easily Customize It
The thing I love most about this kind of meal is the versatility. You could make this meal weekly, change up a couple of things, and your family would never know it's really just the same meal over and over again.
Use a different sauce instead of pesto (i.e. alfredo sauce, butter and garlic, marinara, etc.)
Try a different protein in the pasta, or add veggies instead
Serve with garlic bread
Roast those raw veggies
Serve a salad instead of the raw veggies
Do a totally different treat
Make your pesto with arugula or radish greens instead
Skip the pasta and put the pesto on sandwiches
Make a different kind of bread, like French or Italian
What About Picky Eaters?
I have yet to meet a child who doesn't like pesto pasta. But, I'm sure they exist. If you have a child who gives the side-eye to anything green on their plate, you could easily just change the sauce.
Another thing you can do is allow your picky eaters to choose the veggies you will serve with this. Take them grocery shopping with you and let them choose the veggies. Put them in charge of preparing those veggies for dinner. If your child is too young to do all that, at least give them several different options.
One big thing you can do is give everyone the berry treat with their meal. This is a great way to reduce the need to bribe, and it puts your child in charge of what he is putting in his mouth. You might have a child who only wants the treat, but you need to be clear from the start that once he is done with it, he doesn't get any more. If he actually eats all the pasta, veggies, and bread, and still wants more food, you could consider giving him more.

What to Prep Ahead
I hate to break this to you, but you will need to prepare most of the meal ahead of time unless you buy the convenience options (i.e. pesto sauce in a jar, artisan bread from the bakery, rotisserie chicken). It will be no big deal if you are doing a daily 15 minute meal prep session. Otherwise, you will want to plan ahead so you aren't stuck cooking for over an hour.
Here are several things you can do ahead of time to make serving time seamless:
Make the pesto sauce – You can freeze pesto. You know that, right? Well, if you didn't already, now you do. Just make a big batch and freeze what you don't use so you can make another meal with pesto real soon.
Prepare the chicken – Don't try to cook the chicken right before you throw everything together. It's so much easier to bulk cook your chicken, anyway, so go back up to the recipe section and find out how I always have chicken ready to go in the freezer.
Make the artisan bread – I like to make my own bread, but not every time. If you know you won't have time to devote to making bread, buy it.
Prepare the raw veggies – I like to do this once or twice a week so we always have some kind of veggie ready to go at a moment's notice.
Make the veggie dip – Totally an optional part of the meal, but you can make lots of really delicious dips that will help encourage the kids or picky eaters of the house to eat up!
Extras for Families Who Like Larger Portions
I tend to think that this meal is very abundant and filling. You might think otherwise. So here are some ideas to make sure there is plenty of food to go around.
Serve with olives
Get out the cheese: string cheese, cheese cubes, or cottage cheese
Add another veggie side, like green beans, squash, or peas
You are going to love serving this wonderful pesto pasta meal to your family! I know I do. By preparing several parts of the meal ahead of time, you can get this meal on the table in no time flat. Who needs take-out now? 🙂

Latest posts by Charlee Flaminio
(see all)