Need a super fast and easy meal idea today? Look no further than BLTA Sandwiches! It's just the classic BLT with avocado added on for more nourishment and taste. Pair it with a quick salad kit and some seasonal fresh fruit and you've got yourself a rockin' meal. Read on for details on how to deal with picky eaters, prepping ahead, and how to make this meal your family's own.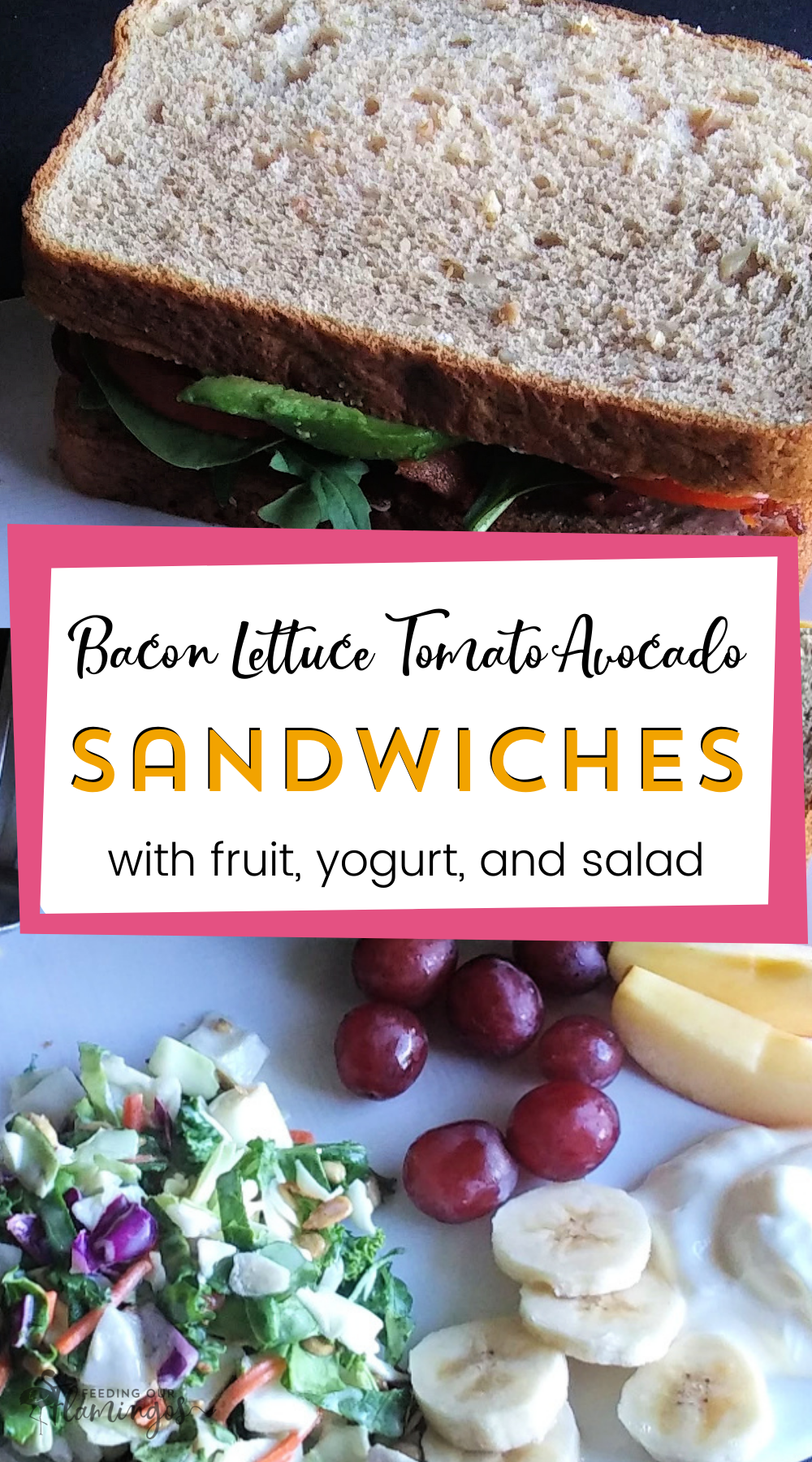 Do you plan a few simple meals each week? If not, I highly recommend it.
I also wonder if you are planning actual meals. You know, a main dish and sides.
The Power of Simple Sides
I became far more successful at providing healthy meals for my family when I started planning meals, not just main dishes. My former meal-planning-self would sit down and come up with 7 different main dishes for dinner and call it a day. Back then, we ate a carb- and cheese-heavy diet. Because I was skipping the sides, which are normally veggies, we weren't really eating them.
Then I tried a meal planning service called Prepear (not an affiliate link). Every meal on the plan consisted of a main dish and a side dish, and it was absolutely life-changing. We started eating far more veggies in just a few months' time. And, guess what? The side dish was usually pretty basic: Fresh fruit. Raw veggies. Side salad. Nothing earth-shattering. Just nourishing goodness.
Ever since then, I have continued to plan sides, and I keep them pretty low-key. It is stressful enough to make a main dish, let alone a bunch of sides to go along with it. I don't know about you, but I try and only do that for special occasions like Thanksgiving and Christmas. It's really nice when the sides take just a few minutes to throw together.
The first post of many to come…
One thing people tend to ask me a lot is, "what quick and easy meal ideas can you give me?" so I thought I would start sharing through blog posts. This will be the first post of many more to come. Hope you enjoy!
BLTA Sandwiches with Fresh Fruit, Yogurt, and a Salad
The first meal I am posting about is BLTA sandwiches (Bacon Lettuce Tomato Avocado sandwiches) with fresh fruit, yogurt, and a salad. I'm definitely not reinventing the wheel here, and neither should you! Let's embrace some basic, healthy(ish) meals so we can spend more time with our families.
Where to Find the Recipes
I don't follow a recipe for BLTA sandwiches, per se. Cook your bacon, chop up some lettuce, slice the tomatoes, and thinly slice the avocado. Spread bread with mayo, add the bacon, lettuce, tomatoes, and avocado. Add a sprinkle of salt, if desired. And that's it!
I make this meal really quick by using a salad kit instead of "making" my own salad. It really does save me time.

What Makes this Meal Healthy?
Some might argue this isn't a healthy meal (last time I checked, bacon wasn't exactly on the "healthy" list…). As you can see, though, there are many components of this meal that make it an overall healthy one.
Vegetables: Lettuce, tomatoes, salad
Fruits: Avocado, fruit
Grains: Bread
Proteins: Bacon, yogurt
Healthy Fats: Avocado, yogurt
How to Easily Customize It
I like to have meal ideas that I can change-up so I can put it on the meal plan more than once a month without anyone being like, "We had this just two weeks ago!" Anybody else get complaints like that? No? Just me?
Here are a few ideas on how to tweak a thing or two to the meal and make it into a new one.
Make hoagie sandwiches instead of BLTAs
Use turkey bacon or ham instead of bacon
Take the A out of the BLTA
Add sprouts to your BLTA
Make your own kind of salad
Use wraps instead of bread for the sandwiches
Make a fruit salad or smoothie
Use frozen or canned fruit
What About Picky Eaters?
I don't know how you can be picky about BACON but just in case…
I have a child who doesn't like BLTs or BLTA sandwiches. She just removes the bacon and eats that. HA! That is actually a really great idea, though. Just let your child build their own sandwich or give them the components of the sandwich, and they can eat them separately if they want.
What to Prep Ahead
You're more likely to make the meals you've planned if you prep some stuff ahead of time. It's just a fact. Here are things I like to do ahead for BLTAs:
Cook the bacon – I sometimes cook it right before we eat, and other times I like to make it a day or two ahead. The sandwiches taste great either way, in my opinion.
Wash and tear the lettuce – Get your kids involved in this. Seriously. Even toddlers can learn how to wash and tear lettuce. It might mean there will be water EVERYWHERE, but it is worth it if you want to teach your kids how to cook.
Slice the tomatoes – I'd say one or two days ahead is the most.
Prepare the fruit – If you want to serve a fruit that takes a little time to cut up (i.e. cantaloupe or pineapple), then do it ahead of time. It will be so nice to just grab it from the fridge. You can also easily make fruit salad for the week.
Extras for Families Who Like Larger Portions
Some people might think these sandwiches, the salad, and the fruit is plenty of food for dinner. But if you've got family members who eat you out of house and home, let's talk about some things you can serve to make the portions a little more satisfying.
Make a fruit dip
Get out the cheese: string cheese, cheese cubes, or cottage cheese
Grill up some chicken and add it to the sandwich (meat lovers will appreciate this)
Even though BLTA sandwiches with fruit and salad is nothing new, I hope that you took away something important. And that is that you don't have to make your side dishes spectacular. In fact, it's usually better if they are plain jane simple.
Can't wait to share more ideas with you soon!

Latest posts by Charlee Flaminio
(see all)