When you realize your family isn't eating much fruit, you can make fruit salad in a jar. Once you've prepped it, all you have to do is grab and eat!
You know those weeks when you just can't find time to relax? You're running here, there, and everywhere, and the last thing on your mind is proper nutrition?
Sure, you might have apples, oranges, and kiwis in your house, but ain't nobody got time to prepare those for a snack, so you offer your kids fruit snacks instead.
What if the choice was obvious? Like, say you took some time a few days earlier to peel and chop the fruit and mix it together for easy eating. Now instead of the fresh fruit being a barrier to healthy eating, it is ready to be eaten in the fridge.
That's the goal, friend. You want to make healthy eating the easy choice. You want the best option to be the only option.
When it comes to eating fresh fruit, you can push past the "whole fruit syndrome" (you know, where you see the whole fruit and decide that it's too hard to prepare at that moment, so you look for something else to eat) by preparing a fruit salad that can last in your fridge the whole week. Yes, the entire week.
Fruit Salad in a Jar for Busy Weeks
Let me introduce you to fruit salad in a jar. It's perfect for making sure your family can reach for the freshest stuff. Does it take time to make? You betcha, but it's all in one shot when you actually have time to prepare food.
I just know you're going to have even more questions, so let's dive deeper into answering them right now.

Why is fruit salad in a jar so genius?
When you have fruit ready to eat in the fridge, you don't have to spend any extra time to cut it up in order to eat it or serve it to your family. The work has already been done, so it's as simple as pulling it out of the fridge and eating it right away.
You can put healthy eating on autopilot if you do the work ahead so when you need to eat you don't have to put forth any effort. Eating your fruit salad will be just as easy as eating a package of fruit snacks.
How do I prepare fruit salad in a jar?
You need to gather as many ripe fruits as possible when you're making fruit salad in a jar. There are a couple fruits, like bananas and mangoes, that I do not add to the fruit salad. You can always add those fruits right before you eat the fruit salad since they get mushy and change color if they are cut too much ahead of time.
When should I serve the fruit salad?
You can get out your fruit salad anytime you need it. We like to eat ours with breakfast and snack for the most part, but we sometimes get it out for lunch and dinner as well.
What if my family can't eat all of the fruit before it goes bad?
It may take a couple times of making it to find out how much fruit salad your family can consume. If your family eats much less than you anticipate, you can adjust next time and make less.
What if my family eats all the fruit in just a few days?
On the flip side, if your family eats it all after only two or three days in the fridge, you will probably want to make an extra quart of the fruit.

Tips and tricks for fruit salad in a jar:
Some fruit, like apples, need citrus juice in order to last longer. The best way to keep your fruit salad fresh is to add 1 tsp to 1 Tbsp of citrus juice (i.e. lime juice, lemon juice, or orange juice) to it. Pineapple juice is not a citrus juice, but I've been able to use that to keep my fruit salad fresh for 4 or 5 days.
The first time you make this, use just one of each fruit. The more you make it, the better you'll be able to predict how much fruit salad you will get with the fruit you have.
By keeping the fruit salad in a mason jar, you'll be extending the freshness. If you don't have mason jars, try to use a glass container. Otherwise, plastic is fine, but you may have to eat it quicker.
Remember that every time you pull out the fruit salad to eat, you can add a diced banana (or mango) to stretch it further.
Try to cut all your fruit about the same size. Fruit salad is easiest to eat for kids when the pieces of fruit are all about ¼''.
You will be able to make a variety of fruit salads in the summer. But winter doesn't offer the same kind of variety, so you may get bored of the fruit salad you make during this season. You can definitely use canned fruit (like peaches and pineapple) if you want to add more variety.
Don't use frozen fruit. It will become too mushy after a day or two and nobody will want to eat it.
Be sure you use ripe fruit to make fruit salad in a jar. If it's not ripe, it will be hard and nobody will want to eat it.
Winning Fruit Salad in a Jar Combinations
Each season of the year will have different fruits you can add to your fruit salad. By far, summer will be the easiest time to make a fruit salad with a lot of variety. I'll share below the fruit for each season that will be perfect for fruit salad in a jar.
Summer
Apples
Apricots
Blackberries
Blueberries
Cantaloupe
Cherries
Grapes
Mango
Honeydew
Nectarines
Peaches
Plums
Raspberries
Strawberries
Fall
Apples
Grapes
Peaches
Pears
Pineapple
Pomegranate seeds
Winter
Apples
Clementines
Grapefruit
Kiwi
Oranges
Pears
Pomegranate seeds
Spring
Apples
Apricots
Blueberries
Cherries
Honeydew
Kiwis
Mango
Pineapple
Strawberries
Remember, if you can't find a lot of fresh fruit, you can always use some canned fruit.
Remember, too, you can add your bananas, mangoes, and raspberries or blackberries right before you're going to eat it.
How to Make Fruit Salad in a Jar
You don't really need a recipe to make fruit salad in a jar, but I always find it helpful when I'm meal planning to be able to refer to ingredients I need to buy for even the most basic recipes.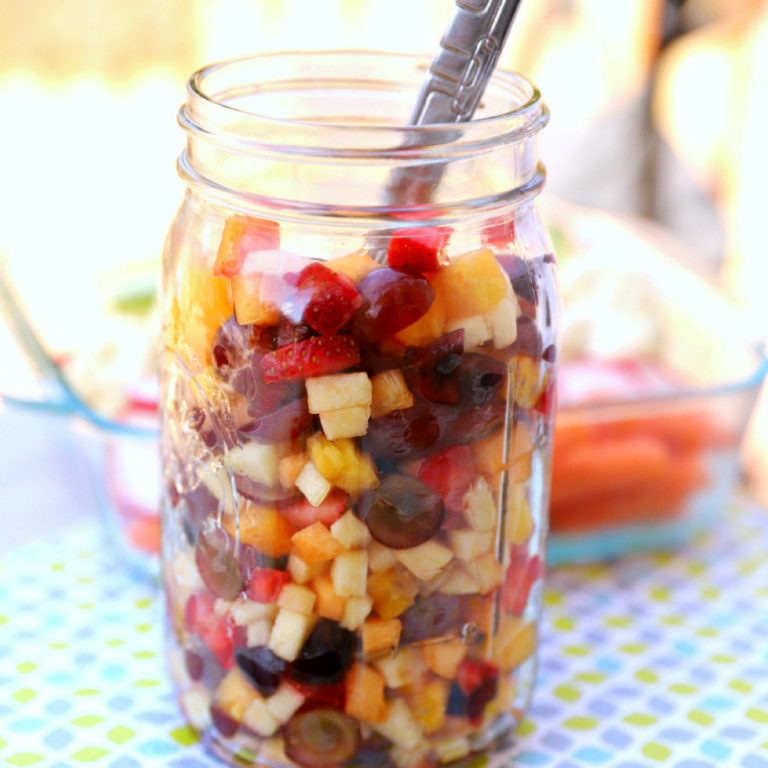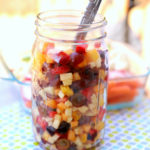 Fruit Salad in a Jar
Fruit Salad in a Jar is the perfect way to get your family eating more fruit on a daily basis. All you have to do is prepare it when you are the least busy and eat it when you are the most busy!
Ingredients
7-8

cups

fruit

of choice

1

tsp

citrus juice

up to 1 Tbsp.
Instructions
Choose 4-6 fruits to peel and dice for your fruit salad. Some ideas for fruit are: strawberries, apples, oranges, cantaloupe, honeydew, blueberries, pineapple, kiwis, peaches, plums, pears, grapes, and cherries.

If you are going to be eating this fruit salad throughout the week, leave out any bananas, mangoes, and raspberries/blackberries until you are ready to eat it.

Put all the fruit in one large bowl and add a small amount of citrus juice (1 tsp to 1 Tbsp. or so). Stir well then put into mason jars or other storage containers for the fridge.
Recipe Notes
The fruit salad should fill up at least two quart-sized mason jars.
It should last at least 4 days in the fridge. I've eaten fruit salad like this after 5 or 6 days and it still tastes great.
If feeding your family a well-rounded, nutritious diet is important and you just can't find time to give it to them, try making some fruit salad in a jar before your crazy, busy week begins. If it's in the fridge when they open it, you better believe they'll eat it.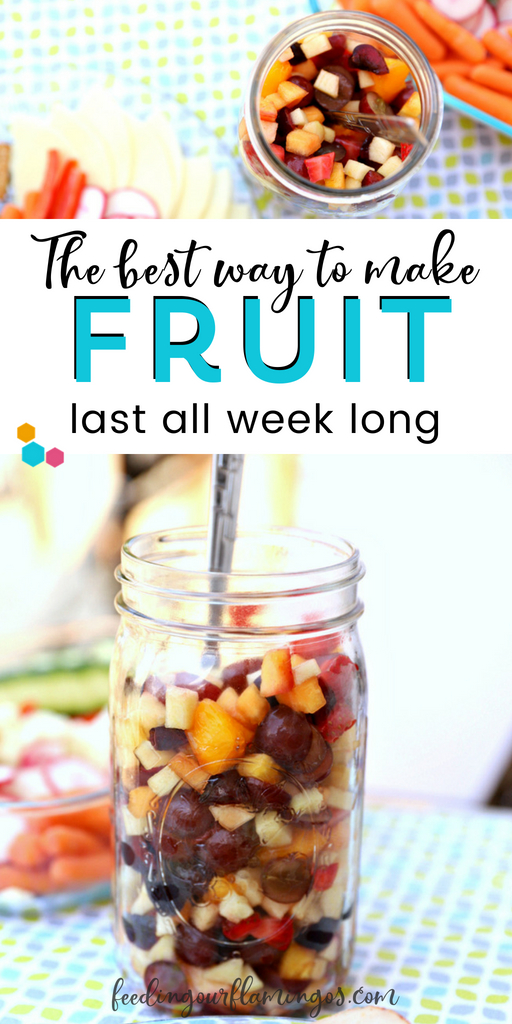 Latest posts by Charlee Flaminio
(see all)