Living with an Argentine fútbol fanatic goes something like this: "Vamos vamos Argentina!! Vamos vamos a ganar!" and "Vamos Argentina todavia!!"
You can't forget: "GOOOOOOOOOOOOOOOOOOOOOOOOOOOOOOOOOOOOOOOOOOOOOO OOOOOOOOOOOOOOOOOOOOOOOOOOOOOOOOOOOOOOOOOOOOOL" (deep breath) "GOOOOOOOOOOOOOOOOOOOOOOOOOOOOOOOOOOOOOOOOOOOOOOOOOOOL"
He is loud. And obnoxious. But I love him 🙂  (click here to watch a segment of a video on YouTube that will help you hear what I have been hearing lately).
Argentina played against Bosnia and Herzegovina yesterday, and Argentina won. There was a lot of yelling at the computer screen! When Lionel Messi scored the second goal, he jumped up and started shouting almost like he was hurt. I was in Sofía's room changing her diaper at the time, and she looked at me with fear in her eyes. She thought something was wrong with her Papi!
While we're on the subject of soccer and Argentina, let's talk Choripán. In Argentina, for most events, there are vendors selling Choripán, and it's a must to get this tasty sandwich if you go to any soccer game.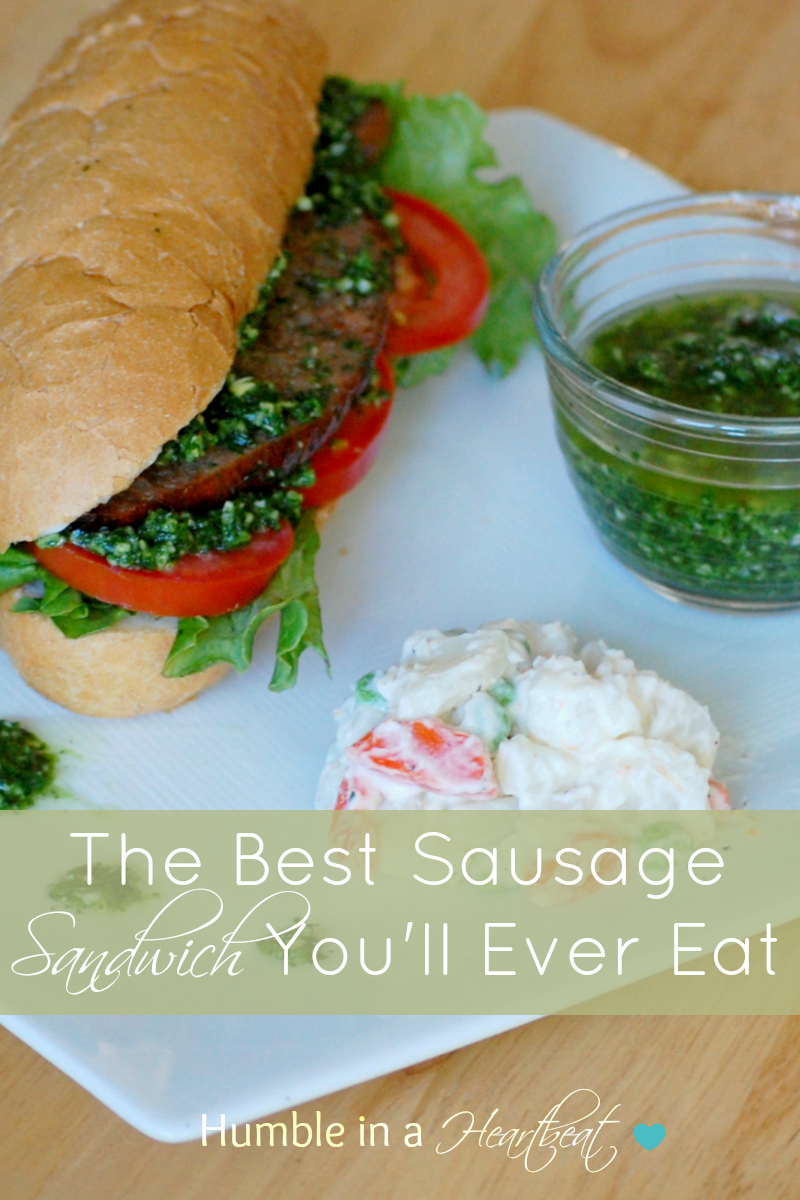 Choripán can be compared to a hot dog or, better yet, a sausage sandwich. A nice plump sausage is sliced in half and placed lovingly on a crusty roll, then it is slathered with a nice heaping spoonful of Chimichurri Sauce. Heaven. Pure heaven. I'm not even exaggerating. In other words: the BEST sausage sandwich you'll ever eat.
When we make Choripán, we don't always use Chimichurri Sauce. We sometimes use mustard and mayo instead. Either way, our hands and face get covered in piping hot sausage juice every bite we take, and our taste buds awaken to the sensational flavor of the meat and bread (what a surprisingly simple, yet delicious combination!).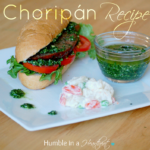 Choripán
Ingredients
1

package

Italian sausage links

at least 5

long crusty rolls

at least 5

mayo

mustard

2

tomatoes

sliced, at least 3 slices per sandwich

lettuce

washed, dried, and hand-torn for more manageable sandwich eating

chimichurri sauce*

half the recipe should be sufficient
Instructions
Cook the sausages according to package directions (we use the grill or the oven, and sometimes we cook them in a skillet on the stove) until they are a nice brown color.

While the sausage links are cooking, prepare everything else. Make sure the rolls are cut in half, the tomatoes are sliced, and the lettuce has been prepped. Make the Chimichurri Sauce if desired.


Let the sausages cool, then cut each one in half. Put the fixings on each roll and enjoy while watching a World Cup game! I like to put mayo, mustard, tomatoes, lettuce, and sausage OR mayo, tomatoes, lettuce, Chimichurri Sauce, and sausage. It's totally up to you!
Recipe Notes
We like to serve Choripán with different side dishes. Our favorite is Ensalada Rusa (which is basically Potato Salad). You can also serve it with chips, grilled veggies, Tomato Onion Salad, or a green salad.
Cost to Make Choripán
Italian Sausage links – $4.50
Rolls – $1.25
Mayo – $0.25
Mustard – $0.10
Tomatoes – $0.60
Lettuce – $0.25
Chimichurri Sauce – $0.75
Total cost – $7.70 (about $1.54 per sandwich)
What does your significant other yell at the TV screen when an important game is on? 

Latest posts by Charlee Flaminio
(see all)