When you go grocery shopping, before you grab that can of beans off the shelf, consider this: you can make dried beans in the slow cooker, get much more flavor out of them, and do it all for just about 50 cents per 15 oz. (the same size as a can of beans). Plus, there are so many meal possibilities when you make your own beans!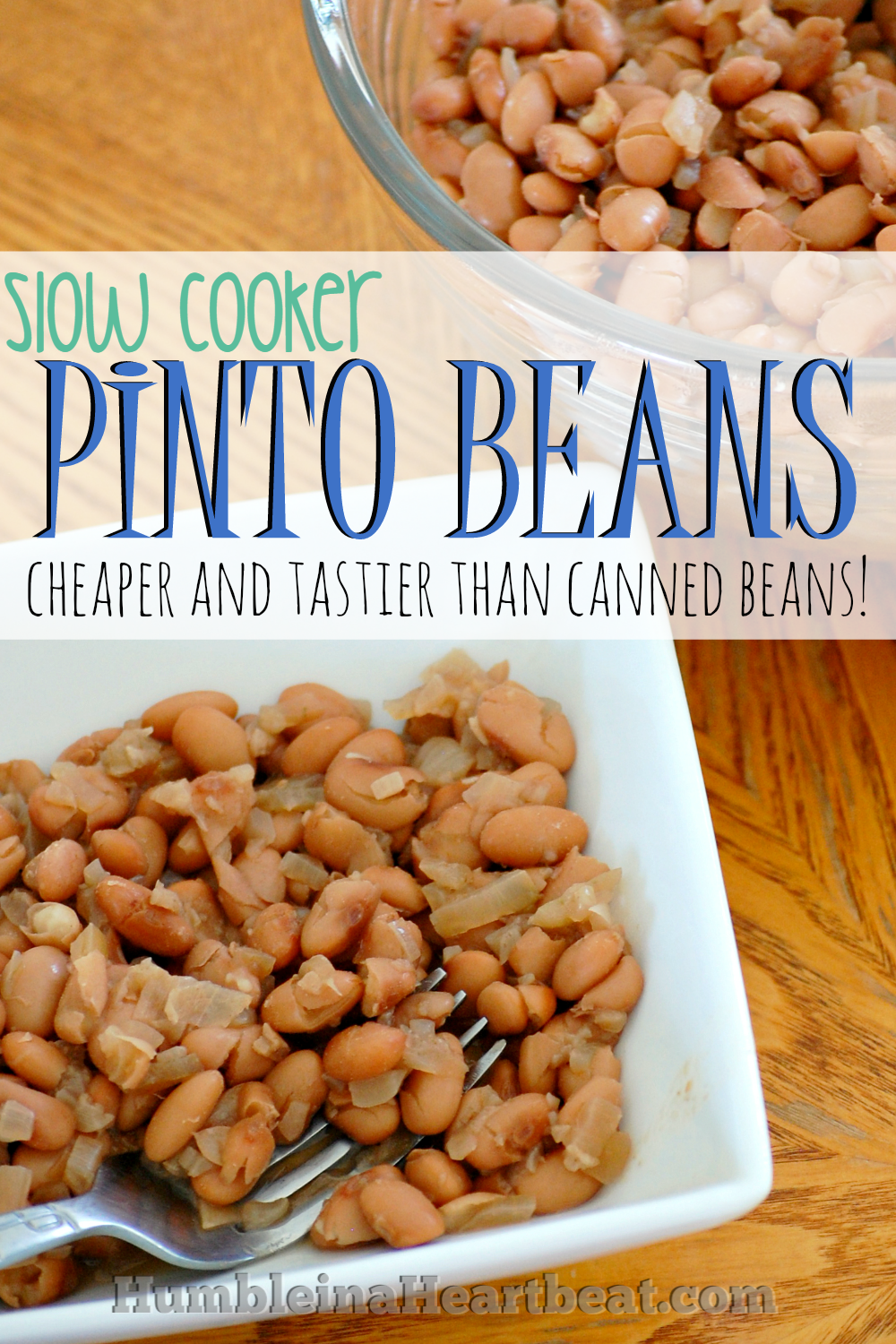 I have been making these Slow Cooker Pinto Beans now for over a year. The original recipe that I will link to below is for refried beans. I used to puree the beans so that we could use them as refried beans, but now we do a little of both and they are delicious either way.
Before last year, I think we ate refried beans a whole two times in our entire marriage. My husband has never been a bean fan, and when I would make tacos or some other Mexican dish that might go well with refried beans, I didn't think about buying them. Then I found this recipe on Pinterest that I wanted to try and, wow, was I ever blown away! Homemade refried beans are really tasty and the recipe makes a ton!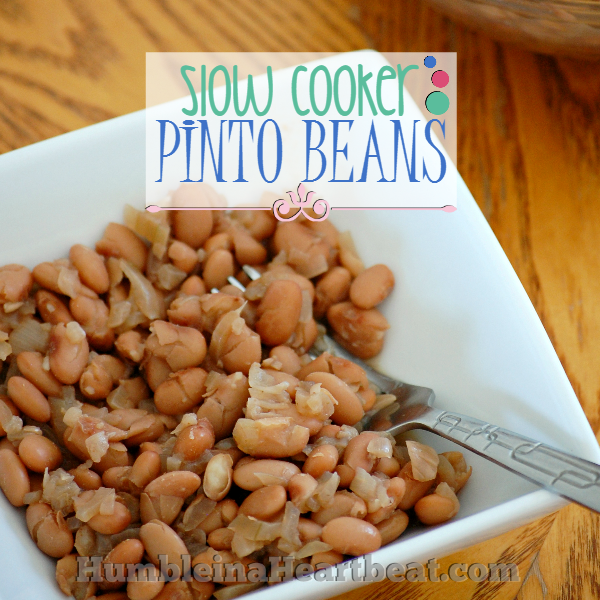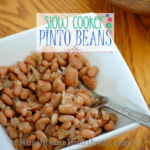 Slow Cooker Pinto Beans
Total Time
6
hours
20
minutes
Ingredients
1

onion

chopped

5-6

cloves

garlic

minced

1

pound

pinto beans

about 2 cups

2

tsp

cumin

1

Tbsp

salt

1/2

tsp

black pepper

water
Instructions
Put all the ingredients into a slow cooker. Add enough water to cover the ingredients plus at least two inches.

Turn on the slow cooker to low and let cook for 5-6 hours. You'll know they are done when the beans begin to open up.

Turn off the slow cooker. If you would like to puree the beans to make refried beans, scoop out all the beans and place them in a separate bowl. Add about 1/2 cup of the water from the crockpot to the beans. Use an immersion blender to puree them, or puree in batches in your blender or food processor. Add more water as needed.
I like to double this recipe because it freezes so well, whether I puree the beans or not. When you puree the beans, you'll probably find that it feeds even more mouths, at least that's what I have noticed.
These Slow Cooker Pinto Beans are great for the following meals:
Rice Bowls (rice, beans, cheese, veggies, sour cream, and salsa)
Quesadillas (pureed beans and cheese in a tortilla)
Tacos
Bean Fajitas (soooo good! And we didn't even have cheese when we tried these!)
Nachos
Burritos
Cost to Make Slow Cooker Pinto Beans
Onion – $0.59
Garlic cloves – $0.15
Pinto beans (dry) – $0.64
Cumin – $0.28
Salt – $0.06
Black pepper – $0.04
Total Cost – $1.76
Cost per serving – $0.29
I did my best to calculate the cost of each ingredient in the recipe, but I think I might be way off with the cumin. The cost you would have to pay to make these beans really depends on too many factors, so my breakdown should just be used as an approximate value.
Making your own beans at home is a cinch with these Slow Cooker Pinto Beans. Make a double batch, freeze some pureed and whole, and package them into portion sizes so you can grab a bag whenever you need some beans in your meals! It's great to be prepared with tasty ingredients so you don't have to panic and order takeout!
How do you like to eat beans?
Get all the tips for eating well on a budget
Sign up now to get this checklist for eating well on a small budget. You can eat healthy meals even when you are strapped for cash!

Latest posts by Charlee Flaminio
(see all)