I guess you could say I was a pretty picky eater growing up. I pretty much avoided onions in anything. I still ate salsa, but I only dipped the chips straight in and straight back out again so that none of the chunks of onions (or other veggies) could get on my chip! I've almost completely overcome my disgust of onions, and I can't imagine eating or cooking without them, especially in this Split Pea Soup recipe!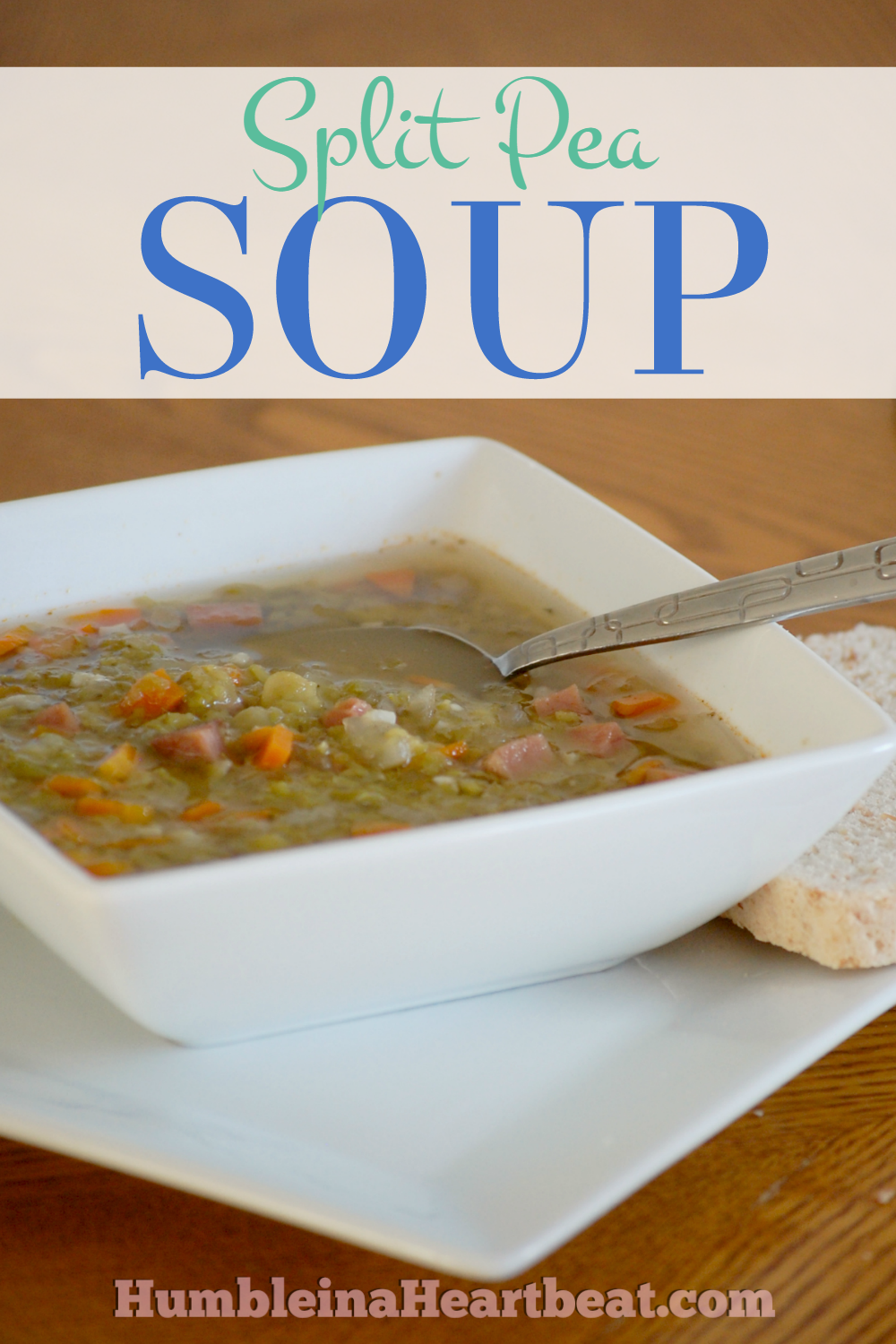 I'm not sure when I heard about Split Pea Soup for the first time, but I'm sure I turned up my nose at it when my mom made it for dinner. It's definitely a soup that is lacking beauty and grace. But it makes up for that ugliness when you take your first bite. Like they say, "Never judge a book by its cover" and "True beauty lies within."
This Split Pea Soup recipe has so much flavor! I was truly missing out on some yumminess in my younger years. We all slurp this down every time I make it, including the girls.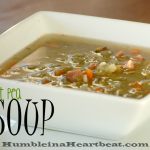 Split Pea Soup
Total Time
8
hours
20
minutes
Ingredients
1

lb.

dried split peas

rinsed and sorted

4

14.5-ounce cans

chicken broth

1

lb.

ham

diced

2

carrots

peeled and chopped

1

onion

chopped

5-6

cloves

garlic

minced

1

tsp

Italian seasoning

1/2

tsp

marjoram

1/2

tsp

smoked paprika

pinch

thyme

1

bay leaf

1

tsp

malt vinegar
Instructions
Put everything into a slow cooker and cook on low for 6-8 hours.
Recipe Notes
Adapted from Our Best Bites
Serves 10-12 as a side dish. As a main course, it serves around 8.
This is great with homemade croutons and hot-pressed sandwiches.
Substitutes
Here are some ideas for substitutions for this Split Pea Soup. If you don't have an ingredient, look for a substitute! If you use a substitute, it is not going to taste the same as the original, but it will be to your benefit to use substitutes so you can make this without running to the store.
8 cups water with 8 chicken bouillon cubes for the chicken broth
Garlic powder or garlic salt for garlic cloves (check here for exact ratio)
Oregano for the Italian seasoning
Basil for the marjoram
Paprika for the smoked paprika
Leave out the bay leaf
Etc…
Serving Suggestions
Add some fresh baked bread (Poor Man's Bread is perfect for this!) or some homemade croutons to the mix
Eat a toasted sandwich on the side
Put a dollop of sour cream or plain yogurt in the soup for a little creaminess
Add leftover rice to thicken it up
Serve a salad with it
If there is too much left over for you and your family to eat, freeze what is left in a plastic bag or a freezer jar. It really does freeze beautifully. Since I used ham that I pulled from the freezer this time, I did not freeze the soup. I feel like once an ingredient has been frozen, it should not be frozen again.
Cost to make Split Pea Soup
Split Peas – $1.25
Chicken Broth – $1.96
Ham – $4.50
Carrots – $0.21
Onion – $0.37
Garlic – $0.23
Italian Seasoning – $0.07
Marjoram – $0.11
Smoked Paprika – $0.07
Thyme – $0.05
Bay Leaf – $0.02
Malt Vinegar – $0.07
TOTAL COST: $8.91 or $0.89 per serving (based on 10 servings)
I could have made this for even less. I normally pay around $0.80 per pound for split peas, but I bought the ones for this soup at a different store and, thus, a different price. I actually used chicken bouillon cubes this time (as you can tell from the picture), but I put the higher price of the chicken broth since that is what I normally use. I was really disappointed in the price of the ham. My husband bought a 4 lb. ham around New Year's, and he paid about $4.50 per pound! If I had gone shopping, I would have skipped right over that ham. So, under ideal conditions (saving the most on groceries), I think you could make this for $5.65 or $0.57 per serving.
Time to Make Split Pea Soup
I decided to write down exactly how long it took me to make this soup. Since I have two girls ages 1 and 2, I spend much more time cooking than if I didn't have them to watch. This particular day, I only had one interruption from my toddler because she was potty training and needed to use the potty.
I am super slow at chopping, so if you have a quick hand, you should be able to prepare this soup in no time.
10:06-10:14 – Chopped carrots
10:15-10:25 – Chopped garlic
10:25-10:27 – Started onion
10:27-10:35 – Threw everything in crockpot
10:36-10:45 – Chopped onion; interrupted by Sofía (about 4 minutes)
10:48 – Finished everything
Total Time: 42 Minutes
Baby Version of Split Pea Soup
I love the idea to make your baby's food while you are cooking dinner for the rest of the family. If you are like me and don't want to give your baby extra salt, this is a great way to prepare foods for the baby. Here are some suggested ways to make Split Pea Soup for baby.
If baby has tried all the ingredients (the vegetables, chicken broth, and ham), then you should be able to safely give your baby this soup. It is a chunky soup, so you can either puree it, or you can cut the carrots and ham pieces a bit smaller for baby to more easily digest.
If your baby has not tried all the ingredients, make the soup in a separate pot with just the ingredients he has tried. Follow the directions exactly the same way, just leave out some ingredients. I suggest adding at least one spice for flavor. You could even replace the dried split peas for fresh peas.
What's one food you've always avoided?

Latest posts by Charlee Flaminio
(see all)