I'm always looking for ways to simplify meal planning, especially now that I have 3 kids. My summer meal plan worked so well for us that I decided to come up with a fall meal plan as well.
The meal plan is a basic outline of the types of meals I will make each week. I normally go through our planned meals and then try to go another 2-3 days after that before going grocery shopping again. This saves us a lot of money on groceries, and we can always find food to eat for those other days that aren't planned out.
Details of Our Fall Meal Plan
Here's what our weekly fall meal plan looks like: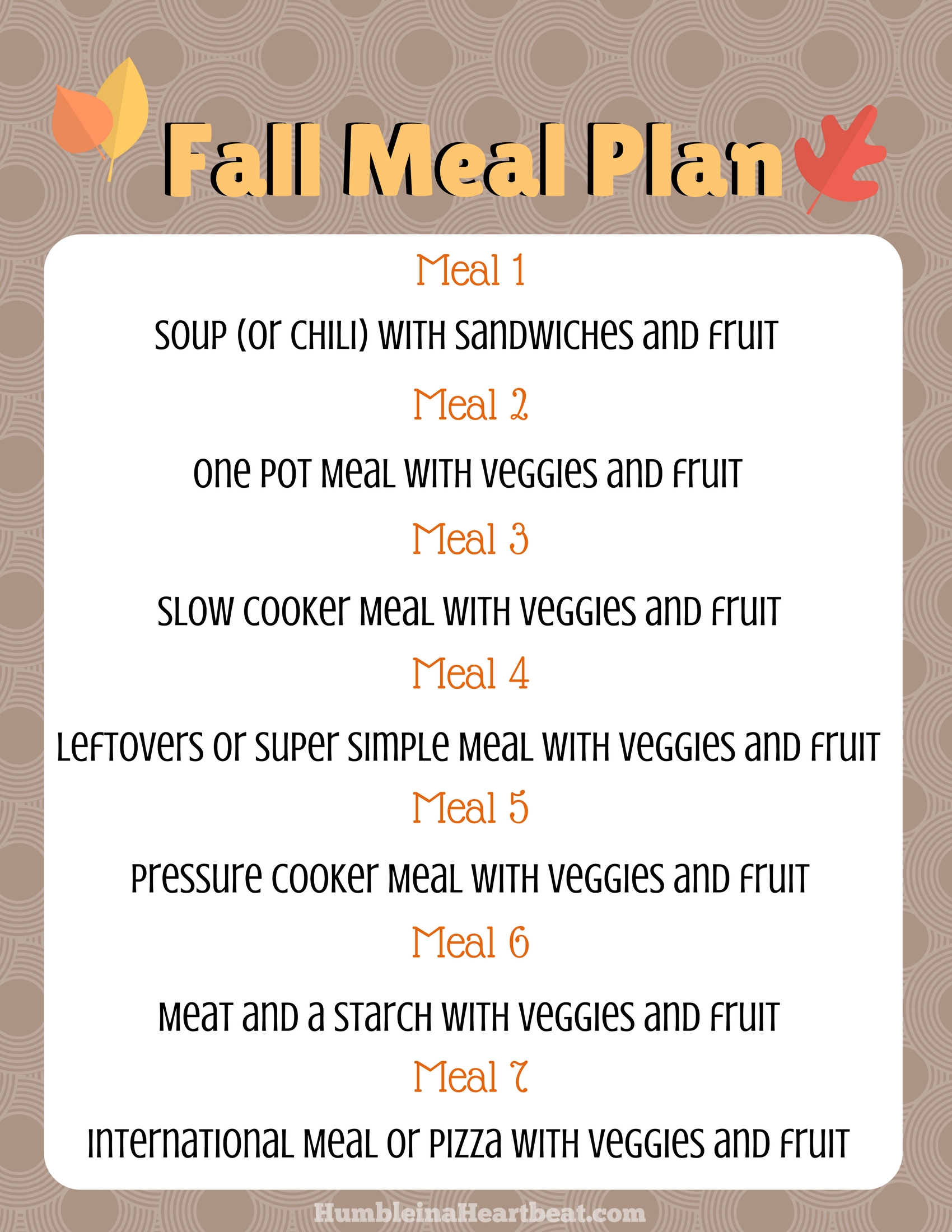 Download the above meal plan here. Otherwise, if you want to download a blank one to write in your own meal ideas, click here.
Disclosure: This post contains affiliate links (I've put a * by any link that is an affiliate link). If you click on one of these links and you make a purchase, I will receive a small commission from your purchase. Thank you for supporting Humble in a Heartbeat!
Meal Components
Let me delve a bit deeper into some of these meal components, since they're not specific on the meal plan. I will have a list of these components handy for me each week as I meal plan so that I can easily pick and choose what we want to eat that week.
Many of the ideas below are meals we really like. I usually find my recipes through Pinterest, on various blogs, Allrecipes.com, and occasionally my own cookbooks and family recipes. I have put links where there is a recipe that we have tried and really enjoyed.
Soups (or Chili)
Broccoli Cheese Soup
Veggie Soup
Chili (with cornbread!)
Sandwiches or Wraps
Chicken salad
Hoagies
Tuna
Meat, cheese, and veggies
Egg salad
Meatball
Grilled cheese
French dip
Fruit
Fruit salad
Smoothies
Fresh fruit
Fruit cobbler
One Pot Meals (includes casseroles and meals on sheet pans)
Veggies
Slow Cooker Meals
Super Simple Meals
PB & J
Breakfast for dinner
Salad with diced chicken from the freezer and bread
Pressure Cooker Meals
I have to explain this one. I understand not everyone has a pressure cooker. But I just got an Instant Pot*, and I really want to try all kinds of meals in it. It will be great to use it at least once a week for dinner!
Soup (success!)
A whole chicken (success!)
Stew
Chicken and rice
Meatloaf
Chicken fajitas
Beans
Meat
Beef
Chicken
Pork
Sausage
Fish
Starch
Rice (brown or white)
Mexican rice
Coconut rice
Risotto
Bread (whole grain)
Crockpot bread
French bread pizza
Breadsticks
Artisan bread
Baked potatoes
Oven fries or french fries
Crockpot sweet potatoes
Hash browns
Pasta salad
Pesto pasta
Homemade mac and cheese
Tortellinis
Raviolis
International Meals
Italian pasta
Tacos/Quesadillas/Burritos/Enchiladas
Chinese
Anything Argentine
Pizza
This one's easy. I will make my Garlic and Oregano Pizza Dough with one of our favorite pizza sauces. I do want to make sure we add veggies on the pizza, so here are some topping ideas:
Peppers
Onions
Artichoke hearts
Dried tomatoes
Mushrooms
Olives
Basil
Oregano
Shrimp
Bacon
BBQ chicken
Sausage
Ham
Pepperoni
Pineapple
Anchovies (for my dear husband!)
Happy Fall!!


Latest posts by Charlee Flaminio
(see all)