On our first date, my husband and I ate Cornflake Casserole. That first date was 8 years ago today, so, to commemorate, I give you Cornflake Casserole.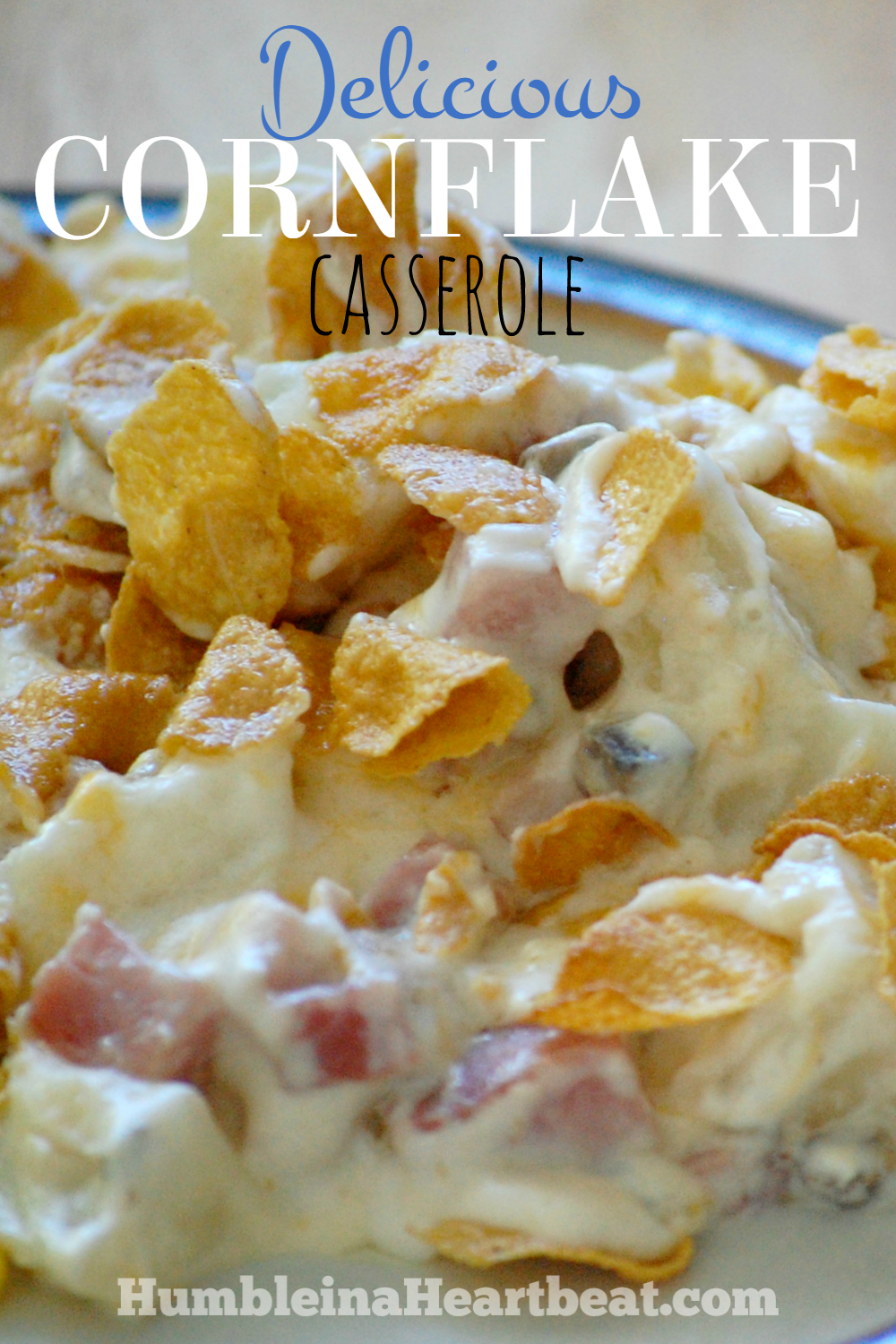 Another name for this dish is "Funeral Potatoes," because they are normally served after funerals here in Utah. Our family's version is pretty different from most Funeral Potatoes. For one thing, we don't make it with onions or hash browns.
Soon after we got married, I called up my sister to get the recipe. I wrote it down on a little 3 x 5 note card, and I made it many times our first few years of marriage. When we moved last year, I lost the recipe card, and I stopped making it for quite some time. I still haven't found the note card, but I've made this dish a few times since without it. Surprisingly, I can actually remember all the ingredients and their measurements.
While Cornflake Casserole may not be healthy, it's definitely scrumptious. It is the perfect meal for a cold, winter day. I would have waited for winter to post it, but I like to associate it with our first date. And that didn't happen in winter, now did it? 😉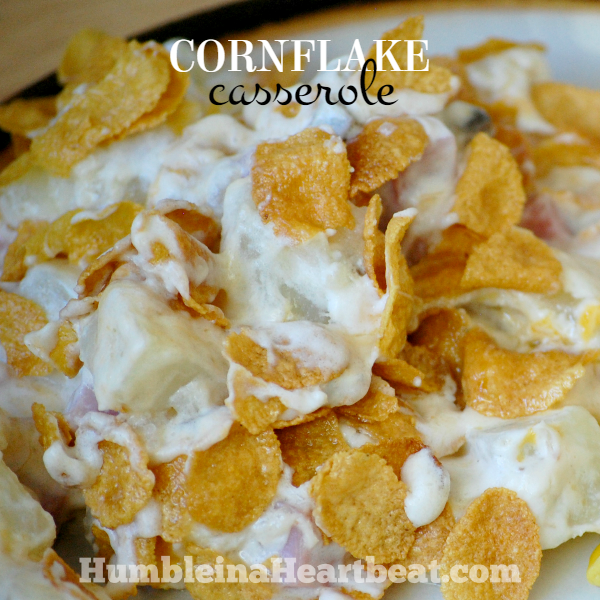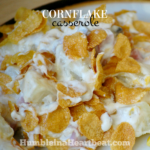 Cornflake Casserole
Total Time
1
hour
10
minutes
Ingredients
5

med

potatoes

about 6 cups cubed

1

cup

sour cream

1

10.5-ounce can

cream of mushroom soup

canned or homemade

8

ounces

ham

diced, 1 3/4 cups

1

cup

cheese

shredded, Colby Jack or Cheddar

1/2

tsp

garlic powder

1/4

tsp

onion salt

2

cups

cornflakes

1/4

cup

butter

melted
Instructions
Preheat the oven to 350º F.

Put cubed potatoes in a 4 qt. pot and cover with cold water. Put on stove over medium high heat and boil. Once they come to a boil, turn on the timer for about 10 minutes.

While the potatoes are boiling, mix the sour cream, soup, ham, cheese, garlic powder, and onion salt in a medium bowl. Set aside.

In a small bowl, mix the cornflakes with the melted butter. Set aside.

Poke a few potatoes with a fork to check for doneness. If they are done, drain them and pour in an 8×8 baking dish. Put the cheesy mixture on top and stir around so all the potatoes are covered.

Then add the cornflakes on top of the potatoes. You can put more cheese on top of the cornflakes if desired. I like it with just the cornflakes, though.

Bake for 35-40 minutes or until cheese is melted and bubbly. Let stand for about 5-10 minutes before serving.
Recipe Notes
Serves 4 people as a main dish and 6-8 people as a side dish.
You can serve Cornflake Casserole with a salad, breadsticks, steamed veggies, or even some chicken.
It took me a few attempts to get this just right. Here are my tips to getting it to work out the first time:
Cube the potatoes to about 1.25 inches by 1.25 inches, and try to make sure they are all the same size so they cook evenly.
Put cold water on the potatoes. Starting with warm/hot water cooks the potatoes faster on the outside, resulting in undone potatoes.
Make sure you check the doneness of the potatoes before you drain the water from them. I made the mistake of not doing this the first few times I made it. It basically ruins the whole dish if the potatoes end up being too hard.
Cost to Make Cornflake Casserole
Potatoes – $0.49
Sour cream – $1.12
Cream of Mushroom Soup – $0.99
Ham – $2
Cheese – $0.75
Garlic powder – $0.09
Onion salt – $0.03
Cornflakes – $0.25
Butter – $0.44
Total cost – $6.16
Cost per serving – $1.54
It's really inexpensive to make Cornflake Casserole!
Do you remember what you ate on your first date with your spouse?

Latest posts by Charlee Flaminio
(see all)