One busy day, when I didn't have time to make dinner, I decided to reheat some soup we had in the freezer. I had let the bag of soup thaw overnight in the fridge. When I went to dump the contents into a saucepan, a good amount of soup stayed in the bag, stuck to the sides. So I threw away the bag since I'm not going to fight with a freezer bag.
I went through all this effort to freeze my delicious soup, and this is the thanks I get?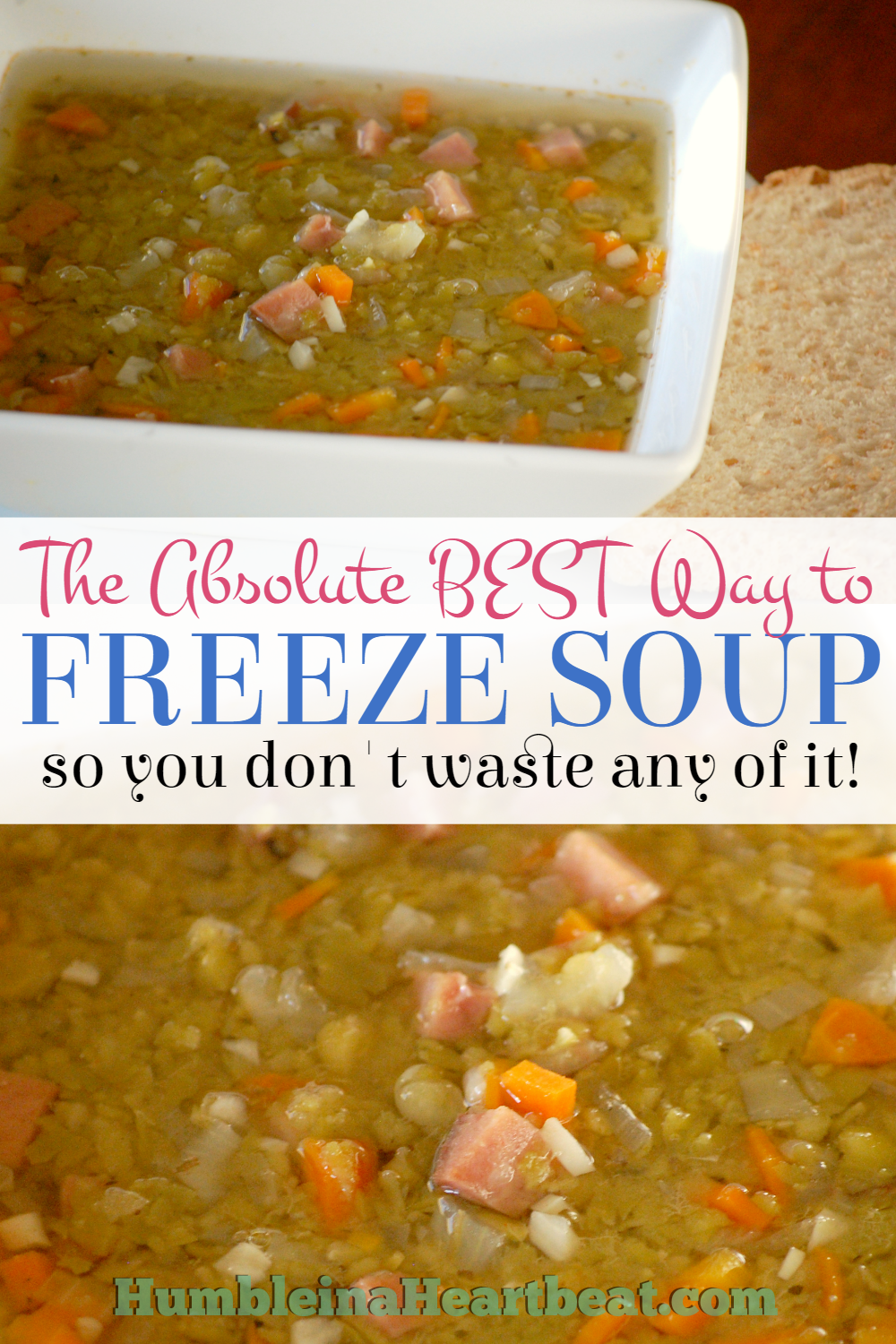 Disclosure: This post contains affiliate links (I've put a * by any link that is an affiliate link). If you click on one of these links and you make a purchase, I will receive a small commission from your purchase. Thank you for supporting Humble in a Heartbeat!
When I was younger (you know, last winter) I would put my soup in a freezer bag and lay it flat to freeze.
Every time I went to get the soup out of the bag, it was the same old story. Just like what happened above, my soup would not cooperate and I was left either fighting for the last bits of soup or throwing those bits away with the bag (this never happened with thin soups, just thick soups like Split Pea Soup). What a waste!
Having frozen soup on hand during the fall and winter months is so valuable, but if there is quite a bit that is wasted, what's the point?
What about those soups with noodles that always taste so weird after being frozen? Who wants to eat those?
Before Freezing Your Soup…
There is a way to freeze soup without getting a migraine and wasting precious food. Here's what I have learned through life experience and by doing a bit of research. Before you start making soup and sticking it in the freezer, you need to know the following tips:
Pasta is best left out of a soup when you know you will be freezing it. Nobody likes eating mushy noodles.
Soups that have some kind of dairy in them (i.e. cream, sour cream, or milk) may not freeze as well. You can leave these ingredients out of the soup to freeze, and then add them when the soup has thawed and you are ready to eat it.
A soup that contains one of the following ingredients: diced potatoes, vegetables, or rice, usually ends up with a strange texture. If you want to freeze a soup with vegetables, make sure the veggies are a bit under cooked before tossing the soup in the freezer.
Any soup that you want to freeze needs to cool in the fridge first before putting it into the freezer.
LABEL the container with the name of the soup and the date you made it or the date that you should eat it by. You might think you'll be able to remember what kind of soup that is, but you'll likely forget, especially if you are pulling it out in more than a month. I always label mine three months from the date I am putting it in the freezer (i.e. today's date is 9/25/2015, so I would label the container with 12/25/2015).
If you have a chest freezer, you may be able to store your soup for longer than 3 months, but the rule of thumb is to eat the soup within 3 months.
When you get the frozen soup out of the freezer, put it in the fridge the night before you want to eat it. You can just put the frozen soup straight into a saucepan if you forget to get it from the freezer the night before. If your soup is stored in a plastic bag, run it under hot water to thaw.
Some soups have certain ingredients that are added the last 5 minutes of cooking (i.e. herbs, cheese, sour cream, eggs, etc.). If you will be freezing a soup like this, leave those ingredients out and just add them when you will be eating the soup.
When making soup for a baby, leave out the salt. You should also puree it if your baby is in that stage.
The Best Way to Freeze Soup…
So, you know how I got tired of those freezer bags being so wasteful with my soup? I figured out a better way.
You still need to use freezer bags, but it's better because nothing goes to waste. Now, how does that sound?
First, you need to freeze your soup in portions. The portions that work for adults are:
1/2-1 cup is snack size
2 cups is a meal
Kids typically eat less, so you can probably cut the adult-sized portions to 1/2 cup for a snack size and 1 cup for a meal.
Thinking of these portion sizes, how can you freeze your soup to be able to pull it out and feed one or a couple people without measuring it?
With muffin tins and ice cube trays, of course!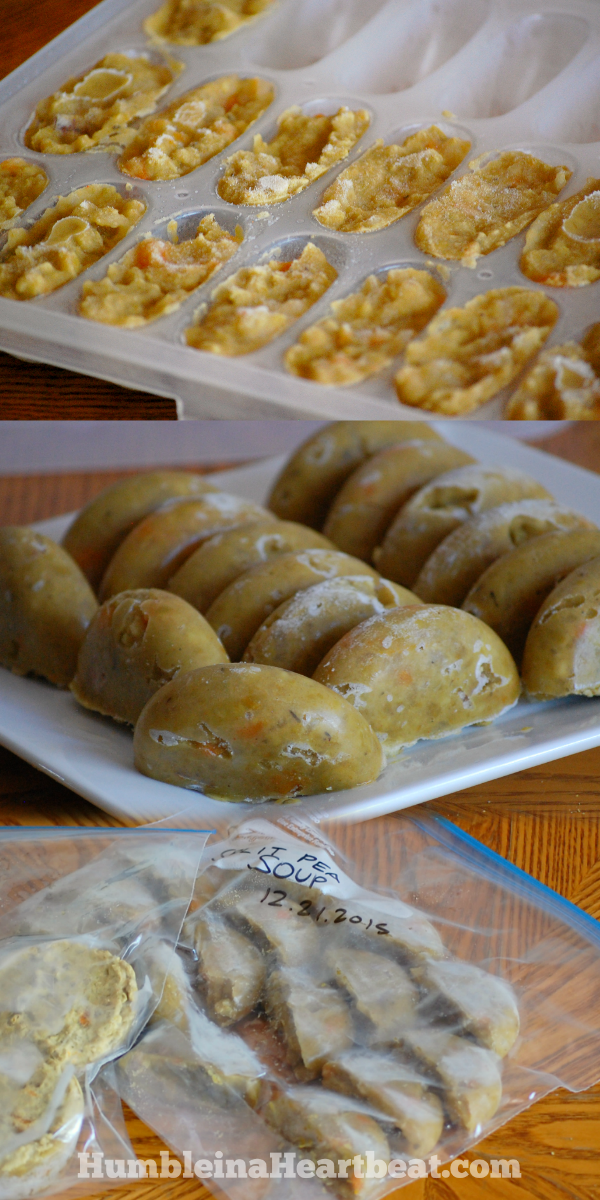 If you have a baby, put some soup in ice cube trays (I prefer to use my Mumi&Bubi ice cube trays*
that I used for making frozen baby food) and then put the frozen cubes in a plastic bag clearly labeled. It depends on how old your baby is and how much he eats, but you can feed your baby a couple of these cubes for lunch without any extra effort.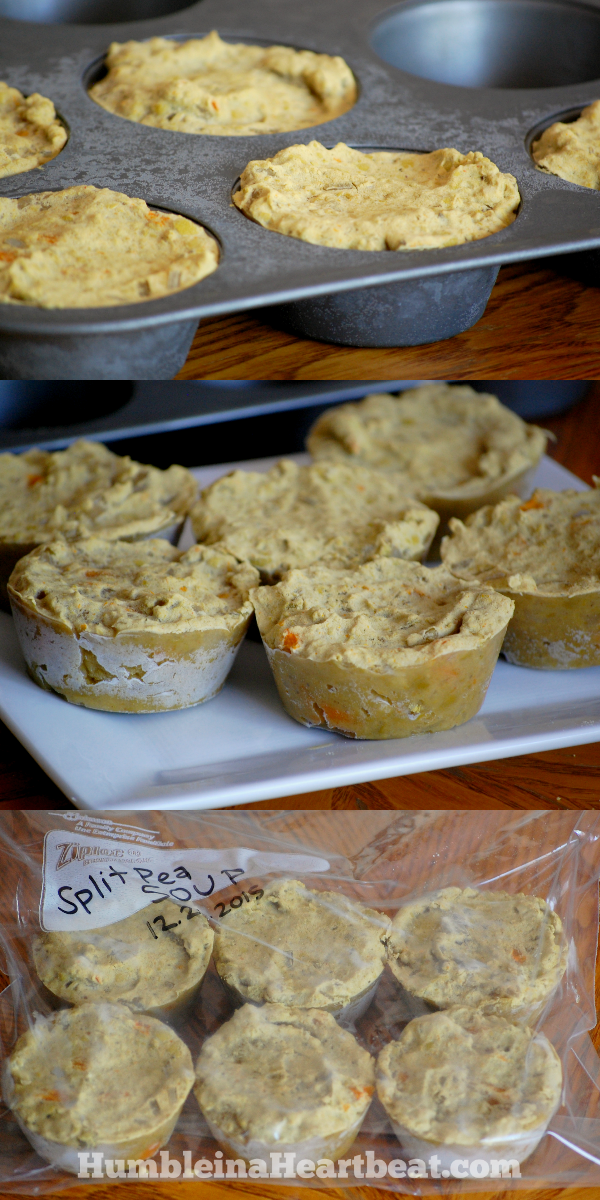 For adults and kids, it's best to use a muffin tin to freeze the soup first. Once the soup has been frozen in the muffin tin, put the cubes into a labeled freezer bag. Each muffin cup is about 1/3 cup (I have a nonstick muffin pan like this*
), so one person can have 2-6 muffin cubes and that's an easy and effortless side or meal!
I'm just glad I've discovered a way to prevent my soup from sticking to the sides of the freezer bags. Waste has no place in this kitchen!
Have you ever had this problem when freezing soup?

Latest posts by Charlee Flaminio
(see all)