I was not paid to write this post. I received a product to review, and I will only review products that could benefit my readers. The opinions in this post are completely my own based on my experience.
---
I'm a busy mom. I may be a stay-at-home mom, but I have plenty on my plate.
The dishes need to get done. The girls need to eat. There are a bunch of crumbs under the kitchen table that need to be swept up. Laundry should be folded and put away. Bills are waiting to be paid. I have to go grocery shopping.
You know, life just never quits.
I completely understand if you are so busy that you don't think you can cook for your baby. There are at least three stores within a mile of your house that sell baby food, am I right? Why would you care to make your baby's food when there is such beautiful convenience?
In my opinion, making your own baby food really isn't THAT time consuming. I also believe that making your own food is actually better for your baby. Maybe I'm crazy, but I think babies probably enjoy homemade more than the jarred stuff.
Pssst! You can see all my homemade baby food posts right here.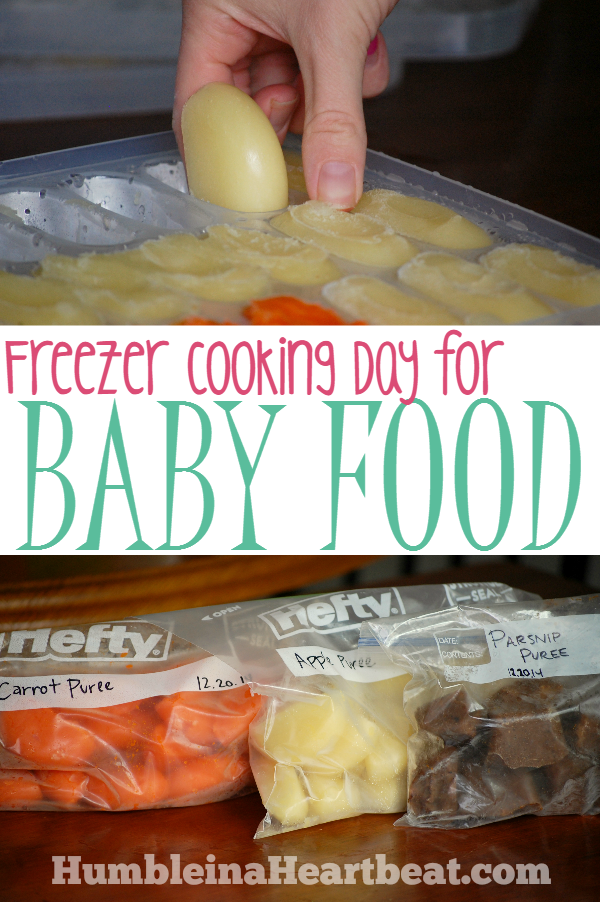 Disclosure: This post contains affiliate links. If you click on one of these links and you make a purchase, I will receive a small commission from your purchase.
Freezer Cooking Day…Baby Food Style!
Last month, I decided to do two Baby Food Freezer Cooking Days. I'd be lying if I told you that I did both and they went smoothly and each took only one hour of my time.
Unfortunately, I only completed one freezer cooking day, and it took nearly two hours to make just three simple purees. It would have taken me less time, but both of my girls woke up from their afternoon naps earlier than normal and my husband was working. So I had to spend a little more time making purees than I wanted, but it all worked out in the end.
My baby food freezer cooking day consisted of the following three purees:
1. Carrots (more info on how I cooked the carrots HERE)
2. Parsnips (more info on how I cooked the parsnips HERE)
3. Apples (more info on how I cooked the apples HERE)
These are all simple purees that would go well with other foods. I think the secret to successfully feeding your baby homemade baby food is always having simple purees on hand that you can mix with other foods.
Cost breakdown:
Carrots – 96 cents for two pounds of carrots. I got 30 ounces/cubes out of the batch, so the carrots cost about 3.2 cents per ounce.
Parsnips – I paid $2.26 for four parsnips. I got 9 ounces/cubes, so the parsnips were 25.1 cents per ounce.
Apples – I used five apples that cost $2.55. This made 18 ounces/cubes, so each apple was 14.2 cents per ounce.
Total – $5.77 for 57 ounces/cubes, which is about 16 meals for my daughter (I use 3 or 4 cubes each time I feed her). This means that each meal costs about 36 cents.

Tips for a Successful Baby Food Freezer Cooking Day
If you are going to do a baby food freezer cooking day, you should probably:
Do it while your baby is sleeping
Make at least 6 purees at once for the greatest long-term benefit
Make only the most simple of purees. I know how tempting it is to make the purees that have recipes, because I love to cook, but you want it to be fast and easy.
Use three different methods: roast one (I roasted the parsnips), steam one (I should have steamed the apples), and boil one (I boiled the carrots and apples).
Puree one in your food processor or blender, rinse out the jar, and puree the next food
Have enough ice cube trays ready to put the purees in cubes and freeze
Solids Starter Kit from Mumi&Bubi
For my baby food freezer cooking day I was fortunate enough to have two Mumi&Bubi trays to review. I am not even joking when I say that I wanted these trays ever since I made Sofía's baby food. The Solids Starter Kit comes with two trays, and each tray has 21 cubes (each cube is one ounce and holds about 2 Tablespoons).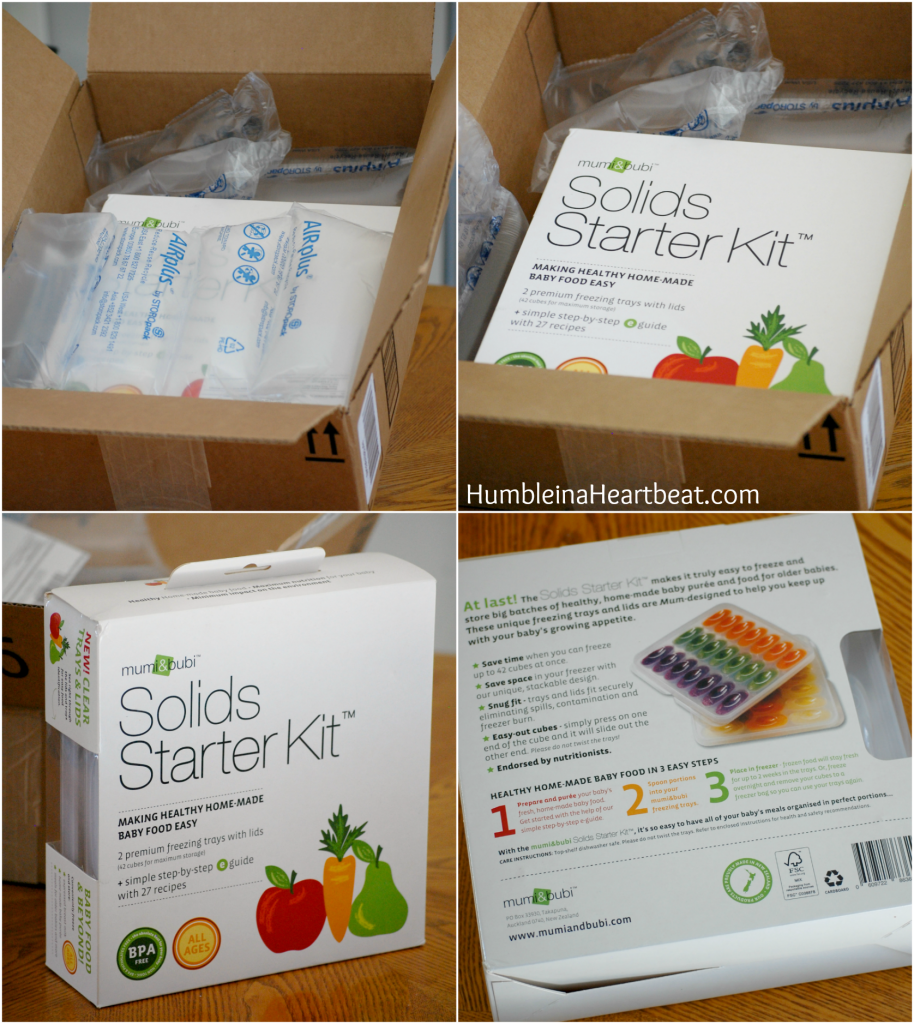 Each tray has a lid, which makes it super safe to put your food in the freezer. Before I had these trays, I used a normal ice cube tray, which is fine, but it doesn't have a lid. It dries out the top of each cube after being in the freezer overnight! This time, I didn't have that problem. I quickly filled up both of my trays with the apple and carrot purees. The parsnip puree had to go in my normal ice cube tray since there was no more room left.
The thing about the Mumi&Bubi trays that seemed like a significant drawback to me at first was that you can't twist the trays to loosen the ice cubes and set the food free. It's just something I was used to from normal ice cube trays. For the Mumi&Bubi trays, you either have to let them thaw for a few minutes once they are out of the freezer or you have to run the bottom of the tray under warm water for a minute. Once the cubes have had a chance to loosen, you simply use your finger to push each cube out (as pictured below). I've gotten used to it now, and I like it better than twisting the tray.
You don't necessarily need to do a freezer cooking day in order to fill your freezer with baby food and make life less hectic for you. When I am making a puree that Bella has run out of, sometimes I will make more than I normally would and then just freeze the rest. You'll see that after a few times of doing that, you have plenty of baby food stocked in your freezer.

If you are a busy stay-at-home or working mom, you CAN make your own baby food. By making purees in advance and freezing them, you can easily get out a few cubes for each meal and easily turn on the burner or press a button on the microwave. I personally like to reheat the cubes on the stove. Ideally I'd like to get cubes out the night before so they can thaw in the fridge, but until then, I'll use the burner. 😉
You could even use the Solids Starter Kit to freeze any extra breastmilk you might pump.

You can purchase the Mumi&Bubi Solids Starter Kit on Amazon
. I am confident that if you are trying to save time and money on baby food, these trays will be of significant help!
Would the Mumi&Bubi Solids Starter Kit be useful for you if you decided to make homemade baby food?

Latest posts by Charlee Flaminio
(see all)