If you are just joining us, this is the 4th month update of feeding my baby homemade baby food. Each update I have given you the details of what foods I introduced to my baby (Bella) during the previous month.
Pssst! You can see all my homemade baby food posts here.
This month was a bit more adventurous since I started adding some spices and herbs to the purees. I really didn't try as many as I would've liked to, but I'm sure there will be plenty of opportunities in the future to introduce these flavors to Bella.

Disclosure: This post contains affiliate links. If you click on one of these links and you make a purchase, I will receive a small commission from your purchase.
A Sample Feeding Schedule for a 9 Month Old
Days 1-3: Pumpkin with allspice
Days 4-6: Beef with thyme
Days 7-9: Yogurt
Days 10-12: Oatmeal with cinnamon
Days 13-15: Egg yolk
Day 16: No new puree
Days 17-19: Cauliflower
Day 20: No new puree
Days 21-23: Cherries
Day 24: No new puree
Days 25-27: Spinach
Days 28-30: Prunes
Days 31-33: No new puree
I'm still not doing so hot in the prepared department, as you can see from all the "no new puree" days. At least I'm prepared with frozen baby food. I still have quite a bit both from the freezer cooking day I did and the times when I made a little extra of one puree and froze it. The last days of this month, Bella was sick (and so was I), so I didn't have the energy to make anything new and she wasn't eating great anyways.
Purees
For each new puree Bella tried this month, I'm going to report the following (as concisely as possible): 1) how much time I spent preparing it (keep in mind this is active time and doesn't include cooking time), 2) the quantity it produced, 3) the recipe or how I prepared it, 4) the cost to make it (for each of the first three days of introduction I gave her 1.5-2 ounces), and 5) Bella's reaction (both how she liked/disliked it and if there was an allergic reaction). Most of the puree recipes I used came from the book Cooking for Baby
.
Pumpkin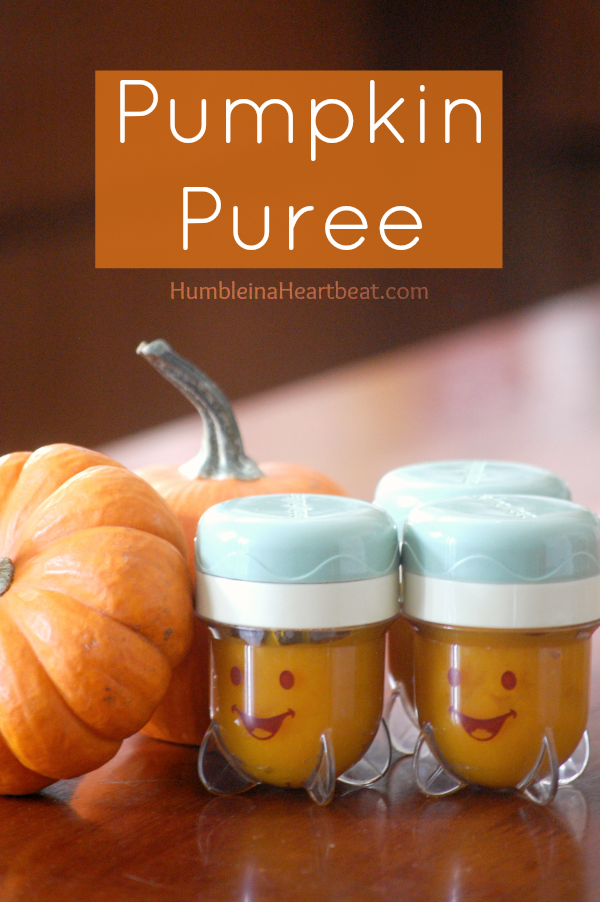 Time: Less than 20 minutes
Quantity produced: 16.5 oz., from one pie pumpkin
Recipe or preparation: Winter Squash Puree from Cooking for Baby
. I added a pinch of allspice (from my spice cabinet) once it was prepared.
Cost: $0.89 for 16.5 oz., or 5.4 cents per ounce
Reaction: Bella's first reaction was a look of disgust, but then she seemed to really like it as I gave her more bites.
Beef
Time: About 20-25 minutes
Quantity produced: 12.5 oz, from .72 lbs of Beef Chuck Mock Tender Steak Boneless
Recipe or preparation: I followed the directions found HERE. I used a meat mallet to pound the steak so it was thinner. Then I put it in a hot skillet with some olive oil and cooked it with the lid on after it had been in the pan for about 8 minutes. I cut it into 1/8-1/4 inch pieces and put them in the blender. I turned on the blender and the pieces became like a powder. It was easy to add a bit of water to make it easier for her to eat. Or you can just add other purees. I actually added some chopped fresh thyme to the beef while I was introducing it to her. When I froze the rest, I didn't put any thyme in it, and I had to add a bit of water to make sure it stayed together in the cubes.
Cost: $3.95 for 12.5 oz., or 31.6 cents per ounce
Reaction: She is definitely a meat-eater!
Yogurt
Time: 1 minute
Quantity produced: 10.5 oz. is what I used for the month from the 32 oz. container
Recipe or preparation: Just scoop and serve. Make sure to get plain, whole milk yogurt. Or you could make your own (I've never done this).
Cost: $1.55 for 10.5 oz., or 14.8 cents per ounce (I got Chobani, because I wasn't sure about the quality of the store brands)
Reaction: I didn't give it to her by itself, because I doubt anybody eats plain yogurt by itself. I mixed it with red pepper, butternut squash, and apples (not all at the same time!), and she loved it.
Oatmeal
Time: About 10-15 minutes (if you grind your oats)
Quantity produced: A little more than 1 cup from 1 cup of rolled oats that I ground myself.
Recipe or preparation: Oatmeal from Cooking for Baby
. I made a batch that was big enough to feed Bella for the 3 day introduction, as well as Sofía for her breakfasts during that time.
Cost: About 14.4 cents for the 6 oz. I gave her in the month (2.4 cents per ounce), and that includes the vanilla and cinnamon.
Reaction: The first day I didn't grind the oats. I left them as they come, and that was a huge mistake. Bella gagged after the second bite and then promptly threw up. So if you want to give homemade oats to your baby, make sure you grind them to a fine powder first (easily done in the blender or a food processor). She loved the oats on the other days, especially mixed with applesauce.
Egg yolk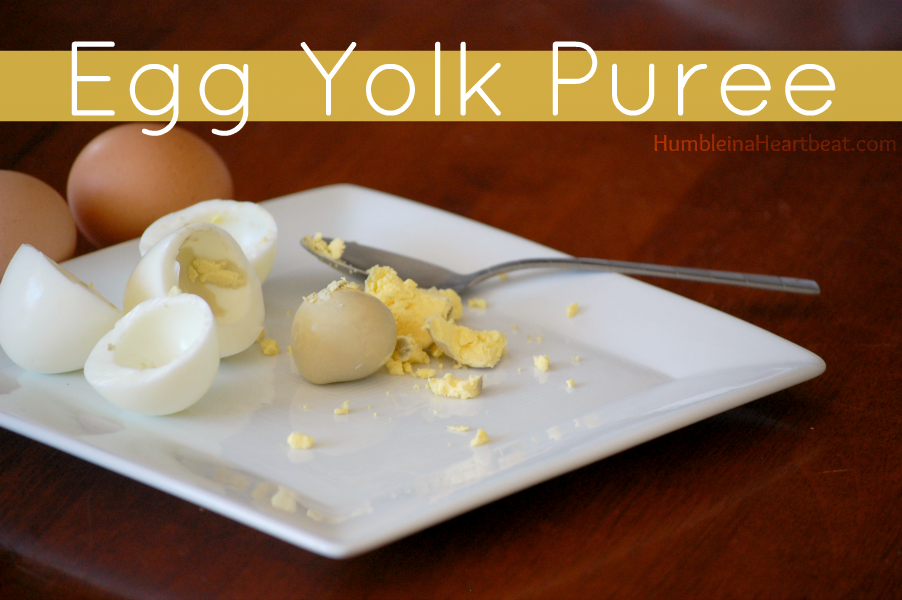 Time: Less than 10 minutes, more like 5
Quantity produced: One hard-boiled egg for each day, so 5 egg yolks
Recipe or preparation: I have been making perfect hard-boiled eggs the past few months because of THIS tutorial. More information about introducing eggs can be found HERE (you don't want to introduce the whites until later).
Cost: $0.98 for five egg yolks the whole month, or 19.6 cents per egg yolk
Reaction: It was much too thick for Bella by itself. I watered it down a bit at first, but then I decided to mix it with some yogurt, and she loved it!
Cauliflower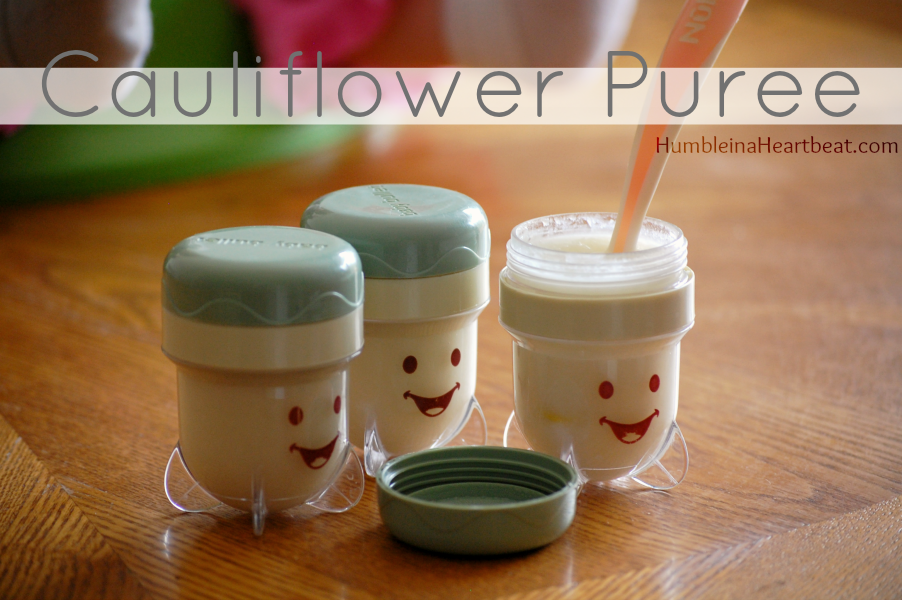 Time: About 10 minutes
Quantity produced: 12 oz., from one head of cauliflower
Recipe or preparation: Whipped Cauliflower from Cooking for Baby

Cost: $1.50 for 12 oz., or 12.5 cents per ounce (this is a best guess – see the note below the total costs of all purees)
Reaction: Honestly, she strongly disliked cauliflower when I gave it to her by itself on the first day. When I mixed it with carrots and then with butternut squash, she liked it 1000% more!
Cherries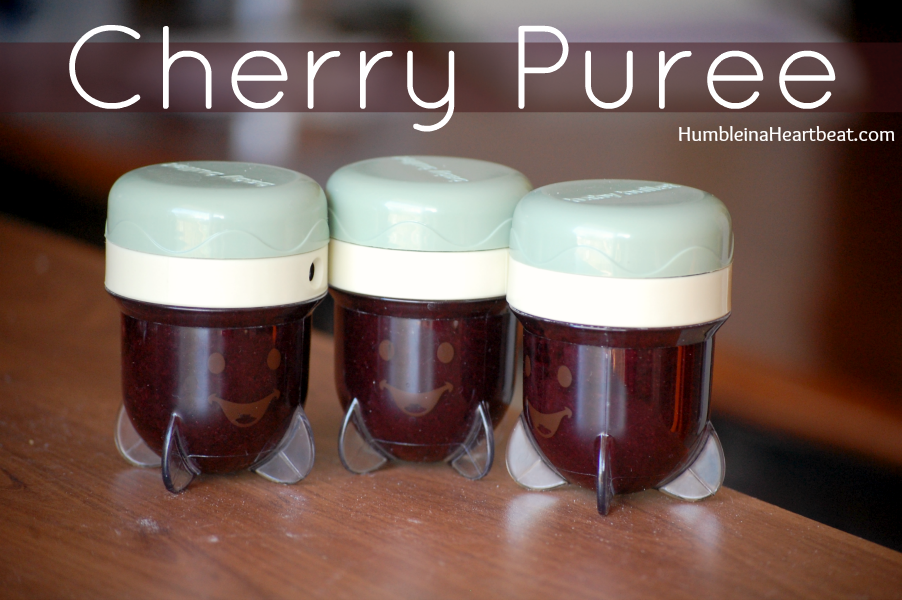 Time: Around 5 minutes
Quantity produced: 9 oz., from a 12 oz. bag of frozen cherries
Recipe or preparation: Cherry Puree from Cooking for Baby
. If you decide to make this puree with frozen cherries watch out for pits. Even if it says on the bag that the cherries are pitted, some pits could still have made their way through. That is what happened to us, and poor Bella had one rolling around in her mouth until she spit it out. I'm just glad she didn't swallow it!
Cost: $2.50 for 9 oz., or 27.8 cents per ounce (this is a best guess – see the note below the total costs of all purees)
Reaction: Bella seriously snarfed the cherries up every single time!
Spinach
Time: 10 minutes
Quantity produced: 5.25 oz., from one bunch of spinach
Recipe or preparation: I asked my brother-in-law to show me what to do since he was at our house while I was preparing the spinach puree. He triple washed the spinach in a colander under cold water, then he broke off the long ends so we were only using the leaves. Put about 1/2 inch of water in the bottom of a large saucepan and boil it. Then put a steaming basket in the saucepan with the spinach in it. Put the lid on top and let it cook for about 4 minutes. Remove the spinach and puree using a blender or immersion blender. Add water or breastmilk to thin it out.
Cost: $1.48 for 5.25 oz., or 28.2 cents per ounce
Reaction: She was not a fan of the spinach! She took her time eating the four bites I gave her the first day, but then she really didn't mind it mixed with other veggies.
Prunes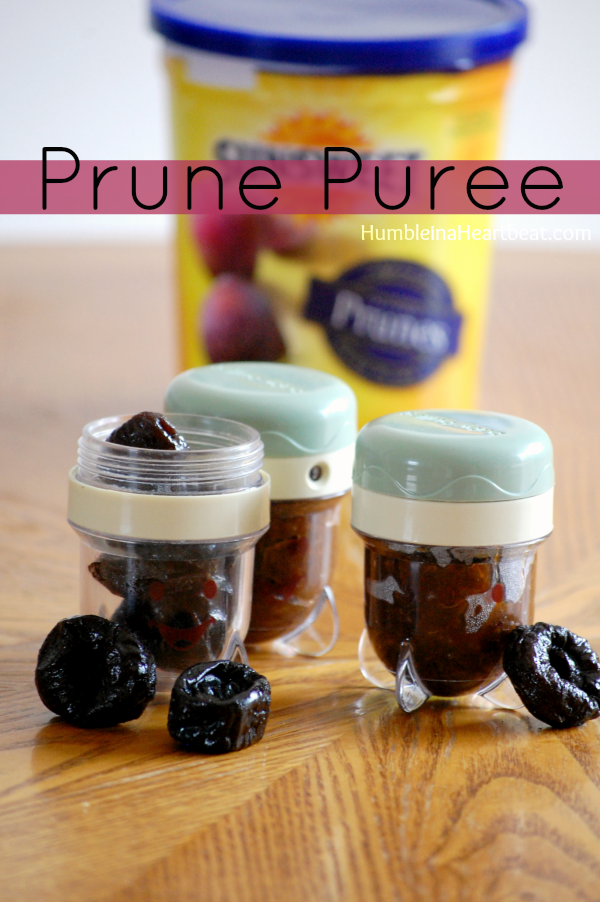 Time: Less than 5 minutes
Quantity produced: 3 oz. from 8 prunes (that was enough for 4 days)
Recipe or preparation: Prune Puree from Cooking for Baby

Cost: $0.53 for 3 oz., or 17.6 cents per ounce
Reaction:  She really liked prunes! You want to make sure you only give a small amount to your baby since prunes relieve constipation. Bella had a really nice diaper blowout that night. It was the first time I saw any poop come out of the cloth diapers since I started using them with Sofía!
All Purees
Time Total: Over the course of a month, I spent a total of 2 hours and 33 minutes making Bella's baby food. That includes all the new foods I introduced as well as any purees I made throughout the month. That is literally less than 5 minutes each day if you spread it across the month. Super small time investment if you ask me!
Cost for 4th month of solids:
Pumpkin – $0.729
Beef – $2.69
Yogurt – $1.55
Oatmeal – $0.144
Egg yolk – $0.98
Cauliflower – $1.00
Cherries – $2.22
Spinach – $1.55
Prunes – $0.528
Other purees throughout:
Apple – $1.56
Banana – $0.625
Brown Rice – $0.10
Butternut Squash – $2.12
Carrots – $0.578
Chicken – $1.28
Green Beans – $0.128
Peaches – $0.70
Peas – $0.25
Pears – $0.855
Pear Sauce – $0.22
Red Bell Pepper – $0.768
Summer Squash – $0.224
Uchiki Kuri Squash – $0.09
White Potatoes with Parsley – $0.053
Total cost for 33 days: $20.95
Cost per day: About $0.63 per day
If you can't tell, I absolutely love analyzing. The problem is that sometimes I forget to write down the details and then I forget those details when it comes time to put things together. This month I forgot to input the prices for several of the foods I fed Bella into my spreadsheet. Then I lost the receipts. So I had to guess what I paid for a few things. Overall, though, I'm sure it still gives you a good idea of how much you could expect to spend on your own homemade baby food for the 4th month.
A Look Ahead into the 5th Month
Unfortunately, I am down to my immersion blender for pureeing. My blender and food processor have officially bitten the dust. 🙁 Luckily, though, we are entering a stage where it's going to be better if her food isn't super smooth. She will need different textures to try, and it will probably be fine for most foods to be mashed with a fork.
The new foods I plan to introduce to Bella this month are:
Days 1-3: Barley (& Mushrooms – if I can find the Cremini mushrooms!)
Days 4-6: Tomato & Garlic
Days 7-9: Broccoli
Days 10-12: Turkey
Days 13-15: Cranberry
Days 16-18: Cucumbers
Days 19-21: Lentils or Dried Beans
Days 22-24: Rutabaga
Days 25-27: Onions
Days 28-30: Beets
Days 31-33: Cabbage
I am not a dietitian or a doctor. This is how I feed my babies, and I am providing this information for those interested in doing something similar. Make sure you talk to your pediatrician before you start feeding your baby solid foods.

Latest posts by Charlee Flaminio
(see all)