If you are just joining us, this is the 5th month update of feeding my baby homemade baby food. Each update I have given you the details of what foods I introduced to my baby (Bella) during the previous month.
Pssst! You can see all my homemade baby food posts right here.
Bella is exuding so much personality now. She has really gotten into her feedings lately, and she's not afraid to show her anger (when the food is "all done") and excitement (she tends to frantically move her hands and feet before the food enters her mouth).

Disclosure: This post contains affiliate links. If you click on one of these links and you make a purchase, I will receive a small commission from your purchase.
A Sample Feeding Schedule for a 10 Month Old
Day 1 No New Puree
Days 2-4 Barley
Day 5 No New Puree
Days 6-8 Tomato
Days 9-11 Broccoli (& spinach)
Days 12-14 Turkey
Days 15-17 Cranberry
Days 18-21 Cucumbers
Days 22-24 Black beans
Day 25 No New Puree
Days 26-28 Onions
Days 29-30 No New Puree
Days 31-33 Rutabaga
I gave Bella a ton of finger foods during her 5th month of solids. She was a natural, picking up each piece of food like she'd done it a thousand times before. Towards the end of the month, she discovered gravity. 🙂 I gave her some diced potato, carrots, and peas to eat, and after she had eaten a few pieces, she began to grab a piece at a time and throw it over the edge of her tray. She noticed that I was looking at her, and she smiled at me as she did it. I think we're in for some fun dinners ahead!
Right before Thanksgiving, I noticed that I was running low on pretty much every puree that was left in the freezer. When I went to get my Thanksgiving groceries, I gathered some food to make purees and finger foods for Bella, too. It was nice to be prepared from Broccoli all the way down to Black beans! I spent a little time preparing some purees for the freezer, and a couple days later, I got the finger foods ready.
Currently, Bella is eating pretty much 3 meals and one snack every day, in addition to the few nursing sessions she has left before I wean her. It takes a lot of planning and preparation to pull off, but I can't wait to share with you how you can do it with less stress!
New Foods
For each new food Bella tried this month, I'm going to report the following (as concisely as possible): 1) how much time I spent preparing it (keep in mind this is active time and doesn't include cooking time), 2) the quantity it produced, 3) the recipe or how I prepared it, 4) the cost to make it (for each of the first three days of introduction I gave her 2 ounces), and 5) Bella's reaction (both how she liked/disliked it and if there was an allergic reaction).
Barley
Time: 5 minutes
Quantity produced: About 1 cup cooked barley from 1/2 cup dry barley
Recipe or preparation: I used the directions to cook barley from Homemade Baby Food Recipes. Right after I made the barley, I realized that the directions in Cooking for Baby
 (a great book that I highly recommend) were probably better because it mentions that you should pulverize the barley before cooking it. I didn't, so I had to use the immersion blender once it was cooked, and it was a lot like the oatmeal – really goopy. I had to mix it with other purees to thin it out and so she could actually eat it.
Cost: About 2.9 cents per ounce
Reaction: She wasn't going for just plain ol' barley. I had to mix in another puree for her to eat it. I wouldn't eat it plain, either! For some reason she would start gagging on the barley (even when it was mixed with another puree) towards the end of the feeding. I think it had something to do with the cough she had, though. The first day I mixed it with pear sauce and she loved it.
Tomato
Time: Less than 10 minutes
Quantity produced: 1.5 oz. from 2 Roma tomatoes
Recipe or preparation: I peeled the tomatoes, cut them in half, and placed them on a baking sheet lined with foil. Then I put them in a 375 degree F oven for 10 minutes. I took them out and let them cool, and then chopped them until they were small enough pieces for her to eat.
Cost: 23 cents per ounce
Reaction: She liked tomatoes from the get-go!
Broccoli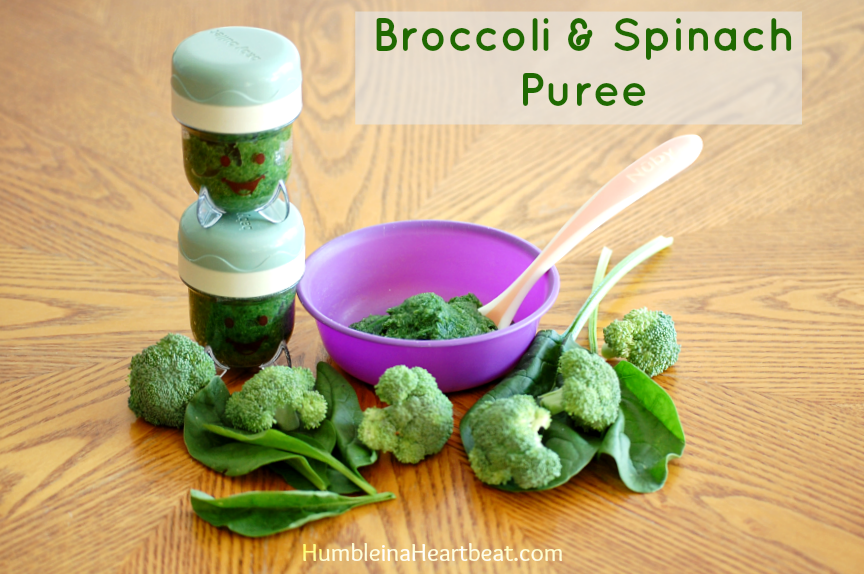 Time: Less than 15 minutes
Quantity produced: 13 oz. from 1 bunch of spinach and 2 heads of broccoli
Recipe or preparation: I made Spinach and Broccoli Puree (link no longer available) from Weelicious. Normally, I like to introduce the new food on its own at first, but I think that broccoli can be powerful for a baby's small digestive system. Making the broccoli with spinach allowed me to give her less broccoli while still giving her the same amount of food.
Cost: 17.54 cents per ounce
Reaction: She didn't care for it, but once I mixed some yogurt with it, she couldn't get enough!
Turkey
Time: Less than 5 minutes (if you are using leftover Thanksgiving turkey, like I did)
Quantity produced: Less than 1 oz. from just a few turkey pieces
Recipe or preparation: I just used leftover turkey from Thanksgiving and either cut it into tiny, bite sized pieces or blended it until the pieces were really tiny and added it to other purees.
Cost: Since this was leftover turkey, and the turkey was paid for by my brother-in-law, I'll have to guess at the cost. I'll guess about 10 cents per ounce.
Reaction: She was loving turkey, especially the fact that she could use her fingers to grab the tiny pieces!
Cranberry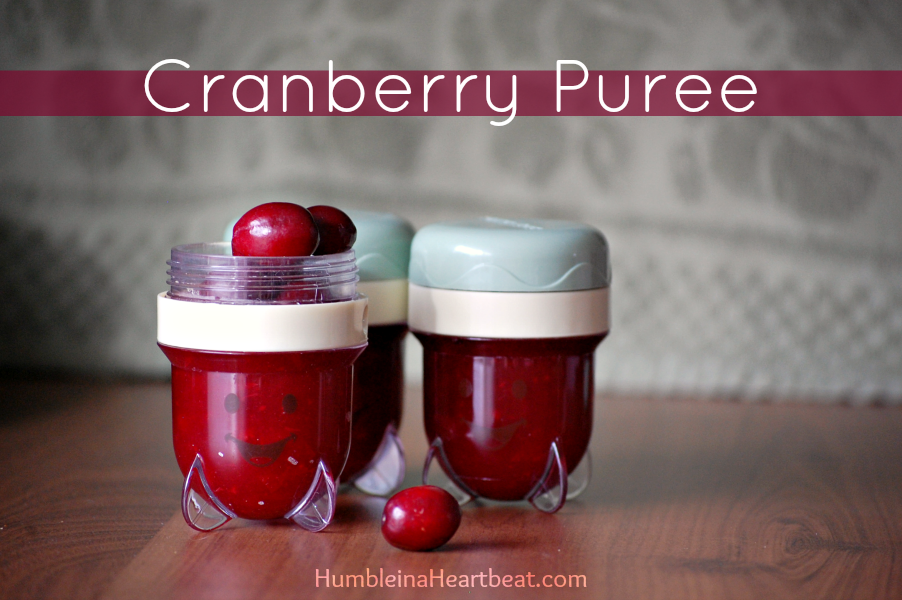 Time: About 5 minutes
Quantity produced: 15 oz. from a 12 oz. bag of cranberries
Recipe or preparation: I used the recipe from Wholesome Baby Food by Momtastic. Make sure to put the sauce through a strainer after pureeing to separate the skins out. I didn't do that step, so I had to remove the skins with the spoon and it was annoying!
Cost: 13.2 cents per ounce
Reaction: I thought she would make a sour face. Instead, she seemed to thoroughly enjoy the cranberries from the first bite!
Cucumbers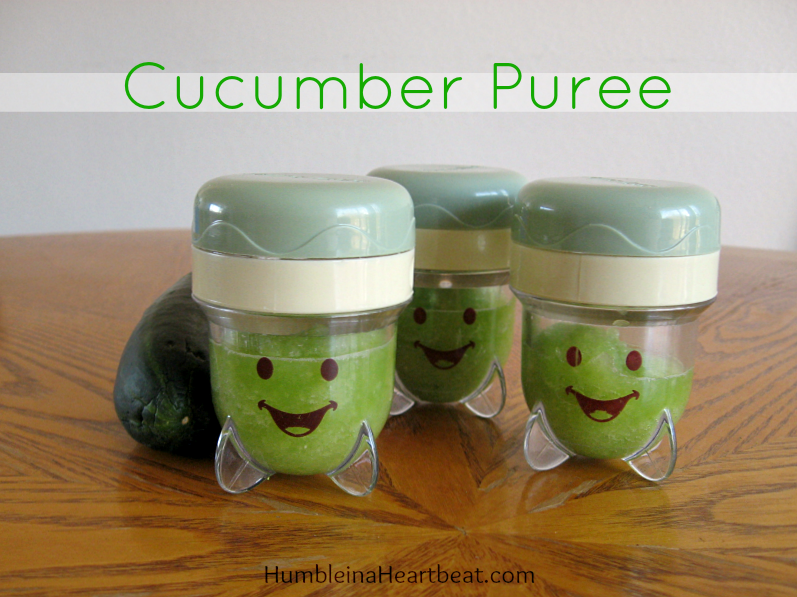 Time: About 10 minutes
Quantity produced: 2.75 oz. from 1/2 cucumber
Recipe or preparation: I used the directions found on Wholesome Baby Food as a guide. I peeled the cucumber, seeded it, and chopped it into tiny pieces. Then I pureed it with the immersion blender. No cooking required! It's a very runny puree, so no extra water or breastmilk is really needed.
Cost: 10.54 cents per ounce
Reaction: She ate it up without a problem.
Black Beans
Time: 5 minutes if you use pre-soaked and cooked beans
Quantity produced: About 3 oz. from about 1/2 cup of cooked beans I had in the freezer
Recipe or preparation: I mashed the cooked beans with a fork. If you need directions how to cook dry beans, click HERE. I took one bag of previously cooked beans out of the freezer to use.
Cost: About 2.5 cents per ounce.
Reaction: She didn't care for the beans by themselves. I didn't add salt at all in the cooking process, so they were very bland. I added yogurt for the 2nd and 3rd day, and she ate it up just fine. I have to warn you, though, beans do the same thing to babies as they do to adults, so you might expect a few stinky diapers after feeding your baby beans. 🙂
Onions
Time: Less than 10 minutes
Quantity produced: 1.5 oz. from about 1/4 onion
Recipe or preparation: I diced the onion and put it in a hot skillet that had some olive oil. I sauteed the onion for about 7 minutes, and then I took it out of the skillet and minced it so she could digest them better.
Cost: Approximately 5.1 cents per ounce
Reaction: She seemed to really love the onions mixed with sweet potatoes, carrots, and apples. She had really bad breath for the 3 days I was introducing this to her, just FYI.
Rutabaga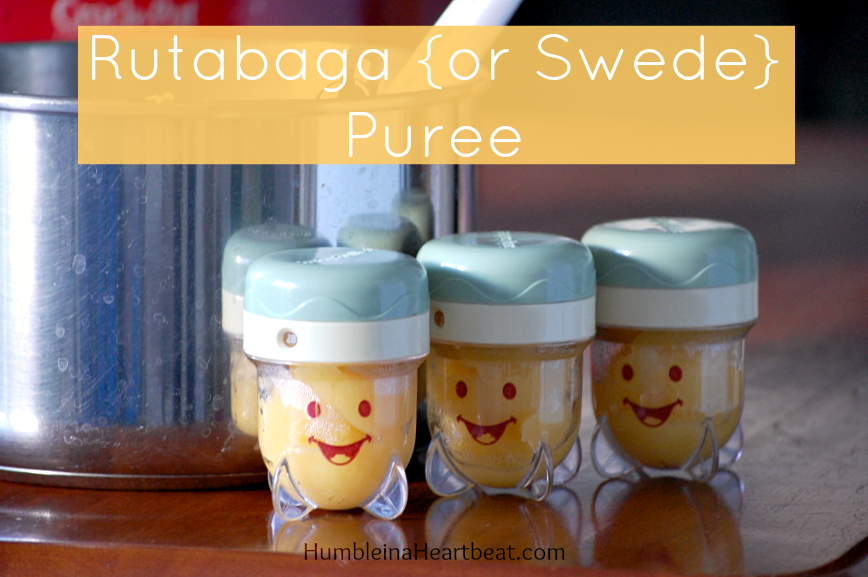 Time: 15 minutes
Quantity produced: 11.5 oz. from 2 rutabagas
Recipe or preparation: Rutabagas are also known as Swedes in Europe and other parts of the world. To cook them, I just prepared them as if I was going to make mashed potatoes. I peeled them, cut them into 1-inch chunks, threw them in a pot of cold water, and brought it to a boil. Once boiling, they boiled for about 15 minutes and then I checked with a fork to see if they were fork-tender. Then I drained the water and pureed them. You could also just dice them into small pieces for finger food.
Cost: 12.6 cents per ounce
Reaction: She seemed to like it at first, but then she refused to eat it anymore after 5 or 6 bites. Yogurt must be the miracle food, because a little yogurt mixed with the rutabaga and she was all over it!
All Purees
Time Total: Over the course of a month, I spent a total of 2 hours and 45 minutes (approximately) making Bella's baby food. That includes all the new foods I introduced as well as any purees and finger foods I made throughout the month. That's just 5 minutes each day if you spread it across the month. Super small time investment if you ask me!
Cost for 5th month of solids:
Barley – $0.261
Tomatoes – $0.368
Broccoli & Spinach – $2.28
Turkey – $0.10
Cranberries – $1.188
Cucumbers – $0.295
Black Beans – $0.075
Onions – $0.077
Rutabaga – $0.693
Other purees throughout:
Applesauce – $0.523
Banana – $2.113
Beef – $1.264
Brown Rice – $0.075
Butternut Squash – $0.53
Butternut Squash, diced – $0.229
Carrots – $0.182
Cauliflower – $0.50
Cheese – $0.275
Chicken, diced – $0.386
Egg Yolk – $0.850
Fish Soup – $0.08
Parsnips – $1.038
Peaches – $0.28
Peaches, canned – $0.312
Pears – $0.276
Pear Sauce – $0.70
Potato Salad – $0.11
Prunes, diced – $0.133
Pumpkin – $0.866
Red Bell Pepper – $0.256
Red Bell Pepper, diced – $0.341
Sweet Potato, Carrot, and Apple Puree – $0.494
Sweet Potato, diced – $0.548
Tomato, diced – $0.067
Tomatoes, canned and diced – $0.30
Yogurt – $2.00
Total cost for 33 days: $20.07
Cost per day: About $0.61
A Look Ahead into the 6th Month
This coming month will be the final month of Bella's baby solids feeding schedules. After that, I will be doing a toddler series. I want to continue introducing new foods to her and giving her previously introduced foods on a regular basis.
The new foods I plan to introduce to Bella this month are:
Days 1-3 Beets
Days 4-6 Mangoes
Days 7-9 Red Cabbage
Days 10-12 Lentils
Days 13-15 Fish
Days 16-18 Leeks
Days 19-21 Pineapple
Days 22-24 Quinoa
Days 25-27 Orange juice
Days 28-30 Eggs (including the white)
By the time she turns one, Bella will have tried 50+ foods!
I am not a dietitian or a doctor. This is how I feed my babies, and I am providing this information for those interested in doing something similar. Make sure you talk to your pediatrician before you start feeding your baby solid foods.

Latest posts by Charlee Flaminio
(see all)