A month ago, I started feeding my now 7-month-old homemade baby food, or purees if you prefer. As promised, I will take you through how the first month went with Bella, and then I will give you a preview of what I am planning for month 2.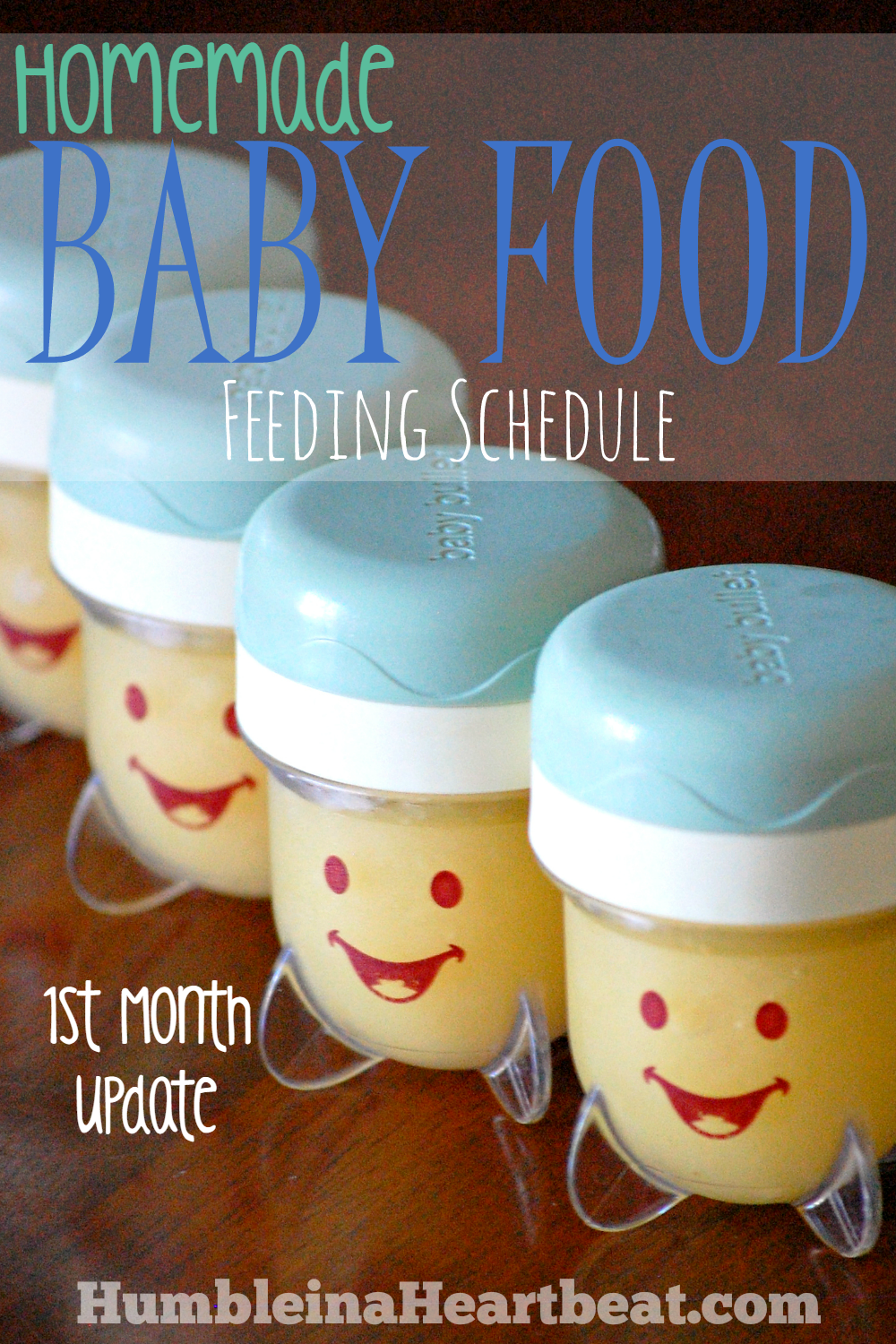 Disclosure: This post contains affiliate links. If you click on one of these links and you make a purchase, I will receive a small commission from your purchase. 
An Update on the 1st Month
A solids feeding schedule for a 6 month old
Days 1-4: Apples
Days 5-8: Avocados
Days 9-12: Bananas
Day 13: Banana and avocado
Days 14-17: None
Days 18-21: Sweet potato
Day 22: None
Days 23-26: Parsnips
Days 27-30: Plum with banana
I followed my schedule for the most part. As you can see on days 14-17 I didn't feed her anything (besides breastmilk, of course). We were on a trip during this time, and I didn't really plan well enough to feed her any purees. I know I could've easily mashed up a banana every day and fed her that, but we were super busy and it was one of the last things on my mind. Also, on day 22 I didn't feed her anything because we had a family event to go to and our food processor broke on me 🙁
If you are starting your baby on solids, and you are considering buying a few kitchen tools to make things easier, I would suggest you take a look at my list of things you probably will need and those you can likely skip right over – in this post. Don't waste your money on something that won't serve more than one purpose in your kitchen!
Purees
Now for the very detailed part: the purees. I will list each puree and a) the time I spent preparing it, b) the quantity it produced, c) how Bella reacted to it, and d) the recipe or how I prepared it.
Before I get into each puree, however, I'd like to just talk a bit about Bella and her development with eating solids over the last month. The first part of the month was really hard on me. You see, Sofía, our older daughter, was almost a natural with eating from a spoon. Sure, it took her some time to get used to it, but she was really easy to feed. Bella, on the other hand, wanted to
grab the spoon
put her hands in her mouth and then get the puree all over herself and the chair
push her tongue out so it was almost impossible to even stick the spoon in her mouth
I have a hard time with messes, but I think I was hoping that Bella would be a great little eater just like her sister. I really should know better by now. They are two different people, and I have to approach everything knowing that Bella will do things differently than Sofía did.
Apples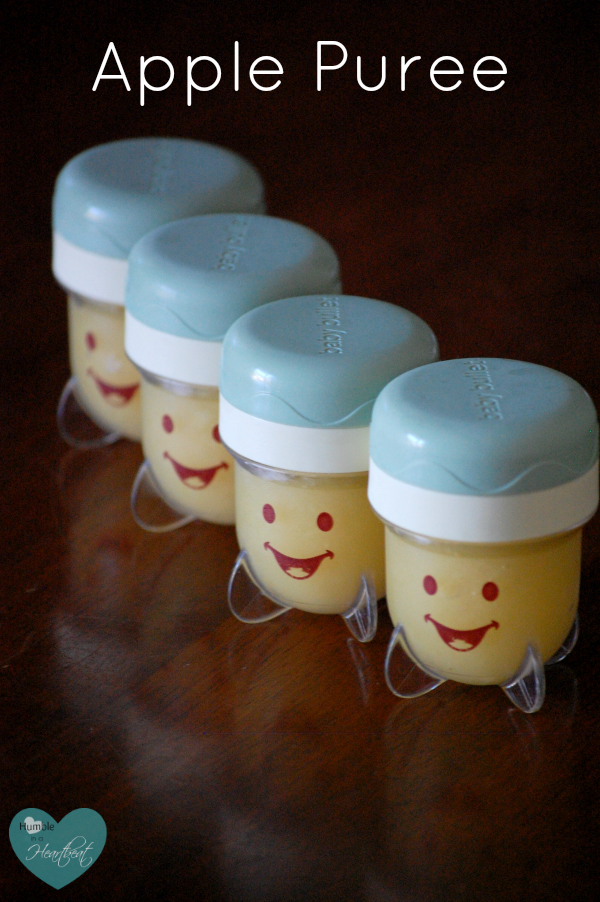 I spent 1/2 hour preparing the apple puree for the first four days of the month. I started while both of my girls were taking a nap, but Bella woke up in the middle of the process, so I actually didn't get it finished for about 1 1/2 hours! Ugh! I've learned that I should make the purees either in the early morning or late at night when they are both completely out of it.
With two apples, I was able to get 14 tablespoons. This was enough to fill four of my baby bullet jars (I am not promoting baby bullet jars. We only have them because my mom found them on sale. I don't even own the Baby Bullet. But they are really cute!). I had a bit left over and gave it to my toddler as a snack.
Since the apples were her first puree, she had a difficult time. She thought the spoon was a toy, she was tired before the feedings on a few of the days (which I didn't realize until I started giving her the puree), and she barely ate anything because her darn tongue was always in the way!
The recipe I used to make the apple puree was from the book, Baby Love
. It is one of my absolute favorite resources for baby food. If you don't want to buy it, you can always get it from your local library. You can also simply follow the directions for making apple puree right HERE or right HERE.
Avocados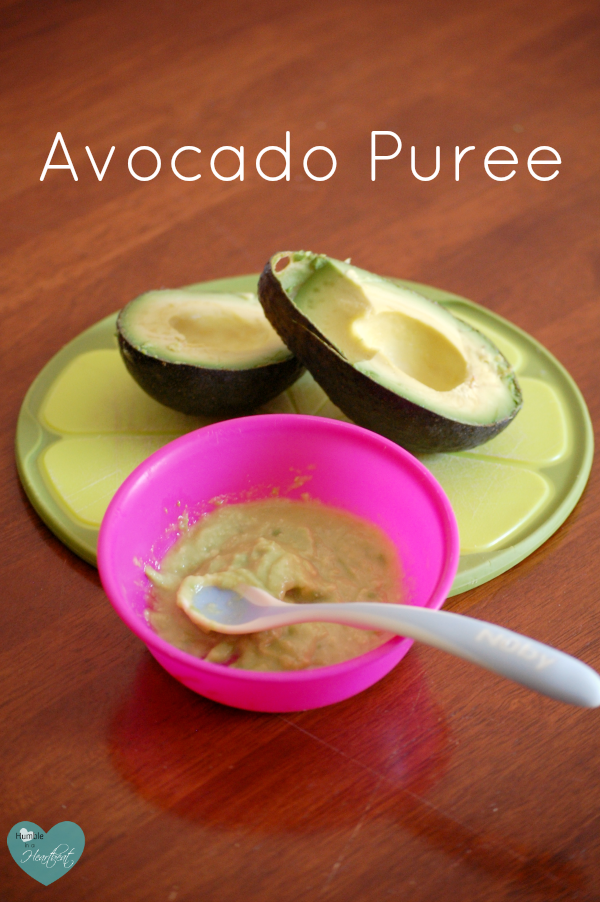 It took less than 8 minutes total to prepare the avocado puree (it took a maximum of 2 minutes each day to prepare it).
I didn't measure out the avocado puree, because it was prepared right before she ate it each day. I'm guessing it made about 8 tablespoons over the four days.
Bella loved the avocado puree. One of the days she was pretty tired, so she ended up eating less and spitting out some puree.
In order to prepare the avocado puree for Bella, I just cut into an avocado and scooped out about 1/4 of one side (or 1/8 of the entire avocado). I put it into a bowl and mashed it with a fork and then added a small amount of water (you can also use breastmilk or formula) to achieve a thin consistency. Avocado puree is one of the simplest purees to prepare! Sofía and I just ate the leftover avocado each day.
Bananas
Just like avocado puree, banana puree is quick and easy to prepare. I spent about 1 minute a day preparing it.
I used about 1/4 of the banana, which probably was two tablespoons once mashed and mixed with some water.
Bananas may just be one of Bella's favorite purees to date, just like her sister's. She got really messy the first few days, so we stripped her down to her diaper and put a bib on just to minimize the amount of cleanup.
In order to make banana puree, all I did was mash 1/4 of a banana with enough water to make it a thin consistency.
Sweet Potatoes
All the prep for the sweet potatoes took me about 15 minutes total.
It made about 9.5 ounces (or 18 tablespoons) of sweet potato puree. I was able to fill four of my baby bullet jars with 1.5 ounces each and then 4 slots in the ice cube tray with 1 ounce each. I also had a small amount left to give to my toddler and also to Bella on a different day.
Sweet potatoes were one of Sofía's all time favorite foods at Bella's age. So it was strange to me when, the first day that I fed Bella sweet potato puree, she started to gag on it after she had eaten about half. My guess is that maybe she was a bit full from breastfeeding, so I think it's best to wait to feed her until a little more than an hour after I finish breastfeeding her. One of the other days, she was really tired when I was feeding her so she didn't eat much. The other two days she couldn't get enough of the sweet potatoes and even cried when there was none left!
I followed the directions for the Perfectly Basic Sweet Potato in the Baby Love
 book.
Parsnips
I spent 20 minutes preparing the parsnip puree.
I used two parsnips to make the puree. The total amount of puree I got was two cups or 25 tablespoons. This was only after adding plenty of water to the blender. Since each of my little baby bullet jars holds 3 tablespoons, I filled four jars with 3 tablespoons each and then I put the rest in an ice cube tray to freeze for later. I put one tablespoon in each ice cube slot and got 13 ice cubes total.
Bella seemed to really like parsnips. She had a rough day in the middle where she would not eat. Her papi (my husband) was feeding her that day, and she wouldn't open her mouth and was leaning back. Once she started crying, I told him we better just lay her down for a nap since she is usually sleepy when she acts like that. She wouldn't sleep after 15 minutes, so I picked her up and tried feeding her myself and she was happy to eat. I'm not sure if it was because somebody else was feeding her or not. Other days while feeding her parsnips she was leaning forward for more.
I used a very simple recipe on Homemade Baby Food Recipes (another favorite resource of mine) to make Roasted Parsnip Puree.
Plums
I spent about 25 minutes making the plum puree.
I used two plums to make the puree and ended up with about 7 tablespoons. I filled two baby bullet jars and then had one tablespoon left. So I just let the girls eat it for a snack.
The plums I got were pretty tart, and I could tell the very first day that Bella thought so, too! So I decided to add some banana to this puree whenever I fed it to her. She couldn't get enough of it!
To make the plum puree, I used a very simple plum puree recipe on Homemade Baby Food Recipes.
Total Cost for the Month
Apples – $0.84
Avocados – $0.98
Bananas – $0.24
Banana/avocado – $0.16
Sweet potato – $0.60
Parsnips – $0.84
Plum/banana – $1.16
Total cost for 25 days of baby food – $4.82*
$4.82 into 25 days is less than 20 cents per day!
*once per day and about 3 T. (or 1.5 ounces) per meal
A Look Ahead into the 2nd Month
My plan for the next month is to continue feeding Bella new foods every four days. In addition to these new foods, I want to combine the foods she has already tried. I would like to feed her twice a day as well.
Here is a quick look into what I am planning on introducing to her the second month:
Days 1-4: Peaches
Days 5-8: Carrots
Days 9-12: Blueberries
Days 13-16: Pears
Days 17-20: Butternut squash
Days 21-24: Melon
Day 25-28: White potato
Days 29-32: Summer squash
I am not a dietitian or a doctor. This is how I feed my babies, and I am providing this information for those interested in doing something similar. Make sure you talk to your pediatrician before you start feeding your baby solid foods.
Check out all my homemade baby food posts right here.

Latest posts by Charlee Flaminio
(see all)