Make your life just a bit easier in the winter months by filling your freezer with soup! My favorite way to do this is by organizing a soup swap. Read on for all the details!
Spring might be right around the corner, but where I live we've still got several weeks of winter-like weather ahead of us. What a shame. I mean, who wants to keep eating delicious, healthy, and cheap soup?? 😉
Me! Me! Me! As long as I've got soup, I don't care how long winter lasts.
Okay, okay, that's probably a bit of a stretch. But…
Friends, that is why I love having soup ready to go in the freezer. You never know when you'll get snowed in and can't make it to the grocery store.
And the soup-making can be even more fun when you share it with a close friend or relative. Just organize a soup swap! My friend and I have done two soup swaps this winter, and I seriously look forward to doing it again next year!
What is a soup swap?
A soup swap is when you get together with some friends and make soup. At the end of the soup swap, everyone trades soups.
You can invite as many friends as you'd like to your soup swap. However, I think that one or two friends is the maximum if you plan on making your soups together. If you plan to each have your soups completely ready to go before you meet, then by all means invite several friends to your soup swap.
How much soup to make
Before you do your soup swap, it's important to be on the same page with your friends. Let them know how many soups to make, as well as how much of each soup. When I do a soup swap I like to get 8 quarts of soup at the end. My friend and I agree to make two soups each, and each soup needs to make enough for at least 4 quarts. That way, we each get to take home four kinds of soup for a total of 2 quarts each.
My family is small enough right now that we only need 1 quart of soup each time we eat soup. However, it would not be enough if we ate just soup with bread, for example. I have to make something besides the soup (like sandwiches or salad) for it to feed everyone. Because I only use one quart of soup each time, I have enough soup in my freezer to last 8 weeks if we eat one quart of soup each week.
Why do a soup swap?
There are several benefits to organizing and doing your very own soup swap. It all comes down to filling your freezer, socialization, variety, and following through on your commitment.
To fill your freezer
The main reason anyone would want to do a soup swap is simple: you fill your freezer so you can serve really healthy and quick weeknight meals to your family.
But, come on, you can fill your freezer on your own. So, seriously, why do a soup swap?
To socialize
Here's the deal. As a busy mom, I rarely get to socialize. And, when I do cook any given meal for my family, it's a lonely task most of the time. So if I have the opportunity to cook with a friend, it feels more special. I get to serve my family while simultaneously catching up with a friend. If socializing is an important part of why you want to organize a soup swap, make sure you give yourselves enough time to do that. Each time I've done a soup swap, I plan for at least two hours for us to make our soups and swap them.
For variety
Another great reason to do a soup swap is for the variety of soups you get to freeze. I just love when my freezer has a variety of soup, because I'm not a fan of eating the same meal over and over. I doubt I'd be as excited to make four different soups by myself. Not only would I spend a good chunk of my day doing it, but that would just be a lot of ingredients and chopping to handle all by myself.
To follow through with making the soup
Finally, a soup swap pushes you to actually get 'er done. Both times I did a soup swap I think my friend and I both had thoughts of "maybe I should text her and cancel because I have so much to do today." But because we felt committed to following through with what we had planned, we didn't back out, and, in the end, we were both so grateful for all the soup we were able to freeze.
How to Choose Your Soups for the Soup Swap
The soup you choose to make is a very important topic to discuss before getting together for your soup swap. The biggest reason is because you need to make soups that freeze well. I have written before about what kinds of soups you should and should not freeze HERE and HERE. In general, leave out starches and dairy because those ingredients don't freeze well in soup. Instead, you can cook starches separately and freeze in their own bag or container, or just cook them the day that you are serving the soup. When the soup is reheating, you can add any starches or dairy you left out.
You also should know of any dietary restrictions and general standards that your friends have for homemade meals. Don't organize a soup swap with a friend who likes to cook with a lot of cheese and meat, for example, if you are looking to fill your freezer with vegan soups. Also keep in mind which soups will go over well with your family, because you don't want to waste soup. I believe in eating variety and trying new things, but I also know that you have to make sure your family is fed.
Soups that freeze beautifully
These are the soups that my friend and I have made for both of our soup swaps:
Important Details for Your Soup Swap
Before getting together for your soup swap, you and your friend need to decide whether you will cook together or bring your soups already cooked so you can easily swap. I think the fun part is the cooking, but if you don't have a lot of time you can totally get together for less than 30 minutes to do the swapping.
Kitchen equipment to have for the soup swap
In order to do a soup swap, everyone involved needs to have their own equipment and kitchen tools (unless the host wants to share their own equipment, of course). Both times I've done a soup swap, I hosted. My friend brought her soup pot, Instant Pot, mason jars, and immersion blender. I also had my own soup pot, a slow cooker, mason jars, a ladle, a blender, baking trays (for roasting veggies), cutting boards, and knives. Read through your recipes so you know what equipment you need to make your own soups.
For your convenience, here's a list of kitchen tools and equipment that you will likely use for a soup swap:
Cutting boards
Knives
Soup pots
Wooden spoons
Instant Pot
Slow cooker
Immersion blender/blender
Mason jars (or plastic bags or muffin tins)
Ladles
A funnel (for filling jars)
Baking trays
Tape and marker for labeling
Cooking stations
If you want to spend the least amount of time making the soup, be sure that each of you has your own cooking station. And make sure that there is enough room on the stove or counter (if using instant pot or slow cooker) so you can cook at the same time.
Filling the jars
Once your soup has finished cooking, let it cool down for at least 30 minutes before filling your jars (or other storage method). It's even better if you can stick it in the fridge first to cool way down. But since you probably don't want to spend all day doing the soup swap (or maybe you do…) you can fill your jars while the soup is still hot. Just be sure to stick your jars in the fridge overnight before putting them in the freezer.
What About Your Spouse and Kids?
Cooking with kids (or a spouse) around can sometimes feel impossible, so if you are hosting, make sure you have a plan for all the people in your house. If your spouse can take the kids for the day, that would be the best option. If you have young kids who take naps, schedule the soup swap around their naps and you won't have to worry about anyone watching them. Unless, of course, they wake up!
How Much Does a Soup Swap Cost?
When you buy all the ingredients for your soups you will probably go over your grocery budget for the week/month. That's to be expected since this soup will be feeding you 8 different times over two months. You might notice the second month of eating your soups that you are spending a little less at the grocery store since you have soup in the freezer already.
You can make sure that your soup is cheap if that's a concern for you. Just use simple recipes with ingredients that use in season produce. If you want to make costs even between you and your friend, set a budget for how much you can each spend on your soups so that nobody is spending too much. My friend and I didn't really care what each other spent as long as we were making healthy soups.
Don't Let Your Soup Go to Waste!
If you put your soup in the freezer and never let it see the light of day again, then of course your soup will be very expensive! There are at least two courses of action to take so you remember to actually eat your soup.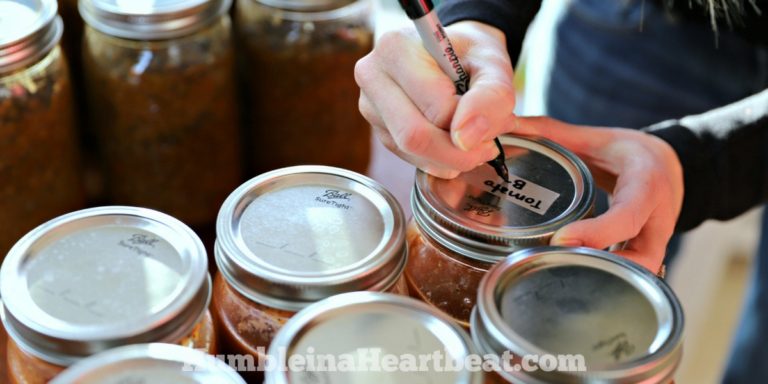 First of all, before you put your soup in the freezer, it is a good idea to label each container. You'd be surprised how difficult it can be to remember what the soup is once it's frozen. Whether you freeze it in mason jars or plastic bags, you can easily label your soup with the name of the soup and the expiration date. I like to use regular old tape on my mason jars so I can peel it off the lid and reuse the jar.
Another way to be sure you don't waste your soup is to write "soup" on your meal plan for the next 8 weeks so you remember to eat it. Just get out your meal plan for the next two months and write "freezer soup" on every Tuesday, for example. If you don't have a meal plan like that, at least keep a note with your recipes or on your phone so you remember to plan for them. Then, at least two days before you'll be eating a soup, take it out of the freezer and let it thaw in the fridge (that is, if you stored them in mason/glass jars).
I am a big fan of freezing soup (if you can't tell from all the posts I've written on it), and I want to share my knowledge with you so you can enjoy the many benefits of having soup in your freezer, too. Soup swapping can be a lot of fun. Not only is it a great way to catch up with a friend, but you get to fill your freezer at the same time. Plus, it makes the long winter months a lot more bearable!
Now, a video for your enjoyment
When my friend and I did our latest soup swap, we made a video! Check it out here or watch it below.


Latest posts by Charlee Flaminio
(see all)