Have I got a super tasty and simple meal idea for you today! It's a total breeze to pull together, plus it's dairy-free and gluten-free. Let's make some Kielbasa and Cabbage!

Kielbasa and Cabbage with Mashed Potatoes and Applesauce
Kielbasa and Cabbage is an Eastern European (Polish) comfort dish. While the ingredients are simple and humble, the flavor is big. It's something I try to make a couple of times a year, usually in late winter.
Where to Find the Recipes
Lucky for you, I'm sharing the recipe for Kielbasa and Cabbage right here, right now.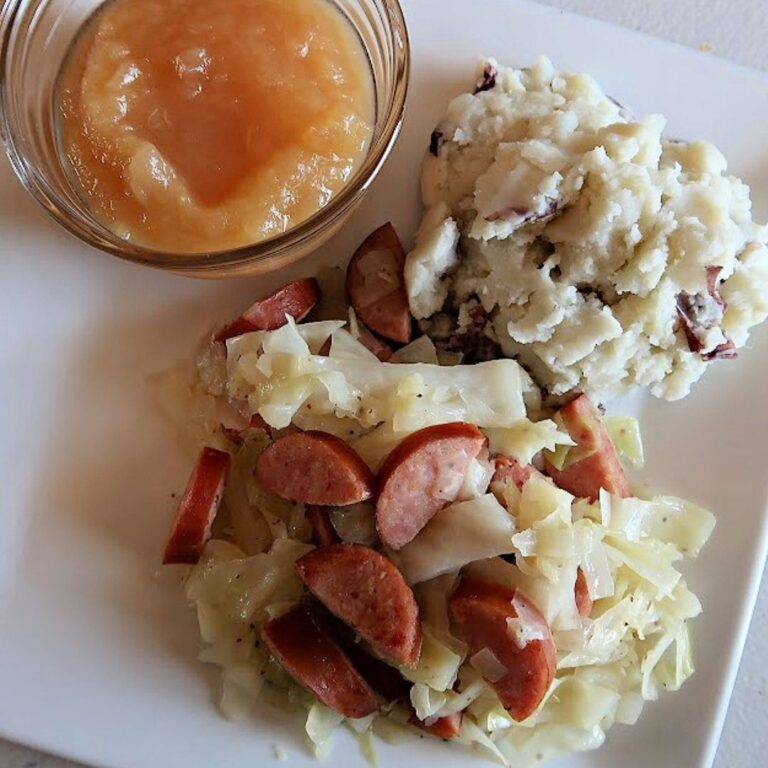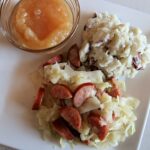 Kielbasa and Cabbage
Ingredients
1

Tbsp

avocado oil

or olive oil

14

oz

Polska Kielbasa sausage

cut into 1/2 inch half-moons; can use up to 2 lbs

1

small

cabbage

chopped

1

medium

sweet onion

diced

3

cloves

garlic

minced

2

tsp

sugar

optional

1/2

tsp

kosher salt

1/4

tsp

black pepper

2

tsp

rice wine vinegar

or apple cider vinegar

1 1/2

tsp

brown mustard

or Dijon mustard
Instructions
Heat the avocado oil in a skillet over medium-high heat. Add sausage and sauté for 2 minutes without stirring. Continue cooking for another 3 minutes while stirring occasionally. Remove sausage from the pan and place on a plate or in a medium bowl lined with a paper towel. Continue with the next step.

Turn the heat on the skillet down to medium and add the onion. Saute for 3-4 minutes, then add the cabbage. Mix well and saute for 5-7 minutes allowing the cabbage to cook down. Add the garlic and let cook for 1-2 minutes, or until fragrant. Now add the sugar, salt, and pepper. Stir occasionally until the vegetables are at the desired doneness, another 3-10 minutes.

Add the vinegar, mustard, and cooked kielbasa. Cook for 2-3 minutes until heated through.

Serve while it's still hot.
Recipe Notes
You could also serve it over egg noodles, rice, or even mashed potatoes.
Recipe adapted from BellyFull.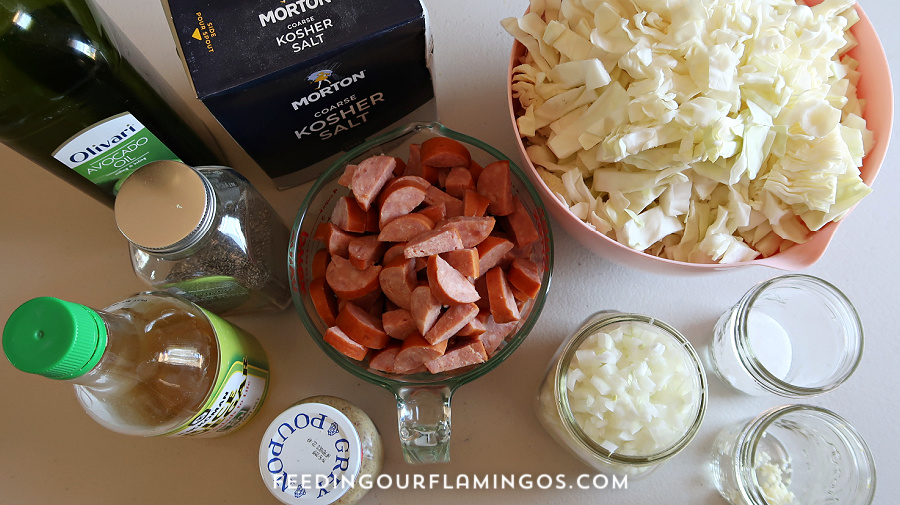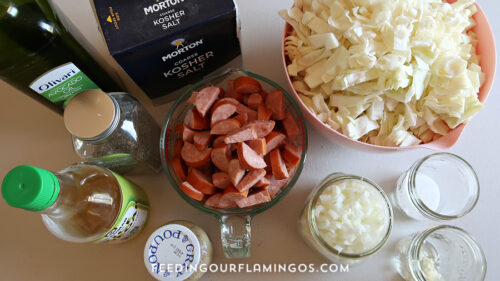 All the ingredients you need are very basic. In this picture, I have the cabbage and kielbasa sausage ready to go for the recipe. I ended up only needing about half of the cabbage. I wish I had measured it, but I'm guessing I used about 4-5 cups of cabbage. As for the sausage, you can use up to 2 pounds, but I usually only use one Polska Kielbasa package from the store, which is just 14 ounces. It is delicious whether you use one package or two.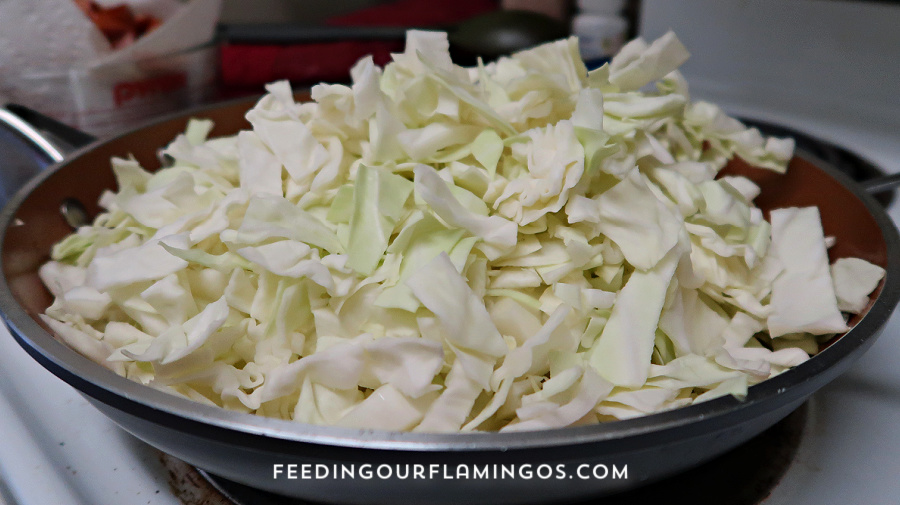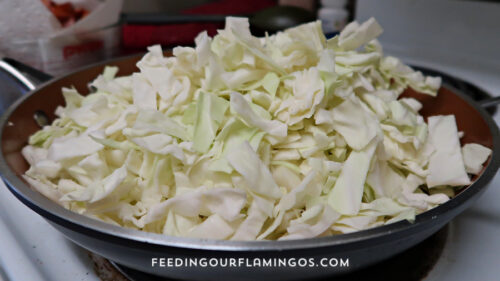 When you add the cabbage to the skillet, it's going to look like way too much. But do not fear! It cooks down quite a bit.
I'm going to assume that you already know how to make mashed potatoes and/or applesauce. If you don't, keep reading.
My usual go-to method for mashed potatoes is this:
peel 6-9 medium potatoes and cut into 1-2 inch cubes
place in a large pot and fill with cold water so the water is at least 1 inch above the potatoes
add about 1 tsp salt to the water
bring to a boil
turn the heat down to medium-high and continue cooking for another 15-20 minutes
test to see if the potatoes are easily pierced with the fork
if they are soft, turn the heat off and drain the potatoes
return to the pot
heat up 1/2 cup milk and 2 Tbsp butter (about 45 seconds in microwave)
start mashing the potatoes, then add the milk and butter
add anywhere from 1 tsp to 1 Tbsp salt, as well as 1/2 tsp garlic powder
mash until you reach the desired consistency
and, VOILA, it's ready to be served!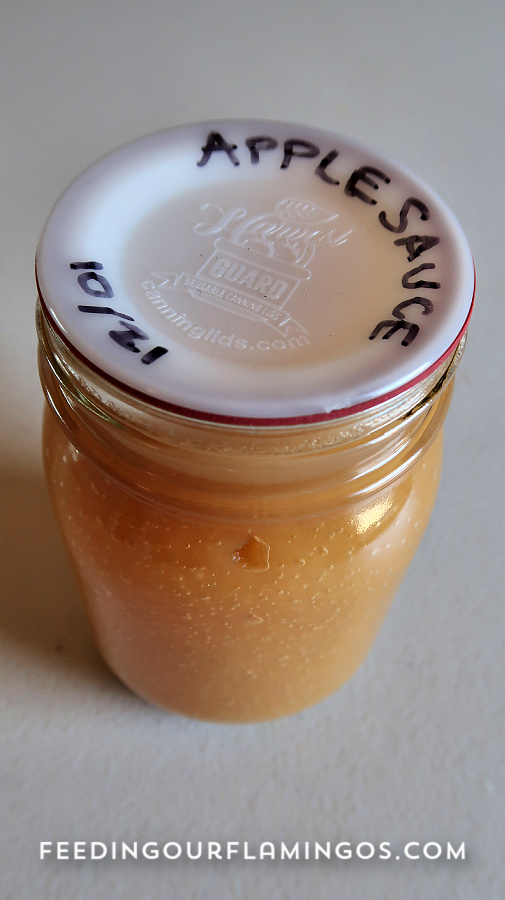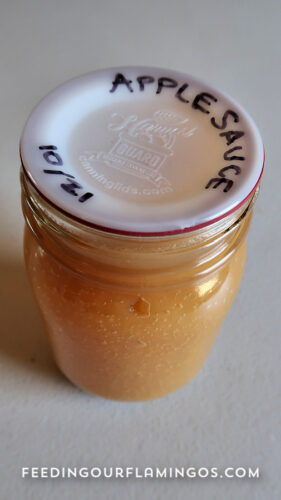 When I serve applesauce, I usually just open a jar from the grocery store. When I was making this meal for this blog post, however, I happened to have some homemade canned applesauce on the shelf 🙂
What Makes this Kielbasa and Cabbage Meal Healthy?
Hm, where to begin? 🙂 Truly I don't even think to make this meal because it's "healthy." I put it on my meal plan because it's delicious! And as an added perk, it's got some healthy stuff in it. 😉
Vegetables: Cabbage, onion, garlic, potatoes
Fruits: Applesauce
Grains: No grains
Proteins: Polska Kielbasa sausage
Healthy Fats: Avocado oil

How to Easily Customize It
You can totally make this meal your own by substituting ingredients or adding food to bulk it up.
Sugar: The sugar is not absolutely necessary, so if you want to leave it out, go for it. Other sweetener options include honey or maple syrup. Or, if you'd like to add some sweetness in a more natural way, try using a diced Granny smith apple or carrots.
Bulk it up: One way to bulk it up, even more, is to add some roasted potatoes, carrots, or bell pepper.
Vinegar: If you do not have any rice wine vinegar or apple cider vinegar, try a different type of vinegar that you do have on hand. This time I used some rice vinegar instead of rice wine vinegar.
What to serve it with: Serve it with rice, egg noodles, or au gratin potatoes.
What About Picky Eaters?
I have made Kielbasa and Cabbage for several years now and it rarely ever disappoints. My kids and husband usually love it. That's a huge deal around here, seeing as it's not covered in cheese!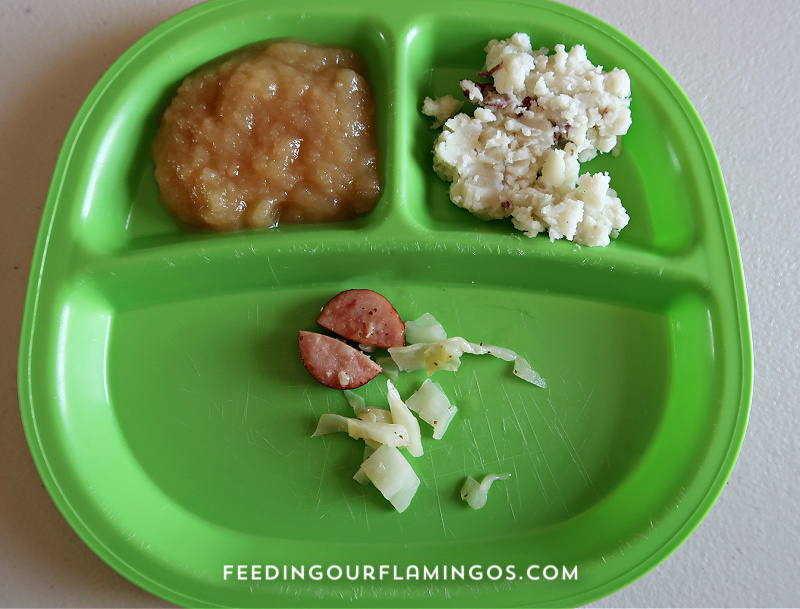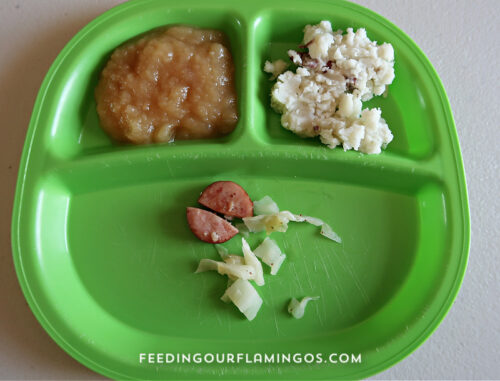 If this is the first time you have ever served cabbage, it might not be the easiest meal to introduce to a picky eater. My top tip would be to only put a small amount of the Kielbasa and Cabbage on the plate along with the mashed potatoes and applesauce. I'm talking one or two pieces of cabbage and onion and a few pieces of sausage. A picky eater will easily get overwhelmed if they see a large serving of something that is totally foreign to them.
Try to only say positive things about the meal and don't make a fuss about the picky eater trying it. Let them decide whether or not they will try it.
What to Prep Ahead for Kielbasa and Cabbage
This Polish dish takes very little time as it is. However, it can be made even faster using a few simple shortcuts.
Cut the sausage – It's really not that hard to cut up the sausage right before you cook this meal, but it's one less thing you have to do when it's time to cook dinner. So if you're looking to significantly reduce prep time, go ahead and do this the night before or the morning of.
Use a coleslaw mix – Cabbage doesn't take long to chop, but if you're looking to save 5-10 minutes, this could be a lifesaver. Coleslaw mix is also great because the cabbage is usually thinner than you can cut it yourself at home.
Dice the onions – I would rather spend an hour dicing onions and portioning them in bags for the freezer than dice a single onion for the meal at hand. I cry too much! Plus, it's amazing to realize you don't have to dice the onion for your meal because it's ready to go in the freezer.
Mince the garlic – Garlic is the perfect prep-ahead ingredient, because you can easily freeze it. And when you need it all you have to do is break off the right amount!
Make the mashed potatoes – Mashed potatoes can definitely be made ahead of time.

Extras for Families Who Like Larger Portions
Kielbasa and Cabbage is a hearty meal, even without the mashed potatoes. But if you have some big eaters in your family, here are a few sides you can add to make it more filling for them.
Serve with roasted veggies (butternut squash and sweet potatoes sound good)
Add cottage cheese to the plate
Slice up some artisan bread and spread with butter and jam
Oh my goodness, you are in for a real treat with this Kielbasa and Cabbage meal! Not only is it a breeze to make, but you get a lot of health benefits to boot. And it doesn't hurt that it tastes simply amazing, too!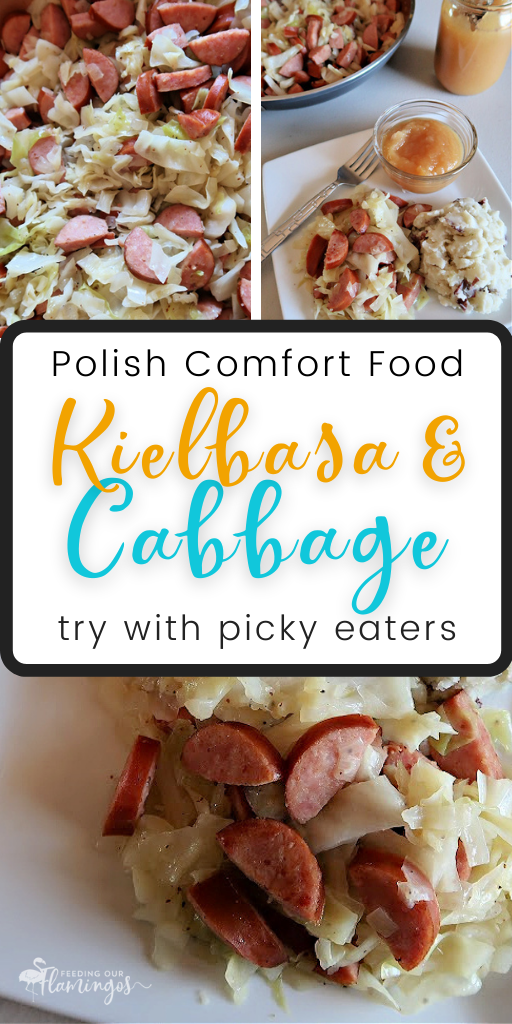 Latest posts by Charlee Flaminio
(see all)