Ever tried freezing soup in a glass jar and wound up with cracked jars? Follow these amazing tips for freezing and thawing soup in mason jars and you won't find any more cracks. Promise! 
Several weeks ago, I asked a good friend of mine if she'd like to do a soup making day with me. She said she could and as the day drew nearer, we started texting about what kind of soup we would make and how we would store it in the freezer. I told her I'd be using mason jars since I had success with freezing chicken broth in mason jars several months ago.
The next text from my friend went like this:
"I froze some soup in mason jars once and the glass cracked."
Say what??! Her response surprised me. I didn't even know it was possible for the glass to crack because it had never happened to me. All I had ever read online were success stories of freezing broth and soup in mason jars.
I can totally imagine being in her shoes, opening my freezer and grabbing a jar of soup only to find that the glass has cracked. What a waste! I'd think, instantly followed by, Now what are we going to have for dinner?!
Even though she told me of her misfortune, it never occurred to me that there would be helpful information on this very topic online. So I didn't do any research. I just figured I'd do the same thing I did the last time I froze broth in the mason jars.
But, my friend? She had no desire to find another jar of cracked glass in her freezer, so she did her research before soup making day rolled around.
When we got together for our soup making day, she brought her mason jars over along with all the ingredients for her soups. When her soup was ready, she followed the tips she'd found online religiously as she filled the jars. Then when she got home, she stuck to those tips again as she prepared to freeze them.
I did a little of my own research before I actually stuck the jars of soup in the freezer, but I really should have done some before I made the soup, like my friend.
It's been nearly a week since we froze our soup in mason jars, and she hasn't texted me with any bad news yet. I think we are both in the clear and can say that our online research paid off. Now I'd like to share everything we learned here so you can do the same.
Before we move on, I thought I'd mention that I have another post about the best way to freeze soup so you don't waste any of it. I wrote it over 2 years ago and I still stand by it. However, I do think that freezing soup in mason jars is right up there with it. The downside, I think, is that you have to follow all these "rules" and thawing the soup in mason jars can take a whole lot longer than if you just did it the other way.
Freezing Soup in Glass vs. Plastic
But let's start from the very beginning before digging into the process. Why would anyone want to store their soup or broth in glass in the freezer when they can store it in plastic freezer bags?
That's actually a very valid question. The main reason is health concerns. Glass is non-toxic while plastic is, well, toxic.
Another concern is that plastic can only be used a few times before you throw it away, but glass can be reused hundreds, if not thousands, of times (unless, of course, it breaks).
I have chosen to use mason jars to freeze my soup for a different reason, even though the other reasons are quite convincing. I like the fact that one quart-size mason jar holds just enough soup to feed my family for one meal if I serve the soup with something else like sandwiches. My family consists of two adults and three children (ages 5, 3, and 1). Obviously as my kids grow we're going to need at least two jars per meal.
Freezer-Friendly Soups
Before you start making soup for the freezer, you need to know which soups are well-suited for it, and which ones just aren't. I tend to follow two general rules:
Soups that are starch-based won't taste very good after being frozen. If the soup has rice, noodles, or potatoes (except sweet potatoes) you will want to freeze those foods separate from the soup. You could also cook the starch separately and add it to the soup when reheating.
Soups that are dairy-based will also not taste great after being frozen. If the soup calls for cheese, milk, sour cream, heavy cream, etc. add it when reheating rather than freezing it with the soup.
Just so you understand, I'll list some soups below and indicate whether they are freezer-friendly or not and why:
Broccoli Cheese Soup – NOT freezer-friendly because it has milk, heavy cream, and cheese
Tomato Soup – Freezer-friendly unless it calls for milk (but you can freeze it without and add when reheating)
Chicken Noodle Soup – NOT freezer-friendly unless you leave the noodles out and add them when reheating
Split Pea Soup – Freezer-friendly (if your recipe calls for potatoes, leave them out and add when reheating)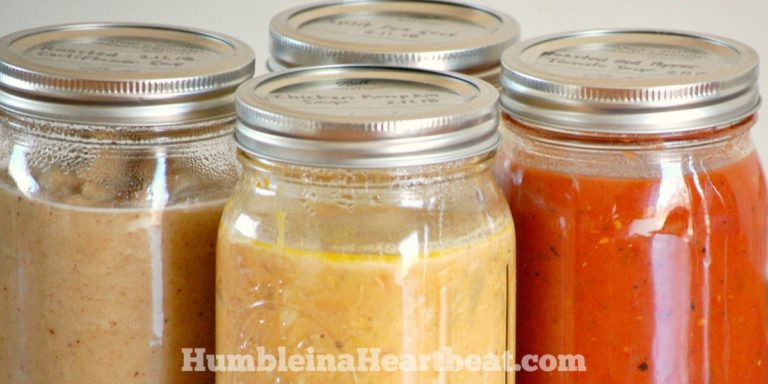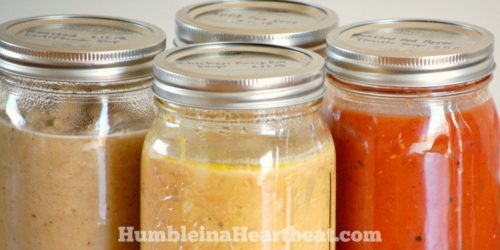 How to Freeze and Thaw Soup in Mason Jars
Now let's get on with the process of freezing the soup in mason jars.
When you are ready to fill the jars…
Once you have made your delicious pot of soup (or two!), there are a few things you can do to ensure that the mason jars you use do not crack once you put them in the freezer.
Cool the soup in the fridge first (in the pot) before filling the jars
Once the soup has cooled down you can fill the jars
Use wide mouth jars since their shoulders are not as pronounced as regular mouth jars and they are easier to fill
Leave some room at the top of each jar (2 inches is a good rule of thumb) for expansion in the freezer
If you only have regular mouth jars, leave even more room for expansion
Avoid using just any glass jar you have lying around your house (i.e. jars that once contained spaghetti sauce or jam) because they're not as strong as real mason jars
To make things a bit easier when filling your jars with soup, you can use a ladle and a funnel.
Once the jars are filled…
Once all your jars are filled, it's a good idea to put them in your fridge overnight to cool down completely.
Before freezing, make sure you label each jar with freezer tape, masking tape, or even washi tape. You can put the date that you made the soup or the date 3 months from then (I use the expiration date method so I know when to use my food by). And, finally, don't forget to label each jar with the soup's name.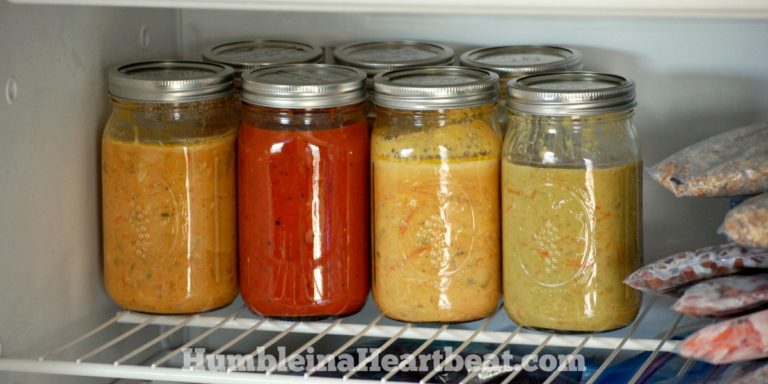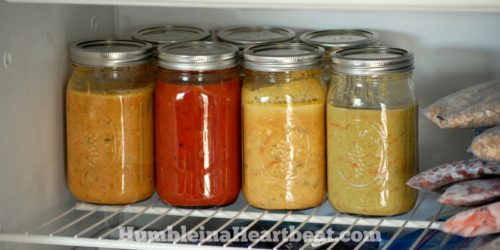 The moment you've been waiting for…
When you put the jars in the freezer, do the following for crack-free jars:
Leave the lid a bit loose or just put the flat part of the lid on until the jars are completely frozen
Leave some space in between jars (if you're looking at my pictures, do as I say, not as I do)
When you want to eat your soup…
When you are ready to use a jar of soup, here's what you need to know as you thaw it in order to prevent cracking, because, yes, the jar can crack when going from an extreme cold temperature to a very warm one.
There are generally 3 ways you can thaw a mason jar full of soup.
You can take the jar out of the freezer 1-3 days ahead of when you'll need it and thaw it in the fridge.
You can place the jar in cool water (either in your kitchen sink or in a pot) and change the water every 30 minutes.
Once the soup has thawed on the outer edges, you can dump the entire contents of the jar into a pot and let it thaw quickly over medium low heat on the stove.
Phew! If you made it this far with your own soup, you did it! And you can tell all your friends about it, too!
I made a video for you to watch right here or you can watch it below.
You see? Freezing and thawing soup in mason jars can be a bit of a process if you've never done it before, but once you try it, you may never go back to freezing soup any other way!
---
*UPDATE 3/1/2019*
Well, it happened. I got in my freezer this morning and found a cracked mason jar full of soup. Now, before you get all "I'm not gonna freeze soup in mason jars, then" on me, just hear me out.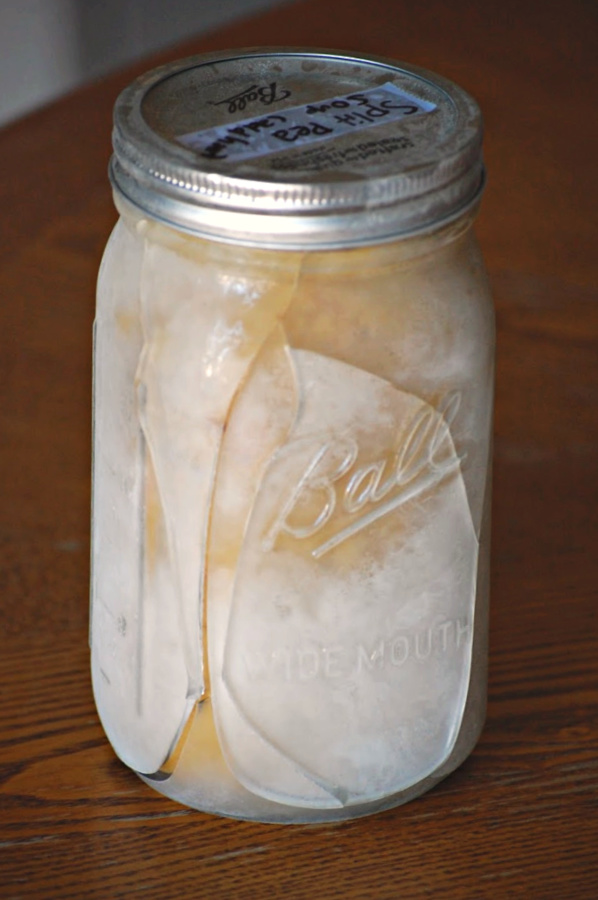 It was all my fault. I knew all the tips above (for 1 1/2 years now), and I didn't follow all of them.
I got cocky.
I knew full well before I put that soup in the freezer that it could crack, but I was over-confident. I simply thought, "Oh, it's not gonna crack."
I had been storing the soup in my fridge for several days before I decided to stick it in the freezer. My intent was to serve the soup to my family before I had to put it in the freezer, but we just didn't get around to eating it.
I figured it wouldn't crack because I followed most of the rules: 1) When I went to put it in the freezer it was already cold and 2) I was using a wide mouth mason jar.
The tip I didn't follow, though, was probably the most important one: "Leave some room at the top of each jar (2 inches is a good rule of thumb) for expansion in the freezer." There was maybe ½ inch of room at the top, definitely not enough room for expansion.
So, there you have it. If you decide to ignore one of the tips above, you might just find a cracked jar of soup in your freezer!
Another thing I wanted to bring up is the fact that you can buy jars specifically for freezing. I never have because I almost always have extra mason jars to use for storing my soup in the freezer. But if you are worried that your jars might crack, consider buying freezer jars. They are plastic, so if that's a concern, your better bet is the glass mason jars. Since I've never used freezer jars, I won't be leaving a link, but you can find them on Amazon for sure.


Latest posts by Charlee Flaminio
(see all)