Give your kids what they want…Deliciously spooky (and healthy!) Halloween food they will be so excited to eat! Try these 5 easy recipes for your fun Halloween festivities.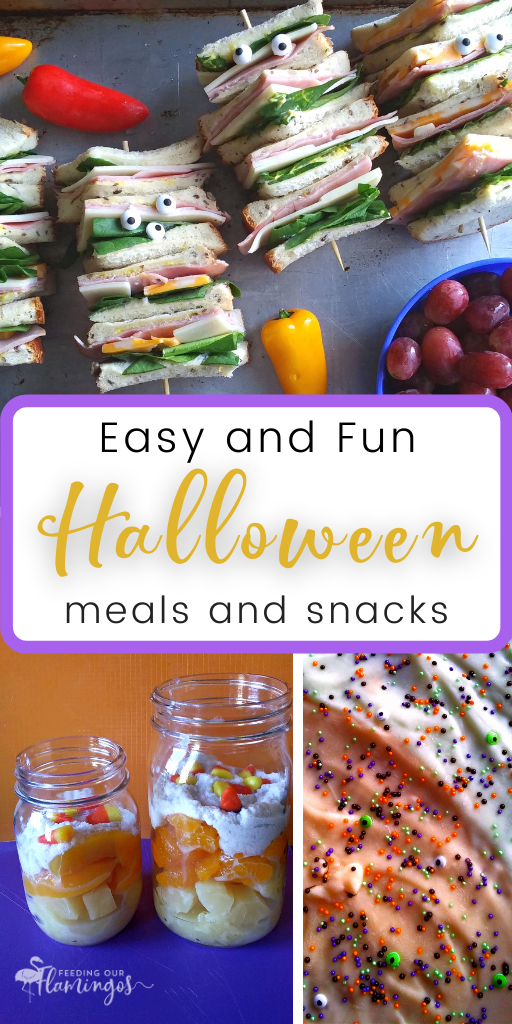 It's that time of year when sweets and candy are on the rise while illness is also on the way up. While it's fun to eat lots of sweet treats, a little balance can do a body good. That's why today I'm sharing 5 healthier options for Halloween-themed snacks and meals.
Balance. It's key.
The recipes I will link to below are those that I've made for my family at least once, if not more than that. My kids love them, I love them. They are easy, fun, and most importantly, won't make my kids' teeth rot or give them strange symptoms the day after Halloween.
By the way, I'm not against eating candy. We eat candy as a family every single Friday night for movie night. I am also a candy/sugar addict. If candy is in the house, I do my duty and eat it all so that no one else has to (kidding, sort of). In other words, I'm not preaching health here. I know it's fun to eat sweets. But I also know (from experience, unfortunately) that there has to be a balance or we all suffer the inevitable consequences.
Easy, Healthy, and Fun Halloween Recipes Kids Love
Let's get right into this list, shall we?
Candy Corn Fruit Parfaits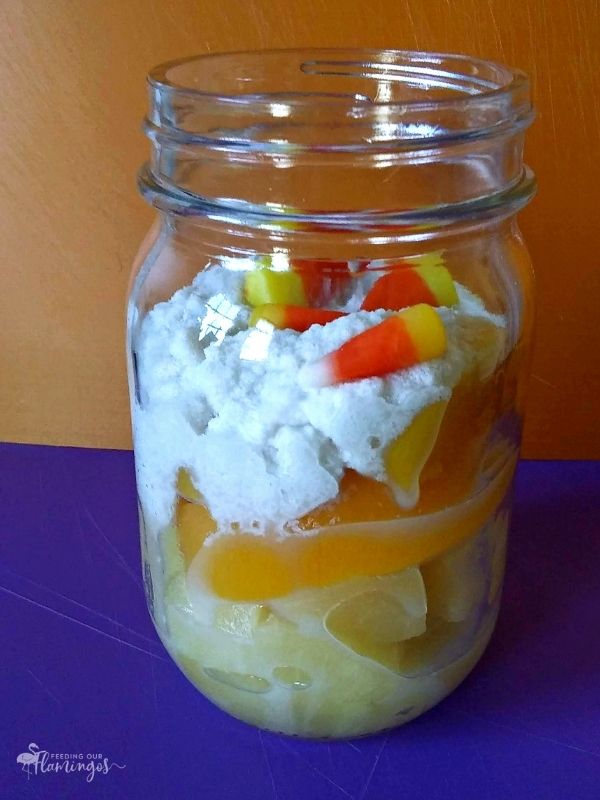 Candy Corn Fruit Parfaits is one of the first snacks I can remember making that was a fun Halloween idea from Pinterest. My girls were toddlers when I made it, and they loved it so much. At the time, we didn't have any dairy sensitivities that we knew of, so we used regular whipped cream from the grocery store. Now that we do have dairy sensitivities, I like to make this with coconut whipped cream, which if you can't tell from the picture, looks rather sad. It's not looking very whipped, but it still tastes good!
Normally, I make these fruit parfaits with canned mandarin oranges, but I wanted to try it with canned peaches and see if it still looked candy corn-ish. I think it tastes better with the oranges, but you could use either fruit.
You can get the recipe for Candy Corn Parfaits from Life in the Lofthouse. If you want to keep this snack dairy-free, make the coconut whipped cream. Just make sure you follow the tips suggested for it to turn out well. I followed the tips, mostly, but then I over whipped and it turned into a soppy mess. 🙁 You could also make your own whipped cream to control the amount of sugar.
Halloween Frozen Yogurt Bark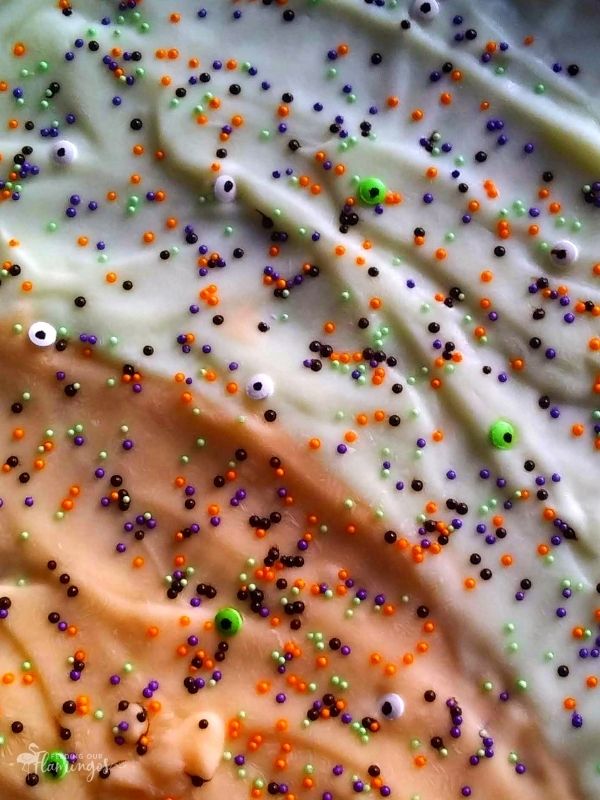 My kids love, love, LOVE frozen yogurt bark, so I thought I'd make a Halloween version. I just used orange cream flavored yogurt for the orange side and key lime pie flavored yogurt for the green side (which looks very white in the picture) then added Halloween sprinkles and eyeballs. Fun, simple, spooky, and pretty nutritious.
If you're looking to make this yogurt bark as healthy as possible, use plain Greek yogurt and mix in your own honey. And play around with some natural food dyes if you want it to look like Halloween colors.
This is a snack that you must make ahead of time. Make it in the morning, and you can eat it in the afternoon. Or make it the night before.
I have always followed the tutorial for frozen yogurt bark from I Wash You Dry.
Monster Sandwich Kabobs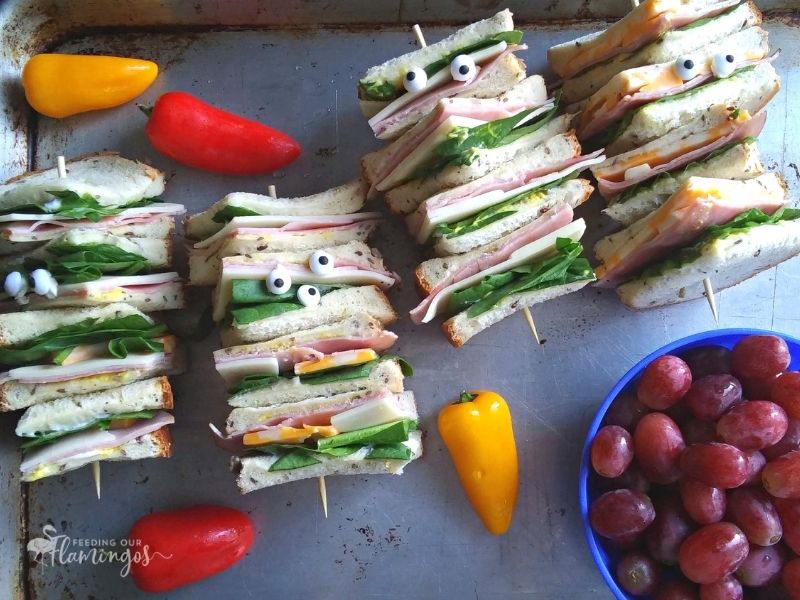 Don't you think these Monster Sandwich Kabobs are just the cutest? We ate these for dinner on Halloween last year. It was perfect because we wanted to go trick-or-treating before the sun went down, so we ate them around our normal snack time. The kids filled up on nutritious food before we got loaded down with tons of candy in the evening.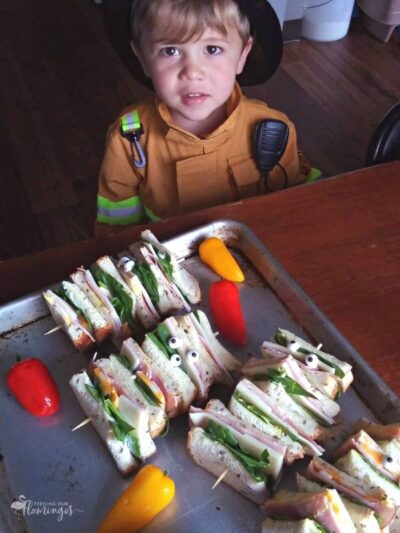 I will say that the kabob part of this really bothers me because my kids tend to focus on the sticks rather than the meal. But, they really like this meal because those eyes make these sandwich kabobs look like silly monsters!
You can easily make the sandwiches hours ahead, then cut them up and put them on the kabobs a couple of minutes before serving. I like to serve with fresh fruits and raw veggies for a balanced meal.
The original idea behind these sandwiches was mummies, but mine ended up looking more like monsters, so I changed the name for mine. Haha! You can find the "recipe" for Mummy Kabobs on Feel Good Foodie.
Spider Grilled Cheese Sandwiches with Cobweb Tomato Soup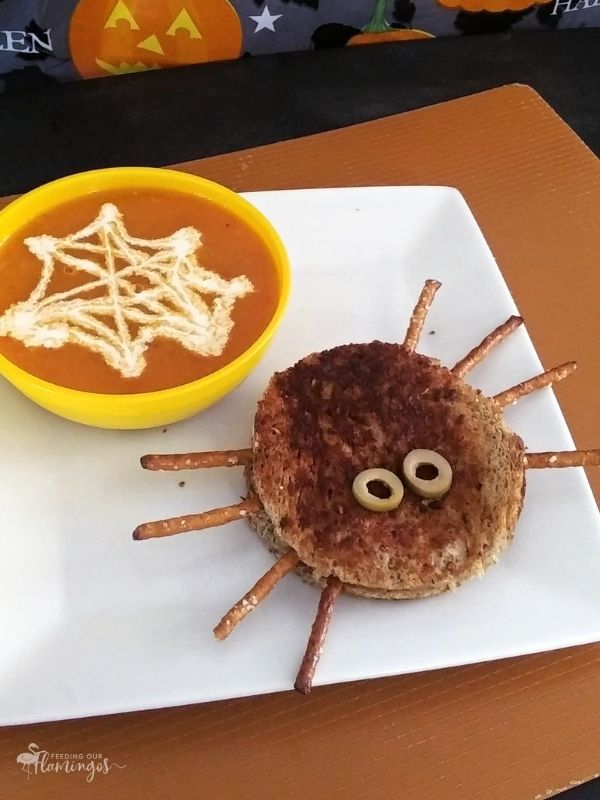 These spider grilled cheese sammies are the best. And the cobweb tomato soup might just be even better! Although, my cobweb doesn't look all that great.
I used green olives for the spider eyes, but when I made them last year I used craisins. It's all a matter of preference.
If you want to make this recipe super simple to throw on the table, make the soup at least a day ahead (or, if you're like me, just make a big batch and freeze it). When you make the sandwiches, assemble them all first, and then cook on the skillet, fitting as many as you can on at a time. Once they have cooled off a bit, use a biscuit cutter or cookie cutter and stick in those pretzel sticks. Add the eyes and serve.
You can find the "recipe" for the spider grilled cheese sandwiches on Rachel Cooks. As for the tomato soup, you might already have a favorite. Mine, personally, is one that has a bit of brown sugar in it. It's called Fresh Tomato Soup with Basil and can be found on Neighbor Food.
Jack-O-Lantern Stuffed Peppers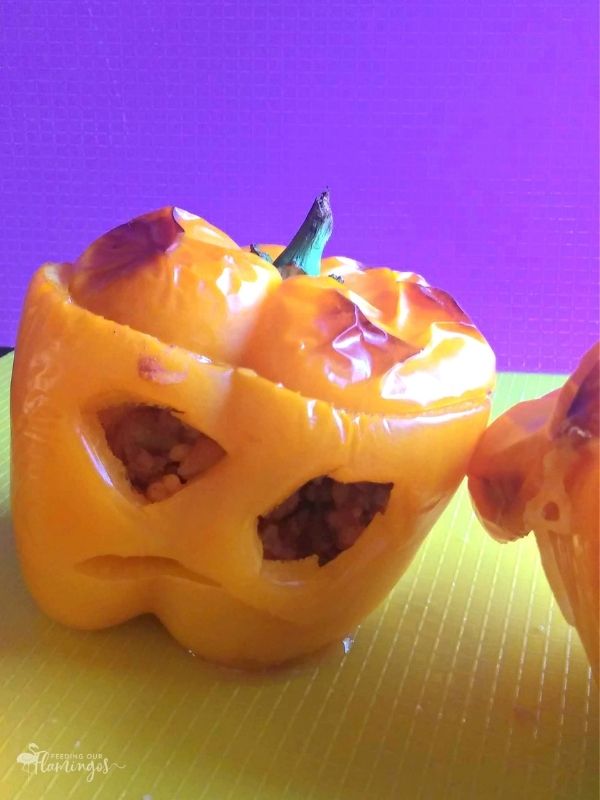 With this last one, I won't be winning any awards for my photography. In fact, I almost didn't post about these peppers because the pictures did NOT turn out. I was racing against time, the sun was going down (I use mostly natural light to take pictures), and the peppers were not in the mood to cooperate (probably because I cooked them a bit too long). But I decided to leave this recipe idea on the list, knowing I'm not the only mom out there who just wants to make fun Halloween food for her family. I promise that despite the ugly pictures, they are still delicious and cute. 😉
We ate these Jack-O-Lantern Stuffed Peppers last year and then again this year. I am a big fan.
This is a great recipe to prep ahead. You can cook the rice, shred the cheese, and carve the jack-o-lantern peppers ahead of time. It's pretty easy to put together once all that is out of the way.
The recipe for Taco Stuffed Peppers – Halloween Edition can be found on Pinch of Parsley.
Do you have a favorite Halloween-themed meal or snack that you make for your family each year?

Latest posts by Charlee Flaminio
(see all)