Years ago, when I first started cooking, I taught myself how to cook by reading recipes and following them to the T. It's actually a very effective way to cook if you have a great recipe. Not so much if the recipe is terrible! After much trial and error, I am now to the point that I can usually tweak a recipe if I need to. I pretty much know if a recipe will need seasoning adjustments or if I can leave out an ingredient and still have a great meal.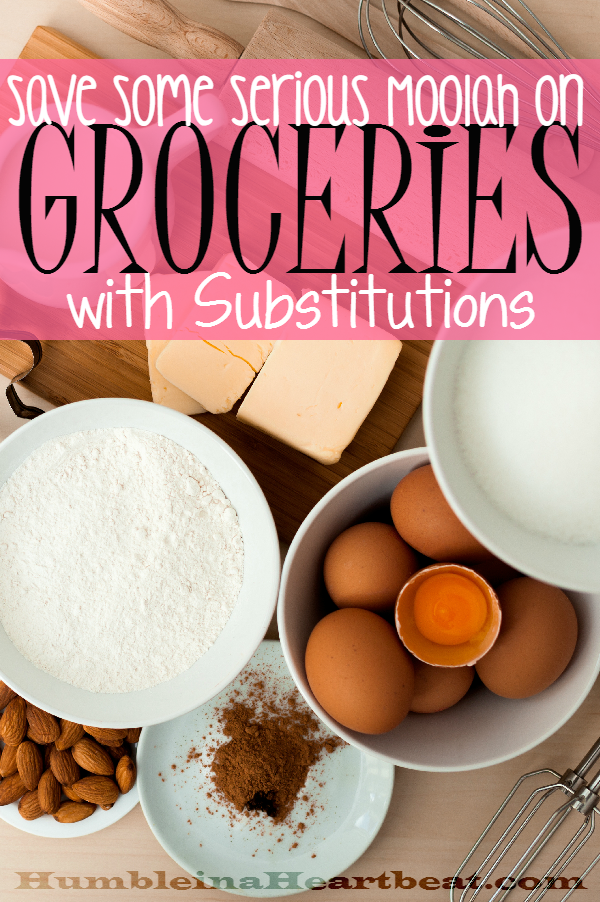 © valbar76 / Dollar Photo Club
Disclosure: This post contains affiliate links. If you click on one of these links and you make a purchase, I will receive a small commission from your purchase.
Being on an extremely tight budget has made me grateful for this knowledge I've accumulated over the years.
Substitutions Save Time and Money
One super simple way to reduce a run-away grocery budget is by using substitutions.
For example, if you are cooking away and realize you forgot one ingredient, you can usually replace it with something similar and still pull off the meal.
If you are reading through a recipe you want to make and see an exotic or special ingredient that you would never use for anything else, you can substitute something else to save your money and not worry about spending precious time searching high and low for it.
While you are meal planning, find ways to use up the ingredients you have in your kitchen so you can spend less on groceries. Just look at your menu plan and list off the ingredients that you will need for each meal. If you come across an item that can easily be replaced with something you already have then don't put it on your shopping list. Simple as that.
You can't be as rigid as I once was about following recipes or you will waste money by buying more food and by wasting the food that you already have. You will save time if you don't have to look for special ingredients or run to the grocery store each day to get those few ingredients you need to make your dinner.
The Sky's the Limit for Substitutions
As an example of substitution, let me share with you a recipe that we like to eat a lot. It's called Spanish Rice and comes from the book, Savoring the Seasons With Our Best Bites
. If you CLICK HERE you can see the recipe on Our Best Bites website.
The original recipe calls for:
Bacon
Onion
Garlic
Green bell pepper
Stewed tomatoes
Worcestershire sauce
Salt
Chili powder
Tabasco sauce
Long-grain rice
The last time I made it, I did the following substitutions so I wouldn't have to run to the store:
Ham in place of bacon
Red bell pepper in place of green bell pepper
Diced tomatoes with a pinch of sugar in place of the stewed tomatoes
Left out the tabasco sauce
Arborio rice in place of long-grain rice (although Arborio rice is actually more expensive than long-grain rice, it's what I had on hand)
It obviously did not turn out the same as the original recipe. However, we still liked it just as much. When you're in a pinch and you need dinner on the table fast, being able to use substitutions well can lower your stress level.
I Don't Know How to Substitute!
If you are new to the world of substitutions, I've got your back. Here are several websites I use to find substitutions so that I don't have to worry about dinner flopping.
Food Substitutions from RecipeTips.com
The Cook's Thesaurus from FoodSubs.com
83 Healthy Recipe Substitutions from Greatist
Common Ingredient Substitutions from AllRecipes
Common Ingredient Substitutions from The Old Farmer's Almanac
Ingredient Substitutions from Colorado State University Extension
Baking can be a whole other animal since you have to follow recipes much more closely. However, there are still a ton of great substitutions for milk, eggs, and flour out there.
Baking and Cooking Ingredient Substitution Chart from What's Cooking America
Baking Ingredient Substitution Table from Joy of Baking
I usually like to check at least two websites to see if the substitutions are similar. I'll go with it if they are. If they aren't, then I just use my best judgment.
Overall, I think you could save at least $50 a month by consciously using substitutions on a regular basis. You obviously already need to be making most of your meals from scratch to save this money. If you normally go shopping every day, you'll be saving yourself a lot of time with this cooking method.
Do you follow recipes or cook on a whim?

Latest posts by Charlee Flaminio
(see all)