If you're new here, this post is a continuation of the feeding schedule I have been doing for my daughter since she was 6 months old and started solids. You can find all my homemade baby food posts right here.
I'm not gonna lie, this month was pretty crappy on the food front. I intended to introduce 5 new foods to Bella, and I only ended up giving her 3. Three!! But I'll tell you what, Bella still ate a lot of variety and enjoyed eating almost everything I offered to her.
I know that the one thing that really messed up the schedule was the fact that I haven't been going to the store very often lately. We have to start our car with jumper cables until we can fix it, so I have to wait for my husband to come home before I can go anywhere. I went to Costco the other day, and none of the foods I wanted to offer her were a good price there. I'm not willing to pay a premium just to introduce a new food to Bella. So it is what it is. I am sure you have been there, too. I know that I can do a lot better next month!
Sample Food Introduction Schedule for a 13 Month Old
The following is the schedule that we ended up following this month for Bella's food. There were a lot of days without any new or reintroduced foods, but she still ate quite a variety.
Days 1-6 No New Food
Days 7-9 Mushrooms
Day 10 Parsnips (reintroduce)
Days 11-13 No New Food
Day 14 Peas (reintroduce)
Days 15-19 No New Food
Days 20-22 Eggplant
Day 21 Pineapple (reintroduce)
Days 23-28 No New Food
Days 29-31 Black olives
Individual Foods
Now I will go over each food that I had on our feeding plan this month. For each food, I will outline the following: 1) The recipe or how I prepared it, 2) Other ideas for making this food for your child or using up the ingredient for the family (be forewarned that many of the recipes I suggest I have not tried myself), and 3) Any other pertinent information about the ingredient, such as when it is in season (in the US) or what other foods it pairs well with. I will also tell you the earliest age you should introduce it to your baby.
Mushrooms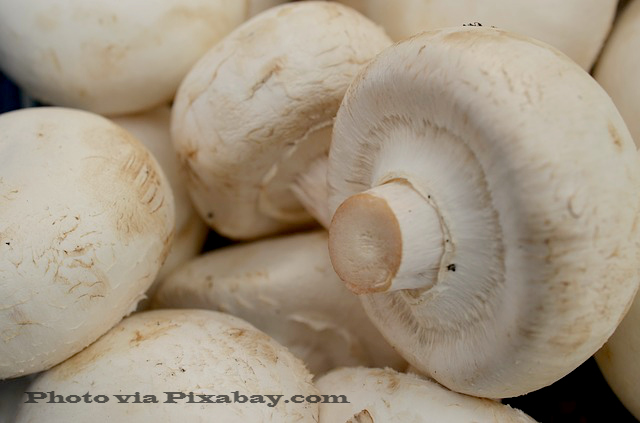 Recipe/Preparation: I diced up the mushrooms really small and sauteed them with some diced cabbage. Then I added a bit of garlic salt and threw this mixture into our leftover spaghetti. Let me tell you, it was delicious! I plan to do this more often to jazz up our pasta.
Other ideas: Mushrooms are delicious in chicken dishes with a nice sauce. Add to your quesadillas for a little pizzazz. Make homemade Cream of Mushroom Soup, Beef Stroganoff, or Baked Parmesan Mushrooms.
Other information: Mushrooms can be found at the grocery store the entire year. They do have a peak growing season in the fall and winter. You can offer mushrooms with a variety of foods, including peas, bacon, and leeks. You can serve your baby mushrooms, cooked, from about 7-8 months.
Eggplant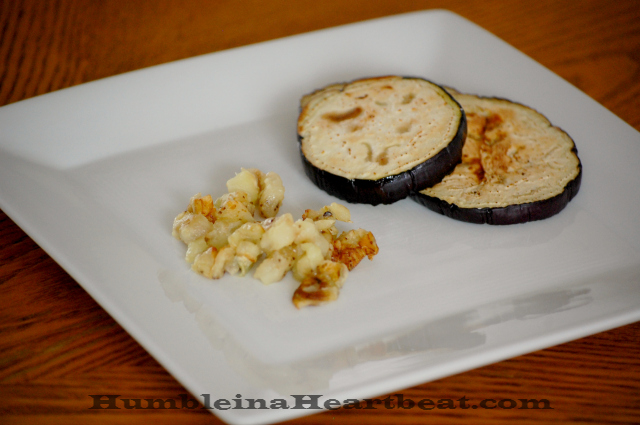 Recipe/Preparation: To prepare eggplant for my daughter, I sliced it into 1/2 inch circles. I layed out some paper towels on a baking sheet and placed each eggplant circle on the paper towels. Then I sprinkled with kosher salt. I let them sit for 20 minutes, then patted each circle with a paper towel to pick up any moisture and excess salt. I took them off the paper towels and put them back on the baking sheet with a bit of oil so they wouldn't stick. I put them into a 425 degree oven for 18 minutes. When they came out, I just cut them into smaller pieces so my daughter could eat them as a finger food.
Other ideas: I've only tried eggplant a total of 3 times my whole life. But after looking at the following recipes, I think I will start eating it more often! Baba Ghanoush, Ratatouille (this one is perfect for baby or toddler), and Roasted Eggplant Soup all sound wonderful to try!
Other information: Eggplant is in season during the summer and first part of fall. Try serving eggplant to your little one with some tomatoes, cinnamon, or cheese. Start offering eggplant to your baby as young as 8 months.
Black Olives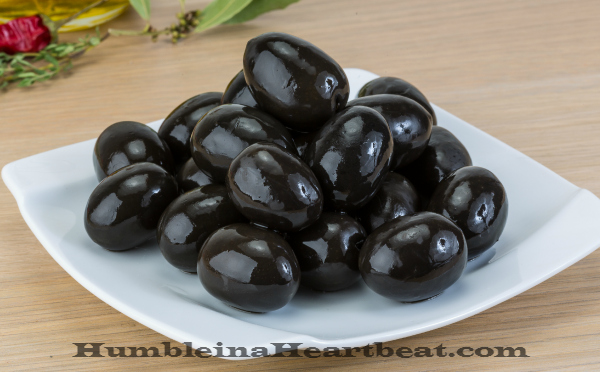 Recipe/Preparation: I just gave the olives to her in small pieces as a finger food.
Other ideas: Throw in spaghetti, put on pizza, or just snack on them. You could also get creative and try these Black Olive Penguins! So cute. Yes, I've made them before. 🙂
Other information: You're probably most likely to just purchase a can of olives, so don't worry about when they are in season. They are great with chicken, cheese, and bread, according to my own experience. 🙂 You can really decide when to offer olives to your baby, but waiting until they are one is best since there are many other foods to introduce that are more nutritious.
Reintroduced Foods
Parsnips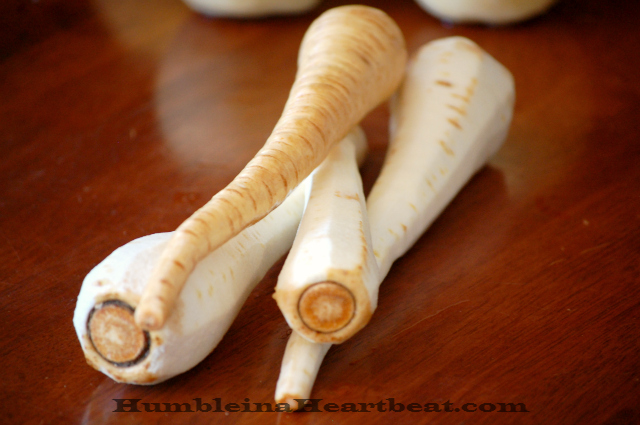 Recipe/Preparation: I made a Parsnip Pear Soup (I know, sounds really strange!), and both of my girls really enjoyed it! I plan to share the recipe in the Fall when both parsnips and pears are in season.
Other ideas: Roasted Root Veggies, Potato Parsnip Mash, or Parsnip Pancakes all might be good side dishes.
Other information: Parsnips are in season in the fall and pair well with rutabaga, apples, and honey. You could start giving your baby parsnips as early as 6 months.
Peas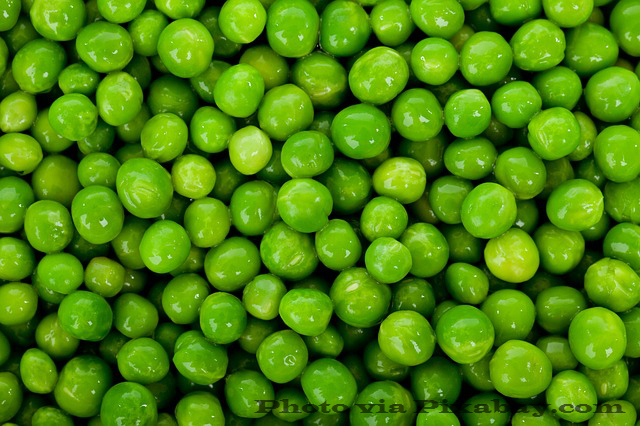 Recipe/Preparation: I gave frozen peas to both of my girls, and they both ate a few. Unfortunately, my toddler wasn't as fond of the peas as Bella was. But I think after a few more times offering peas in this way or prepared a little differently, they will both eat them just fine.
Other ideas: If you keep a bag of frozen peas around all the time, it will be easy to put them into many of your dishes including soup, mac and cheese, or pasta salad. You could also make a hummus out of them, put them in Split Pea Soup in place of the split peas, or add them to a delicious Chicken Pot Pie. These Italian Peas and Fancy Peas (contains mushrooms as well) look like yummy side dishes that feature peas as the main ingredient.
Other information: If you use frozen peas (or canned), then you really don't have to worry about when peas are in season. However, if you really want your child to experience fresh peas, make sure to try them in the spring. Try serving them with some oregano, butter, or cheese. Peas are normally a first food for baby, but they can cause gas, so just be careful if your baby has been suffering from colick. I personally waited until Bella was 8 months to give her peas.
Pineapple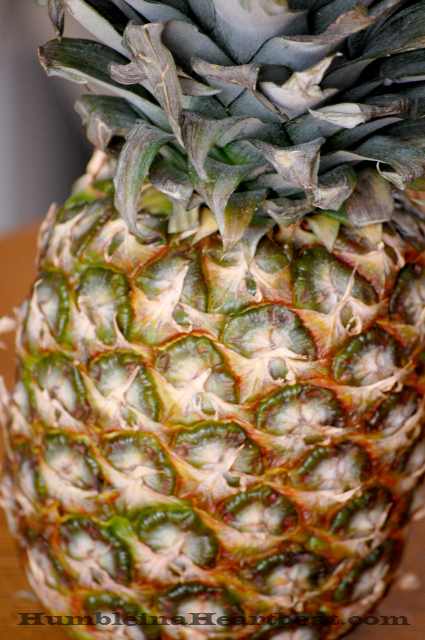 Recipe/Preparation: I just prepared the pineapple as shown below. I really should have cut Bella's chunks even smaller. She wasn't able to chew them and had a hard time. The pineapple I cut up was ripe and delicious. The only problem was that it hurt our tongues! I recommend using canned pineapple for your baby until pineapple is in season.
Other ideas: What child wouldn't want to eat their food on a stick? Make Shish Kabobs with fresh pineapple and they'll be all over it! Just a few other suggestions for introducing pineapple to your child could be Sweet and Sour Chicken with pineapple, Holiday Ham with pineapple, fruit salad, Island-Style Fried Rice, or adding it to muffins.
Other information: Fresh pineapple is best eaten from March to July. Serve it with basil, coconut, or other tropical fruits. Wait until your baby is at least 9 months to offer pineapple, especially fresh, since it can be such an acidic fruit.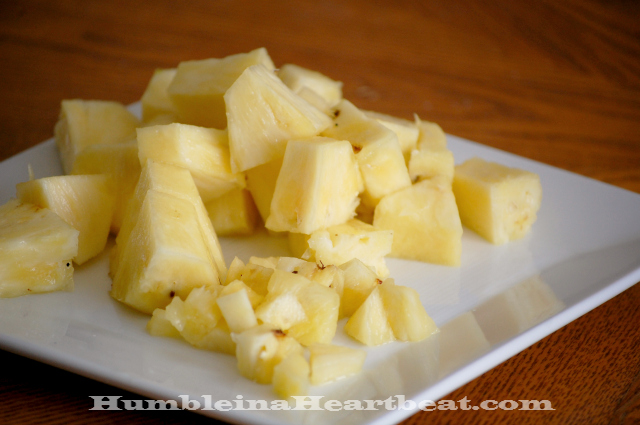 The 14 Month Old Feeding Plan
The new foods I would like to offer to Bella this month are:
Turnips
Brussels sprouts
Garbanzo beans (a.k.a. chickpeas)
Raspberries
These are the foods I plan on reintroducing:
Green beans
Mangoes
Fish
Barley
I am not a dietitian or a doctor. This is how I feed my babies, and I am providing this information for those interested in doing something similar. Make sure you talk to your pediatrician before you start feeding your baby solid foods.

Latest posts by Charlee Flaminio
(see all)