What is even better than just your average 30-minute meal? A 30-minute meal that's also nutritious and perfect for the season, of course! These quick spring meals are super easy and customizable so everyone in the family is happy!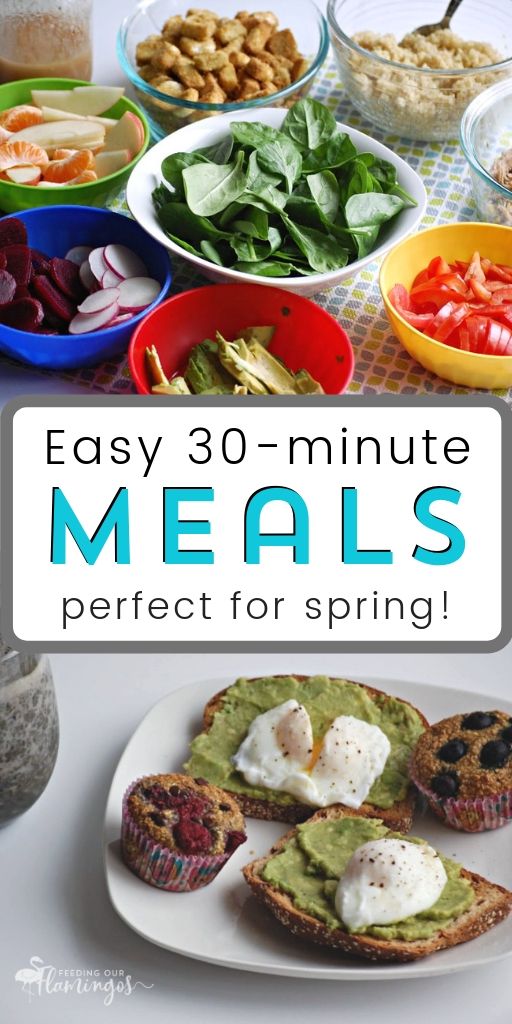 Think about this for a minute: how many times in one week do you make a really healthy and quick dinner for your family that they just can't get enough of? If you have a husband and kids, I'm going to guess a big fat zero? Or am I way off?
My experience serving healthy and quick meals to my husband and 3 young kids has had its ups and downs, for sure. The worst is when I spend more than 30 minutes cooking and not a single person enjoys it, not even me.
It can be a real challenge finding a meal that can be executed in just 30 minutes, that is appropriate for the season, and that most of the family will eat without throwing a fit.
Is that just a pipe dream?
No way! I know it can be so difficult to please everyone's taste buds and get cooking down to just 30 minutes, but it's very, very possible. In fact, the rest of this post will set out to prove it.
*WARNING* This post is super-duper long (4500+ words!). You can easily scroll through and find the meal you want to read more about. I went into great detail for each meal.
This post contains affiliate links. I only recommend products that I personally use and believe will add value to your life.
5 Easy 30-Minute Meals Perfect for Spring
Below I'll share all the details of 5 simple, balanced, and customizable 30-minute meal ideas perfect for spring weather.
You can make all 5 meals in one week or try one a week for the next 5 weeks. Do it however you want. My hope, though, is that these meals will be a "spring"board (get it?) for other springy meals you can add to your family favorites list or at least meals you can get on the table easily in 30 minutes or less.
Ready to find out what these meals are? Alright!
Mini tostada salads with fruit dip and seasonal fruit
Rice Bowls with fresh fruit
Spaghetti with a green salad and a veggie
Eggs, avocado toast, and a smoothie
Loaded salad, quinoa or rice, and fruit salad
Now, before you run away thinking that these meals sound too complicated to make in just 30 minutes, hear me out.
I actually timed myself while I made all 5 of these meals. And I made them several times over the last couple of months.
Now, obviously, I don't know how you cook. You might cook faster than me or slower. Honestly, though, I think I'm on the slower end of the spectrum, so there's a good chance you'll actually spend less than 30 minutes on these meals.
My biggest pet peeve with recipes is when the prep/cooking time is way off. Especially if it claims that it's a 30-minute meal and then ends up taking 2 or 3 times as long. I want to make sure that you are getting an accurate timetable with all of these meals.
Also, whenever I do find a meal that claims to be 30 minutes, it's usually just a side or just the main course. If I want to make a meal out of it, I end up spending at least 45 minutes or an hour preparing everything. My meals below include all the components for a balanced meal and take just 30 minutes total. No need to be an Iron Chef. 🙂
I could go on, and on, and on about more things, but let's get into the meal ideas now so you can get on with your busy life!
*If you have a Plan to Eat account, you can add me as a friend and find all the recipes I mention in this post on my account. You can sign up through my affiliate link right here. You can find out more about Plan to Eat here.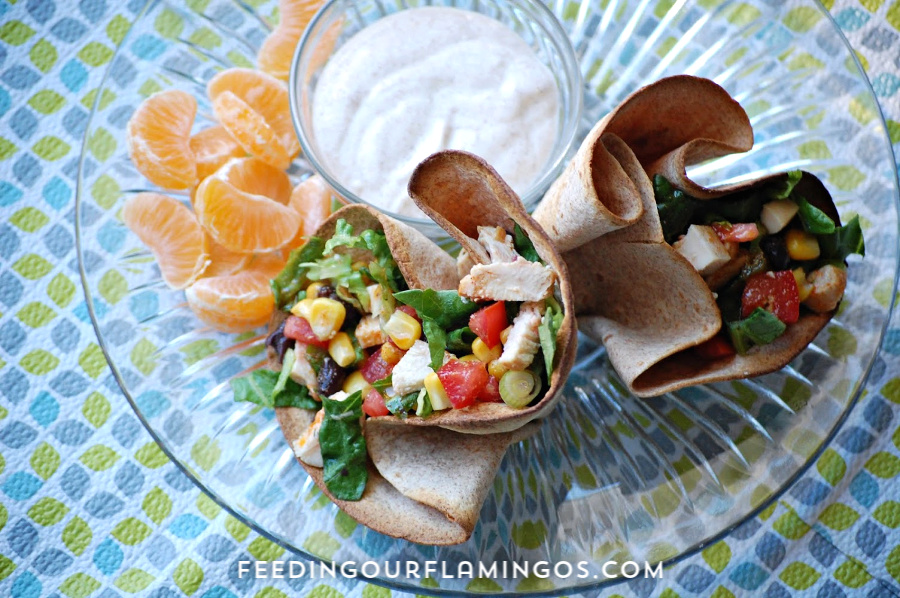 Mini Tostada Salads with Fruit Dip and Seasonal Fruit
Before this year, I made these mini tostada salads a handful of times for my family. They all told me they liked them, but I didn't put them on the menu very often.
What a huge mistake! They are such a quick, healthy, and tasty meal to put together. Plus, they are the perfect springtime meal.
Where to Find the Recipes
The Mini Tostada Salads recipe is from a cookbook (Savoring the Seasons with Our Best Bites – you might be able to get it at your library!), so I can't link to it. If you have a Plan to Eat account, you can add me as your friend and get the recipe from me. 😉
The honey yogurt fruit dip is literally to die for, and you can eat it with any fruit you'd like, including strawberries, pineapple, bananas, apples, kiwis, grapes, pears, oranges, and more!
What Makes This Meal Healthy?
Mini Tostada Salads with honey yogurt fruit dip and seasonal fruit is a nutritious meal because there are plenty of vegetables and fruit as well as healthy fats, grains, and protein.
Vegetables: Romaine lettuce, tomatoes, corn, green onions, cilantro
Fruits: Seasonal fruit of choice
Grains: Tortillas
Proteins: Black beans and chicken
Healthy fats: Olive oil and plain Greek yogurt
How to Easily Customize It
Mini Tostada Salads with honey yogurt fruit dip and seasonal fruit is a meal that's highly customizable. You don't have to use all the ingredients called for, and you can definitely swap out ingredients for ones you have. Here are some examples of ways you can easily customize it.
You could serve the salad portion over a bed of rice or quinoa instead of in tortilla cups
If you have different lettuce you want to use up, ditch the romaine and use that lettuce instead
Try other beans (pinto beans/refried beans are so good!)
Omit the cilantro (that's what I did) if you aren't keen on the taste
Add shredded cheese, diced avocado, salsa, or sour cream
If you have shredded pork rather than chicken, use the pork
Add bacon (everything's better with bacon)
If you want to make it vegetarian, leave out the chicken
What About Picky Eaters?
My kids and husband are picky at various times. Sometimes it's just one or two of them, yet other times everyone eats up what I've made and says things like "Mmmm" and "This is really good, Mom." Those kinds of meals are few and far between, but this particular meal happens to be one of them. Everyone loves it.
I know that your kids and husband probably aren't going to react the same as my kids and husband. There might be some protesters to this particular meal. Before you make it, look at the ingredients and think about your picky eaters. Do they like any of the ingredients? If not, consider switching out one of the ingredients for something your picky eater likes more. For example, if your child doesn't like tomatoes, but they really like cucumbers, maybe you can do a little switcheroo and perhaps they will be more open to trying the entire salad if they see their favorite cucumber in the mix.
What to Prep Ahead
If you want to get these on the table in just 30 minutes, there are some things you might want to prep ahead of time. Just choose one or two that will make the biggest impact, especially if you don't have a lot of time to prep ahead. For me, this is always, always, always using chicken that has already been cooked and diced.
Cook and shred/dice the chicken – I like to bulk cook chicken in the oven or Instant Pot once or twice a month. Then I'll dice it and throw it in bags in the freezer so I don't have to worry about cooking chicken when a recipe calls for cooked chicken
Mix up the vinaigrette – You can keep the vinaigrette in a mason jar in the fridge for at least a week
Drain and rinse the black beans – You only need ¼ cup for 6 servings, so if you're using a can of black beans use the rest for something else or throw them in the freezer
Shred the romaine lettuce – You can do this the day before; you won't use an entire head of romaine lettuce, so make sure to use the rest for another meal
Slice the green onions – I only used one green onion, but they come in a bunch, so you will want to use up the rest of your green onion bunch in other ways during the week
Chop the cilantro – You're going to have a lot of cilantro leftover so find another use for it or freeze it
Make the Honey Yogurt Fruit Dip – Just store in a small glass container in the fridge for up to 4 or 5 days
Extras for Families Who Like Larger Portions
I have 3 small kids and a husband. My husband could probably eat his own portion and all the kids' portions if he wanted. Plus, he's not big on fruit, so he could easily end up eating several of these salads.
So if you want to make this meal a little "heartier" for your hearty eaters, here are a few ideas for what to serve with this meal besides the fruit and fruit dip.
Guacamole or salsa and chips
Mexican rice
Raw veggies for dipping in hummus
A small bowl of soup
A side of fish
Cottage cheese
Obviously, if you choose to add more components to your meal, it will likely take longer to throw together. Just something to keep in mind. 😉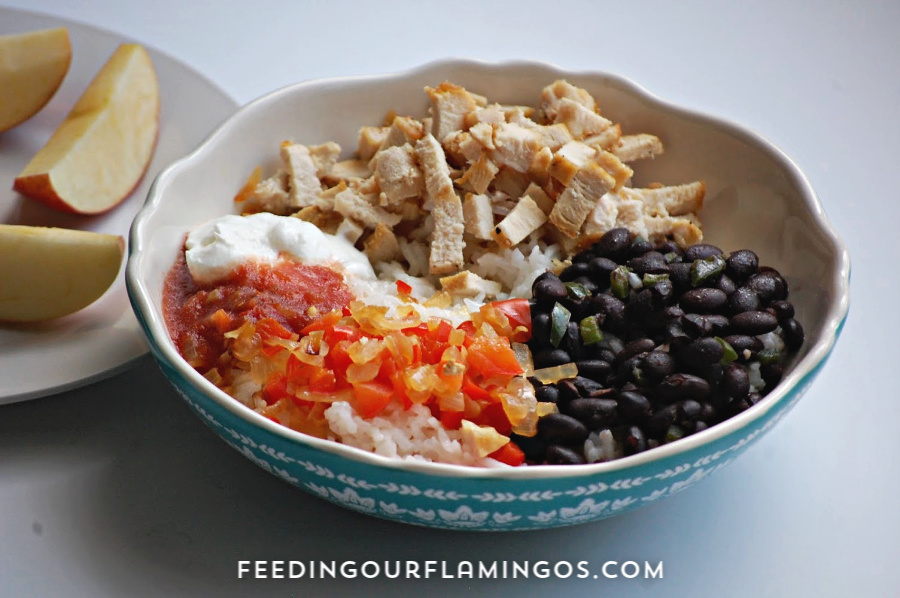 Rice Bowls with Fresh Fruit
Another super easy and delicious dinner just right for spring weather is rice bowls. When we had to really scale back on our grocery budget, I discovered rice bowls for the first time. To this day, even after making them on repeat at least bi-weekly for so long, my husband and kids still enjoy them.
Everyone gets to choose their own toppings, for one, and they end up tasting delightful no matter how you top them. They're just a beautiful thing for a family with different tastes!
Where to Find the Recipes
I make my rice bowls a little different every time, just to keep things interesting. But for the sake of this post, I will link to the recipes I used when I timed myself.
I think it's important to have a variety of toppings for everyone to enjoy, so I usually set out beans, rice, shredded chicken or another protein (sometimes fried eggs or hard-boiled eggs), cooked or raw vegetables, and sauce. You can't forget the sauce. It's what ties everything together!
I made mine with black beans, coconut rice/seasoned rice, chicken/pork, sauteed peppers and onions, and a salsa/greek yogurt mixture. I served the rice bowls with apple slices.
Rice – you can really make any rice you want, but I like to make either coconut rice or seasoned rice
Shredded Chicken or Pork – I like to make a big batch of chicken or pork, shred it, then bag it and freeze it for when I make rice bowls or any meal that calls for shredded protein. All you have to do is thaw in cold water for 30 minutes or an hour and reheat. It's a huge time-saver on a busy night!
Chopped and sauteed peppers and onions – The combination of cooked peppers and onions is one that can be used in tons of meals, so that is why I like to use it in rice bowls. But you could also use leftover roasted veggies, cut up raw veggies, or even frozen corn or peas (thawed, of course).
Salsa – Lately I've been making my salsa from scratch. I find it to be so much tastier and fresh. But for years we just bought our salsa. I find salsa to be a great addition to rice bowls just for the fact that it makes it taste even better. I mix it with plain Greek yogurt (or sour cream if that's what we have on hand) and it's perfecto!
What Makes This Meal Healthy?
Rice bowls are an absolutely nutritious meal because they are full of vegetables, protein, grains, and healthy fats.
Vegetables: Bell peppers and onions
Fruits: Apples
Grains: Rice
Proteins: Black beans and chicken/pork
Healthy fats: Greek yogurt and coconut milk (if making the coconut rice)
How to Easily Customize It
Rice bowls are the poster child for customizable meals. You could put rice bowls on the menu every single week and never once eat the same exact one twice. Let's explore some ways you could customize them:
Choose any kind of beans or bean "recipe" you want (or leave them out if you don't want them)
Use any kind of rice you want – white rice, brown rice, coconut rice, seasoned rice, Mexican rice, lemon rice, parmesan rice…you get the idea!
Choose any protein you like – chicken, pork, steak, eggs, tofu, shrimp, etc.
You can use any type of vegetables you have on hand – raw, cooked, roasted, steamed, frozen, canned, etc.
Try it with salad dressing, homemade vinaigrette, creamy dressing, yogurt dressing, hummus dressing, etc.
Serve with a smoothie, fruit popsicles, or anything else you want
Add cheese!
What About Picky Eaters?
Rice bowls were made for picky eaters! A picky eaters dream is to be able to choose whatever they want on their plate, right? Then let your picky eaters choose what they want to put on their own rice bowl. You can set rules, like "You have to choose at least 4 toppings" just so the picky eater will have to choose some kind of vegetable.
What to Prep Ahead
You may want to have one or two things ready to go a few days before you make these rice bowls. Part of keeping the meal quick is using ingredients that have already been partially or fully prepared. I almost always use a protein that has been cooked and is ready to go in the freezer so I can get these on the table in less time.
Dice/shred the protein – Since I bulk prep most of my meat, I just had to take it out of the freezer about an hour before we were going to eat and let the bag sit in cold water to thaw
Dice the peppers and onions – Things will go a lot smoother if the vegetables are at least chopped ahead of time
Make salsa – If you like homemade salsa, consider making a big batch ahead of time
Cook the rice – You can always use rice from the freezer or rice you've made earlier in the week
Extras for Families Who Like Larger Portions
For our family, these rice bowls with some fresh fruit fill us up. But if you think you'll need something else, serve it with cottage cheese or another quick side.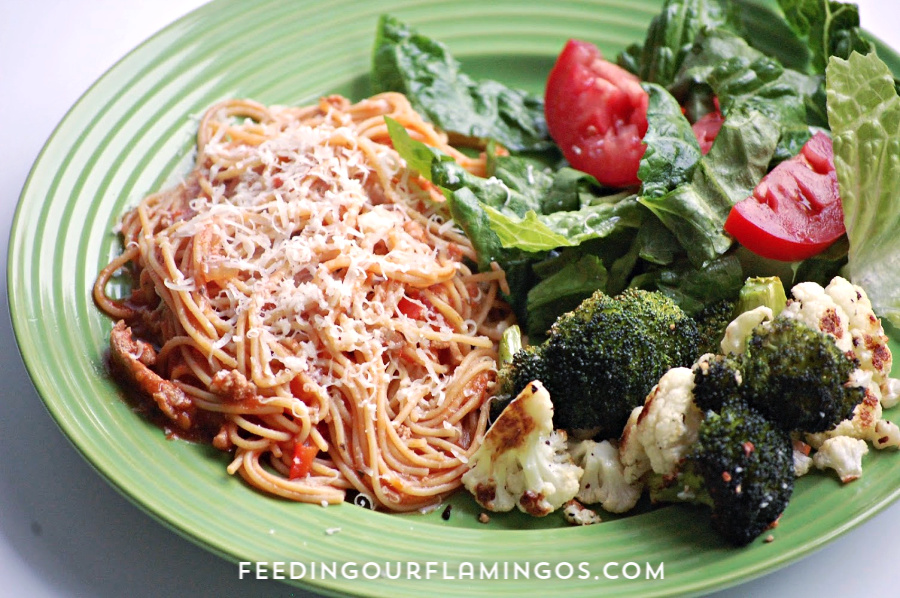 Spaghetti with Green Salad and a Veggie
Pasta might be an obvious quick weeknight meal to some people, but not me. I make a homemade spaghetti sauce that takes at least 1 1/2 hours from start to finish.
Here's what I found as a workaround: if you use a store-bought pasta sauce, it's entirely possible to make spaghetti in the middle of the week.
But, Charlee, you might be thinking, Store-bought pasta sauce is full of sugar.
I know, I know. Actually, though, you can find canned/jarred pasta sauce that is completely free of any added sugars. It just might cost a couple of dollars more than what you're used to. So if you're short on time and have the money to spare, why not buy some store-bought pasta sauce for easy weeknight meals?
Where to Find the Recipes
I like to elevate the flavors of store-bought pasta sauce by "doctoring it up." To me, at least, store-bought pasta sauce is kinda boring. There. I said it. I don't like it straight out of the jar.
You can doctor up pasta sauce any way you'd like, but I usually use some garlic, onion, and carrots or bell peppers. I also add some seasonings like oregano, basil, paprika, and red pepper flakes. Yes, it adds time to the cooking process, but it can still be done within the 30-minute time frame if you work quickly or have some things prepared ahead of time. My particular method for doctoring up store-bought pasta sauce is on my Plan to Eat account.
I don't like to add ground beef to my pasta sauce. In fact, when I make pasta on Sundays, the meat of choice is usually chicken on the bone or a nice boneless steak. But to make this particular meal fast and easy, I chose to use ground turkey.
Now, let's discuss the first veggie side: the broccoli/cauliflower. I love roasting most veggies, but if it's a warmer day, you'll probably want to steam or saute yours. The actual recipes I used when I was testing were this 5-minute skillet broccoli recipe and How to Steam Broccoli Perfectly Every Time.
For the salad, I just chopped up some romaine lettuce, added some sliced tomatoes, and served it with a homemade vinaigrette. There are so many vinaigrette recipes I love, but the one I used for the testing was this Red Wine Vinaigrette (which is amazing!!).
I was able to make both the salad and the steamed/roasted veggie within the 30 minutes. However, I did feel a bit anxious and under pressure the whole time. So, if you want to make things simpler, you can make just one of the sides and it will still be a really nutritious meal.
What Makes This Meal Healthy?
Pasta can be a very nutritious meal if you make sure to serve it with plenty of vegetables, protein, and healthy fats.
Vegetables: Onion, peppers, garlic, broccoli, cauliflower, romaine lettuce, tomatoes
Fruits: no fruits in this meal
Grains: whole grain spaghetti
Proteins: ground turkey
Healthy fats: olive oil
How to Easily Customize It
Pasta can be served however you like, obviously. But here are some ways you could customize this particular pasta dish:
Use spiralized veggies as your pasta for a plant-based/gluten-free alternative
Doctor up your pasta sauce however you want – you can go big or go light
Switch out the ground turkey for ground beef or any other protein of your choosing
Pick different sides that work better for what your family might enjoy and/or what you have on hand
Serve with fruit
What About Picky Eaters?
For picky eaters, think about what they like and try to serve that alongside something they may not like. For example, if you have a picky eater who despises broccoli, but they really like zucchini, roast the broccoli and zucchini together and see if your picky eater considers trying the broccoli. Make sure you actually put the broccoli on his/her plate, and just observe what he/she does.
What to Prep Ahead
I personally think this meal is the most go-go-go of the five in this post. Therefore, it might be in your best interest to have at least one or two components of the meal prepped before you start. These are what I would try to make ahead of time.
Mix up the vinaigrette – Most vinaigrettes/salad dressings can be made several days or even a week in advance
Cook the ground turkey – You could easily bulk cook ground turkey with some salt and pepper, let it cool, then store it in bags in the freezer for this kind of meal
Chop the veggies – If you don't have to worry about cleaning and chopping veggies for the pasta sauce or either of the sides, that will eliminate so much stress and save you a bunch of time
Make the green salad – Even the green salad can be prepped ahead (without the vinaigrette) and stored in a glass container in the fridge
Extras for Families Who Like Larger Portions
We always get filled up on pasta and these sides, so we never need to serve it with anything else. But feel free to add some fruit or maybe a little cheese on the side.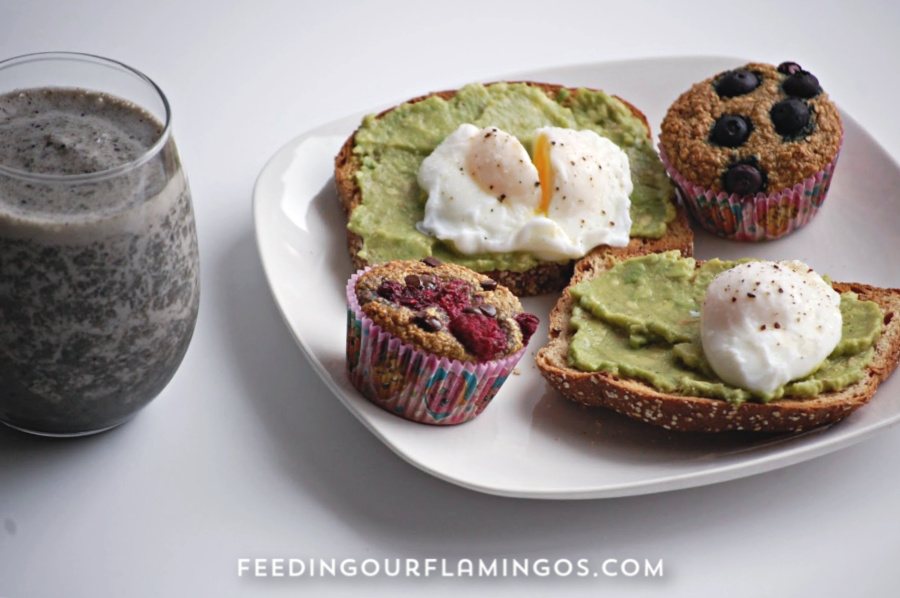 Eggs, Avocado Toast, and a Smoothie
Breakfast for dinner, anyone? When I was a kid, there was at least one night a week when we had breakfast for dinner (i.e. cold cereal and milk). I am trying to make sure we eat healthy most of the time, so that is definitely not an option in our house.
I love this particular breakfast for dinner meal because, not only is it ridiculously easy, but it's really balanced. My husband always tells me how much he loves it. My kids have mixed feelings and don't always love the avocado toast, but they at least always love the eggs and smoothie!
Where to Find the Recipes
You can make avocado toast as simple or complex as you want. We tend to opt for really simple, but occasionally I'll add radish slices, arugula, or sliced tomatoes on top. Try new things and maybe you're family will start to love it when you make this for dinner! This is the recipe I use the most.
Make whatever kind of eggs you want! Scrambled, fried, hard-boiled, omelettes, frittata, egg muffins, poached, etc.
Now, I will caution that if you want to make poached eggs for a family of more than 4, it might take you longer than 30 minutes total. I tested this meal with poached eggs for the first two times, but realized that with my family of 5, it was just going to take longer than 30 minutes since you can only cook one or two eggs at a time.
I found that I could make fried eggs much faster and my whole family loved them with the avocado toast.
You can obviously make any kind of smoothie you want. When I tested the time for this post, I made an Extra Green Smoothie and a Cotton Candy Smoothie.
As for the muffins you see in the picture, I pulled those from the freezer when I went to take it because the picture looked boring without them. I made these 20 Minute Blender Muffins. You can serve this meal with muffins if you want, but I did not count the time it takes to make them in the 30 minutes. It's smarter to make a big batch of muffins ahead of time and then freeze them for meals like this.
What Makes This Meal Healthy?
This breakfast for dinner is so good for you. Here's the break down of what makes it all so nutritious (I am only going off one particular time I tested this with poached eggs, avocado toast, and an Extra Green Smoothie.
Vegetables: Kale
Fruits: Lime, avocado, banana, blueberries, orange
Grains: Whole grain bread
Proteins: Eggs and milk
Healthy fats: Avocado and milk
How to Easily Customize It
I think you can already see how easy it is to make this meal suit your own personal tastes. Here are some of my ideas:
Make any kind of eggs you like, and if you can't have eggs, use a different protein
Switch out the bread for sweet potato toast
Serve with fresh fruit instead of a smoothie
Add favorite toppings to the toast, like arugula, tomatoes, or radish slices, for example
What About Picky Eaters?
When I first tried avocado toast, I was pleasantly surprised. My kids? They were not having it. Still, to this day, they are a little hesitant about the whole concept (mostly because they all have some strange aversion to avocados). But if I give them the mashed avocado separate from the toast, they are more likely to put the toast together themselves and actually eat some of it, if not all of it.
It's also smart to get input from your picky eaters. Ask them what kind of smoothie they want. Better yet, let them add what they want to the smoothie!
What to Prep Ahead
This particular meal is pretty easy to make in the 30-minute time-frame, especially if you have fewer people in your family. But you might still want to have some things ready to go so you can get dinner on the table even faster.
Make smoothie bags for the freezer – It really doesn't take long at all to make a smoothie, but if you already have the ingredients put together beforehand it can save you some time in the end
Make muffins – If you like the idea of serving this meal with muffins, make them ahead of time and freeze them
Prepare any toppings for the avocado toast – Radishes and tomatoes can both be sliced ahead of time if you want to use those on your toast
Extras for Families Who Like Larger Portions
This meal is incredibly filling, but just in case you need more ideas for other things to serve, here ya go 🙂
Muffins – already mentioned many times, but maybe you missed it
Cottage cheese or sliced cheese
Raw veggies with salad dressing or hummus
Loaded Salad, Quinoa or Rice, and Fruit Salad
I was never a big salad fan before having kids. Now I'm like, "Give me ALL the salads!!" Especially if a salad has a lot of delicious toppings and a great vinaigrette, I'm all for making it a hearty meal. Yep, hearty.
My family is actually really on board with this meal. They get to choose whatever they want on their salad. For my kids, I don't make them take very much lettuce, so it's not a real salad for them. I just love that they are being exposed to so many healthy foods and choosing a lot of healthy foods in the process.
Where to Find the Recipes
When I serve a loaded salad with quinoa or rice, these are the general toppings I prepare:
Lettuce (romaine, spinach, arugula, spring greens, etc.)
1 pound of protein (bacon, ham, chicken, pork, hard-boiled eggs, beans, etc.)
Tomatoes, sliced or diced
Avocado, diced
Bell peppers, diced or sliced
Carrots, grated
Pickled beets, sliced
Radishes, sliced thin
Green onions, sliced thin
Onion, sliced thin
Cabbage, sliced thin
Olives
Cheese, grated
Croutons
Sunflower seeds
Nuts
Salad dressing (I used this Red Wine Vinaigrette recipe)
I never serve every single topping. I usually just go down the list and see what we have and what I have time to prepare. The three most important ingredients to make this salad both delicious and loaded are the protein, salad dressing, and lettuce. Otherwise, go crazy with whatever toppings you want!
I use my Instant Pot to make quinoa, and this is the really basic recipe/method I use.
What Makes This Meal Healthy?
I don't think I have to convince you that salad is good for you. But, just in case…
Vegetables: Spinach, tomatoes, red bell peppers, pickled beets, radishes
Fruits: Avocado, oranges, apples
Grains: Quinoa and croutons
Proteins: Shredded pork and avocado
Healthy fats: Avocado, sunflower seeds, and olive oil
How to Easily Customize It
I don't think I need to go into much detail about customizing this meal. It's pretty plain to see that you can make it your own pretty easily. Here are other ideas for those at a loss:
Serve with a smoothie or fruit popsicles instead of a fruit salad
Switch out the quinoa and rice for sweet potatoes or roasted veggies
Use a hummus dressing instead of salad dressing
What About Picky Eaters?
Picky eaters love this kind of meal!
What to Prep Ahead
You could probably prep ahead most anything in this meal, but if you're short on time choose just one or two at first.
Cook/prepare your protein of choice – I think this makes the biggest difference if you are trying to get this on the table fast
Make the fruit salad – You don't have to go fancy with fruit salad; this is how I make it ahead of time
Cook your grain – Rice and quinoa are so easy to make ahead of time and keep well in the fridge for 5-6 days, in my experience
Mix up your vinaigrette – Keep it in the fridge in a mason jar for a week
Extras for Families Who Like Larger Portions
We never need extra food when we eat a loaded salad. I always get full after my first serving because I pile on all the toppings! If you need something else for bigger eaters in your family, serve with yogurt, cottage cheese, or a smoothie.
So, how do you feel about these fast and easy spring meal ideas?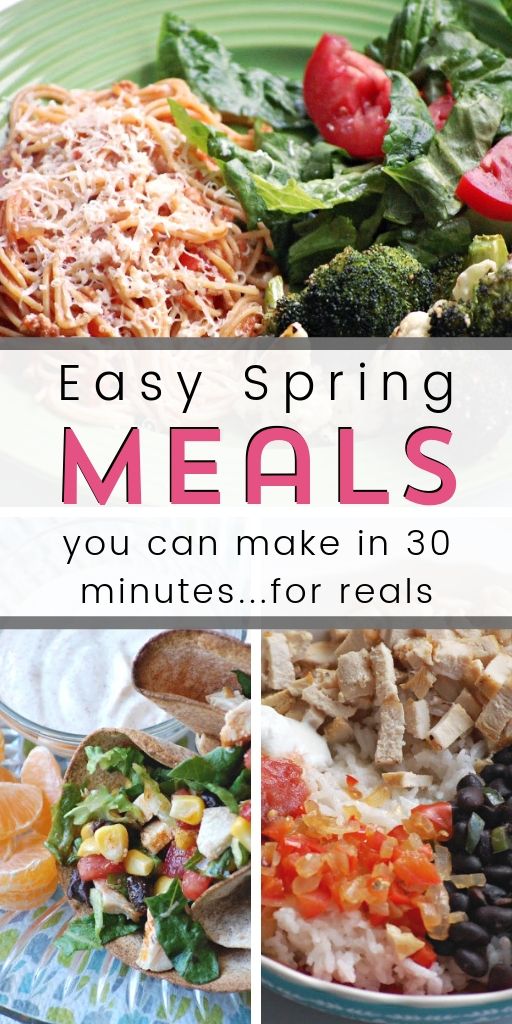 Latest posts by Charlee Flaminio
(see all)