After I gave birth to both of my daughters, people in my neighborhood and some family members brought over meals for about 3 days.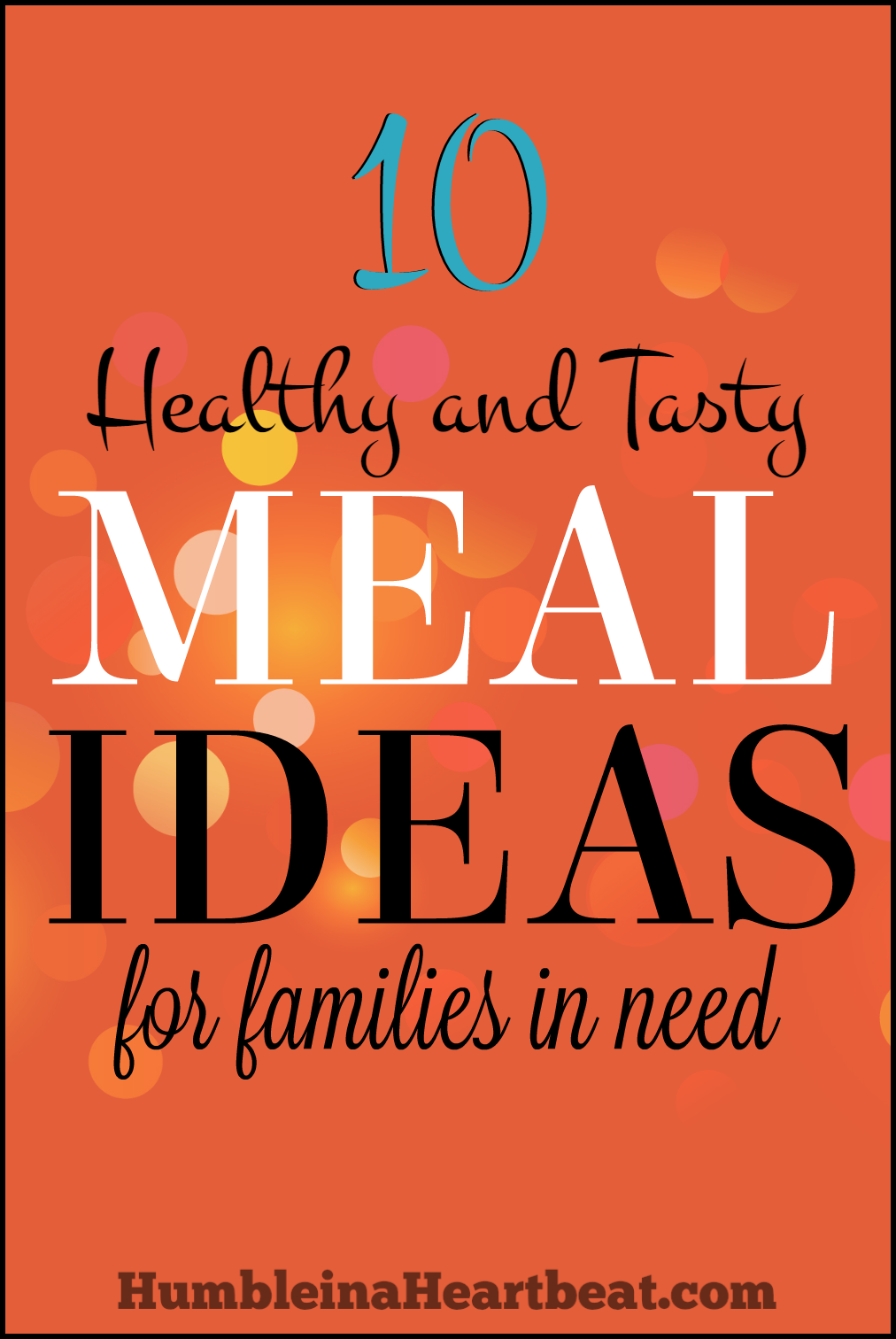 It was wonderful.
No, downright glorious.
I didn't have to think about cooking, and I got to taste some really yummy stuff that others made.
Since I know what it's like to be in a position where a warm meal is much appreciated, I thought I would share some tips for taking meals to families in need, as well as give meal suggestions if you need some.
Unfortunately, I have only taken the opportunity about two times before to take a meal to a mom who just had a baby, but I really want to change that.
Not only are meals needed for moms with newborns, but also parents who might be sick or in the hospital, those who are struggling financially, and single parents who are super busy and cannot find the time to make a meal every night of the week.
These are my best tips for taking a meal to a family in need:
Make the meal healthy.
Give the family a main course, as well as sides, fruit, etc.
Give the family extras to enjoy for breakfast, snack, or dessert (ideas at the bottom of this post).
Ask the family what time would be best to bring the meal over – I know that some families eat earlier, others later. Also, some fathers work overnight, so the family eats lunch together.
Ask if there are any allergies or diet restrictions so you can steer clear of certain ingredients or meals.
Double whatever you make so you can have dinner ready for your own family.
Start planning a week ahead if possible – if it's for a family with a newborn or a family with a sick parent, this might be harder to predict.
Start cooking 2-3 days ahead, or even a month ahead and freeze it.
If it is for someone who lives alone or an elderly person who needs some company, ask them if they would like to share the meal with you and your family (either at their place or yours).
If you're a mom of little littles (like younger than 5 years old), then don't even think about trying to go over the top just to feed a family in need. Go simple instead, and surely they will still love the meal. You don't have time to try and cook up a storm with small kids at your feet in the kitchen!
Make a meal you have made before and loved. Don't try new recipes on others, unless, of course, you have a great track record with hitting them out of the ballpark.
Write down any instructions for the meal so the family doesn't have to remember everything you tell them to do.
Ask the family if they need any other help (cleaning, taking care of the kids while the mom takes a shower, etc.) while you are already over at their house dropping off the meal.
10 Healthy and Tasty Meal Ideas for Families in Need
Below I've come up with a list of meal ideas for anytime you want to help someone who may need dinner. Most of the meals have a protein, a starch, vegetables, a fruit, and good fats, which means they are pretty darn healthy!
I don't believe that you should throw together a mediocre meal for someone in need. Instead, I really think you should go over-the-top. The people you are delivering food to are probably feeling a little down or overwhelmed, and a good meal can really help lift their spirits.
Just so you know, I've made the majority of these recipes many times. There are only a couple that I have never made, but I definitely plan to for someone who needs it in the near future!
Meal #1
Chicken Enchiladas (avocados, sour cream, and extra cilantro on top) from Annie's Eats
Spanish Rice from Our Best Bites
Fruit Salad from Averie Cooks
Meal #2
Chicken Fajitas (avocados, sour cream) from Simply Recipes
Black Beans, Corn, and Yellow Rice from AllRecipes
Light and Creamy Apple Salad from The Seasoned Mom
Meal #3
Chicken Tetrazzini (use whole grain spaghetti noodles) from Beauty and Bedlam
Green salad with basic vinaigrette
Baguettes from Food Network with Herb Dip from Sugar Dish Me
Fruit with 2 Ingredient Fruit Dip from High Heels and Grills
Meal #4
Chicken Pot Pie Casserole from Pip and Ebby
Hummus and Pita Chips from Little Spice Jar
Apples with Cheese
Meal #5
Broccoli Cheese Soup from The Pioneer Woman with Bread Bowls from Jamie Cooks It Up!
Chicken and Avocado Salad from Kalyn's Kitchen
Cranberry Millionaire Salad from Cook Crave Inspire
Meal #6
Meatloaf with Garlic Sauce from The Food Charlatan
Slow Cooker Mashed Potatoes from Creme de la Crumb and Gravy without the Drippings from Lady Behind the Curtain
Parmesan Zucchini and Corn from Damn Delicious
Waldorf Salad from Love Bakes Good Cakes
Meal #7
8 Can Taco Soup from High Heels and Grills
Fresh Bread
Fruit Salsa with Baked Cinnamon Chips from Carlsbad Cravings
Meal #8
Southwest Make-Ahead Breakfast Burritos from The Cookie Rookie
Strawberry Banana Bread Muffins from Julia's Album
Crockpot Baked Sweet Potatoes with Flaxseed from Graceful Little Honey Bee
Meal #9
Crock Pot Beef and Broccoli from Life in the Lofthouse
Fried Rice from Gimme Some Oven
Fruit Kabobs from By Stephanie Lynn
Meal #10
Pesto Salmon and Italian Veggies from Cooking Classy
Roasted New Potatoes and Asparagus from Cinnamon-Spice & Everything Nice
Rice
Nuts About Berries Salad from I Heart Nap Time
Even if you don't use these exact recipes, at least they can be a starting point to help you come up with a meal idea of your own.
To tell you the truth, all these meals are ones I would want to receive if someone brought my family dinner again!
Extras to Take
And, if you want to be extra nice, consider taking the family in need some breakfast items, snacks, or dessert so they don't have to worry about those either!
Breakfast
Snacks
Dessert
Fruit pizza
Ice cream
Lemon Loaf Cake from Spoonful of Flavor *My husband's fav!
Cookies
What are your favorite meal ideas to take to a family in need?

Latest posts by Charlee Flaminio
(see all)