As someone who grew up eating cereal and milk for breakfast every morning, I still cannot believe that after more than a year I haven't gone back. I swore off breakfast cereal in December 2013 while I was pregnant with my second daughter. There were several reasons, such as not enough calories and nutrition. Ok, so, yes, I was buying the sugary cereal most of the time. 😉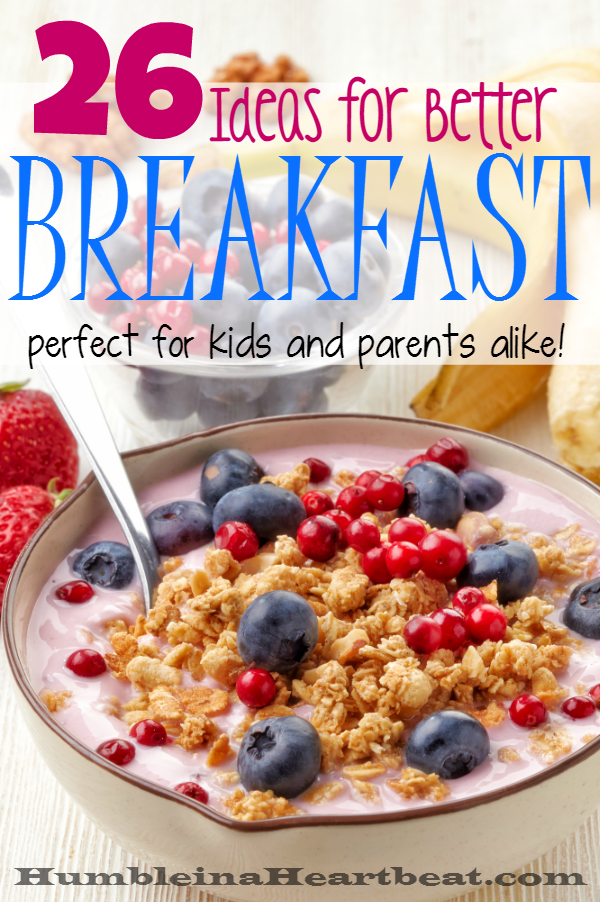 After I quit buying cereal, I did really great for several months, eating breakfasts that were both filling and nutritious. However, it's been quite a few months now that I haven't been so creative. I haven't been planning ahead, so I end up eating toast with jam and a glass of a milk or scrambled eggs. There's nothing really wrong with that, but I really like variety, and I want my girls to enjoy many different foods as well.
I have never been great with giving my girls variety at breakfast. I almost always just resort to a bowl of oatmeal with mashed banana and their milk. They are so used to it that it doesn't really phase them, but I know that there are so many things wrong with eating the same foods over and over and over again. Variety is important for good nutrition, and it helps children try new foods.
A Plan to Give My Family Better Breakfasts
In order to break this cycle of boring breakfasts and to give my daughters the nutrition that they really need, I am putting a plan in place to make it easier to eat better breakfasts. I think with a plan it will be second nature after a couple weeks to always be eating filling things for breakfast. My excuses for not having much variety is that I don't have enough time nor enough money. But I believe mindset is everything, and if I change the way I think about breakfast, there will be both plenty of time and money for me to reach my goals for this meal.
Step #1 – Write Out a List of Breakfast Ideas
The first thing I need to do is write out a list of possible breakfast ideas for the family. You can see all my ideas below.
Pancakes, waffles, or French toast sticks
Quiches
Baked oatmeal
Oatmeal with fruit purees
Rice pudding
Applesauce
Yogurt parfaits
Frozen yogurt covered blueberries
Fresh fruit with yogurt
Muffins
Omelets or frittatas
Smoothies
Granola bars
Breakfast cookies
Hard-boiled eggs
Crepes
Breakfast burritos
Toast
Breakfast polenta
Scrambled eggs or Sunny-side up eggs
Cottage cheese with fresh fruit
Bread pudding
Banana pudding
Breakfast sandwiches
Cinnamon toast
Oatcakes
Step #2 – Add Ideas to Meal Plan
Second, I need to put one idea down for each day of the week on my meal plan and have that readily available to look at all the time. It would be best to keep the meal plan in the kitchen for us.
I also plan to write out prep details so I know when prep for a meal should be complete. Some foods should be made the day before for the best taste (such as a blueberry sauce I'll be sharing next week we love).
Step #3 – Get the Ingredients
The next step will be writing out all the ingredients for each meal and putting what we need on our shopping list for the week. Once I get to a point that I know what we eat for breakfast most of the time, I can write down the ingredients that we use a lot on my pantry staples list.
If I have a meal that can be easily frozen, I plan to make triple and freeze what we don't eat so that I don't need to cook breakfast every morning.
Step #4 – Decide When to Cook
Finally, I need to decide whether I will cook in the morning before my family wakes up or at another time so that mornings don't have to be devoted to cooking.
So far I've been doing most of my cooking in the afternoons when I know dinner prep is not going to take me as long. I have also been making extra of most of the meals so that I don't have to cook each day.
I don't want this plan to be an overwhelming task in my life. If I run across an issue, like I can't make the particular breakfast I planned to one morning because I didn't go shopping for the ingredients, I will be flexible and just make something else that I know I can. There's no reason to be strict!
One important thing to point out is that I want our breakfasts to be well-rounded. If we have pancakes one morning, I plan to include fruit and some protein so that it holds us over until lunch. We don't eat morning snack around here! By the way, here are some nutrition guidelines for kids.
The next two Fridays, I will be sharing my progress and one meal idea each week that I just love for toddlers. So stay tuned!

Latest posts by Charlee Flaminio
(see all)