There are so many ways to save money on your groceries each month, but one of the most effective is by having pantry staples on hand. Pantry staples are the ingredients or food you have in your pantry, fridge, and freezer that make it possible for you to make a meal on the fly. These foods are very specific to you and your family, and you should not rely on others' lists to make your own. By keeping your own pantry staples list for your family's kitchen, you can save plenty of time and money. Read on to find out how!
How Much Money Can You Save with a Pantry Staples List?
You can save a good amount of money with a pantry staples list. Not just pocket change but cold hard cash.
With pantry items on hand, you can skip a night or two of grocery shopping and still make it through just fine. You'll save money on gas since you aren't driving to the store as often, and you won't throw out food that could have gone bad since you are using it up. Estimated savings per month: $75
You also will be able to stock up on these items when they are on sale because you know you will be using them and they won't go to waste. You can easily freeze a lot of the perishable items on your pantry staples list to use in the future. Estimated savings per month: $50
Uh, who wouldn't want to save $125 per month?!
How to Make a Pantry Staples List
A lot of the headache of meal planning can be relieved by keeping a solid list of pantry items that your family eats regularly.
So how do you create your family's own pantry staples list? Let me tell you…
1. Keep track of meals or list meals you eat regularly
Ever since this past April, I have been keeping track of all the dinners we've been eating. Although, for the last month it's been hit and miss. It has really come in handy when writing out a weekly meal plan.
Because I've been tracking these meals, I was able to come up with a list of the meals we eat on a regular basis.
2. List out every single ingredient you need to make the top 10 meals
Find the top 10 meals you seem to eat often, and list them out on a blank piece of paper with some space in between each meal. Now start listing all the ingredients it takes to make those meals. It can take you a good 15-20 minutes to write down all the ingredients for your 10 meals, but this is a critical step in order to fill out your pantry staples list.
Here are 3 meals we eat regularly as an example for you.
Chicken w/tomato & onion salad: Chicken, salt, pepper, paprika, garlic, lemon, butter, onions, tomatoes, oregano, olive oil, vinegar
Split pea soup w/hot sandwiches: Split peas, chicken broth, ham, carrots, onion, garlic, Italian seasoning, marjoram, smoked paprika, thyme, bay leaf, malt vinegar, bread (yeast, salt, flour), lunch meat, cheese, mayo, mustard
Pizza: Dough (olive oil, salt, flour, yeast, baking powder, oregano, garlic), sauce (tomato paste, powdered parmesan cheese, salt, garlic powder, oregano, basil, marjoram, parsley, sugar OR honey, onion powder, red pepper flakes), mozzarella cheese, toppings (pepperoni, ham, pineapple, olives, peppers, onions, etc.)
3. List the ingredients on your pantry staples list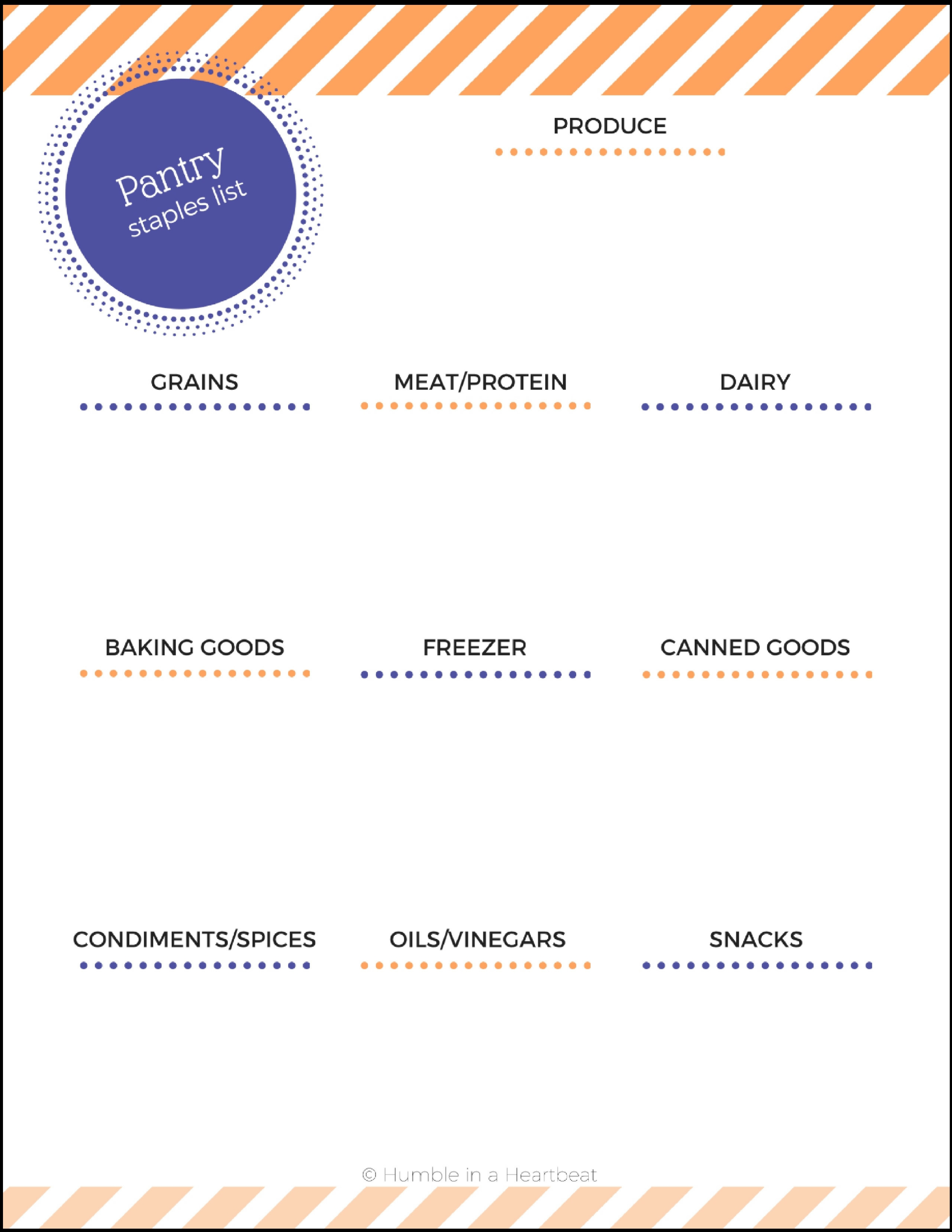 Finally, you will want to go through your list of ingredients from your 10 meals and put them on a pantry staples list (download yours here).
I'll share my list of pantry staples with you, but keep in mind that yours will be completely different. Remember that your family is unique and probably doesn't eat the same things we eat on a regular basis. It's best to find out your own pantry list by keeping track of what you eat on a regular basis and then writing down the ingredients that seem to come up over and over. Remember to write down pantry staples you use for snack, lunch, and breakfast items.
Produce
Apples
Avocados
Bananas
Bell peppers
Carrots
Celery
Garlic
Lemons/limes
Onions
Parsley
Potatoes
Salad (some kind of lettuce)
Tomatoes
Grains
Breadcrumbs
Couscous
Pasta
Quinoa
Rice (brown and white)
Meat/Protein
Chicken
Eggs
Ground turkey
Ham
Italian sausage
Lunch meat
Dairy
Butter, unsalted
Cheese (colby jack or mozzarella mostly)
Milk
Provolone slices
Sour cream
Yogurt
Baking goods
Baking powder
Baking soda
Brown sugar
Flour
Honey
Sugar
Vanilla extract
Vegetable oil
Yeast
Freezer
Berries
Corn
Juice
Peas
Canned/Dried goods
Chicken stock/broth
Garbanzo beans
Olives
Pinto beans
Salsa
Split Peas
Tomatoes: tomato sauce, tomato paste, and diced tomatoes
Tuna
Condiments/Spices
Bay leaves
Black pepper
Chili powder
Cinnamon
Crushed red pepper flakes
Cumin
Garlic powder
Ground ginger
Jam
Ketchup
Marjoram
Mayo/Miracle Whip
Mustard
Nutmeg
Onion salt
Oregano
Paprika
Salt
Soy sauce
Thyme
Worcestershire sauce
Oils/Vinegars
Apple cider vinegar
Balsamic vinegar
Coconut oil
Olive oil
Red wine vinegar
Rice vinegar
Sesame seed oil
White vinegar
White wine vinegar
Snacks
Crackers
Dried fruit: craisins, raisins, and prunes
Nuts: Almonds and mixed
Oats: quick and rolled
Peanut butter
Popcorn kernels
Seeds: Sunflower seeds
Tortillas
Tortilla Chips

After you've filled in your pantry staples list, put it on your fridge or in your pantry. Every time you do your grocery shopping for the week, grab your pantry staples list and see if you need to replace anything.
This Pantry Essentials Checklist from Food Network was a huge help as I made my own pantry staples list.
What is the strangest ingredient you buy all the time?

Latest posts by Charlee Flaminio
(see all)