When it comes to spending habits, I'm somewhat a blend of both of my parents. My mom is a spender, my dad is a saver. I tend to lean more towards the saver and sometimes I border on being cheap, but in the last little while I've been an all-out spender, my second mistake as our family's financial manger. (HERE is my first mistake)
Ok, so we're not purchasing big screen televisions or going out to ice cream every Saturday night (although, that wouldn't be a bad idea 😉 ), but we've been spending more money than our budget allows. If I had kept up with our budget every month, I would know whether we could spend money on some tools (obviously for my husband, not me) or new mascara (even if I have perfectly good mascara in my makeup bag). Instead, I wasn't really sure of our financial situation most months, so we've been spending money simply because we had money in our bank account and/or we knew we could put it on one of our credit cards. Big NO-NO.
In my mind, I really did need those hanging laundry bags and the pastry blender I bought from my sister's Pampered Chef party. These are things that have made my life easier, after all. But all that frivolous spending has made it harder now that our income has taken a nose-dive.
I am really, really focused now on spending our money solely on our needs, because we just don't have any extra money to spend over what we have budgeted each month. When money is this tight, you just have to be strict with yourself. In fact, I don't even go to my parent's house on a whim anymore. I used to drive to their house every week, especially when there was just Sofía, but I haven't been to their house now for three or four months. There's just not extra money in our budget for expensive gas.
I've also sworn off online shopping. It's just way too tempting, and I know I would cave if I saw an adorable onesie for $3. I couldn't stop right there (If you give a mouse a cookie…), because I would need to get free shipping, too, so I'd end up spending a little over $40 on clothes that would be adorable on my girls, but not clothes that they really needed. Have you seen all the clothes they have? It's ridiculous.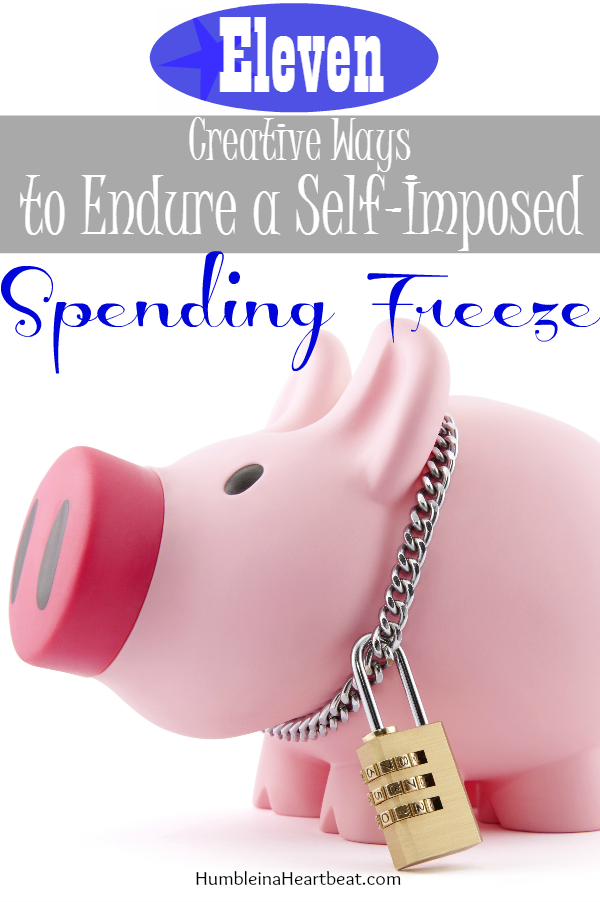 It's super hard spending money only on what you need. It sucks, really. Until my husband's business starts to take off, we might be in a spending freeze for a while, so I've come up with 11 ways to make it easier:
Be grateful for what you already have. Write it down if it helps.
Give back. Think about other people's needs and try to help them, so you aren't thinking about your own situation.
Freeze your credit cards in a large container of water so you won't be able to use them as easily.
Spend your time in places that don't require any money to be spent, including the park, the library, a friend's house, grandma's house, or nature.
Think of ways you can make extra money and spend your time doing those things.
Turn off the TV and stop browsing the internet. You'll inevitably come across ads that will possibly just make you want to spend some money.
Write out your goals for the next 5 or 10 years and then write out short-term goals so you can meet those.
Make a collage or an inspiration board using old magazines that shows your dreams and goals. This will help you see exactly what it is that you are striving for.
Get off pinterest. Unfortunately, many of the things you see on pinterest will just make you want to spend your money.
Use your energy to learn a new skill or enhance the ones you already possess. If you love baking cakes, for example, make some and sell them to friends or family for birthday parties.
Journal about how difficult life is without money or journal about your new perspective on life because you are living within your means.
A blog post I ran across on pinterest recently, called Lessons Learned During the Summer of No Paycheck, has helped me put things in perspective. While spending less money has its major disadvantages, it can be a character builder.
Any great ideas to add to this list?
If you enjoyed this post, please sign-up to receive my weekly newsletter. You won't regret it!
Or follow me on Pinterest! Charlee @Humble in a Heartbeat

Other posts in this series:
You Need a Bill Pay System
My Struggles as the Family Finance "Manager"
Mistake #1 – Quit budgeting
Mistake #2 – Mixed up wants and needs
Mistake #3 – Used credit cards for things we couldn't afford
Mistake #4 – Overcomplicated our budget
Mistake #5 – Checked over our accounts less often
Mistake #6 – Saved $0
Mistake #7 – Spent bonuses
Mistake #8 – Bought low-quality appliances

Latest posts by Charlee Flaminio
(see all)