*This is the 4th day of the One Month Spending Freeze Challenge. Please click here to see all of the posts in this series.*
From the outside looking in, a spending freeze looks like something terrible you just want to avoid. It doesn't sound enjoyable, and people who have to be on a constant spending freeze (a.k.a. my family) just seem utterly poor. But there is something you don't know that we're keeping hush-hush.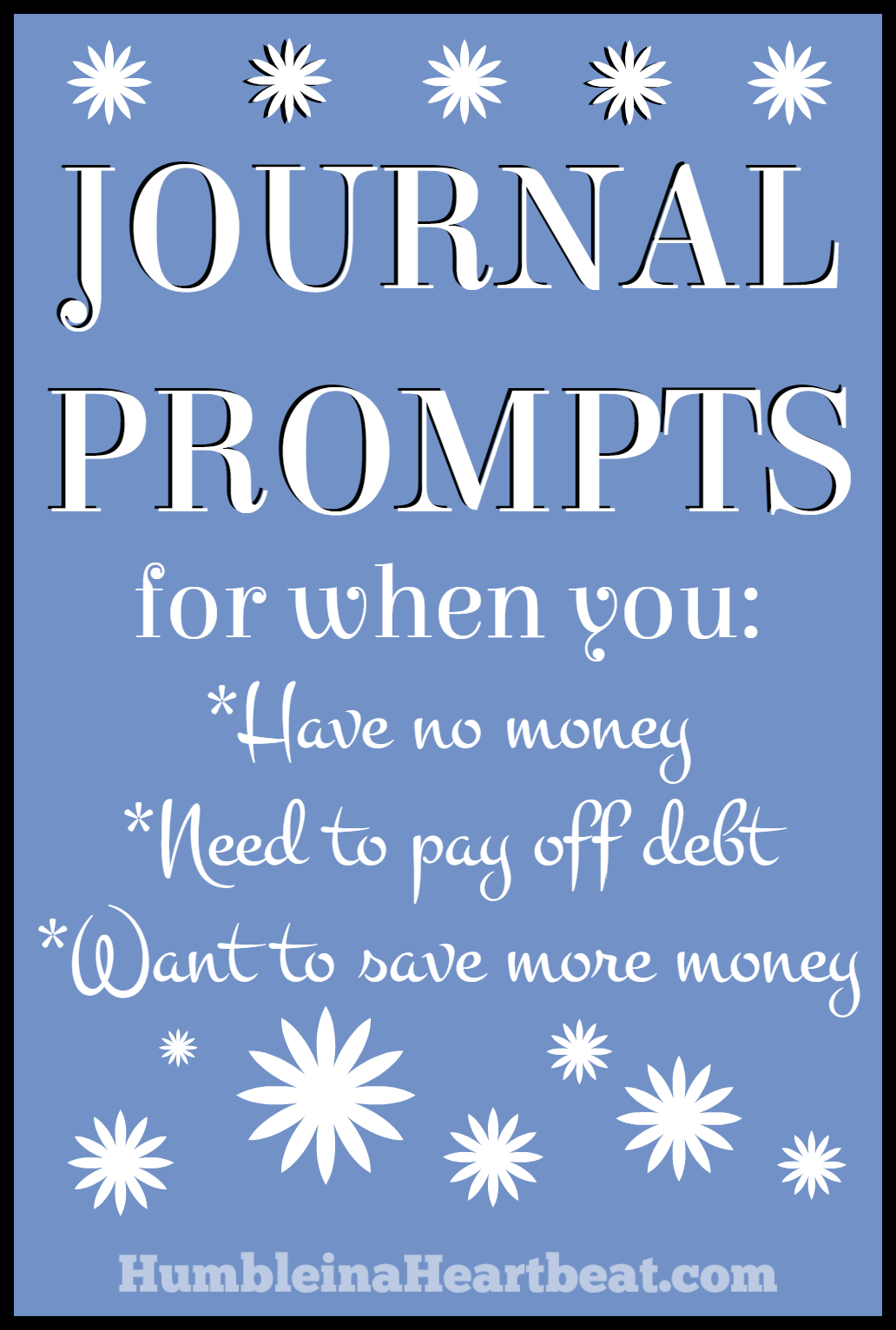 Come here, let me whisper in your ear…Most of us are HAPPY.
That's right. We may not be able to buy the latest fashions, have the newest phones, or even go out to eat even once a month, but we're happy. You know why? Because we're not caught up in those things. We know that having things and buying things will not make us any happier. It's our outlook on life and our relationships that are making us feel joy.
And that's how we survive a spending freeze. We rely less on the things that the world tells us will make us happy, and we rely more on how we feel inside to get us through.
Today, since it's Sunday and we've been doing this spending freeze for a few days, we're going to write. Journal is a better word for it. Just know that every Sunday we'll be doing some kind of journaling to help us see our progress and to remember our feelings several months from now when a spending freeze is the last thing on our minds.
Journal Prompts to Help You Survive a Spending Freeze
One of my most popular posts on this blog is about creative things you can do to survive a spending freeze. So I went through that post and came up with a list of journal prompts to help you get through this month. Whether you are trying to survive a tough financial situation, get out of debt, or save money, these prompts will help you see the bigger picture when it comes to money.
How can spending less money help me be more content?
What am I grateful for and why?
What do I have that other people don't?
What is my stance on debt?
How do I feel when I'm doing things that don't cost anything?
How do I feel when I buy something that I don't necessarily need?
What would be the craziest thing I would do for some money if I needed it bad enough?
What would my life be like without any kind of ads or propaganda?
Why do I look forward to the future?
What are my biggest dreams and goals?
What is one thing I want to learn, especially if I had the time to learn it?
What is the hardest time I've ever been through?
How does going without build my character?
Do I shop because I am bored or because I really want something?
For today's challenge, I want you to spend at least 10 minutes answering one of these questions. It will help you gain some perspective on the purpose of your spending freeze.
During this month, when you really feel like giving up, open up your journal and read the answer to your question(s). It might be helpful to answer all of these questions at some point throughout the month as well.
Once the spending freeze is over, be sure to read through your answers again every so often. When you feel like spending money just because, read your journal. It could save you some serious money!
Go ahead and follow me on Facebook and Instagram so you can see how I am doing with the challenge this month!

Latest posts by Charlee Flaminio
(see all)