In the past, when we've received "extra" money from one of our jobs, I wasn't super strategic about how we used it. This would be my 7th mistake as our family's finance manager. The extra money I speak of came in the form of a bonus or third paycheck (as opposed to the normal two per month – you know, if there were 5 Fridays in a month we'd receive 3 paychecks). I was much better at utilizing our tax refunds properly.
In reality, bonuses, additional paychecks, and tax refunds are not "extra." They should be considered part of your yearly salary and budgeted accordingly. If it's not in your budget, you're more likely to drop that cash on the first cute purse/outfit/shoes you see or blow it on some tech equipment for your home.
It seems pretty boring to budget the money, right? It's the smart thing to do, though, if you aren't seeing any kind of substantial raise in your future.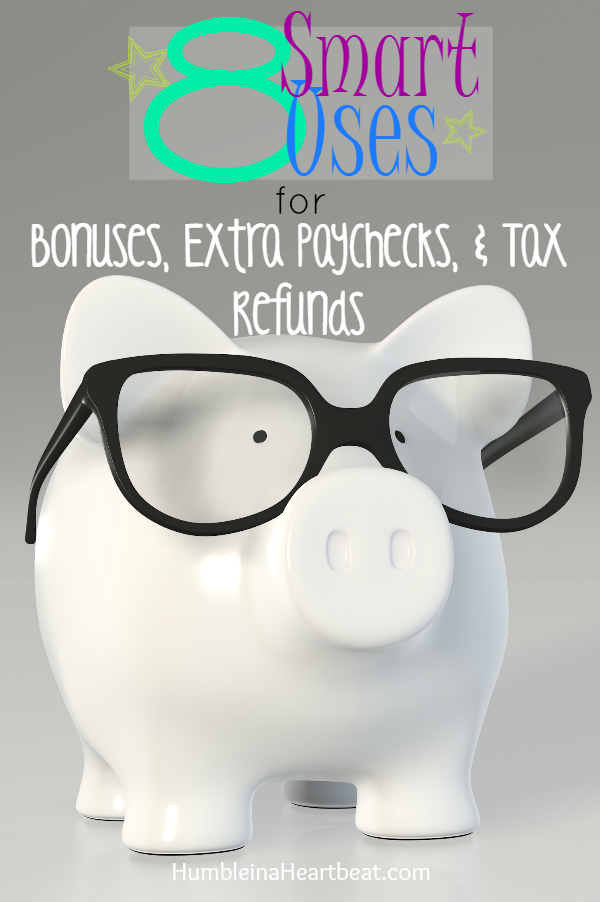 © ullrich / Dollar Photo Club
If you come up with a plan for the money instead of just spending it, you'll be able to do more in the end.
How to Make the Most of Bonus Money
Try one or more of these 8 budget alternatives to impulsively spending your bonus:
Put It Towards Debt
If you've got plenty of debt to write home about, this might be the first place you should consider for your $600 bonus. It's definitely going to put you closer to paying off a high-interest credit card or perhaps your mortgage.
Save It
Nothing says security like a nice, plump savings account. Whether you decide to put more money in your emergency fund or start saving towards a vacation, you will be able to reach your financial goals a bit faster this way.
Shovel More Into Retirement
Maybe retirement is a long ways off, so you don't see the point in putting more money in a retirement account, but it's definitely smart. Interest is a powerful tool to building wealth, so the more money you have in retirement, the more your money can grow.
Give Some of It Away
If we're talking about a Christmas bonus, I'm sure it might cross your mind to share your money, both in the form of cash and gifts. Nothing like Christmas to get you into a giving mood!
Stock Up on Pantry Staples and On-Sale Items You Can Freeze
Building a food stockpile can give you such peace of mind, so you should consider putting some money into your grocery budget for the new year. Instead of actually buying the groceries as soon as you have the money, if you budget it instead, you can have it for a time when you find certain items on sale that you want to stock up on. I also think it's wise to budget for groceries for the entire year.
Get Prepared for an Emergency
If you don't even have a 72 hour kit put together (huge finger pointed at myself right now!), you probably should consider buying supplies that would help you get through an emergency. Maybe it won't cost as much as an extra paycheck or your yearly bonus to become prepared for a natural disaster, but it could be a good chunk of change that you wouldn't otherwise have any other time.
Use a Small Amount for Fun
I'm not against spending some of that money as soon as you get it! If you are getting a $2,000 bonus, for example, there's really no harm in allocating $1,900 in your budget and spending the extra $100 on a special night out or a staycation with your family. It definitely will keep you motivated to earn another bonus for next year!
Apply It to Next Year's or Next Month's Budget
If you want to get ahead for the next year, it might be to your advantage to add the money to your budget for the coming year. In my post about simplifying your budget, I mentioned this idea. I think it would be so great to tangibly have the money that you budget each month so that the money you are earning can be more wisely allocated.
I normally do put a lot of our bonus and additional paycheck money into savings, but I could've been even more strategic in the past if I had considered our goals.
What do you normally do with "extra" money?
I would love it if you joined my growing community by subscribing to the weekly newsletter. You can also follow me on Pinterest. I appreciate you reading!
Want to know more about my job as the family financial manager? Check out these posts:
You Need a Bill Pay System
My Struggles as the Family Finance "Manager"
Mistake #1 – Quit budgeting
Mistake #2 – Mixed up wants and needs
Mistake #3 – Used credit cards for things we couldn't afford
Mistake #4 – Overcomplicated our budget
Mistake #5 – Checked over our accounts less often
Mistake #6 – Saved $0
Mistake #7 – Spent bonuses
Mistake #8 – Bought low-quality appliances

Latest posts by Charlee Flaminio
(see all)