I was not paid to write this post. I received a product to review, and I will only review products that could benefit my readers. The opinions in this post are completely my own based on my experience.
---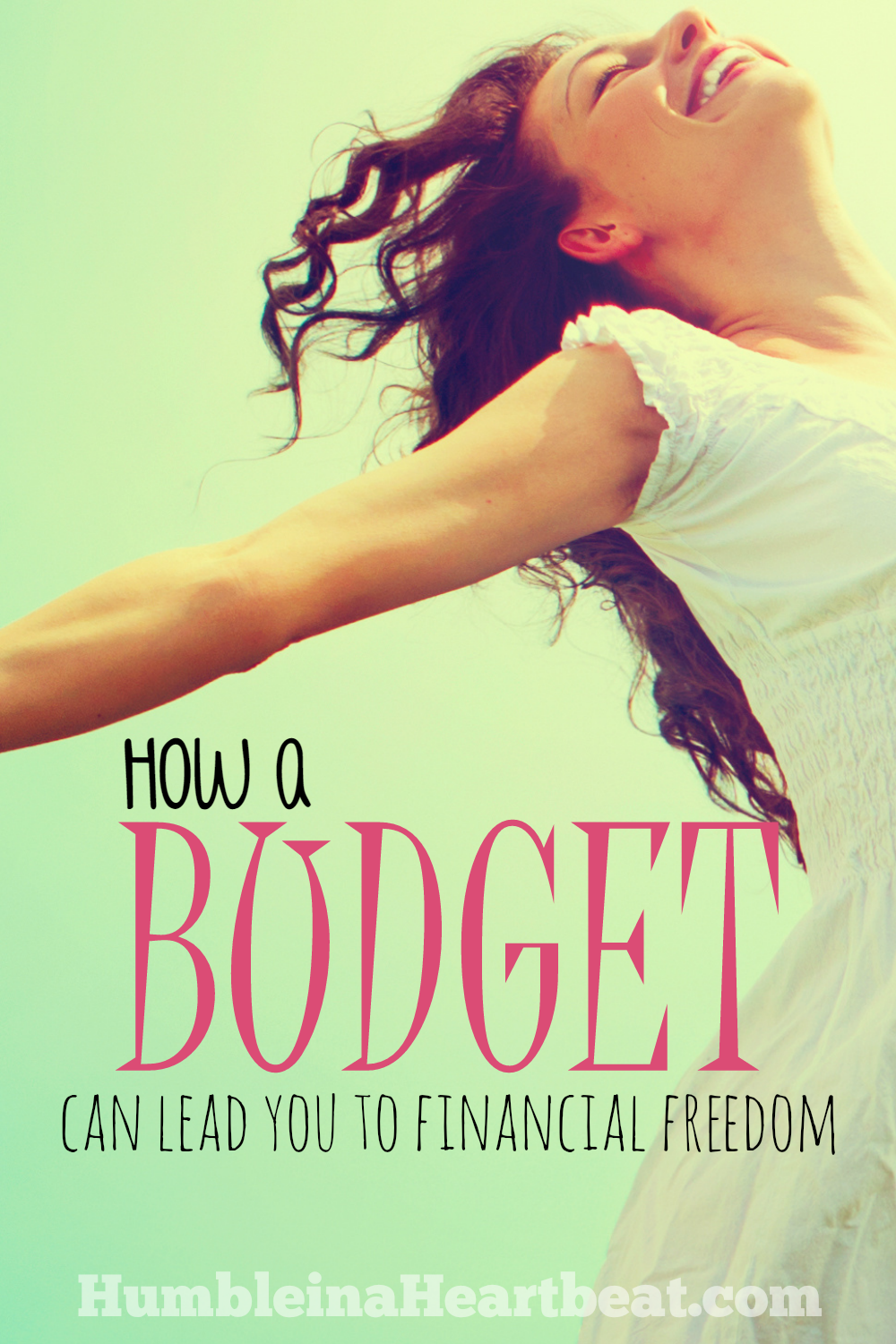 Disclosure: This post contains affiliate links (I've put a * by any link that is an affiliate link). If you click on one of these links and you make a purchase, I will receive a small commission from your purchase. Thank you for supporting Humble in a Heartbeat!
I've mentioned before that I used to thoroughly enjoy budgeting like a monkey thoroughly enjoys bananas or a pilot thoroughly enjoys flying planes. You get the picture. But this hectic year has put that flame right out. I was once on fire, and then I started tip-toeing on hot coals.
Things have changed a lot since I wrote about my struggles as the family finance manager back in August.
For one thing, I've resolved to do so much better and make the necessary changes to get back on track with our budget.
For another thing, I had the opportunity to receive a copy of Jessi Fearon's (The Budget Mama) workbook, Build a Budget that Works*
, and review it.
This workbook motivated me to actually keep track of when bills are due with the Bill Payment Checklist included, along with a number of other extremely helpful (and cute!) worksheets at the back of the ebook. I especially loved that she covered budgeting for yearly expenses. These are the expenses that can kill a really great budget instantly. Examples are car insurance (usually paid every 6 months) and medical expenses (sporadic).
I believe that everybody – yes, everybody – needs a budget. I don't care if you earn $150K per year and have plenty of disposable income every month. I don't care if you earn $8 per hour and have trouble paying your bills. A budget can keep anybody with an income and/or expenses in line. It is important to boss your money around and give it a job. That's why I like to call myself the family finance "manager." I am in charge of bossing our family's money around and making it do what we want it to do.
So why does one need a budget? Show your money who's boss or:
You Will Build Up a Nice Pile of Debt
I've mentioned in a previous post that one thing can lead to another until you are so deep in debt you can barely breath. A budget will prevent debt from happening, because you only spend as much as you make, and never more.
If you are currently in debt, don't get down on yourself. You can dig yourself out. You might feel trapped while you are paying off debt, but there is a light at the end of the tunnel. And that is financial freedom.
Your Dollars Will Fly Away
Every single dollar you earn needs to be given a job. It should never sit in limbo, or you are more likely to just spend it frivolously. When you spend all the money before making sure you have enough to cover current expenses, you start living paycheck to paycheck. There is real power behind a budget that bosses money around. If your money isn't doing its job, you didn't manage it well enough.
If you are struggling to find wiggle room in your budget, get a side job or spend less on groceries or clothes. I've got plenty of ideas for making money and saving money for you on my Pinterest board, Money Madness.
Your Dreams Won't Be Realized
By giving each dollar a job, you make it possible to actually have leftover money each month so you can save it for later. There are several things you should save for, including: emergencies, travel, cars, and retirement. Imagine the relief you will have when you have an emergency medical issue that you can pay for with money you have saved.
In the end, if you can get out of debt, take care of current expenses, and save for a rainy day, you will be able to achieve financial freedom and financial success.
In other words, budgeting puts you closer to your financial goals so you can live your dreams.
Without a budget, it would be impossible to know the state of your financial affairs whether in the past (debt), present (current income and expenses), or future (savings and investments).
The Giveaway (over)
You could buy Jessi's workbook for $2.99, but I have a better idea. Enter the giveaway below and you could get Build a Budget that Works*
for free! This is your chance to step up your own game as the family finance manager. You can do better, and I know you will with this awesome workbook! Or maybe you don't even have a budget, but you want one and you don't know where to start. Well, this is the workbook for you.
Oh, and just for good measure, I'm throwing in a $25 Shutterfly gift card, which would be great for making your own special Christmas gifts. I want a gift card myself! You know how much I love photo editing! Making photo gifts is something else that I just love to do for Christmas.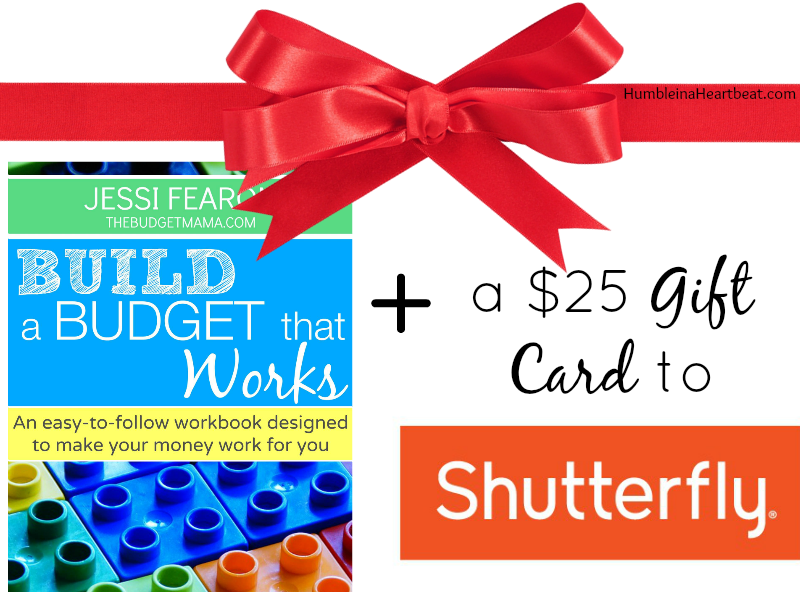 By the way, the workbook is being provided by Jessi Fearon and I will be providing the gift card.
Terms and conditions: Giveaway ends November 24th at 11:59 PM EST. Open to Residents of the US only. Prizes will be delivered electronically, through email. Winner will be selected by Random.org and be notified by email. Winner has 48 hours to respond before a new winner is selected. Please note that Humble in a Heartbeat is not responsible for sponsors that do not fulfill their prizes. I have represented each sponsor with the expectation they will fulfill their prize and in a timely manner. I will contact the sponsor regarding your prize(s). The sponsors, in most cases, are shipping their items to you directly. I will make every effort to assist you obtaining your prize. If there is an issue with a sponsor, please notify the blog you won a prize from within 30 days for assistance, after that we may be unable to assist you. The product offered for the giveaway is free of charge, no purchase necessary. My opinions are my own and were not influenced by any form of compensation. Facebook and Twitter are in no way associated with this giveaway. By providing your information in this form, you are providing your information to me and me alone. I do not share or sell information and will use any information only for the purpose of contacting the winner.

Latest posts by Charlee Flaminio
(see all)