Welcome back to the eleventh update of the 12-Month Produce Challenge!
There's only one month to go in the challenge, but you can still hop right on in! All the "rules" can be found in THIS post. Just return here when you understand what you need to do and find out the final vegetable of the month.
I wanted to do this challenge with my family in the first place because I felt like we were stuck in a rut eating the same vegetables over and over again. After completing 11 months of the challenge now, I feel like I'm doing a much better job at giving my family the variety that we all need for our bodies for optimal health.
I also wanted to do this challenge so we could learn to eat in season as well as discover new ways to enjoy foods that we aren't too keen on eating.

November's Veggie: Leeks
My family and I tried leeks in 6 different meals in November. Most of the meals were soup, but we also tried it roasted and in stir-fry.
Why Leeks?
I chose leeks because I've only used them a few times in the past. I don't think my kids know much about them, either.
My Inhibitions About Leeks
Leeks look so intimidating! I hate that they are so big, but you only use a very small portion of it (although, under "Preparing Leeks" below I'll share with you one way that you can use the dark green tops so they aren't a complete waste).

How I Used Leeks in Our Meals & My Family's Honest Opinions
In November, my family and I tried leeks 6 different ways. We roasted them and threw them in soup and stir-fry. Read on to find out the details of each meal and how we felt about leeks overall.
Simple Slow Roasted Leeks
Simple Slow Roasted Leeks looked easy enough to make, but the day I wanted to make them we decided to go visit my mother-in-law. I took the leeks and a sheet pan and planned to roast them at her house. My husband also needed the oven for the chicken, so we had to share it. I think because the leeks were cooking in a crowded oven, it was impossible for them to really roast the right way. Unfortunately, they were a little too tough for my taste.
I didn't give these to my kids because they were too tough. My mother-in-law tried them, and I think my husband did, too. Overall, we weren't huge fans, but I'd still like to try them again, but only if they will be the only food in the oven.
Creamy Vegetable Soup with Leek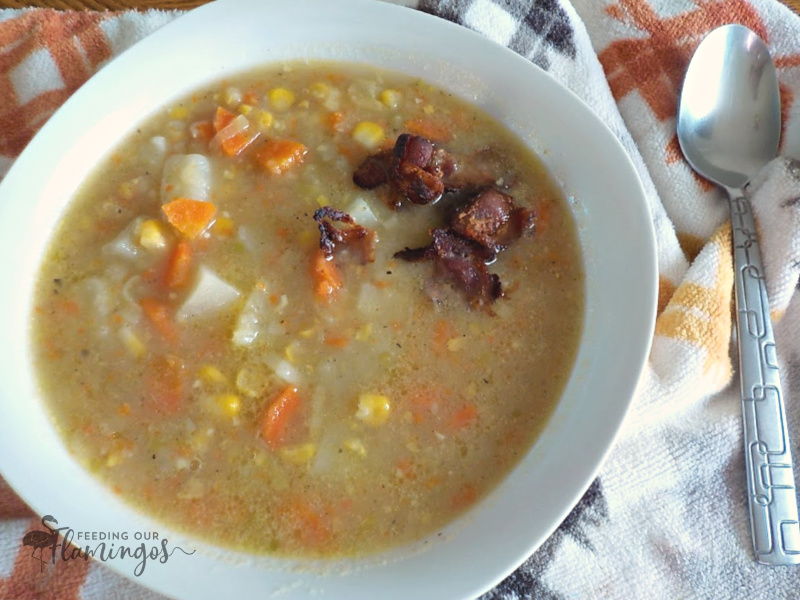 I always love trying new soup recipes, and this Creamy Vegetable Soup with Leek did not disappoint! The bacon was a welcome addition, and it was just an easy meal to throw together.
My kids were huge fans of the bacon (I mean, who isn't?!). They were more open to trying the soup because they saw it floating on top. My husband and I both thought the flavors were great.
Kid-friendly Minestrone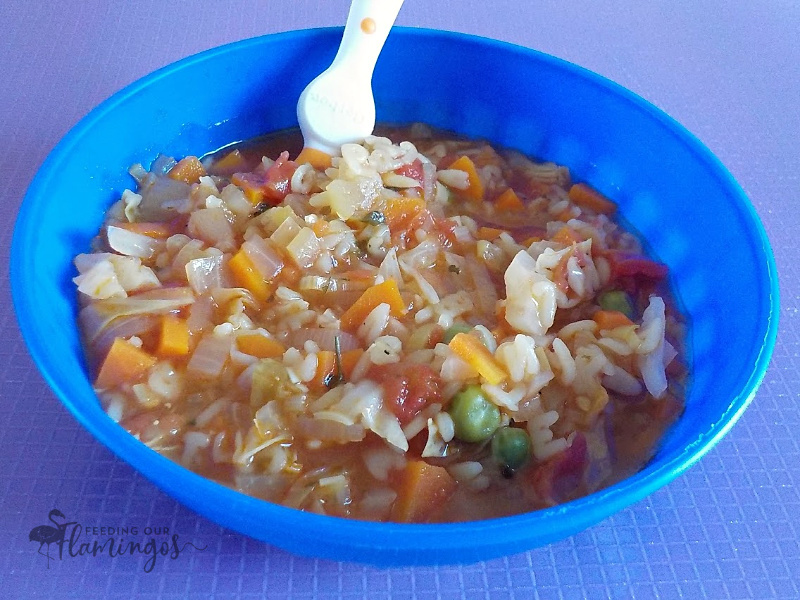 I was so excited to make this Kid-Friendly Minestrone Soup. Why? Because I got to use alphabet pasta! I ran across the pasta one time while grocery shopping. I had searched for it before where the pasta is, but couldn't find it. Then, when I was looking in the Hispanic aisle at spices, I noticed the bags of alphabet pasta. So I bought one bag (just $0.38!) and was so happy when I saw this recipe so I could use the pasta. Just so you know, this soup is definitely adult-friendly, too!
My kids had mixed feelings about the soup. I think they liked that there were letters of the alphabet in it, but I don't think they cared for the actual soup. I, on the other hand, loved it.
Tuscan Sausage and White Bean Soup
I made this Tuscan Sausage and White Bean Soup when my kids were away at my parent's house. It was a really quick meal, and, bonus, there is both sausage and beans, as well as plenty of veggies and some pasta.
When we went to pick up our kids, we took the rest of this soup to eat there. Basically the adults liked it a lot, and the kids didn't. But, truthfully, they didn't even give it a good enough try. I'm sure that my mom gave them plenty of snacks throughout the day and they just weren't hungry. The same thing happens every time they return from a day or a sleepover at Gramee's.
No Cream Creamy Basil Spinach Soup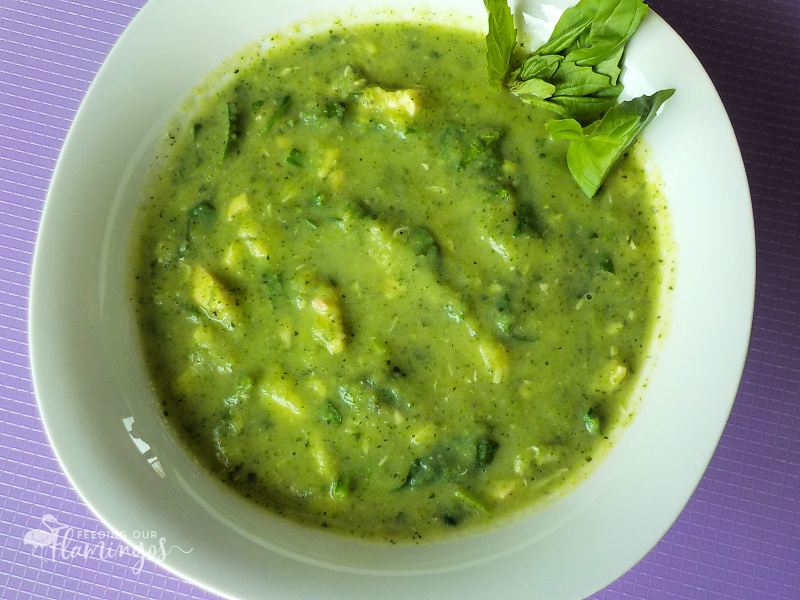 I am always on the lookout for dairy-free meals, so I was happy to discover this No-Cream Creamy Basil Spinach Soup. It would've been a lot easier to make and clean-up if I had an immersion blender (Santa? Are you taking notes?).
At first, all my kids were very skeptical of this soup. It's bright green, for heaven's sake! But after a couple minutes, they all tried some and then ended up eating it all and even liking it. I swear, you've just gotta give it time and they will come around.
Vegan Noodle Bowls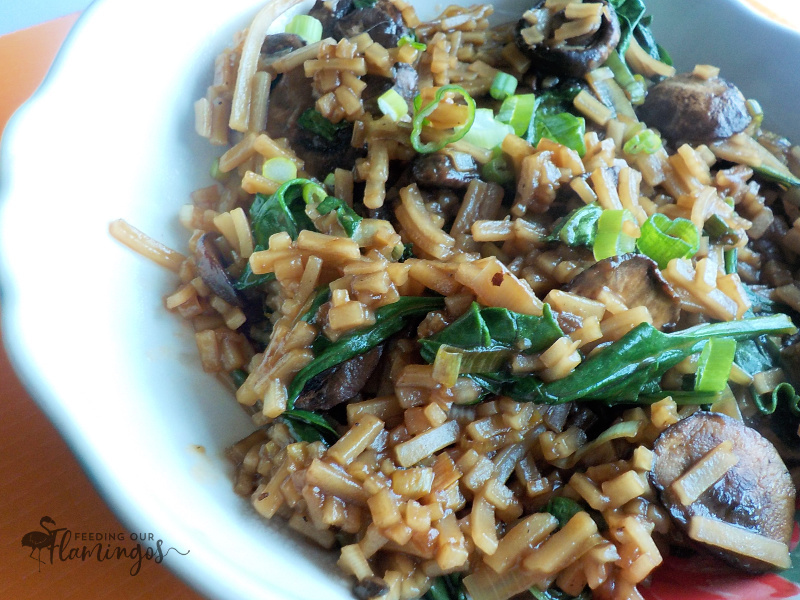 After all the soups we made with leeks, it was time for something a little different, and we found that in these Vegan Noodle Bowls. Basically, it was just like a stir-fry. The veggies included were leeks, mushrooms, green onions, and spinach. I felt like there was too much salt in ours, so when I make it again, I'm going to use low-sodium soy sauce and only add salt if I think it needs it.
Only one of my kids seemed to like the noodle bowls. My husband loved it with sriracha sauce, but he did wish there was some meat. You can always add any protein to these if your family would prefer that.
How Much Do Leeks Cost?
Leeks are more expensive than some of the other vegetables we've tried this year. They come in bunches of 3, and can be priced by the pound or per bunch. Leeks ranged in price from $2.78 for a bunch of 3 up to $3.99/lb, which ended up being around $3.60 for a bunch of 3.
I spent a total of $13.67 on 4 bunches of leeks in November or about $2.28 per meal (there were 6 meals).
I was kind of surprised that it was a bit difficult to track down leeks. The store where I normally shop only had them once when I went to buy them, so I had to make a special trip to a different grocery store just to get leeks.

Selecting and Storing Leeks
Because you cannot use the dark green tops of leeks to cook, it's best to look for leeks that are more white and light green. If you can find smaller leeks, those are going to taste better.
When you bring your leeks home, you can store them in your fridge wrapped in plastic wrap. They will last up to two weeks, but may only make it 5 days if you buy leeks that are not as fresh. You can freeze chopped leeks, but only if you plan to use them in something like soup. You cannot use them raw once frozen.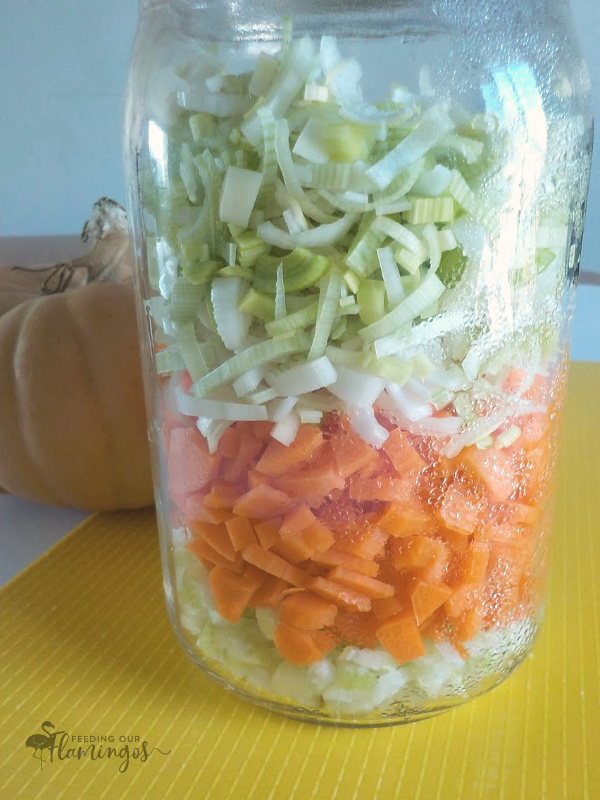 You can chop your leeks a day or two ahead and keep in a mason jar to use in your cooking.
Preparing Leeks
It's important to learn how to prepare leeks, because there are a few things you have to do to make sure they are edible. First, cut off the dark green tops. You can wash them and then use them in homemade stock, but they are not something you want to try and eat. Second, you need to wash in between the layers well because there is usually dirt trapped there.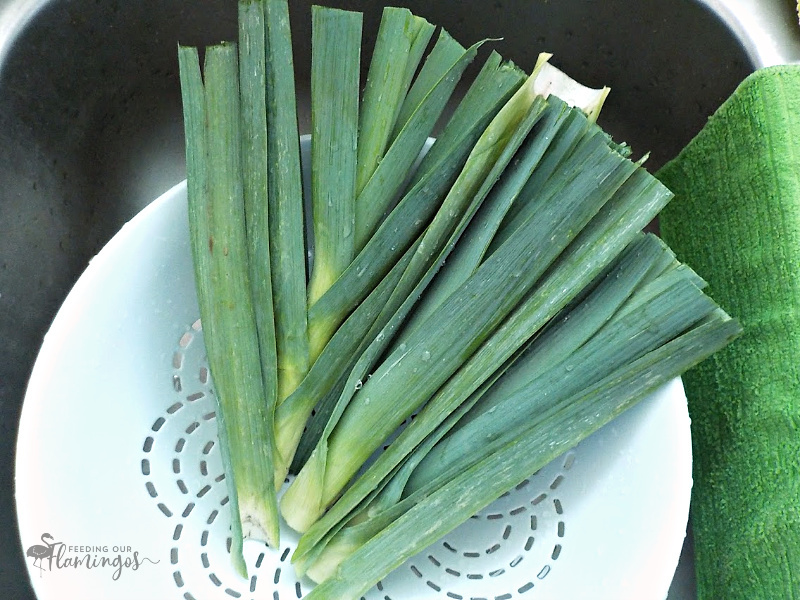 Once you've done those two things, you can trim off the root end, cut in half lengthwise, and slice or chop. Most recipes call for sliced leeks.
Nutritional Benefits of Leeks
There are many different reasons to eat leeks, besides the fact that they taste pretty good. For one, they fight against cancer, particularly in the GI tract. They are also amazing at protecting against heart disease. Leeks are some truly powerful vegetables! For more nutritional benefits, visit this article about leeks on Dr. Axe.
December's Veggie: Kale
Just one more month to go in this monthly produce challenge! Can you believe it?!
In December, I will make several meals with kale for my family. It's definitely not my favorite vegetable, but I do know that it can taste good if used correctly. So I'm open to trying some new kale recipes!
Please share a favorite leek recipe in the comments below!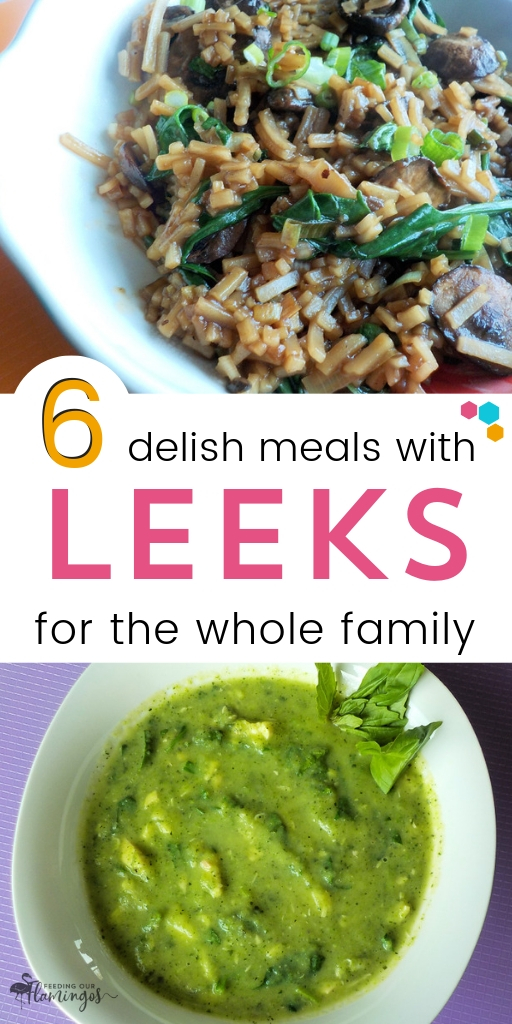 Join the 12 Month Produce Challenge!
It's free and you'll get reminders to keep you on track. If you've been trying to give your family healthier food, this is the challenge you need! By signing up, you also agree to receive other emails from me.

Latest posts by Charlee Flaminio
(see all)