Welcome back to the tenth update of the 12-Month Produce Challenge!
First time you've heard of this challenge? All the "rules" can be found in THIS post. Just return here when you understand what you need to do and find out the vegetable of the month for November.
I wanted to do this challenge with my family in the first place because I felt like we were stuck in a rut with eating the same vegetables over and over again. After completing 10 months of the challenge now, I feel like I'm doing a much better job at giving my family the variety that we all need for our bodies for optimal health.
I also wanted to do this challenge so we could learn to eat in season as well as discover new ways to enjoy foods that we aren't too keen on eating.
October's Veggie: Butternut Squash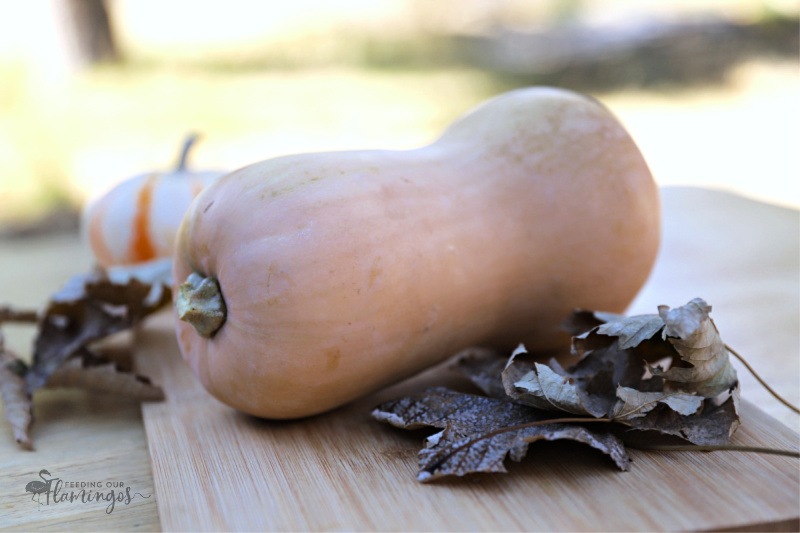 Most people turn to pumpkin for all their fall recipes, but butternut squash is another great winter squash to add to your diet if you haven't already done so. In October, my family ate butternut squash in 12 different meals, including soup, pasta, rice bowls, bread, brownies, and even mac and cheese.
Why Butternut Squash?
In past years, I've made butternut squash soup, but I never found a recipe that was as tasty as I would have liked. I think my family and I could stand to make butternut squash a bigger part of our diets, too, so I wanted to try many different meals that we can add to our family favorites list.
My Inhibitions About Butternut Squash
I have never liked any butternut squash soup I've made, but I knew before this challenge that there had to be a way to eat butternut squash and actually enjoy it.
I really don't enjoy peeling the skin off the butternut squash and chopping it. It's slippery, a little dangerous, and my hands feel so strange afterward. Does that happen to your hands, too, when you touch the raw flesh of the butternut squash?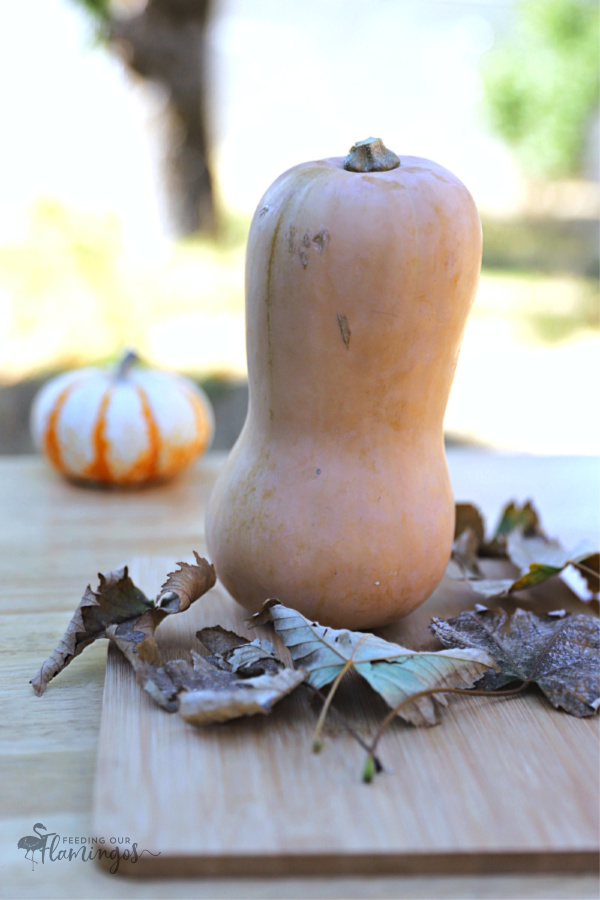 How I Used Butternut Squash in Our Meals & My Family's Honest Opinions
In October, my family and I tried butternut squash 12 different ways. We threw it in pasta, soup, buddha bowls, brownies, bread, and even dessert. Read on to find out the details of each meal and how we felt about butternut squash overall.
Pesto Pasta with Roasted Butternut Squash and Kale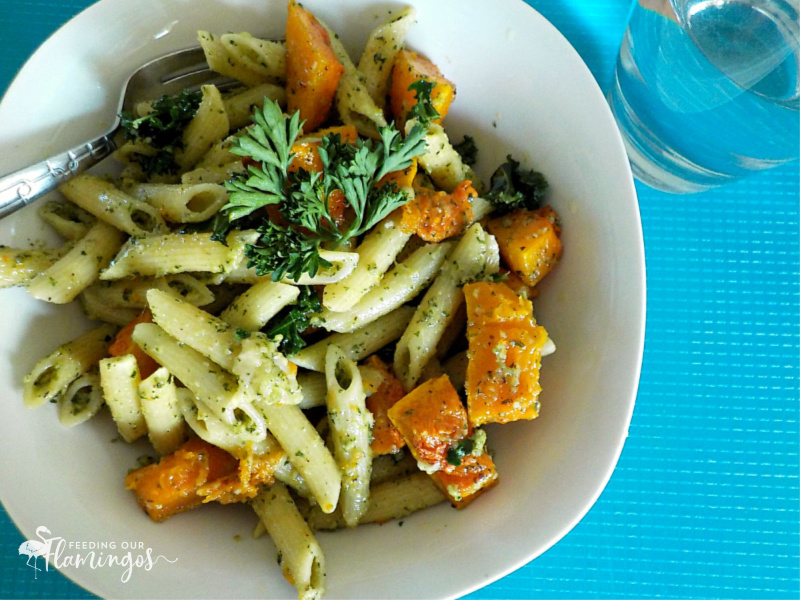 The biggest reason I decided to make Pesto Pasta with Roasted Butternut Squash and Kale very first was because I already had kale and pesto in my fridge and freezer. I served this dish with some leftover rotisserie chicken. Because I already had several ingredients ready to go, it was a cinch to throw together.
Everyone in the family gobbled this one up. I did have one child who set aside the butternut squash at first, but when I told them that it was really sweet and yummy, they tried it and ate it all. Even my husband, who isn't a fan of most sweet veggies, said this was a great meal.
Roasted Chicken, Butternut Squash, and Guacamole Rice Bowls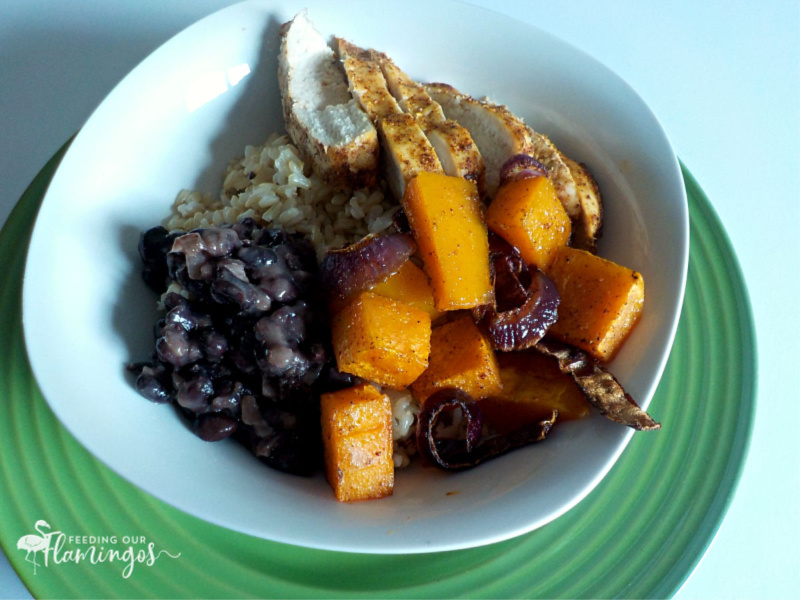 I love making buddha bowls for dinner because they are so simple, yet so delicious. This particular buddha bowl was full of roasted chicken, butternut squash, onions, beans, guacamole, and rice. I got all the ingredients ready ahead of time except for the guacamole (which is why it's not pictured) so I could get a good picture with natural light.
My kids were not entirely sold on this dish, but a few of them did try the butternut squash. It was the onions they really tried avoiding. My husband tolerated the butternut squash (which is better than what he does when I serve sweet potatoes) and enjoyed the rest of the food. I really liked it and plan to make it again.
Instant Pot Butternut Cauliflower Soup
Remember how I said that I had tried many butternut squash soups and didn't really like any of them? Well, this Instant Pot Butternut Cauliflower Soup was so much better than any butternut squash soup I've made. I think the cauliflower really elevated the flavors. This is a great soup for vegans, those who eat a gluten free diet, and especially moms who have little time. You can make it in the Instant Pot or the slow cooker, so it's perfect for all needs.
I was a little surprised that all of my kids and my husband really were digging this soup. We ate it with crackers, which they all love, but it was the soup that they also really enjoyed. I can't wait to make this again!
Harvest Pasta Sauce
This Harvest Pasta Sauce is a copycat for Trader Joe's Harvest Pasta Sauce, but I've never tried that, so I couldn't tell you how it compares. It is not a quick weeknight meal, so don't plan it for an evening when you'll be busy. I made it on a day when I knew I had extra time to be in the kitchen. I made mine in the Instant Pot, so you'd think it would be quick to make, but if you are starting with a whole butternut squash, you have to account for the time it will take for you to peel and dice it. And, boy, could I really use an immersion blender!
I think everyone liked it, but they didn't love it. This is likely because I make a pretty yummy pasta sauce that we eat at least twice a month, and this Harvest Pasta Sauce sort of paled in comparison. Besides that, my husband doesn't like fall flavors or smells so it didn't really speak to him.
Butternut Squash Brownies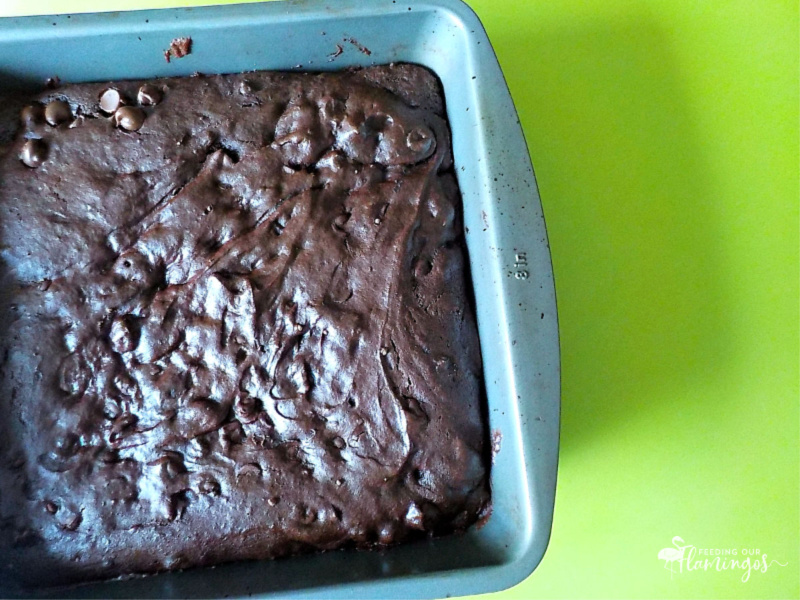 I made these Butternut Squash Brownies with my 4 year old, and boy was she excited to try them! They were so good that I had to put some away in the freezer so I could enjoy them again at a later date. Oh, that reminds me…(sneaks off to the freezer to get a brownie).
Luckily, my husband doesn't like chocolate desserts, so we didn't even have to share the brownies with him. My kids, of course, were huge fans!
Roasted Chickpeas and Butternut Squash Buddha Bowl
I had some leftover cubed butternut squash in my fridge that I needed to use, so I made a buddha bowl out of it. I got inspiration from Alyssia at Mind Over Munch. Her hummus dressing is to die for! It was such a good buddha bowl.
My kids were a little picky about this one, but I was surprised they were trying the hummus dressing (since 2 of them don't like hummus). My husband actually said this was a good meal, which is a huge deal since it's VEGETARIAN!
Simple Roasted Butternut Squash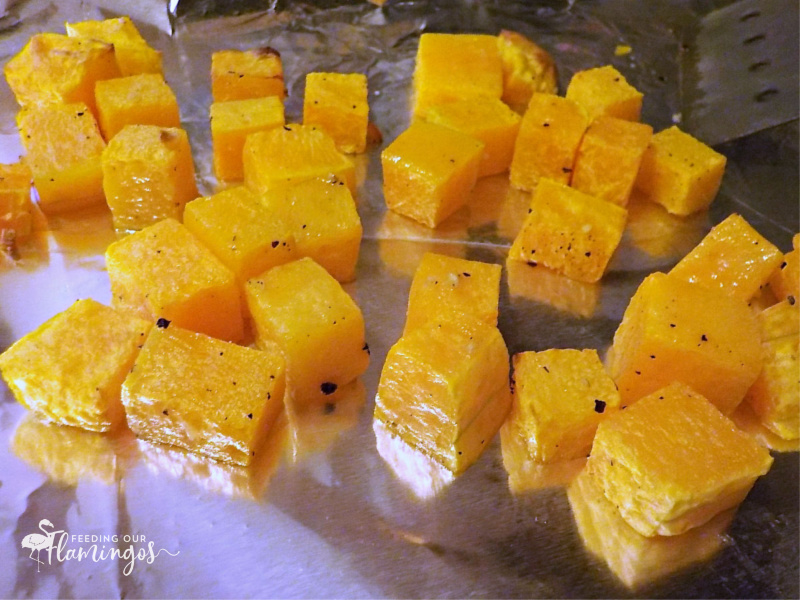 Around here, most of our meals are extremely simple so that I can spend more time with my kids. This Simple Roasted Butternut Squash was perfect for a night when I didn't feel like cooking and I just wanted to relax and play with my family. I served the squash with some leftover rice and really easy hard-boiled eggs. That's about as simple as it gets!
Everyone ate their portion of the butternut squash, but I'm guessing my husband didn't really care for it. I liked it, but not as much as some other roasted veggies we have eaten.
Butternut Squash "Pumpkin" Bread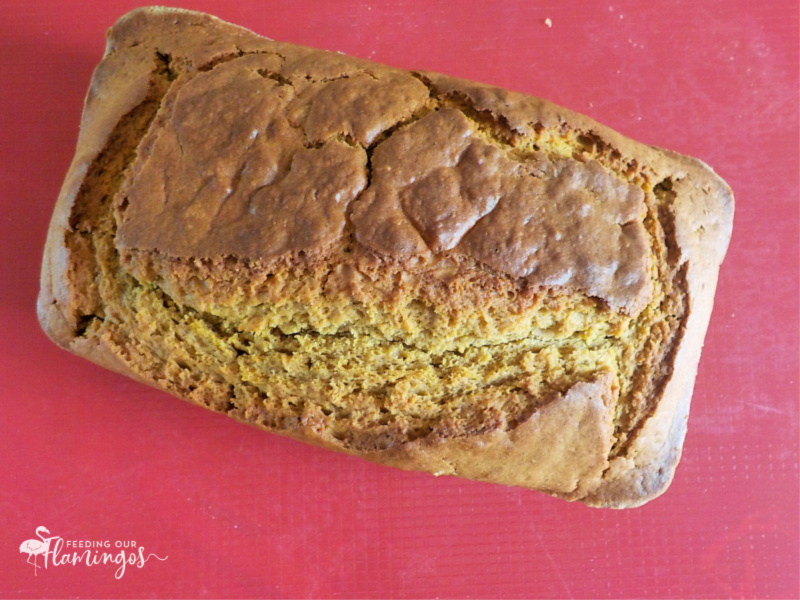 Butternut Squash "Pumpkin" Bread is just like pumpkin bread, but uses butternut squash instead. This was another snack/dessert my 4 year old helped me make, and she was so anxious to eat it.
Everyone but my husband, of course, loved this bread. We ate it for breakfast, snack, and as a dessert!
Whipped Butternut Squash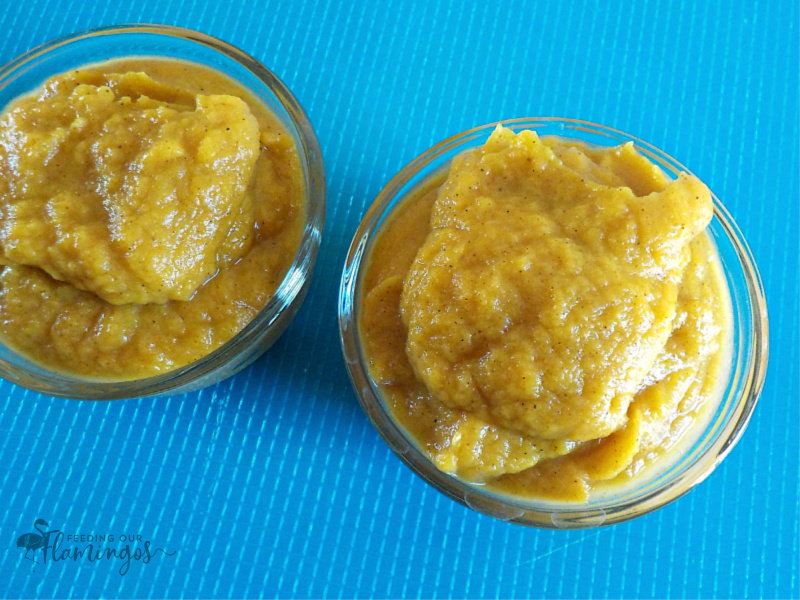 Of all the recipes I tried this month, this Whipped Butternut Squash was probably the simplest of all. There were just a couple ingredients and it was so easy to make because I had already cubed the butternut squash while making another meal. I cooked it in the Instant Pot for 4 minutes on high pressure and manually released the pressure after 5 minutes.
Unfortunately, none of my kids really liked it. I didn't like it just because I don't care for eating pureed things (don't even try to serve me applesauce!). If you know your kid likes applesauce or even mashed potatoes, and they are eating mostly real foods without lots of added sugar, they will probably flip over this. It would be perfect for a baby! You could even serve this as a Thanksgiving side dish if you know there will be lots of babies and toddlers attending.
Chicken Enchilada Soup
Ever since going (mostly) dairy-free, I haven't made enchiladas at all. I think enchiladas are one of my husband's favorite dishes, so he was really into this Chicken Enchilada Soup. It has all the flavors of enchiladas without all the heavy cheese and tortillas going on. The recipe as is made a ton (like 5 ½ quarts) so if you make this and don't think you'll be able to eat it all, plan to freeze some of it. In that case, leave out the sour cream until you serve it since it isn't really freezer friendly.
The only thing I didn't like about this soup was that you have to blend it. Since there was so much of it I spent quite a bit of time blending it all up. If only I had an immersion blender…
My whole family really liked this soup, so it's become another family favorite!
Butternut Squash Phyllo Bites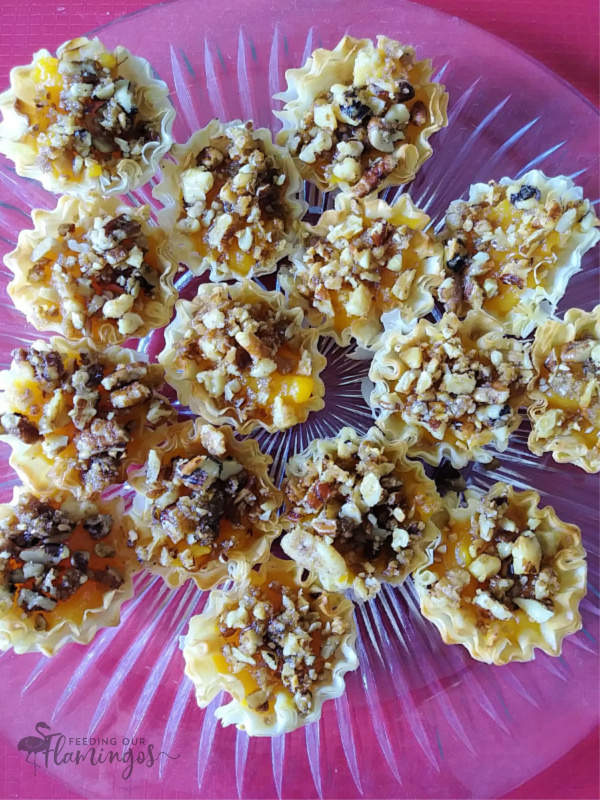 Do you like quaint little desserts that taste incredible and are pretty good for you, too? If so, you'll love these Butternut Squash Phyllo Bites. This was the first time I've ever bought phyllo (it's in the freezer section), and it won't be the last. These little bites were so easy to make. I never make desserts, but I think I might make these for Thanksgiving because they are a perfect appetizer or dessert. I think I spent a total of 15 minutes putting these together once my butternut squash was cooked.
My kids all loved the Butternut Squash Phyllo Bites. Even my daughter, who kept complaining about the butternut squash, scarfed them down. I made 15 of them and within 10 minutes they were all gone. My husband didn't touch even one of them. Haha.
Butternut Squash Mac and Cheese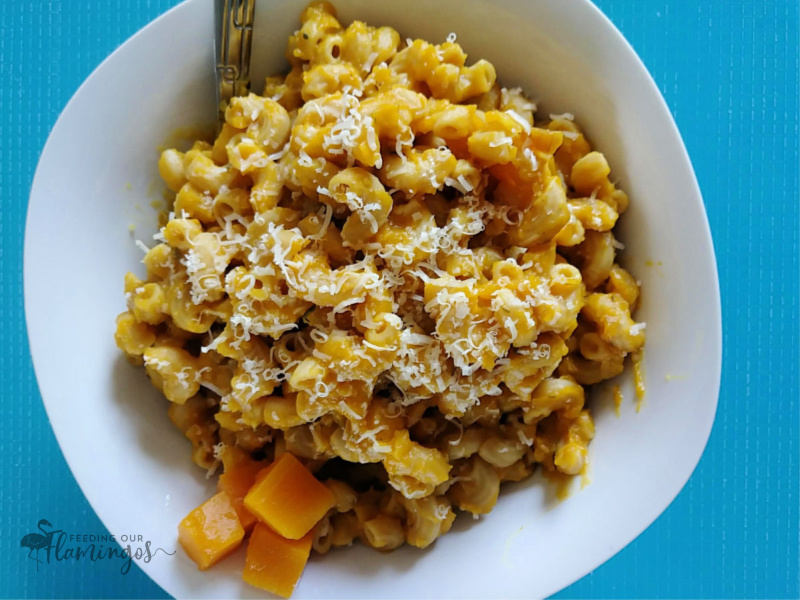 I didn't have very high expectations for this Butternut Squash Mac and Cheese. The only cheese required is parmesan, and I figured it wouldn't taste much like a regular mac and cheese recipe because of that. But then I tried it and realized that it really did have a similar flavor profile as mac and cheese. This was so easy to make because I had previously cooked the butternut squash and diced the onion and garlic. This is a great meal to make ahead. You can easily prepare the noodles and the sauce separately, store in separate containers, then reheat them together for a very quick weeknight meal.
My 4 year old helped me make this and she loved it. My 2 year old was in pasta heaven. And I even really enjoyed the flavor and texture of this mac and cheese. It's going down as a family favorite for sure! (Shhh, don't tell my husband!)
How Much Does Butternut Squash Cost?
Butternut squash is sold by the pound. It's at a really great price in the fall because that's when it is harvested and most abundant. I bought 4 butternut squash from the store in October and they ranged in price from $0.48-$0.58 per pound. I spent $8.51 on butternut squash or about $0.61 per meal (there were 12 meals).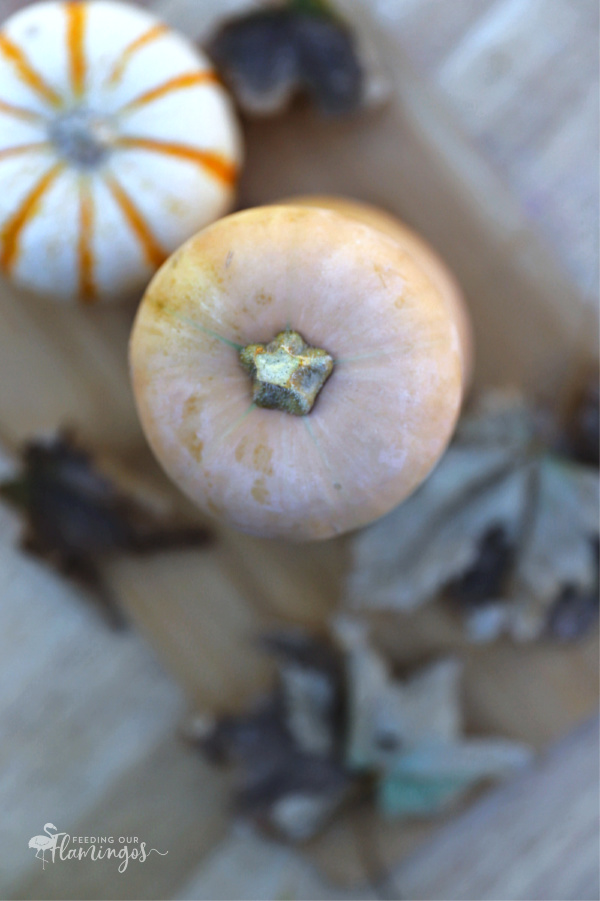 Selecting and Storing Butternut Squash
When you're choosing a butternut squash to take home, pick one that is heavy for its size, still has its stem, and doesn't have any cuts, cracks, or soft spots.
After you buy your butternut squash and bring it home, you can store it on your counter until you need it. If you think it will be several weeks or months before you'll need it, try to keep it in a cooler (50-55F) and darker place in your home (just don't put it directly on concrete). You can keep it stored like that for 2 or 3 months, so stock up when the price is right!
You can store cut butternut squash in your fridge for 2-5 days, or in your freezer (raw cubes or cooked puree) for at least 3 months.
Preparing Butternut Squash
You can buy butternut squash whole or pre-cut. Of course, there are advantages and disadvantages to both. If you have more time than money, get the whole squash and cut it up yourself. If you have more money than time, get the pre-cut squash so you can save that time. Apparently you can buy it frozen as well, but I've never seen it where I shop.
Some recipes call for butternut squash puree. I used my instant pot to make my puree, but you can also roast the squash after cutting in half or you can cut into cubes and boil in some water in a pot. This is the method I followed.

Nutritional Benefits of Butternut Squash
Butternut squash is a wonderful source of antioxidants and can even help boost your immune system so you can stay healthier and avoid the common cold. And, for all you mamas out there, it mitigates the awful symptoms associated with PMS. Hooray! You can find several more benefits of this winter squash over on Dr. Axe.
November's Veggie: Leeks
Aw, man, guys! There's just 2 more months of this challenge left. Let's finish strong, k?
Now that it's November, we're moving onto a new veggie of the month which will be leeks. This is one veggie that I've enjoyed in the past, but rarely use, so I'm excited to find different ways to incorporate it into our diets!
Go ahead and share your favorite butternut squash recipe in the comments below!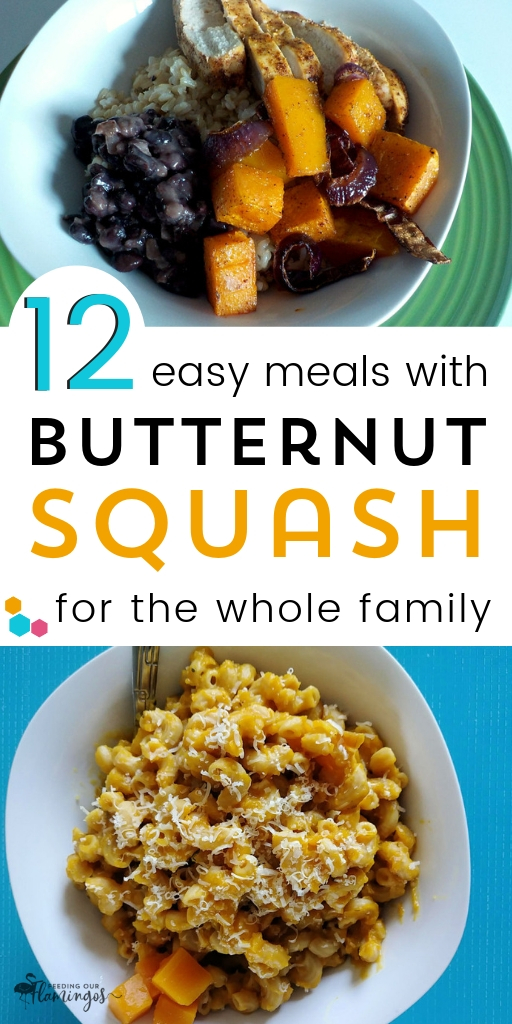 Join the 12 Month Produce Challenge!
It's free and you'll get reminders to keep you on track. If you've been trying to give your family healthier food, this is the challenge you need! By signing up, you also agree to receive other emails from me.

Latest posts by Charlee Flaminio
(see all)