My toddler girls make incredible messes at the dinner table. They get food on their hands, face, hair, clothes, chair, and on the floor. It's something I truly look forward to at the start of every meal…not.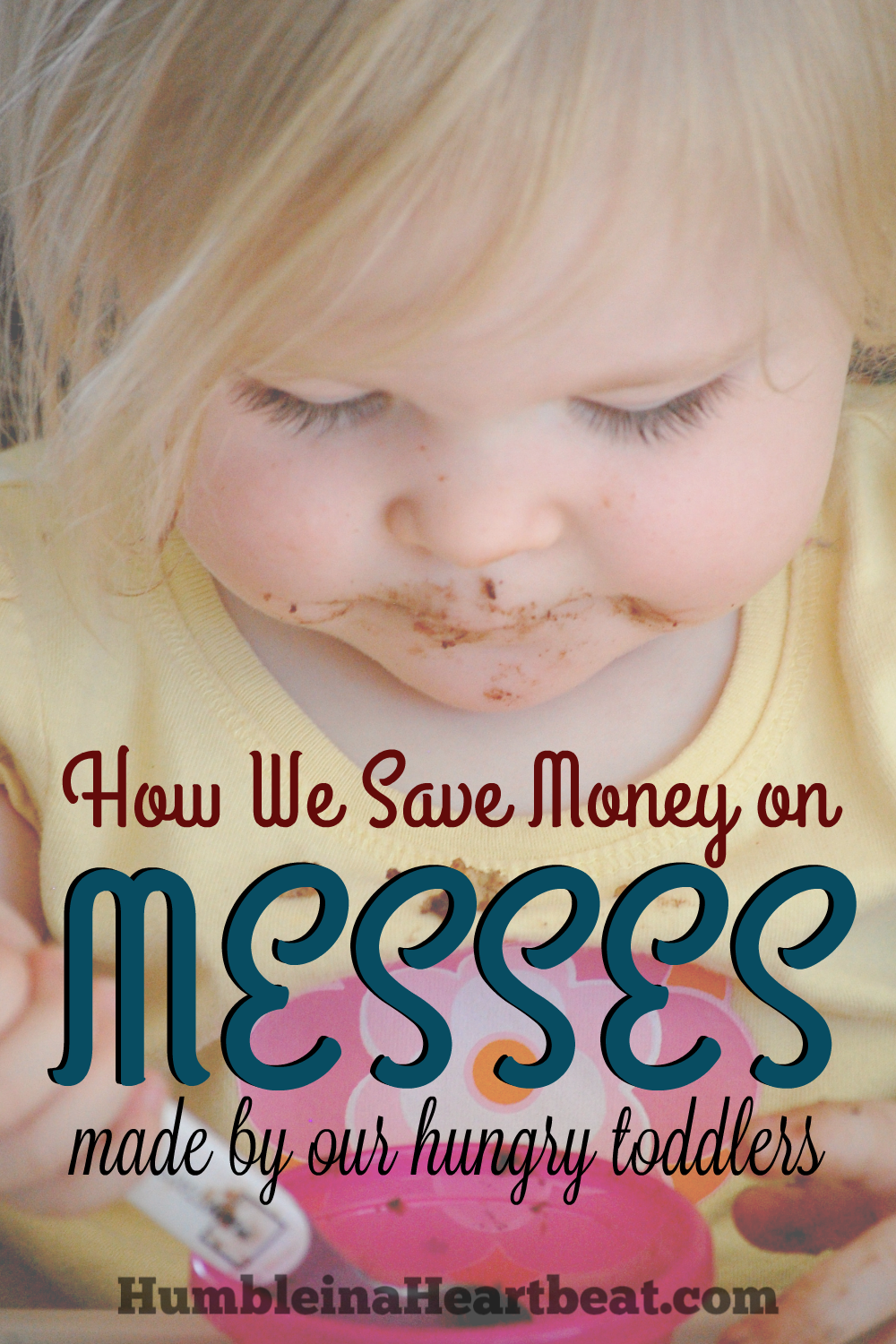 Disclosure: This post contains affiliate links (I've put a * by any link that is an affiliate link). If you click on one of these links and you make a purchase, I will receive a small commission from your purchase. Thank you for supporting Humble in a Heartbeat!
At the beginning of this year I was using between 5 and 10 paper towels on these girls at every single meal, so four times a day. We were basically going through paper towels every couple days and that meant we were spending about $10 a month, just on cleaning them up. That's kind of a waste of money, if you ask me.
Of course I could have made helped them wash their hands and face at the bathroom sink after each meal, but that would have wasted more water, soap, and taken plenty of time to get done each time.
I also could have given them baths, but, again, soap, water, and time.
Another thing I could have done to save some money on paper towels is to not clean them up at all. Yeah, right.
I guess I could have fed them myself and saved all kinds of trouble cleaning them up afterward. Nah.
We Still Buy Paper Towels
We continue to use paper towels for all the following reasons:
To clean up spills on the floor, counter, table, etc.
To clean grease out of the skillets or roasting pans
To dry lettuce leaves, miscellaneous produce, and pat the chicken dry.
To make our daughter's diaper wipes.
The only reason we stopped using paper towels was to clean our daughters' messy faces.
Just by changing how we clean our daughters, we've saved a lot of money, the landfill is not suffocating with our waste, and our daughters are still clean as can be.
How We Save $105 a Year on Our Toddlers' Messes
Do you wanna know how we cut costs down significantly and stopped buying so many paper towels?
Before, when my girls were hogging the paper towels, we spent about $13 a month on them. Now we spend about $3 a month. Our yearly savings is, wait for it…$105!! It would be $120, but we had to spend money on something else to keep our girls clean after eating.
Yep, you guessed it! We finally decided to try cloth towels.
I bought cloth towels in March of this year, and we haven't looked back. I spent a whopping $15 on 24 white wash cloths, and they have been so much better for cleaning up our girls' messes than paper towels ever were (these are the ones I bought* on Amazon). I only use them to clean their hands, faces, and sometimes their place at the table. I never use them to clean the chairs or the floor.
After I use a towel at a meal, I leave it on the back of one of our chairs to dry. I usually use it for 3-4 meals before getting a new one out. I wash them with the other whites, but if you are picky about that stuff, you could definitely wash them separately.
I can imagine that these cloth towels will last much longer than a year, so our savings really will be much more than $105 each year.
Eventually, I will be buying cloth towels to use for cleaning up spills on the floor, counter, and table. These towels will be a different color and will likely save us several more dollars per year.
It's important to note that our daughters do not wander around the house while eating, nor do they eat in the car. We always eat at the dinner table, which means that we don't have to clean up messes and crumbs anywhere else in the house.
All in all, I am extremely happy we made the switch to cloth towels to clean our toddler daughters' incredible messes. I'm fairly certain that the environment is pretty happy, too. 🙂
How do you save money on paper towels?

Latest posts by Charlee Flaminio
(see all)