What do you eat during pregnancy when you are absolutely famished? Why, you turn to a delicious protein-loaded pregnancy snack, of course! There's no better way to fill you up and give you the energy you need to make it to the next meal.
It wasn't until about half way through my second pregnancy that I really started to understand how important protein is in pregnancy. And I didn't do much about it until this third pregnancy. While the average person only needs about 40-50 grams of protein a day, pregnant and breastfeeding women need at least 70 and ideally more like 80-100 grams IN ONE DAY! Talk about pretty much doubling what you're used to!
I thought it would be incredibly helpful for you and me to get a good idea of what foods contain protein and their protein amounts, and then share some wonderful protein-loaded pregnancy snacks in case you need some great ideas.
Foods with Protein
Let's go down a list of foods that have protein. I'll list these foods by the most abundant to the least abundant (although, each food has different serving sizes to get that amount of protein).
Chicken breast, 4 oz. – 29 g
Salmon, 4 oz. – 25 g
Shrimp, 4 oz. – 24 g
Ground beef, 3 oz. – 21.5 g
Tuna, canned, 1/4 cup – 16 g
Cottage cheese, 1/2 cup – 14 g
Pinto beans, 1 cup – 12 g
Yogurt, 1 cup – 8-12 g
Lentils, 1/2 cup – 9 g
Edamame, 1/2 cup – 8.5 g
Black beans, 1/2 cup – 8 g
Green peas, 1 cup – 8 g
Milk, 1 cup – 8 g
Peanut butter, 2 T. – 8 g
Pumpkin seeds, 1/4 cup – 8 g
Quinoa, 1 cup – 8 g
Almonds, 1 cup – 7 g
Cheddar cheese, 1 oz. – 7 g
Chickpeas, 1/2 cup – 6 g
Eggs, large – 6 g
Oatmeal, 1 cup – 6 g
Brown rice, 1 cup – 5 g
Chia seeds, 2 T. – 5 g
Spinach, 1 cup – 5 g
Artichokes, 1/2 cup – 4 g
Asparagus, 1 cup – 4 g
Avocado, 1 – 4 g
Broccoli, 1 cup – 4 g
Green beans, 1/2 cup – 4 g
Potato, 1 – 4 g
Sweet potato, 1 cup baked – 4 g
White rice, 1 cup – 4 g
Brussels sprouts, 1 cup – 3 g
Popcorn, 1 cup – 1 g
Flax seed, 1 tsp. ground – .5 g
40+ Amazing Protein-Loaded Pregnancy Snacks
Now that you have a basic idea of what foods to eat to get more protein, here are some excellent protein-loaded pregnancy snacks to get you through to the next meal!
For each recipe, I will list the ingredients you need as well as how many people it serves. I would love to take a stab at how much protein you can get by eating one serving, but I'll let you figure that out, since it could take me several hours for all these recipes!
I was given permission to use the pictures below, so please, please, please do NOT pin these pictures from this post. If you want to pin a specific picture, click on the link and go to that specific post and pin it from there. I (and the owners of the pictures) appreciate it! You can also obviously pin the main image from this post to reference all the recipes.
And, I added popcorn snacks in here even though they don't give you that much protein. Because popcorn is da bomb. And every small amount counts. 🙂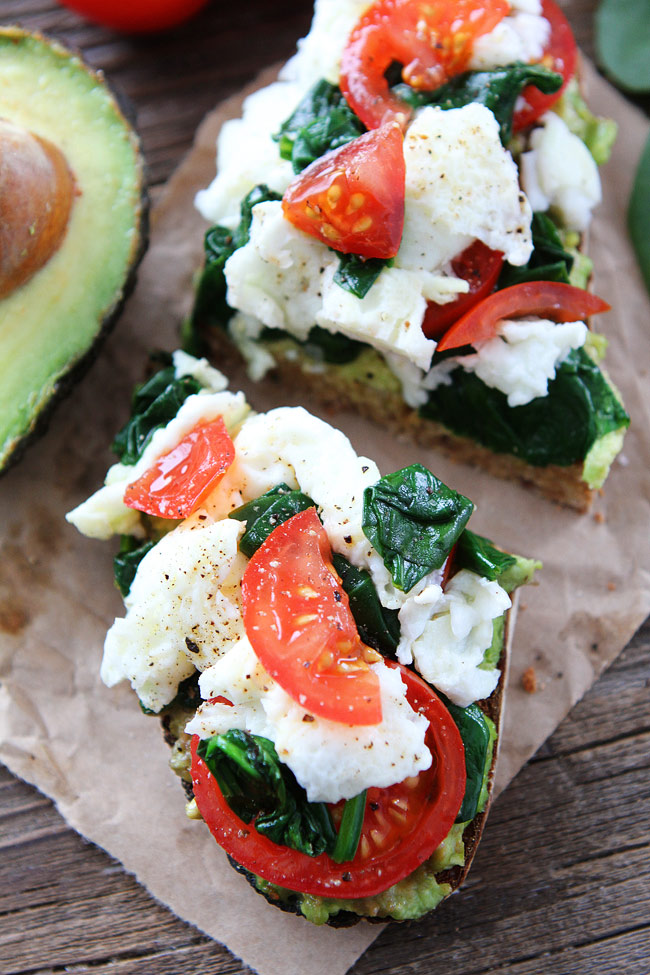 Avocado Toast with Eggs from Two Peas and Their Pod
Shallot, spinach, egg, bread, avocado, and tomatoes
Serves 1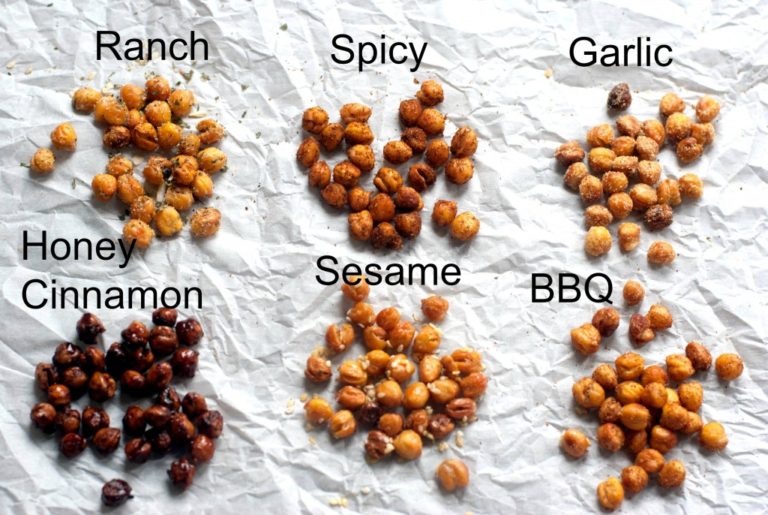 Roasted Chickpeas from This Grandma Is Fun
Chickpeas, olive oil, various seasonings and sweeteners for the different flavors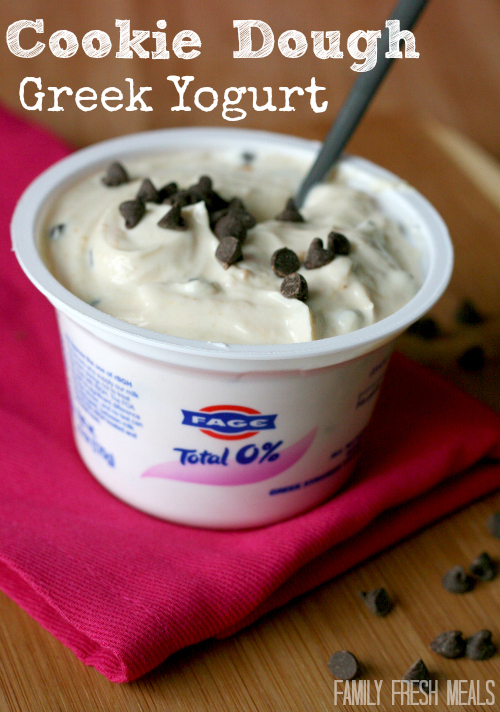 Cookie Dough Greek Yogurt from Family Fresh Meals
Plain Greek yogurt, chocolate chips, peanut butter, vanilla extract, and honey
Serves 1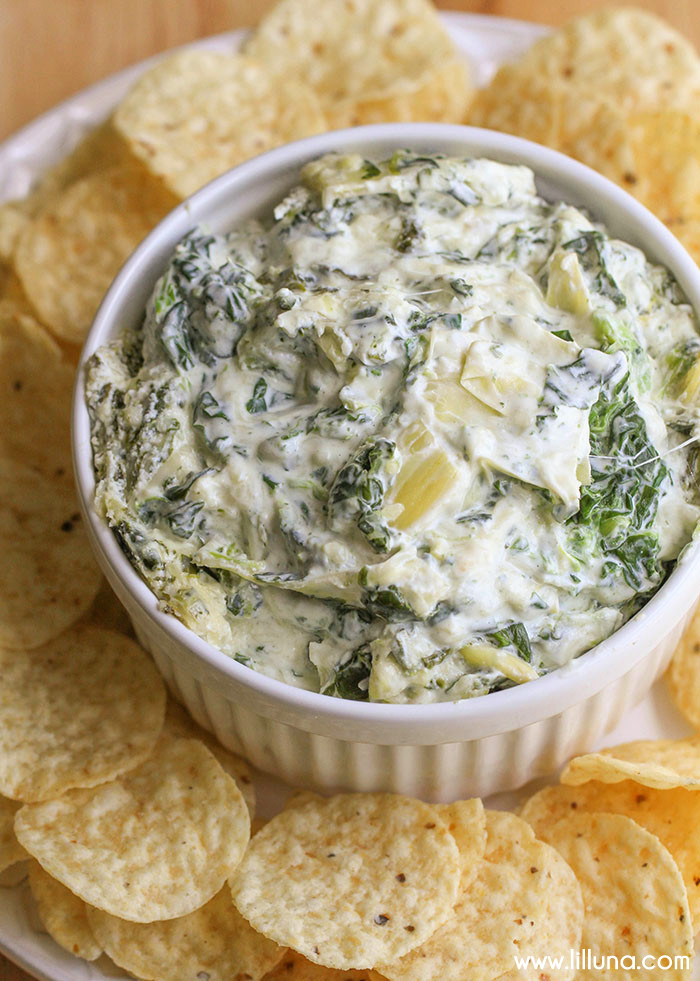 Spinach Artichoke Dip from Lil' Luna
Parmesan cheese, spinach, artichoke hearts, garlic, sour cream, cream cheese, and mayonnaise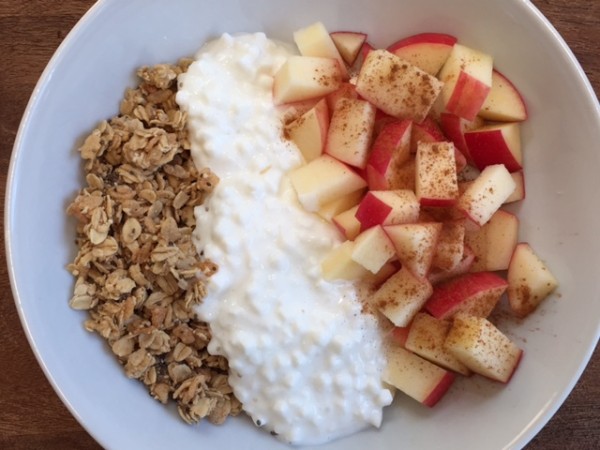 Apple Cinnamon Breakfast Bowls from Mom to Mom Nutrition
Apple, cottage cheese, granola, chia seeds, and cinnamon
Serves 1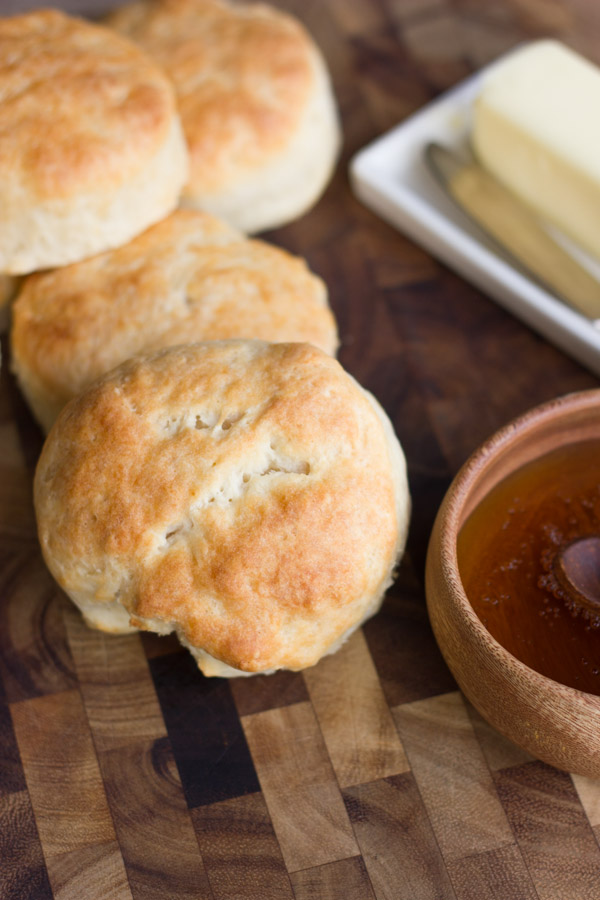 Greek Yogurt Biscuits from Lovely Little Kitchen
Flour, baking powder, salt, sugar, butter, Greek yogurt, and egg
Serves 8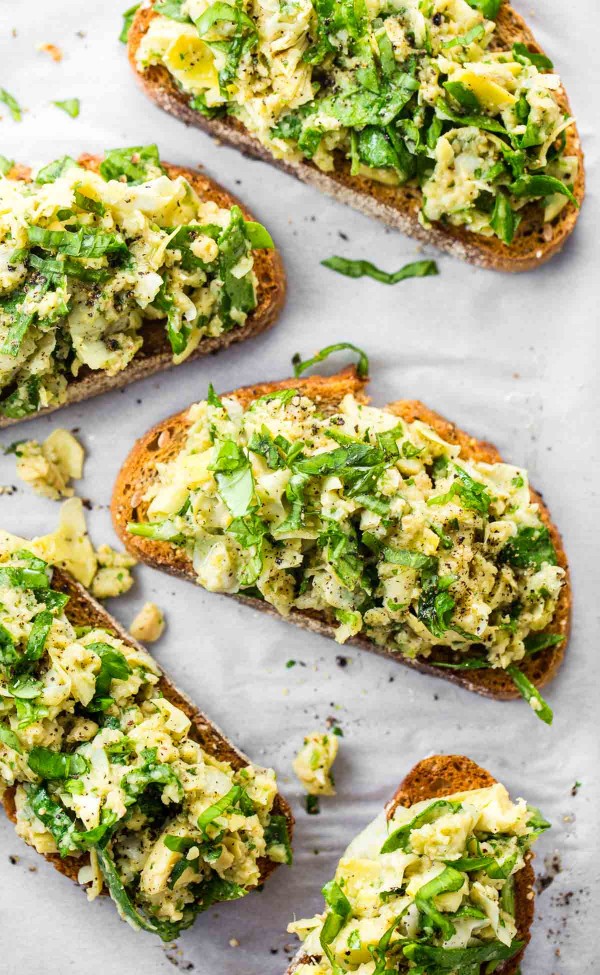 10 Minute White Bean Artichoke Basil Toasts from Pinch of Yum
Garlic, white beans, basil, lemon, olive oil, artichoke hearts, spinach, and bread
Serves 10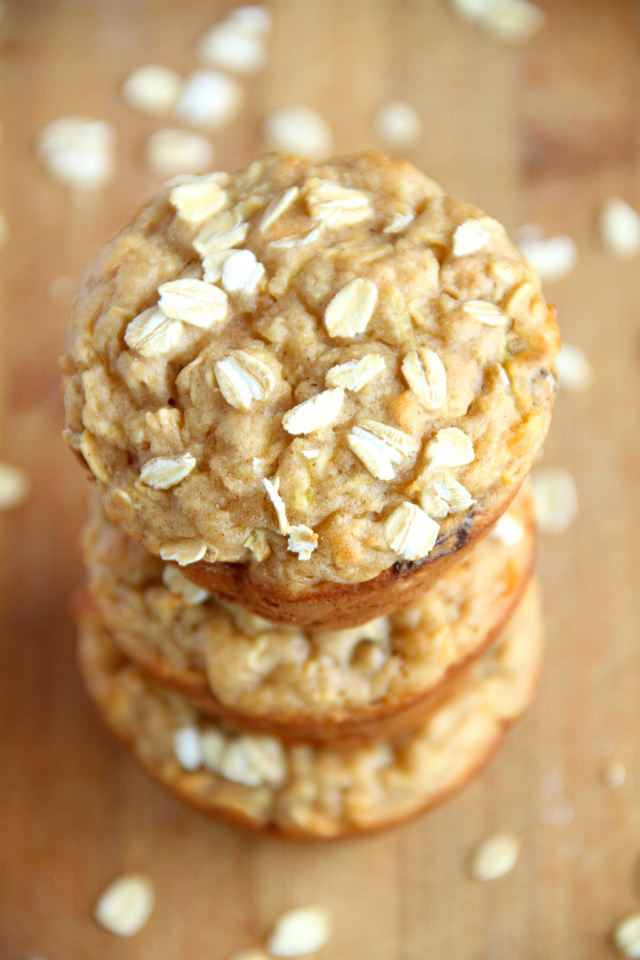 Apple Oat Greek Yogurt Muffins from Running with Spoons
Flour, old-fashioned oats, baking powder, baking soda, cinnamon, egg, plain Greek yogurt, applesauce, brown sugar, vanilla extract, apple, and raisins
Serves 12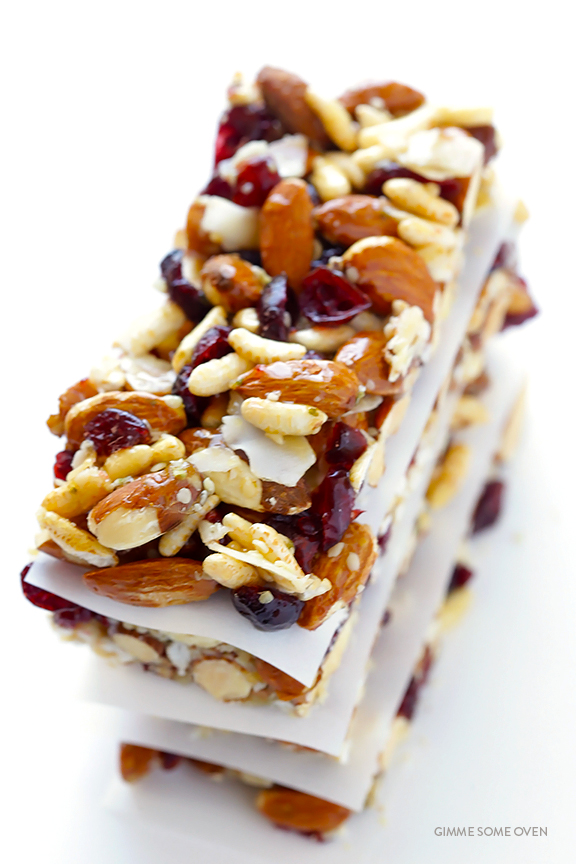 Cranberry Almond Protein Bars from Gimme Some Oven
Almonds, puffed rice cereal, dried cranberries, coconut flakes, brown rice syrup, honey, and vanilla extract
Serves 8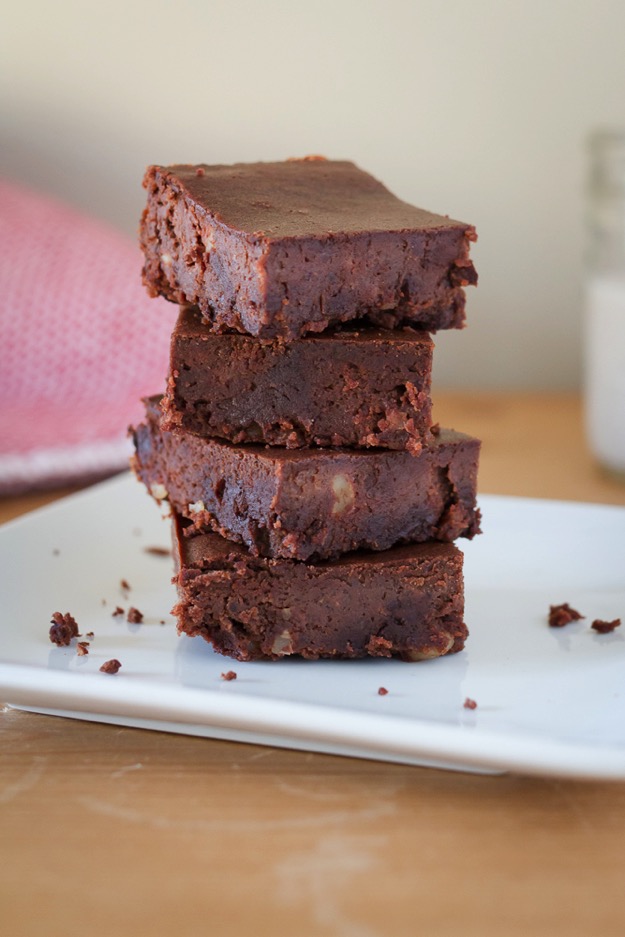 Fudgy Maple Flourless Black Bean Brownies from Eating Bird Food
Black beans, eggs, coconut oil, cocoa powder, sea salt, vanilla extract, pure maple syrup, and chocolate chips
Serves 16 (or 4 very hungry pregnant women 🙂 )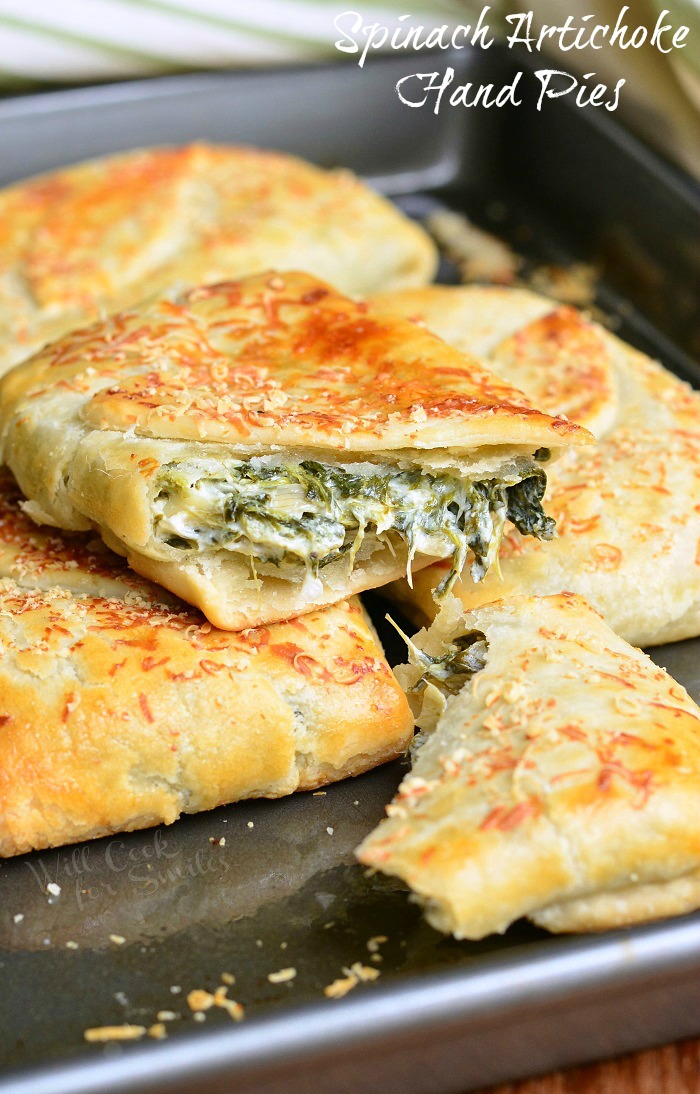 Spinach Artichoke Hand Pies from Will Cook for Smiles
Pre-made pie crusts, frozen chopped spinach, artichoke hearts, garlic, cream cheese, Parmesan cheese, and egg white
Serves 4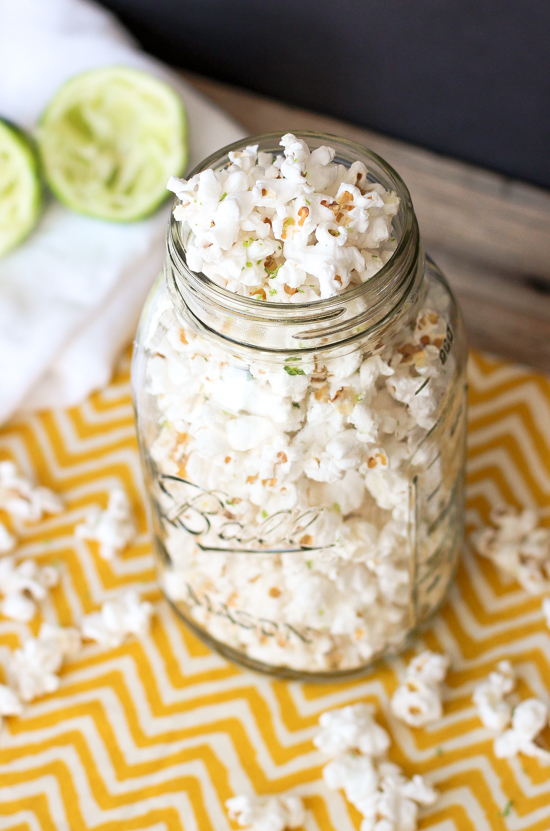 Salted Lime Popcorn from My Sequined Life
Coconut oil, salt, popcorn kernels, and a lime
Serves 7 or 8 (1 cup servings)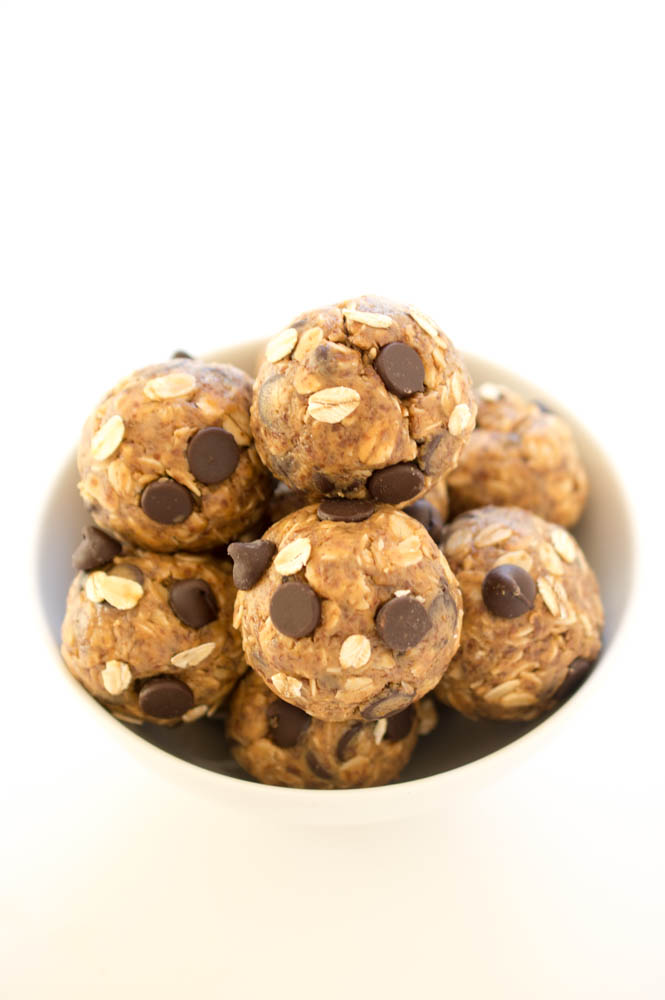 5 Ingredient Peanut Butter Energy Bites from Chef Savvy
Peanut butter, chocolate chips, old-fashioned oats, ground flax seed, and honey
Serves 12 (1 bite per person)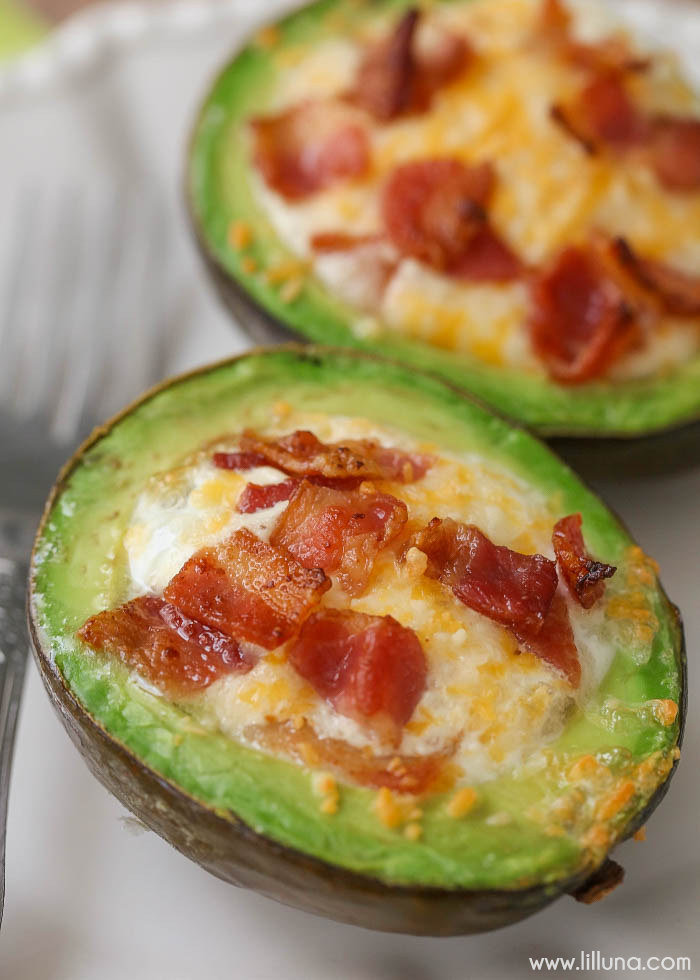 Avocado Bacon and Eggs from Lil' Luna
Avocado, eggs, bacon, and cheese
Serves 1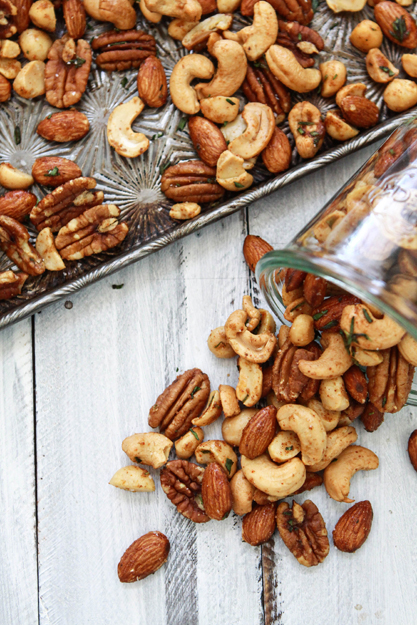 Sweet and Spicy Rosemary Bar Nuts from Good Life Eats
Unsalted nuts, olive oil, rosemary leaves, cayenne pepper, ground cumin, dark brown sugar, maple syrup, coarse salt, and unsalted butter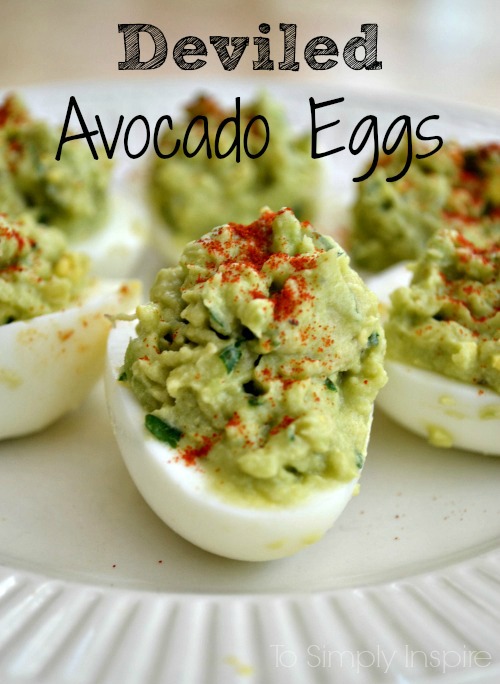 Deviled Avocado Eggs from To Simply Inspire
Hard-boiled eggs, avocado, lime juice, cilantro, garlic powder, and paprika
Serves 3-6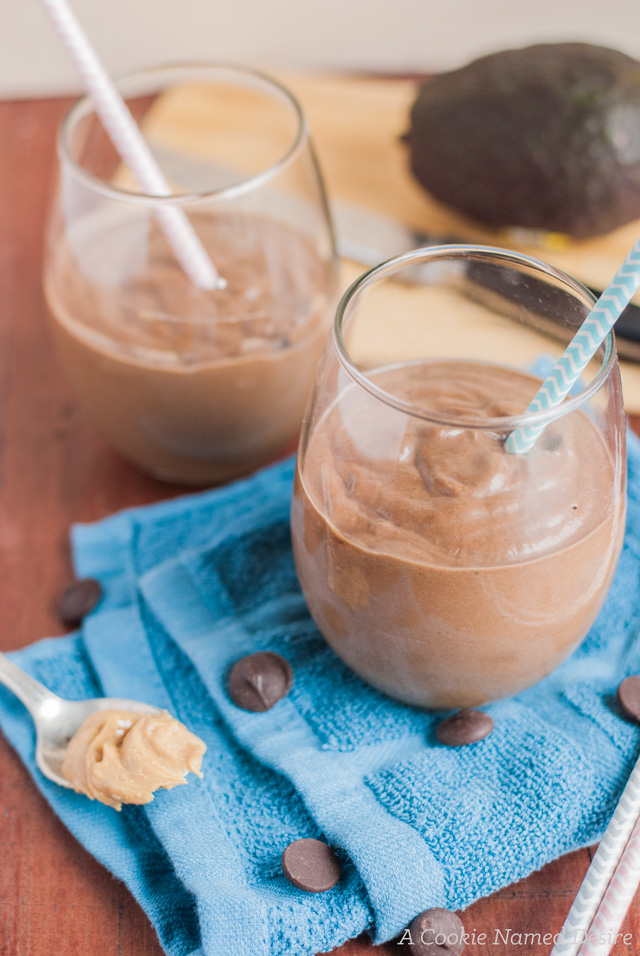 Avocado Chocolate Peanut Butter Smoothie from A Cookie Named Desire
Avocado, frozen banana, cocoa powder, peanut butter, vanilla almond milk, maple syrup, and vanilla extract
Serves 1-2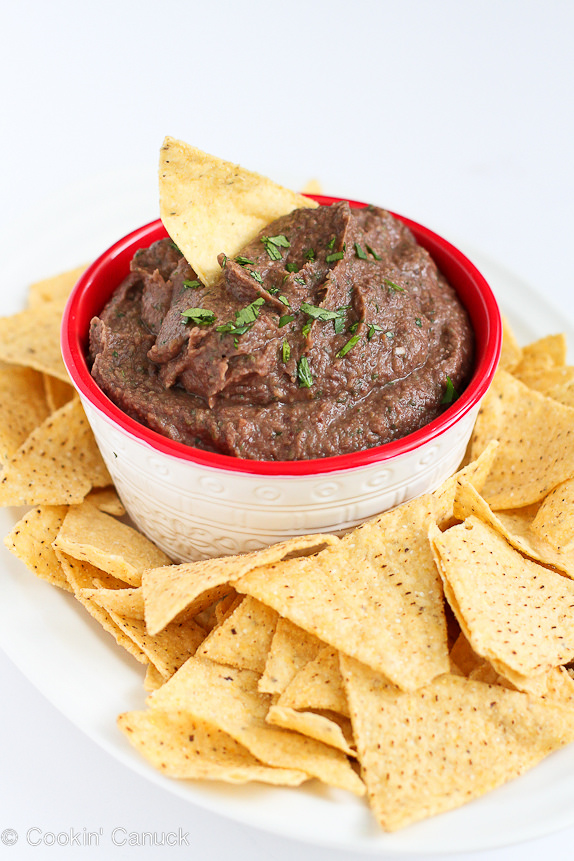 5 Minute Black Bean Dip from Cookin' Canuck
Black beans, salsa, garlic, lime juice, ground cumin, and cilantro
Makes 2 and 3/4 cups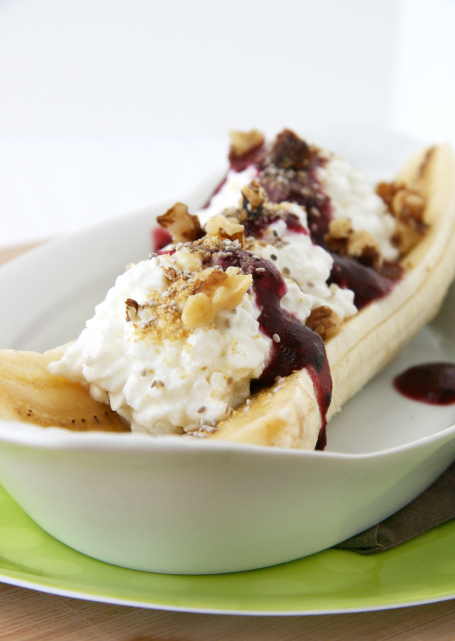 Breakfast Banana Split from Natural Noshing
Banana, cottage cheese, fruit preserves, ground flax seed, chia seeds, and nuts
Serves 1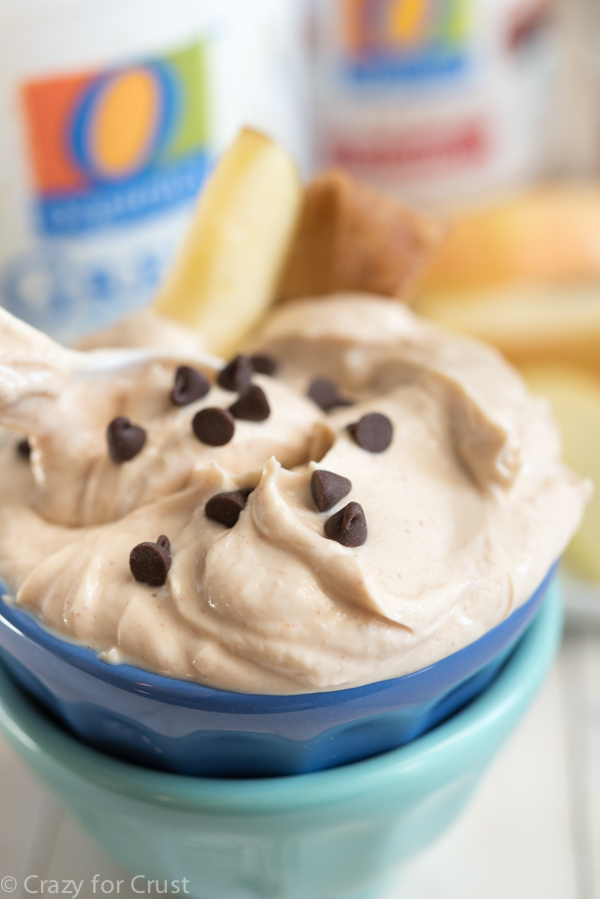 Skinny Peanut Butter Dip from Crazy for Crust
Plain Greek yogurt, peanut butter, honey (or maple syrup), and dippers (apples, celery, carrots, chocolate chips, etc.)
Makes 1 cup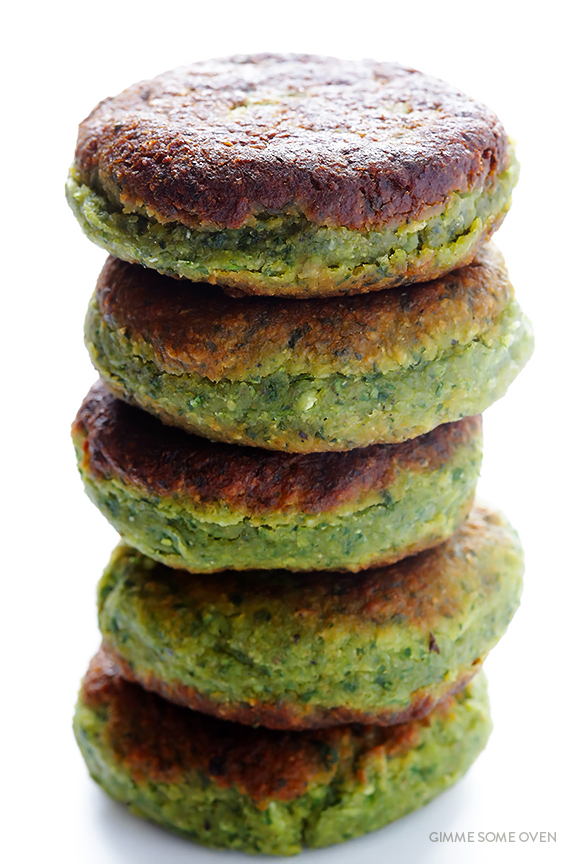 Falafel from Gimme Some Oven
Garlic, chickpeas, parsley, cilantro, onion, flour, lemon juice, baking powder, ground cumin, and oil
Makes 16-18 falafels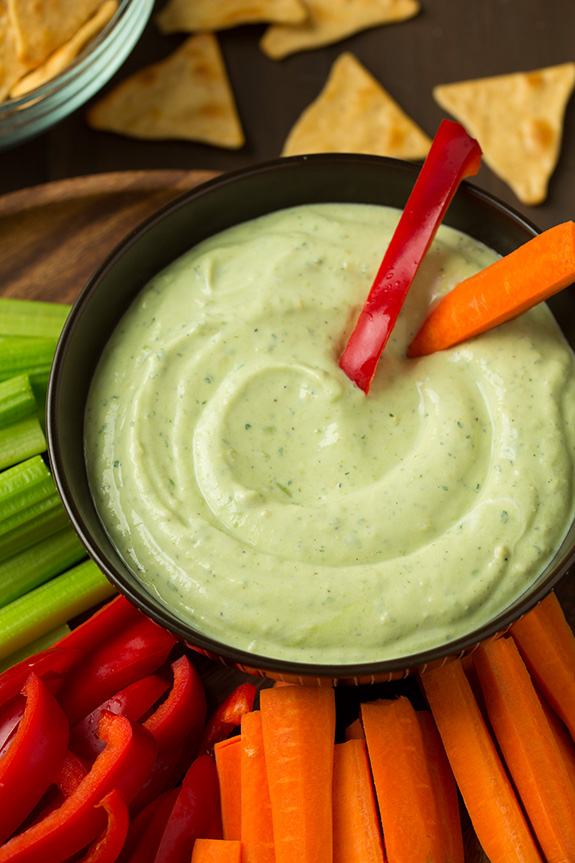 Avocado Greek Yogurt Ranch Dip from Cooking Classy
Plain Greek yogurt, avocado, lime juice, and Ranch mix
Unfortunately, there are no pictures for the next ones, but these are also fabulous ideas!
Avocado Cucumber Egg Salad (eggs, cucumber, avocado, mayo, paprika, bread) from The 36th Avenue
Chocolate + Black Bean Smoothie (black beans, almond milk, vanilla extract, peanut butter, spinach, frozen banana, and cocoa powder) from (Never) Homemaker
Garlic Herb Roasted Nuts (raw mixed nuts, egg white, sea salt, rosemary, ground sage, garlic powder, and smoked paprika) from Little Bits Of
High Protein Energy Balls (almonds, chickpeas, peanut butter, honey, and vanilla) from Happy Healthy Mama
Avocado Banana Smoothie (bananas, coconut water, avocado, honey, ice cubes, cinnamon, and vanilla extract) from Popsugar
FroYo Berry Bites (almond meal, coconut sugar, coconut oil, plain Greek yogurt, honey, and strawberries or raspberries) from SkinnyMs.
Margherita Pizza Popcorn (yellow popcorn kernels, kosher salt, oil, dried oregano, dried basil, sundried tomatoes, butter, Parmesan cheese, and fresh basil) from Nosh On.It (link no longer available)
Oven Roasted Artichokes with Roasted Garlic Butter (artichokes, lemons, olive oil, garlic, fresh thyme, fresh rosemary, and salted butter) from From a Chef's Kitchen
Creamy Chocolate and Peanut Butter Greek Yogurt Popsicles (Greek yogurt, chocolate chips, peanut butter chips, and sugar) from Ella Claire
Rosemary Parmesan Garlic Popcorn (fresh rosemary, garlic, olive oil, garlic salt, popcorn kernels, and Parmesan cheese) from Five Heart Home
Other really simple protein-loaded pregnancy snacks:
Hard-boiled eggs
Yogurt parfaits
Smoothies (you can add beans, spinach, Greek yogurt, nuts, oats, etc.)
Almonds with raisins or craisins
Hummus with fresh veggies
Avocado with a sprinkle of sea salt (thanks for this suggestion from reader, Jessi!)
Apples with cheese
Cottage cheese with fruit
Baked sweet potato sprinkled with flax seed
I hope you got some great ideas for getting more protein in your pregnancy diet!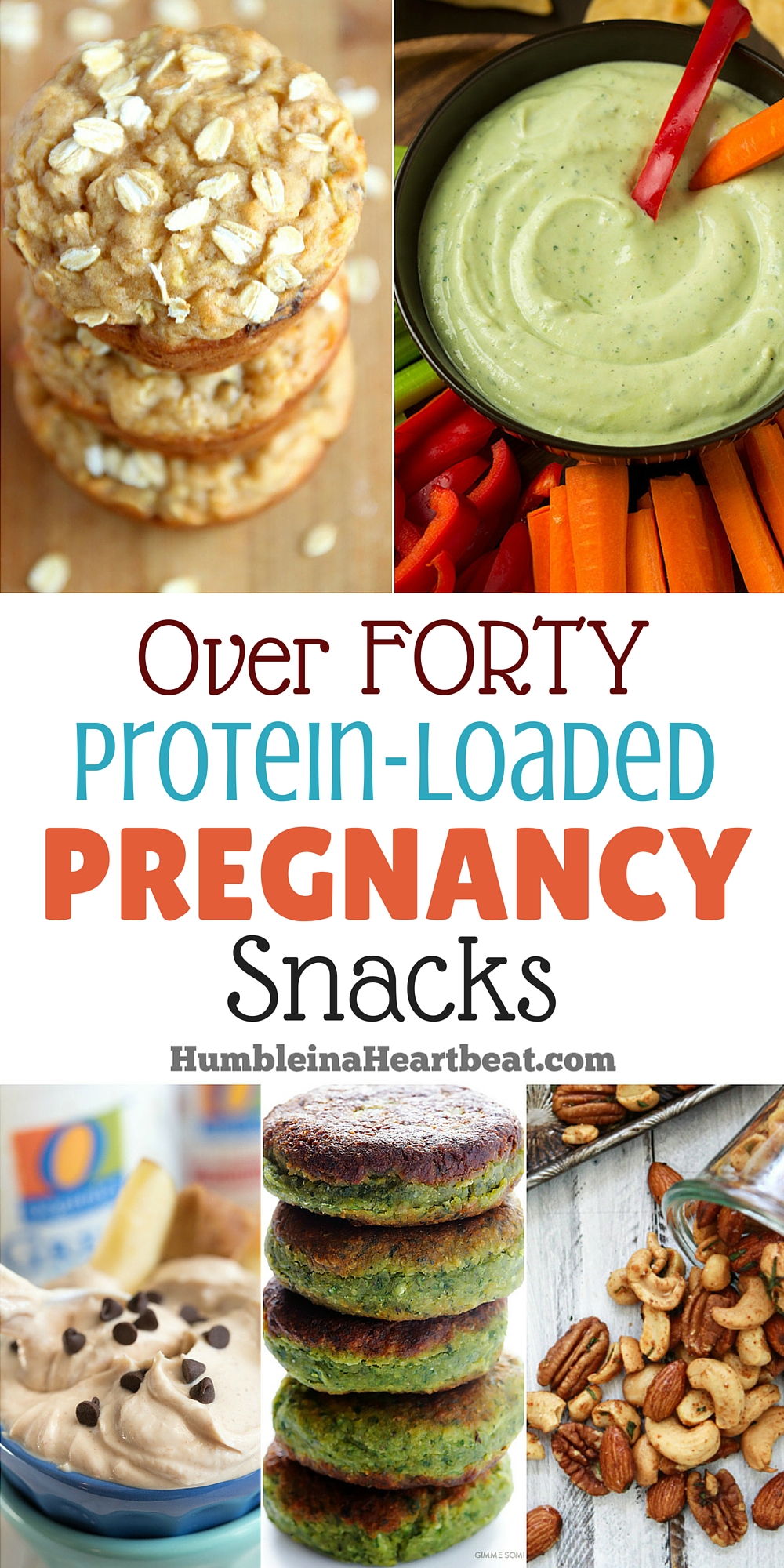 Latest posts by Charlee Flaminio
(see all)