I've always been intimidated by the idea of putting together a recipe binder. I would love to gather all our family favorite recipes and put them into one easy-to-access cookbook, but it's been hard to visualize how it should come together. Do I put the recipes in alphabetical order? Wouldn't recipes by meal make more sense?
Then it occurred to me that I don't have to decide exactly how I'll do it until I have it all organized on my computer first…on Microsoft OneNote to be precise. I know the big wig in the room is Evernote, but I have always used OneNote. I began using it when I got my first laptop back in college, and it was incredibly useful for organizing my notes for each class.
Now I use it for organizing my blog posts each month, taking note of goals I want to reach, and getting recipes together so one day I can print them all out and make a family recipe binder. I want my kids to each have their own recipe binder when they leave home, and I'm well on my way there.
How to Use Microsoft OneNote to Organize All Your Recipes
Even if you've never used OneNote, I'm sure you will love organizing your recipes this way. If you have Evernote instead, I am sure you can do the same thing there to make your own recipe binder. You can download both OneNote and Evernote for free, but I'm not sure if Evernote has the same capabilities as a paid version. OneNote even has a free recipe clipper you can download right here.
Step 1: Create a Notebook
When you start organizing your recipes in OneNote, you will want to create a new notebook. Click on File – New, and then you have a few choices about where you want access to this notebook: web, network, or my computer. I always just choose my computer because I am always at home working on it.
Now name your notebook. I used our last name and then Family Recipe Binder. The final step is to choose where you want to store this notebook.
Step 2: Create Folders (or Tabs)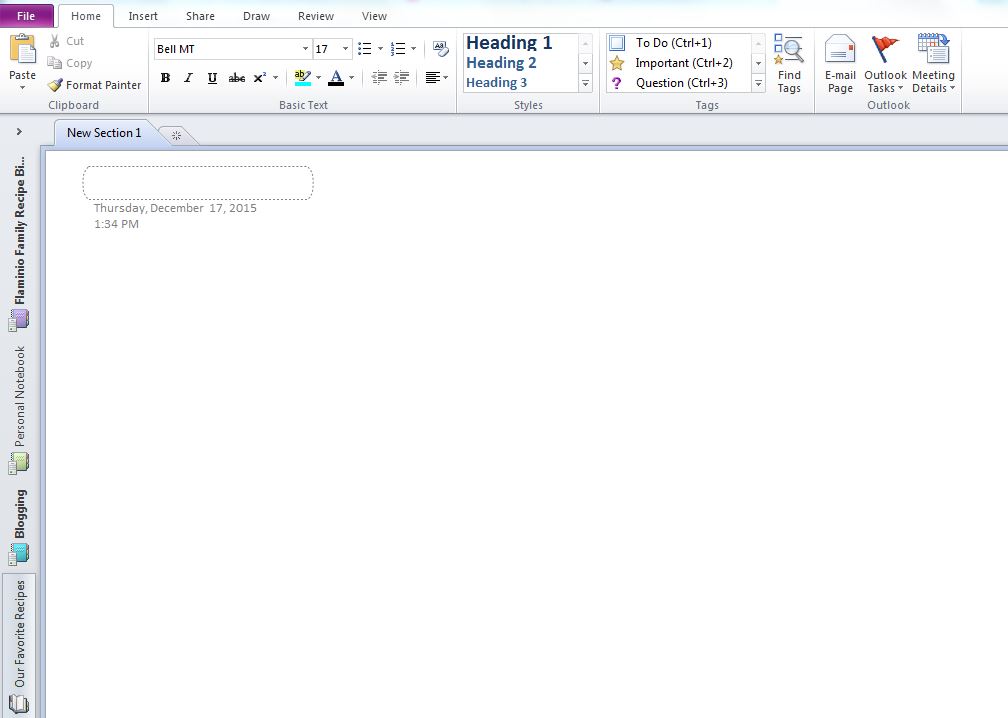 After you have your new notebook all set up, you are ready to start creating folders. The easiest way to do that is to double click on the little tab that says "New Section 1" and type in the name of your first folder.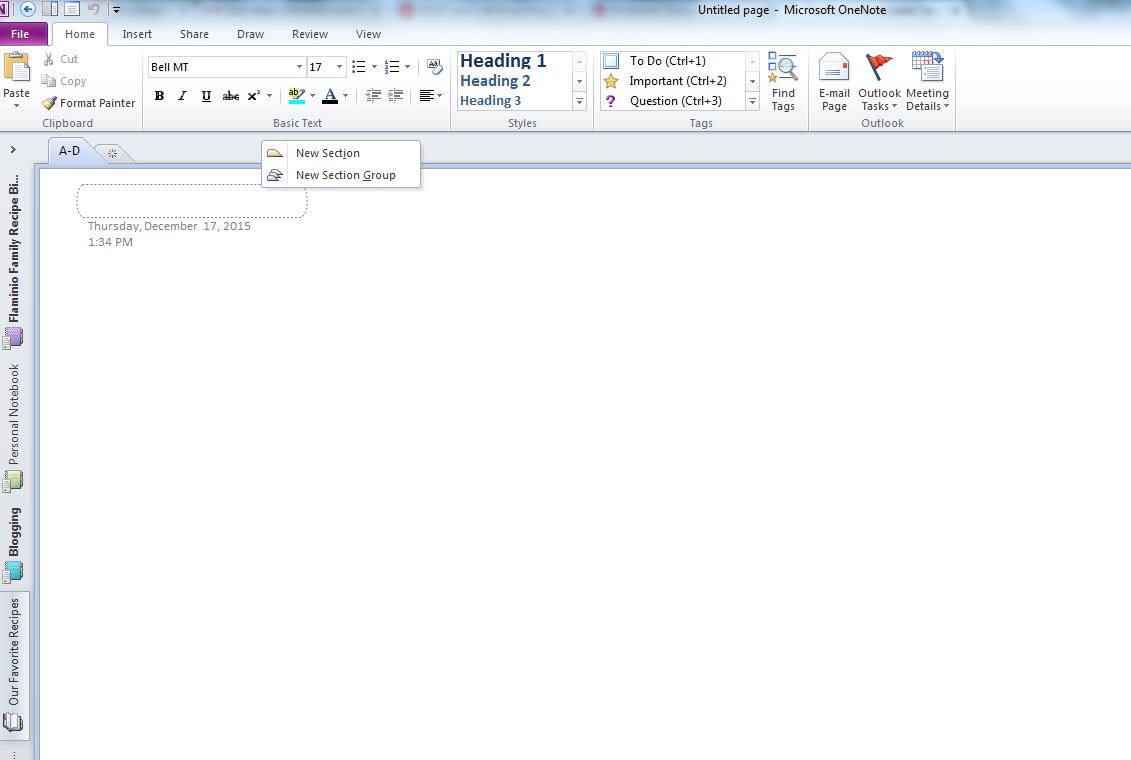 If you have decided you would like to try organizing alphabetically, you could name this folder A-D. Then when you have a recipe that you want to add that starts with a C, you add it to this folder. Just keep adding folders and naming them what you have decided you like. You add a folder by either clicking the little star symbol or right clicking and choosing "new section."
I mostly organized my folders by type of meal and it has been great for me. I have Breakfast, Lunch, Snacks, Sides, Dinner, Sauces, Breads, Desserts and Treats, We're Having Company, Seasonal, and Baby Food.
Step 3: Add Recipes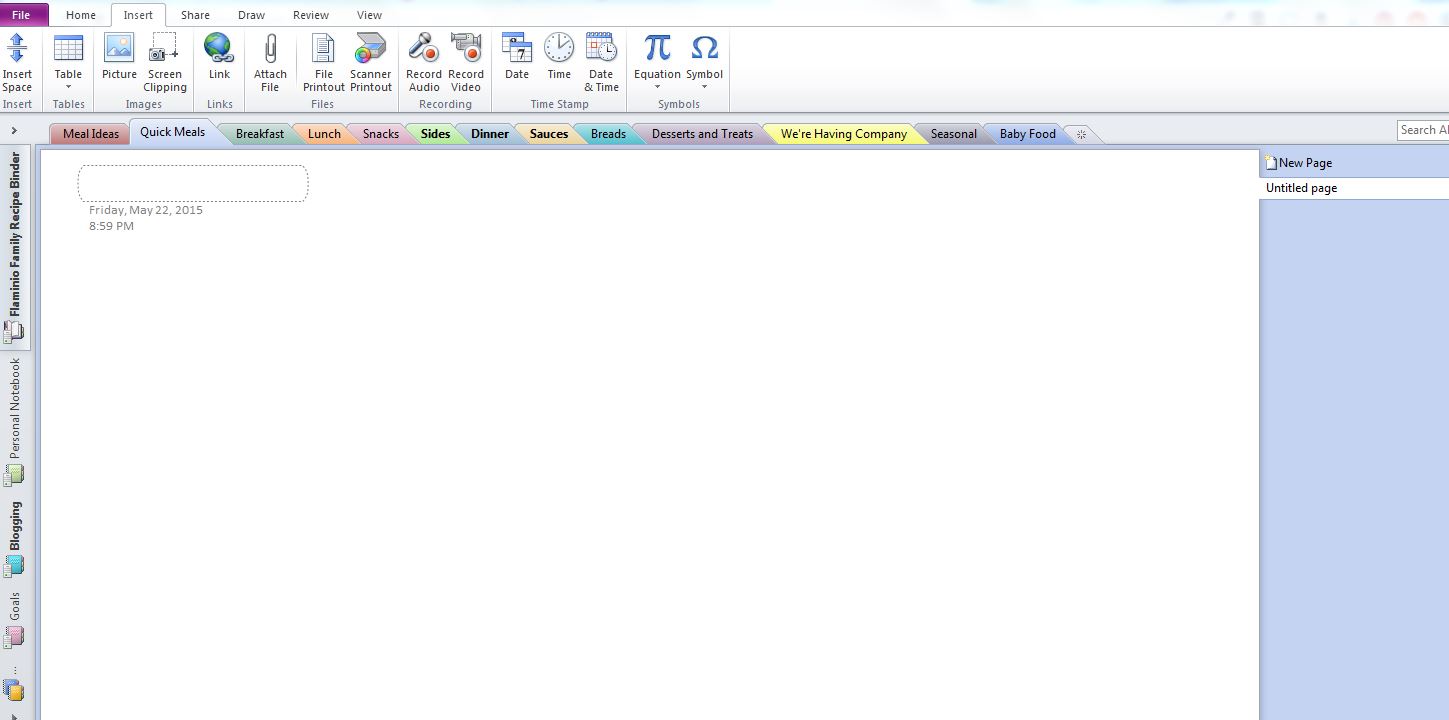 Now you're ready to start adding recipes! If you make a lot of your recipes from things you see on Pinterest or other websites, this is going to be really easy. You can either add a recipe by taking a screen clipping or you can copy and paste the recipe. Either way, I always make sure I copy either the name of the blog/website where I got the recipe from or just copy the entire web address so I can go back if I need to.
You can always include a picture in your screen shot for visual reference, but avoid using that picture for any other purpose. I rarely take a screen shot of the picture and put it with the recipe in OneNote because I figure I would have too much to live up to if I had a picture of the food I am making. 🙂
If you have a lot of recipes from cookbooks or magazines, you can scan those into your computer and add them straight to your OneNote notebook, or you could sit down and type them out yourself.
I love, love, love the fact that you can take notes about the recipe after you make it. You can say how great it was or what you would change for next time.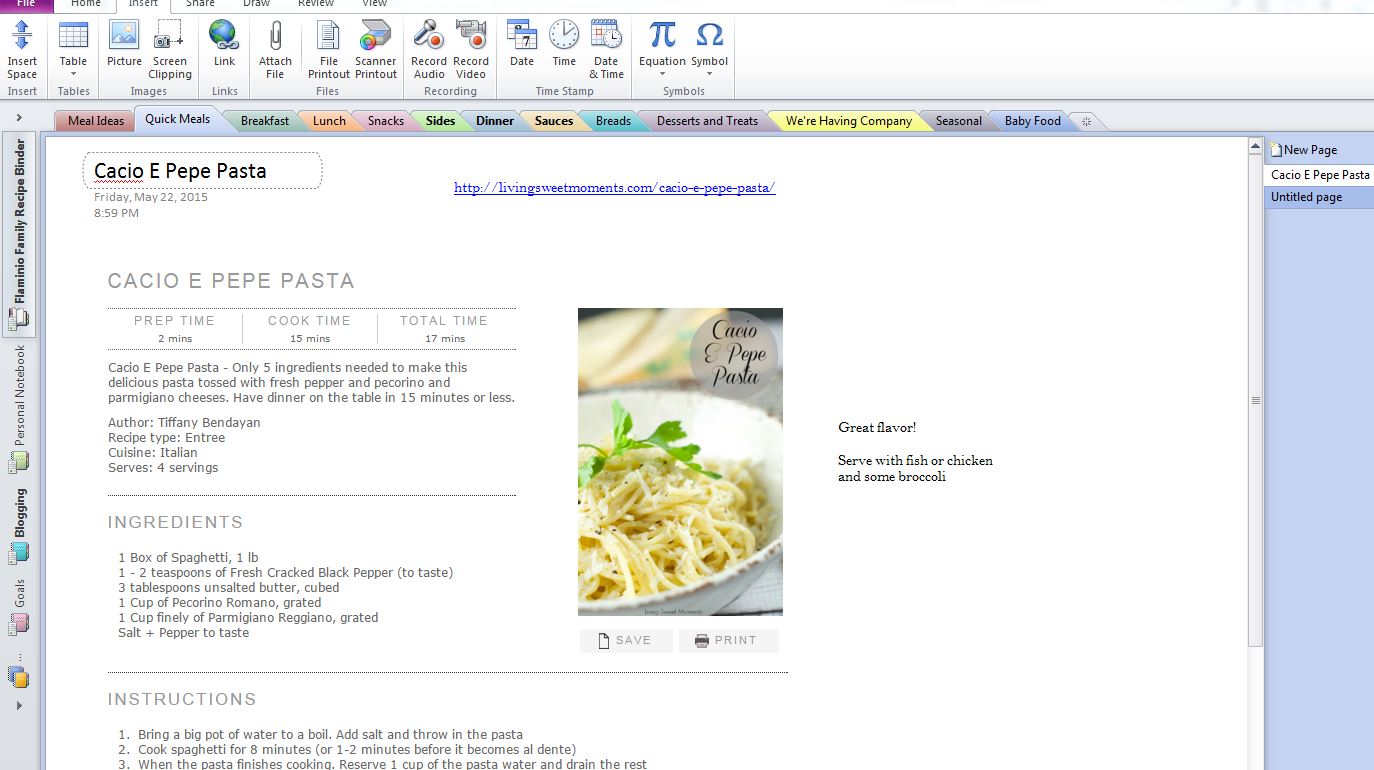 The great thing about organizing your recipes in OneNote before ever printing them out into a recipe binder is that you don't waste money by printing out recipes, especially if they are ones you have never tried. I prefer to add the recipe, try it, make tweaks, and then if it's a recipe that my family just didn't really like, I can easily delete it. And you never know, your family's food preferences could change over the years, and it would be as easy as adding and deleting recipes as you see fit.
How do you organize your recipes?

Latest posts by Charlee Flaminio
(see all)