A few years ago, I made pumpkin puree for the first time. I thought it was superior to the canned pumpkin puree from the store, so the time I spent on it – cutting the pumpkin, taking out the seeds and pulp, baking it, and pureeing it – was really worth it to me. Now I'm a mom to two very needy individuals, and I have to decide which scratch foods are really worth it to make anymore. Even if the scratch version saves us money, I have to set priorities and I just can't fit all those tasks into my schedule.
In order to decide if making pumpkin puree is worth my time, I've decided to do this cost comparison. In this comparison, I wanted to find out, first of all, which was cheaper: canned pumpkin puree or fresh pumpkin puree. Second, I wanted to see if one tasted different than the other in a recipe and also if its texture was different. Finally, I was interested in knowing whether or not the canned pumpkin had extra ingredients.
You can buy a can of pumpkin puree from any grocery store. I'm only aware of Libby's brand, and the cans come in 15 oz. and 29 oz. For the purpose of this post, I bought a large can, but I will also compare the cost of the small can based on its size.
You can buy pie pumpkins from the store to make your own pumpkin puree. I wouldn't recommend trying to cook a regular-sized pumpkin. The small one that I bought for this comparison was less than 2 pounds.
In the following picture, can you guess which is the fresh and which is the canned puree?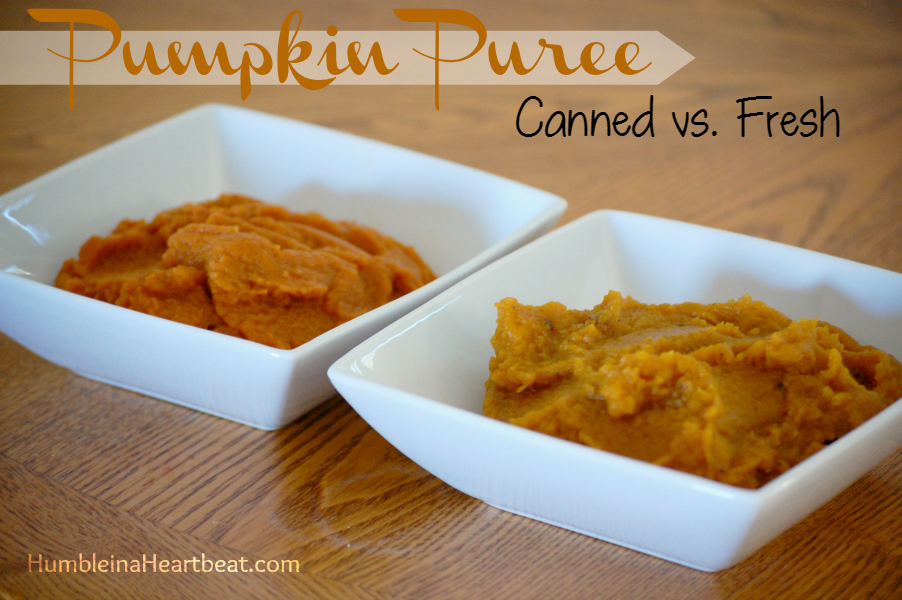 I can tell because the puree I made got a tiny bit burnt on the fleshy part that was touching the tin foil, so there are little specks of black in it. It's the one on the right. I think the texture is strikingly similar. In my experience, it has always been very smooth whether pureed in the blender or with the immersion blender. Since I have been cooking with both canned and fresh lately, I can tell you that there is no taste difference whatsoever.
The front of the Libby's canned pumpkin claims there is 100% pumpkin inside. However, the article I found HERE begs to differ. To me, it doesn't make a huge difference. What makes the difference for me, when I am trying to pinch pennies for reals, is which one is cheaper.
How Does One Make Fresh Pumpkin Puree?
Let's start with a quick tutorial. I'll quickly take you through the process of making pumpkin puree with a few pictures and a couple hundred words.

Pick a pumpkin. Any pumpkin. Ok, I'm kidding. You'll probably want to choose the biggest one in that first picture on the left, be-cause the small ones are more for decoration.
Now set your chosen pumpkin on a cutting board and get out a large knife.
Lop off the bottom and top (I just love that word, "lop"), and cut the pumpkin in half, vertically.

Now scoop out that stringy pulp and the seeds. Save the seeds for roasting if you have the time. I used to do that back when my oldest daughter was just a wee one. Now there's two of them and I'm sure they'd give me plenty of reasons to NOT be in the kitchen!
Put the pumpkin cut side down on a baking sheet. In the picture, the baking sheet is sans tin foil, but I also like to put tin foil down to keep the mess to a minimum. Poke holes in the skin, and add some water to the baking sheet. Put in an oven preheated to 400 degrees F. Let it bake for 40-50 minutes. It will depend on the size how long it takes to cook. Basically once the skin is soft (you can test it by poking it with a fork), it is done.
Take it out of the oven and let it cool for 30 minutes or so. And admire that color!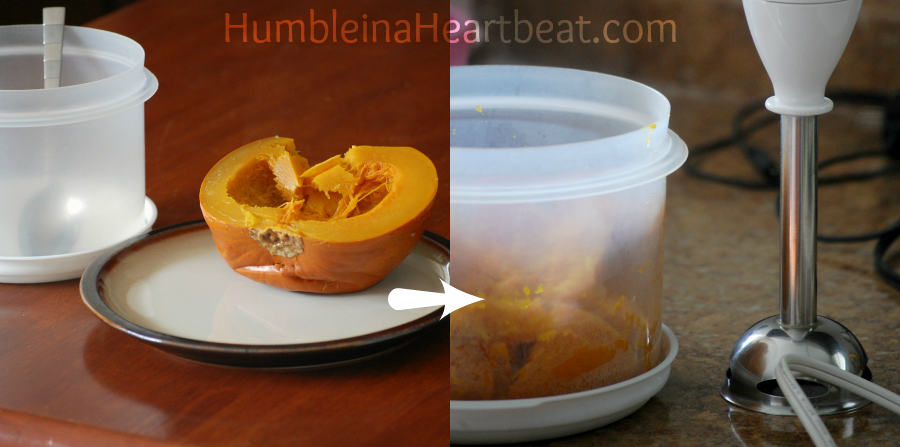 Now scoop out the flesh. Just use a regular ol' spoon.
Puree with a blender, immersion blender, or food processor. Voila! You have pumpkin puree!
So What's the Verdict? Fresh or Canned?
I bought a large can (29 oz.) of pumpkin puree at the end of October to make some Halloween-themed food. The can was $2.78 and contained 3.625 cups. Yes, very technical, but I like to be precise. 🙂 I wish I had bought a 15 oz. can as well. I did notice that the price for that size was $1.78.
The cost per cup for canned puree in this case is $0.77. For the small can, if there are 1.875 cups according to my calculations, it would be $0.95.
Now for the fresh pumpkin puree. When I bought my pumpkin in early November, the cost was $1.68 per pumpkin. The cashier, however, went through the four pumpkin choices on her register, and none of them rang up as $1.68. I ended up paying $0.34 (I told her they were $1.68, I guess she was just feeling generous?). If we ended the comparison there, of course fresh would be the winner. However, I want to use the price I would have paid if she had found the correct price. I got 1.5 cups out of a pumpkin that weighed 1.89 pounds.
The cost per cup for fresh puree is $1.12.
Canned – $0.77 per cup
Fresh – $1.12 per cup
You see. I favor scratch over store-bought just for the fact that it's homemade, so sometimes I end up paying more than I should!
Sure there are plenty of other factors going into this cost comparison that I didn't mention, like the fact that I only used data from one store and one brand on one date. Additionally, if you grow your own pumpkins, of course it's a better deal to make your own. Also, I'm sure that I've seen the little pumpkins for a better price in years past.
Tried and True Recipes with Pumpkin Puree
I couldn't let you go without sharing some awesome recipes with you. These recipes are all ones that I have tried at least once, if not more. I found a lot of them on Pinterest, but I'll send you to the direct links. I will say that when I have compared these recipes using fresh vs. canned, it seemed like the ones with fresh were quite a bit more moist than the ones that contained canned.
Pumpkin White Chocolate Blondies from Erin's Food Files
Savory Pumpkin Pizza Dough from The Cooking Photographer
Pumpkin Chocolate Chip Cookies from my sister (she won't let me share, but I'm putting this here in hopes that she might if she sees this!)
Holiday Pumpkin Bread from Food Wishes – it's a savory, artisan bread
Roasted Pumpkin Seeds from Simply Recipes – ok, so this isn't a recipe with pumpkin puree, but you've gotta use the seeds!
Do you make fresh pumpkin puree, or do you just grab a can from the store shelf?
Looking for more pumpkin recipes? Look no further than my Pinterest board, Fall Festivities!

Latest posts by Charlee Flaminio
(see all)