Mornings can be hectic, even when you're a stay-at-home mom.
Sometimes I oversleep and wake up to my my darling middle child pacing my room and saying, "Mom, I have to go peeeee!"
Those words are juuust enough to catapult me right out of my warm covers. The only thing worse than waking up in that fashion is knowing that your kids are starving animals and that you have nothing ready for breakfast…yet.
3 Yummy, Nutritious, and Frugal Breakfast Options for Busy Mamas
Fortunately, I have armed myself with three breakfast options that take less than 5 minutes to prepare. Bonus, they're all super nutritious, frugal, and yummy for everyone. These are the kind of breakfasts kids LOVE!!
If you're here for the video, scroll down towards the bottom of the post to watch it.
None of these ideas are earth-shattering or unique, but just a few years ago I never would have thought of making these options for breakfast. I was sort of stuck in the cereal/milk or eggs/toast/fruit rut.
I'm a huge fan of variety and get bored of eating the same thing every day, so it's nice that I have several options and can quickly get them on the table before one of my kids starts biting me.
Without further ado, here is breakfast option #1.
Yogurt Parfaits
See. Simple, right?
Well, turns out yogurt parfaits are ridiculously easy to customize so everyone can decide for themselves what they want in theirs.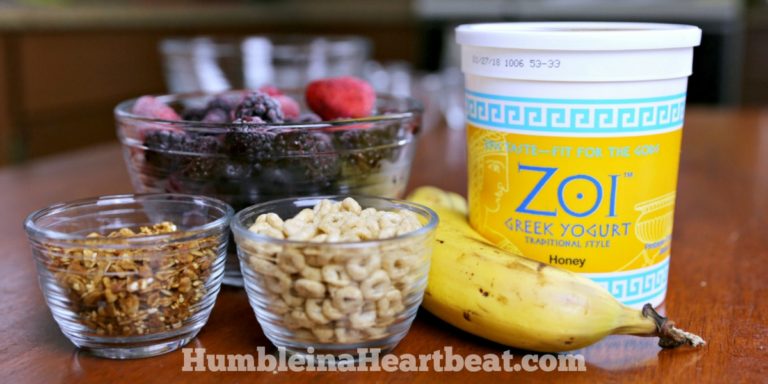 Here's the breakdown of how we make ours:
Several scoops of Greek yogurt (honey, plain, vanilla, etc.)
Fresh, frozen (thawed), or canned fruit
Granola or cereal
Any optional toppings, such as coconut flakes, chocolate chips, nuts, chia seeds, flaxseed, honey or agave (if using plain yogurt), nut butter, etc.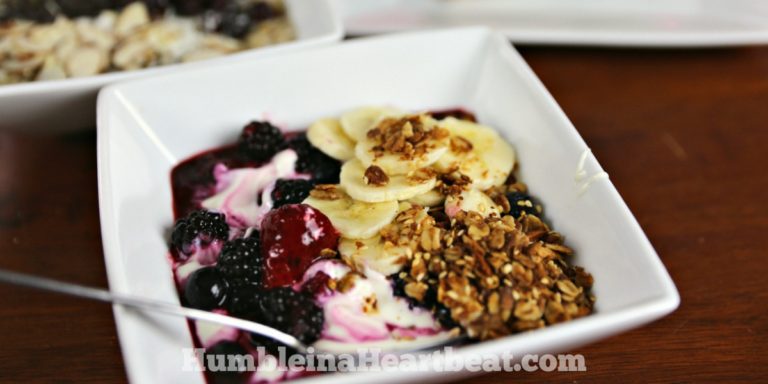 Our yogurt parfaits usually consist of honey Greek yogurt, sliced bananas, frozen berries (thawed), granola, and coconut flakes. It wasn't until I started writing this post that I really thought about using toppings like chia seeds and nut butter, but they would totally work!
Overnight Steel Cut Oats
Next up is Overnight Steel Cut Oats. If you've never tried steel cut oats, I urge you to right away. They have a different texture than most oatmeal and the overnight aspect makes this a cinch to pull together.
To make the oats, you do need to plan ahead and spend a couple minutes the night before getting them ready for the morning.
Easy peasy instructions: To a medium saucepan, add 3 ½ – 4 cups of water and let it come to a boil. Once it's boiling, add 1 cup of steel cut oats and ¼ tsp. salt. Stir and then let it all boil for 1 minute. Be careful to stay by the pot because towards the end it may start boiling up. Turn off the heat, put the lid on the saucepan, and put the saucepan on another burner. Leave it overnight.
In the morning, reheat the oats (over medium heat, stirring occasionally) and you're all set. Soooo easy!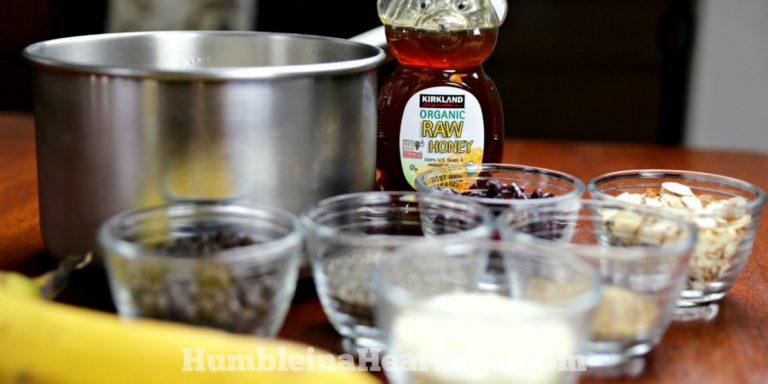 Now for the fun part. While the oats are reheating, get out all your toppings.
Here are some ideas:
Coconut flakes
Nuts
Dried fruit
Chia seeds
Flaxseed
Mashed banana
Fresh or frozen fruit (thawed, of course)
Applesauce
Honey, agave, or brown sugar
Nut butter
Chocolate chips
…and more!!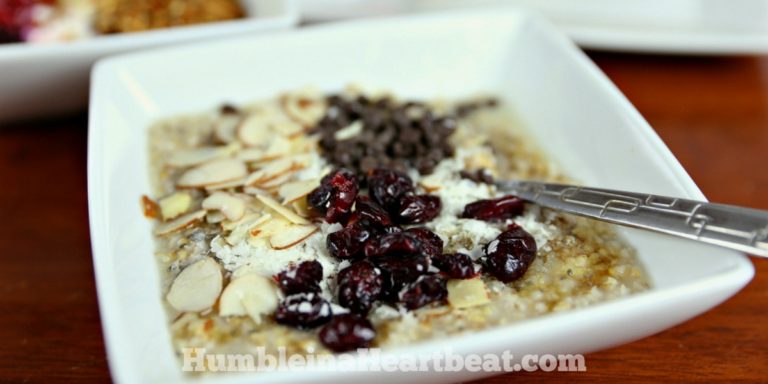 We almost always use mashed banana, chia seeds, flaxseed, dried cranberries, sliced almonds, coconut flakes, and honey. I have only tried it with almond butter once. It made it a little more creamy, but I didn't notice much of a flavor change.
Fruit and Nut Butter Roll Ups
Finally, our third breakfast option: fruit and nut butter roll ups. Your kids will think you've lost your marbles when you present PB & honey in wrap form (with fruit and other extras) to them in the morning!
Fruit and Nut Butter Roll Ups made the cut because they are full of good fats, fruit, and protein.
To make Fruit and Nut Butter Roll Ups, you'll need:
Tortillas
Fruit (i.e. bananas or apples)
Nut butter
Honey or agave
Favorite toppings: coconut flakes, chocolate chips, cinnamon, chia seeds, flaxseed, etc.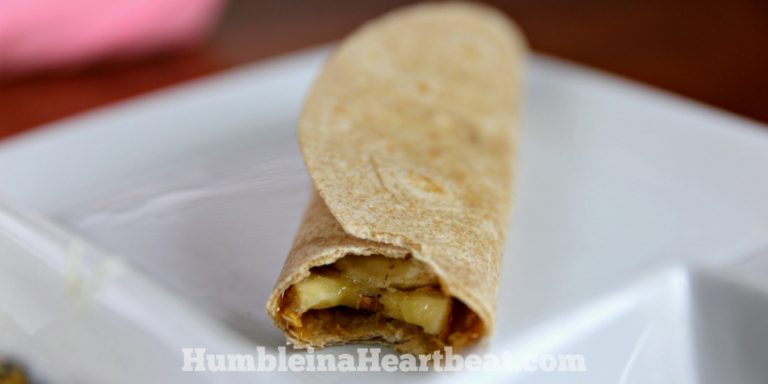 We usually make two different kinds of roll ups. The first consists of the tortilla, sliced bananas, peanut butter, and honey. The other consists of a tortilla, sliced apples, peanut butter, honey, coconut flakes, and cinnamon.
Would you like to watch a video of me sharing the details of these breakfasts? Check it out below!
I am certain that if you've never tried these breakfasts before, you'll be hooked when you do. They are all so easy to make and kids just love them!


Latest posts by Charlee Flaminio
(see all)