We celebrated baby Bella's first birthday last weekend. It was supposed to be a "You Are My Sunshine" theme, but it turned into a lemon/no-theme-at-all-really theme very quickly. It really didn't matter the theme, though, because the birthday girl got to enjoy her cake for a really (and I'm talking really) long time. As long as she was happy, I was happy. The guests (our immediate families) were also thoroughly entertained by our cupcake decorating contest. It was a great party even though we had pretty much no budget!
© anoli / Dollar Photo Club
I'll admit that I couldn't wait for this party to just be over with. Even though I didn't participate in gift giving and shopping for Christmas, it was a stressful time. Right after New Year's, I realized that her birthday was soon going to happen, and I wasn't ready for it. Even the day before the party, I just wasn't ready. I think in the future when we decide we'll be throwing a party for Bella, I will start planning in the summer. Believe me!
5 Easy Swaps for a Tad Bit Cheaper Birthday Party
If you find yourself in a tough spot (job loss, medical bills, etc.) come birthday time for one of your kids, you might feel like throwing a fabulous party just isn't possible. You can still have a ton of fun without spending lots of money. Instead of using a credit card to "afford" your party (and then paying even more for all that stuff because of interest), use some of these easy swaps to make the party just a tad cheaper.
Email Invites
The first swap that you should consider when throwing a party on a $0 budget is inviting everyone by email, phone or in-person. Mailing tangible invitations can run your budget through the roof, especially if you consider that stamps alone are just shy of 50 cents each. Evite has a fabulous selection of FREE invitations that you can customize and send through email. If you aren't ready to ditch the snail mail invites quite yet, maybe you could make your own invites.
For both of my daughter's first birthday parties I made the inviations in PicMonkey. I actually sent the invite through the mail for Sofía's party, but for Bella's party I just sent it through email.
Make the Cake
I would have loved to call up a cake decorator to make a custom cake for my Bella. I probably would've blown my budget on this one part! I decided against this, obviously, and made a smash cake for her that cost less than $4. I also made cupcakes instead of a big cake for everyone to eat. I just used a box mix and frosting from the can. I know I could've made both from scratch, but I knew I wasn't going to be able to do it all.
Give Small Prizes and Treats
Party favors might feel like a burden when you can't even buy a cake for the birthday boy or girl. I would love to buy little trinkets and candies and wrap them up in cellophane and promptly hand one to each child as they leave the party. That is a dream right now. To keep within budget, though, I decided to give one package of fruit snacks to each child and give one tub of cotton candy as a prize for our Cupcake Decorating Contest.
Give Useful Handmade Gifts
Ah, the gifts for the birthday kid. As a parent, I really do want to give my children the world, but it's just not possible. I also don't want them growing up thinking that they deserve this or that just because they aged. I always received great gifts growing up. My husband, on the other hand, grew up getting nothing for his birthday. I think we both turned out just fine, but I see the biggest problem with the "give-me" kids over the kids who have very little.
That's why for Bella's birthday I got supplies to do sensory bins. This is a gift that will help keep her occupied for much longer than a normal toy. It will also help her learn through her senses. I definitely prefer to give my kids handmade gifts over toys.
Do a Contest as the Activity
The cupcakes turned into my most genius idea yet. Instead of buying Pin-the-Tail on the Donkey or a piñata, I just used the cupcakes for a Cupcake Decorating Contest. It occupied the kids and the adults for the majority of the time. We were happy to be able to use our creative sides that day! You could also just play Duck, Duck, Goose or Ring Around the Rosies for a toddler party.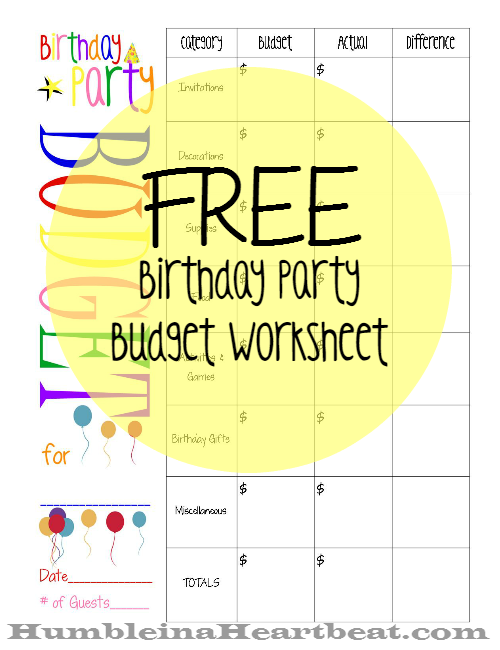 Since sticking to a tight budget for a birthday party is tough cookies, I made a nice little birthday party budget printable for you! Download it now.
Party Cost Breakdown
Food
Pineapple juice: $1.28
Cake mix (2): $2.00
Frosting (2): $2.00
Ingredients for cake mix: $1.70
Ingredients for smash cake: $3.70
Chips: $2.00
Salsa: $2.50
Candy and goodies to decorate cupcakes: $8.00
Decorations & Supplies
Streamers: $3.00
Balloons: $2.00
Tablecloth: $1.00
Napkins: $2.00
Cupcake liners: $2.50
Gifts
Sensory bin stuff: $7.00
Party favors and prize
Fruit snacks: $3.00
Cotton candy: $1.00
Total cost $44.68
Even though I spent less than my guest blogger, Erin from It All Matters Mom, last month, I don't count it as beating her (see her guest post HERE). She actually gave her daughter some fabulous gifts by shopping yard sales. I just don't go to yard sales, but I think I'll start doing that this year!
Have you ever had to throw a party with very little money?

Latest posts by Charlee Flaminio
(see all)