This is a guest post from Erin Kelly at It All Matters Mom.
My oldest daughter just celebrated her third birthday.
In the months leading up to it, she kept talking about having a butterfly party. Since she's so cute, I had to oblige.
I also had to find a way to do it on the cheap. I love a good challenge and I love saving money.
Her little sister had celebrated her first birthday a couple of months before and we served a meal before her party. It was a lot of work and I didn't want to do that again. I decided that for the butterfly party we would do ice cream and cake to save money … and my sanity.
Here are my top three ways to throw a great party for under $50:
1. Buy decorations/supplies at a dollar store
I found a lot of cute decorations at Hobby Lobby, but they cost a lot more than I was willing to spend. I understand the pull of wanting to have the cutest, prettiest party, but in the end, all they want is some cake and presents and not a Pinterest explosion. I am the queen of finding good deals and stretching a dollar, so this party wouldn't be any different.

My first stop for affordable decorations was at The Dollar Tree. Let me tell you, I hit the jackpot. They had an entire section full of butterfly birthday-themed items. I loaded up on hats, party blowers, banners, cups, etc. Everything was a dollar and it was cute! They even had butterfly invitations. Now, being a graphic designer and always designing their birthday invites, this was kind of a hard purchase for me to make. But, I knew it would be one less thing for me to do, so I bought them.
(Buying/mailing invitations was an additional cost I don't normally have for the girls' parties. Designing their invitations is free and then I send out the invitations by email. It saves on buying the invitation and postage.)
They had a lot of great party decorations for boys and girls with a lot of different themes. If you are getting ready to have a party, this should be your first stop. They have all of your basic supplies, such as plates, silverware, cups, streamers, balloons and so much more for only a dollar. You also get more pieces in each package than you do at Walmart for similar items.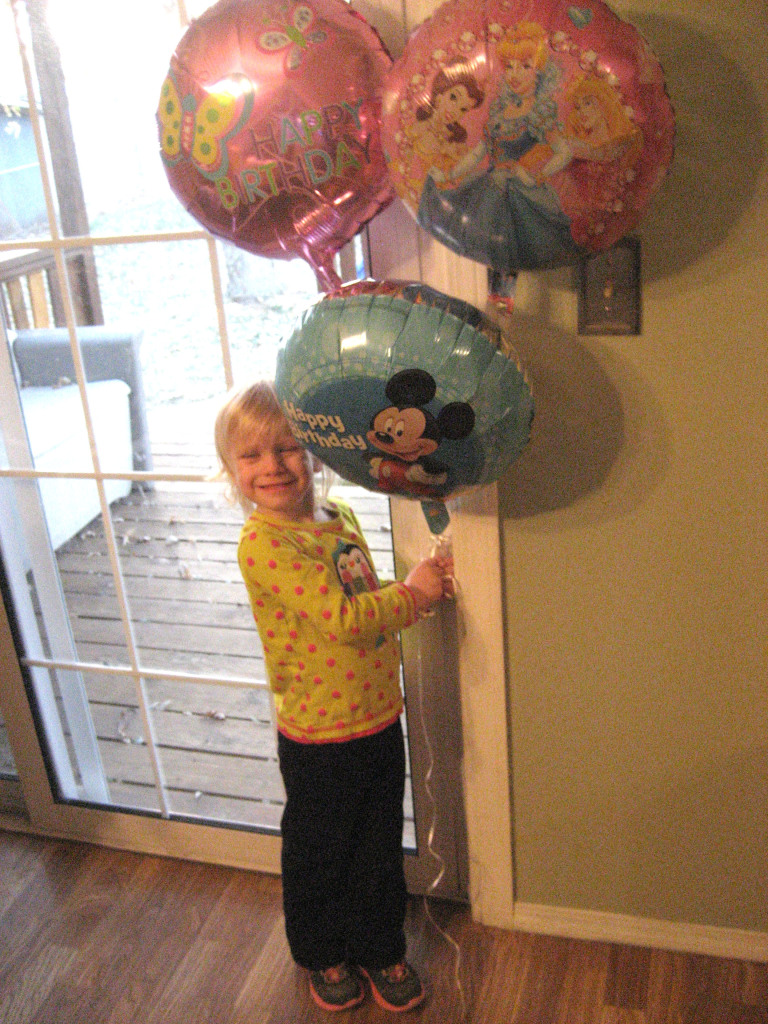 One of my favorite things about The Dollar Tree is their selection of helium balloons. They have a wall full of great choices, and again, only for a dollar. A couple days before her party, she and I made a trip back to let her pick out three balloons. It was so cute watching her scan all the balloons and pick out just what she wanted. She ended up with a butterfly one, a Mickey Mouse one and a Cinderella one.
Everything doesn't have to match. She loved the experience of making her own choices and she will be playing with those for weeks. It was well worth the $3.
2. Buy food on sale long before the party
Watch for sales. Most things will keep for a while, so if you're looking to pinch some pennies, keep your eyes open for deals ahead of time. I knew we would be having 25-30 people at our house, so I needed to keep costs down.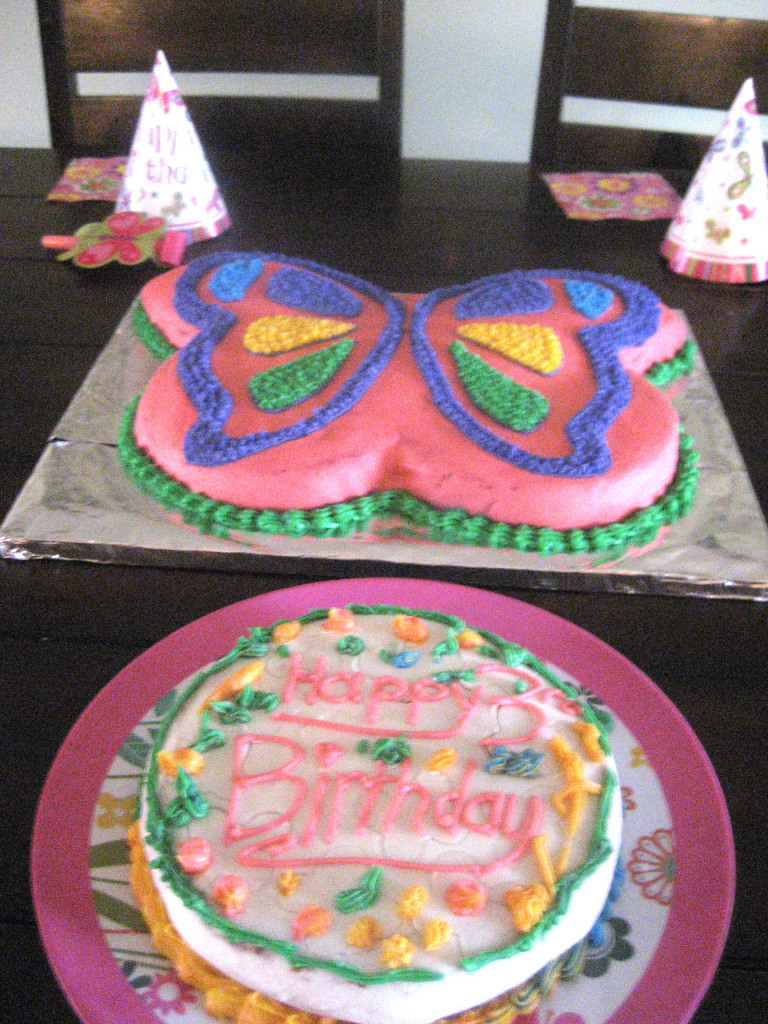 I made my daughter's cake. Cake mix is so cheap, plus I enjoy trying my hand at decorating. My mom is a crazy awesome cake decorater, so she is my go-to resource for all things cake. She let me borrow a cake pan shaped like a dove. The wings were a great shape for a butterfly, but it needed something for the bottom. I made two, 8-in. cakes to help finish off the butterfly and so it would feed more people.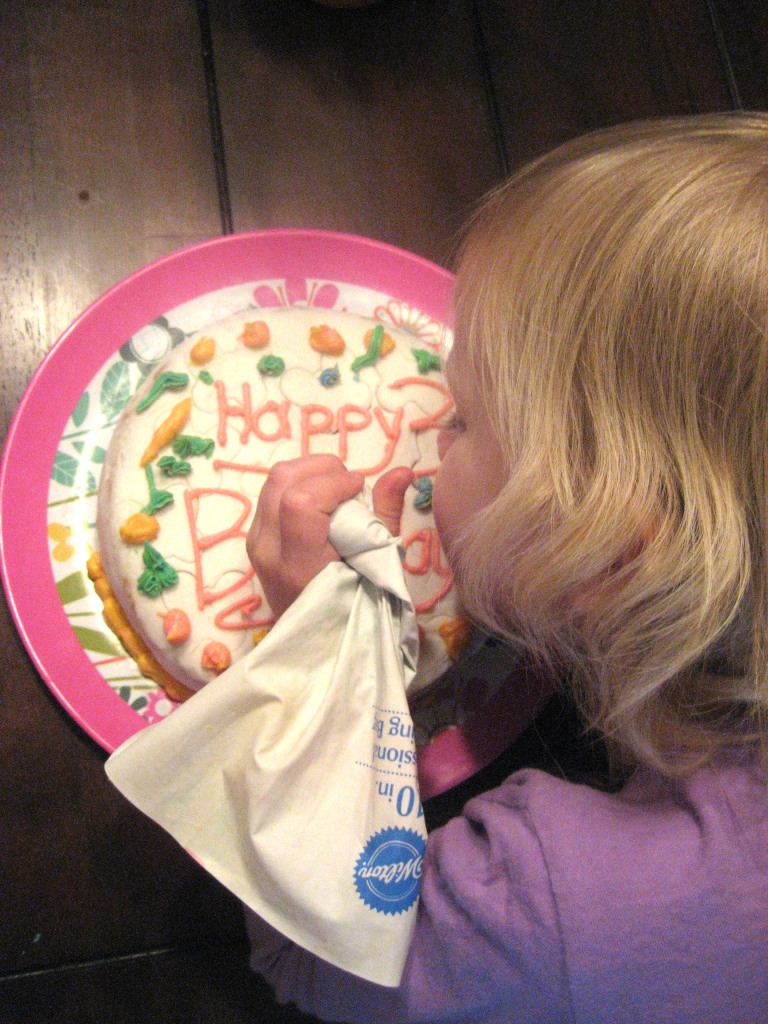 I cut one 8-in. cake in half and placed the pieces onto the bottom of the dove cake. It made the perfect butterfly shape — thank goodness. I let my daughter decorate the second 8-in. cake herself. She had a ball squirting frosting all over and she was so proud of herself. It was fun for both of us. We couldn't have experienced that if someone else had made the cake.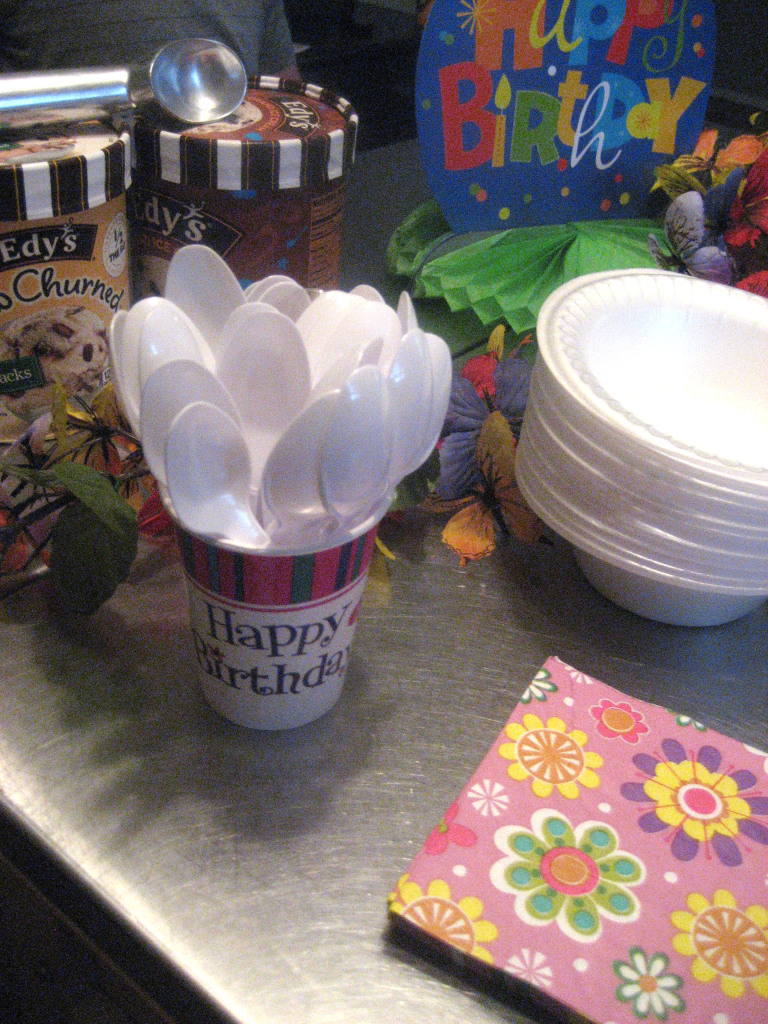 I found ice cream, cake mix and powdered sugar on sale a couple months before her party. I had to remember to tell my husband that the ice cream was off limits. I also had to remind myself.
I love pop, but buying a lot of varieties to please everyone can add up quickly. I already had some strawberry-watermelon lemonade mix and it will last long past the party. I liked that it was pink to match the decorations as well. As long as you have something for your guests to drink, they'll be fine.
3. Buy gifts at garage sales, thrift stores and end-of-season sales
Some of you may cringe at this, but please hear me out! You can find new (yes, brand new) or barely used clothes, toys, books and so much more at garage sales and thrift stores and save a ridiculous amount of money. My 3 year old didn't care that her Candyland game came from Goodwill. I was excited to find it because it looked brand new, and why would it matter if that game was missing a card?
Her books came from a garage sale and look brand new, and I love giving books as gifts. I found a pair of brand new shoes at another garage sale for 25 cents — 25 cents! And she loves them. They are colorful, glittery and oh, so adorable. I did buy a couple of things from a department store. Our local Kmart was closing earlier this year, so I waited until a few days before they closed and then stocked up on clothes since they were 80 percent off. I knew it was a great way to save money by planning months ahead. One of her birthday presents was a shirt, jeans and a puffy vest for $5 (originally $25).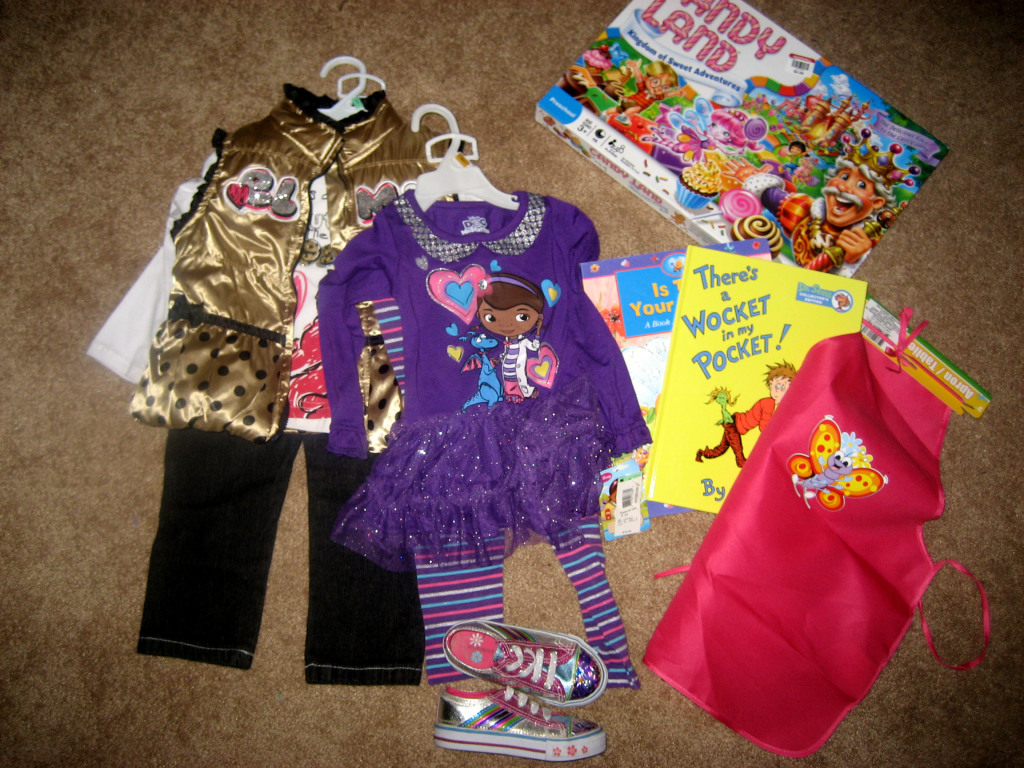 I found her a birthday shirt and some butterfly pants months ago when Children's Place was having a big end-of-season sale. They were perfect for her party. I didn't have to get her a birthday outfit, but I didn't feel bad spending an extra $3.20 for things she would continue to wear (and that her sister could wear someday).
By planning ahead and keeping things simple, we were able to give my daughter an adorable butterfly party that she absolutely loved.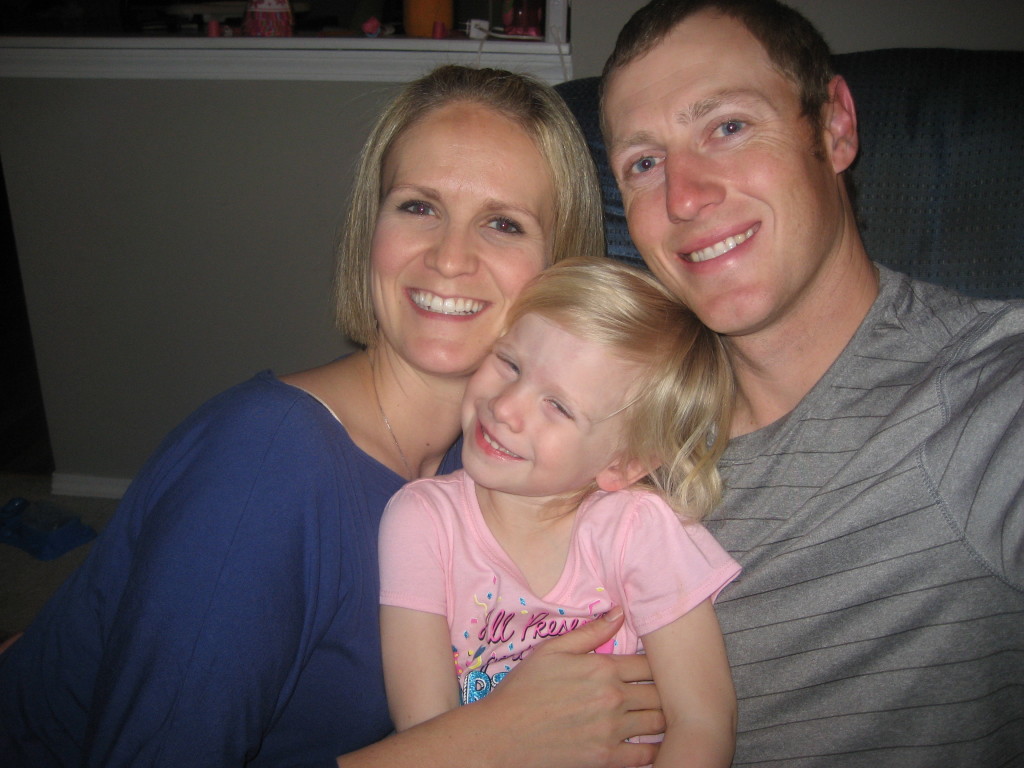 I didn't break the bank and I kept everything in perspective. The most important thing about the party was my sweet girl. That's all the mattered in the end. It's not the decorations, the food or expensive toys that make their day special: it's the people there that show them love. Keep it simple and you'll be sure to keep your sanity, as well as extra money in your pocket.
Party Cost Breakdown
Food
Ice cream (two for $2.78 each): $5.56
Cake mix (two for 87 cents each): $1.74
Powdered sugar : $1
Total: $8.30
Decorations and supplies
Bowls $1
Card: 50 cents
Cups (two packages for $1 each): $2
Invites (two packages for $1 each): $2
Party hats: $1
Napkins: $1.25
Happy Birthday banner: $1
Balloons (3/$1 each): $3
Party blowouts: $1
Flower plate: $1
Birthday outfit ($1.60 each at Children's Place): $3.20
Stamps for invitations: $9.80 (It pains me to see that written out!)
Total: $26.75
Gifts
Elmo outfit (shirt, jeans and vest): $5
Doc McStuffins outfit (pants and shirt): $3.40
Apron: $1
Books (2/25 cents each): 50 cents
Candyland: $3
Shoes: 25 cents
Total: $13.15
Already had/donated
Plastic spoons
Large, hanging butterflies
Lemonade mix
Butterfly garland
Butterfly magnets
Total: FREE
TOTAL COST OF PARTY: $48.20
What are some of your favorite ways to save money for birthday parties? Have you tried any of these ideas?
Erin is a wife, stay-at-home mom to two spunky girls and a Christ follower. She writes about faith, homemaking, recipes and saving money, all sprinkled with a bit of humor.
Follow Erin:

Latest posts by Charlee Flaminio
(see all)