I'm one of those stay-at-home moms that likes doing things the old-school way, like cloth diapering and making baby food. Makes sense then that I couldn't help myself when I heard about baby sign language the first time. My baby was going to learn it and we were going to communicate before she could ever talk.
So when Sofía, my first, came around, I put a lot of energy into teaching her baby sign language. She was ahead of the game and said a lot of words before she ever did her first sign. Baby sign language was still super helpful to both of us. Sofía was lucky because she had my undivided attention when I was teaching her baby sign language. I was actually able to intentionally sign with her on an almost daily basis.
Bella, unfortunately, has gotten the brunt of pretty much everything. I rarely use signs with her, unless they are signs that Sofía still uses, like "eat," "food," and "more." Life with two kids so young has definitely taken a toll on my brain and my ability to teach my girls everything I would like.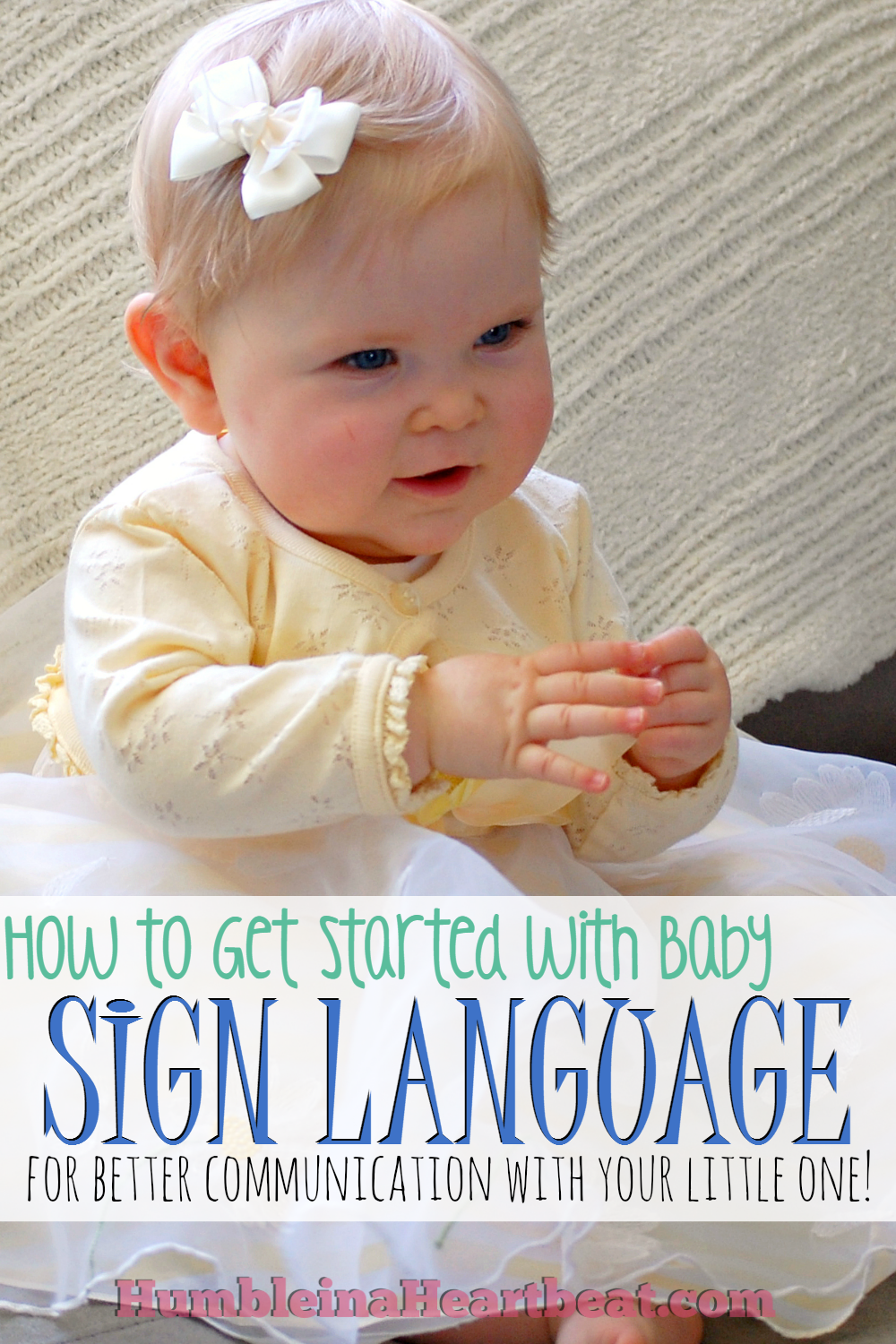 Disclosure: This post contains affiliate links. If you click on one of these links and you make a purchase, I will receive a small commission from your purchase.
Benefits of Baby Sign Language
In my experience, even though teaching baby sign language is fairly simple, it delivers huge results. I would daresay that my Sofía was an early talker partly due to the fact that she learned baby sign language (and Spanish, too!). Well before that first sign, though, she was saying a lot of different words. Once she started signing, the two worked hand-in-hand and she took off signing and talking about everything she laid eyes on!
Do I have to Take a Class to Learn Baby Sign Language?
Of course I couldn't have done baby sign language without learning it myself. I just used a couple of great resources (that I'll talk more about below) when I started. I know there are baby signing classes in different parts of the country, but they aren't necessary.
Learning baby sign language is nowhere near as intimidating as learning a foreign language (believe me, I've tried learning two of them with little success). Baby sign language often uses the exact same signs or very similar ones as those used in American Sign Language. Therefore, if you want, you could naturally take baby sign language and let it flourish into a second or third language for your child.
When Should My Baby Start with Baby Sign Language?
You can start signing from birth if you'd like. Families that are all hearing-impaired, for example, obviously teach their babies sign language from the get-go because that's how they communicate. The recommended age to start is around 6 months. I started signing to Sofía at 5 1/2 months, but she didn't sign back until 10 1/2 months. The first sign I used was zebra because she had a cute zebra rattle, but I recommend starting with very basic ones like "milk," "eat," or "dog." Those are ones you'd use on a regular basis anyway.
The BEST Baby Sign Language Resources
There are so many great resources out there if you want to learn and teach baby sign language. These are a few of my favorites:

Baby Sign Language Basics
When I wanted to get started with baby sign language, I got a few books from the library. The one book that helped me launch my baby signing foray, if you will, was Baby Sign Language Basics
. Not only does it teach you plenty of signs, it also teaches you how to use baby sign language on a daily basis. I recommend this book not for the signs it teaches but, instead, for the valuable information that you can learn if you are just starting or if you're on the fence about signing.
Baby Signing Time DVDs
The best resource, hands down, that we have used since Sofía was 6 months old was the Baby Signing Time DVDs
. I was able to get them from the library and also borrow them from my sister on a semi-regular rotating schedule. Boy, did Sofía enjoy those DVDs. Bella also cannot wait for Baby Signing Time to start. It's the sticking around that she is having a hard time doing. 😉 She crawls away (usually behind the TV to play with the cords and such) less than 5 minutes into it if I leave her on the living room floor to watch by herself.
I think the biggest reason why Baby Signing Time is a huge hit for my girls is because of the music. The songs are so engaging and there is a great mix of cartoon and real-life in them. Check out the Signing Time! YouTube channel if you want to quickly see what they're all about.
YouTube Videos
If you can't afford Baby Sign Language Basics or Baby Signing Time or they're not available at your local library, you can also watch videos on YouTube that might be just as effective. In fact, My First Signs from Baby Einstein features Marlee Matlin (probably the most famous hearing-impaired actress). This particular video is great for babies to watch since there is a lot more than just signing happening. Here are some other channels and videos from YouTube that I think could prove useful:
Sign Language Songs from pattyshukla (link no longer available)
Websites
A quick search for "Baby Sign Language" on Google comes up with a lot of different websites. I didn't rely on any of these websites for learning and teaching except for a few times. Let's talk about the ones that could be the best resources.
I have used BabySignLanguage.com (which is the 1st result on Google) for the purpose of searching for specific signs. The specific signs I wanted to know were "orange," "cookie," and "cow." The videos are not intended for your child to watch. Instead, it is for you as the parent to learn some signs and then teach them to your child. It's actually a great idea if that's the route you want to go. Your child doesn't need to watch videos to learn baby sign language. The dictionary of words on this website is pretty extensive and easy to search.
I also like BabySignLanguage.net because it is the website for the book Baby Sign Language Basics.
Baby sign language is a wonderful way to start communicating with your child at a very young age, whether she starts speaking early on or not. There are plenty of free resources you can find through the library or online and it doesn't require years of practice to "speak." So get signing with your baby today!
What is the first word you'd want your baby to sign?

Latest posts by Charlee Flaminio
(see all)