Over the last seven years, since I started grocery shopping for myself and my family, I've noticed one very harsh reality: the cost of cheese is going up and I don't see it coming back down.
*UPDATE 6/17/2015: It's coming down!!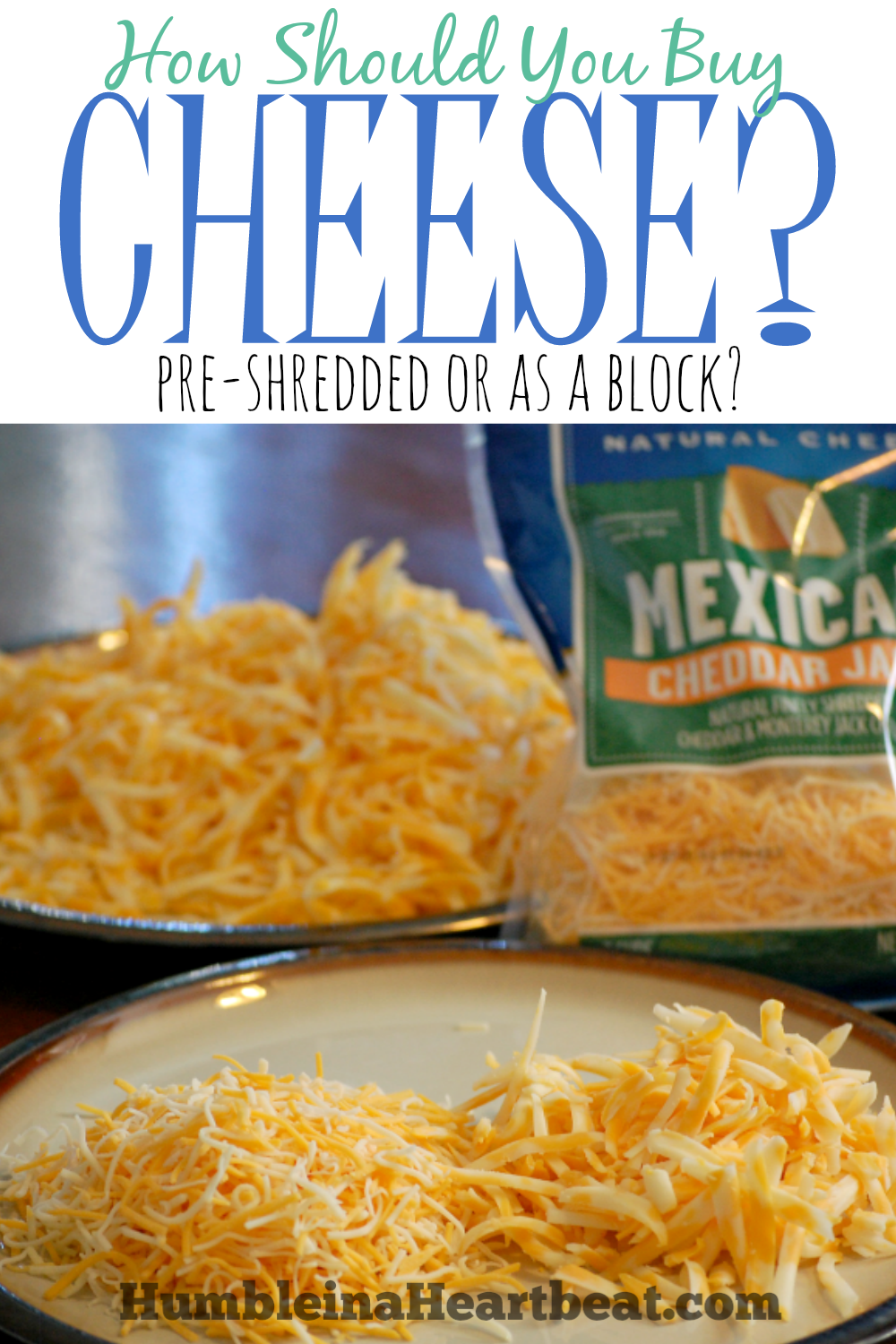 [AdSense-A]
I like cheese. I like to use it in my food. I like to bite into a fresh slice of pizza and see the hot cheese stretch. I know it's not great for me, but I've gotta have some luxuries when I'm eating.
So I got to thinking lately, why don't I compare the cost of a block of cheese, which you will likely shred or slice at home, to a bag of pre-shredded cheese? I hate it when I think I'm saving money and then find out months or years later that it would have been better to do the alternative because I actually wasn't saving money.
Are you onboard? Ready to compare cheese and see if you've been saving money this whole time?
Great!
Details for Comparing Cheese
Over the past two months, I've been collecting prices from the grocery store most times I've been shopping. I have tried to get prices for various sizes, brands, and types of cheeses.
Here are some details that you will want to know to get the whole picture:
Stores I went to: WinCo, Walmart, Costco, and Smith's
Brands I compared: Kraft, Cheswick, WinCo, Tillamook, Cache Valley, Great Value, Sargento, Kroger, Kirkland, and Precious
Types of cheeses: Colby Jack, Monterey Jack, Cheddar, Mozzarella, Colby and Monterey Jack, Swiss, and Mexican Blend
Sizes (with approx. cup measurement): 6 oz. (1.5 cups), 8 oz. (2 cups), 16 oz. (4 cups), 32 oz. (8 cups), and 5 lbs. (20 cups)
Keep in mind, I did not compare every single cheese at these stores. I selected a few, randomly, and went from there. I didn't want to spend all day at the store, especially with my daughters.
Now that you know all the details, I think you can understand my comparison a bit better. Let's start comparing to see whether a block of cheese or a bag of pre-shredded cheese is cheaper!
Pre-Shredded Cheese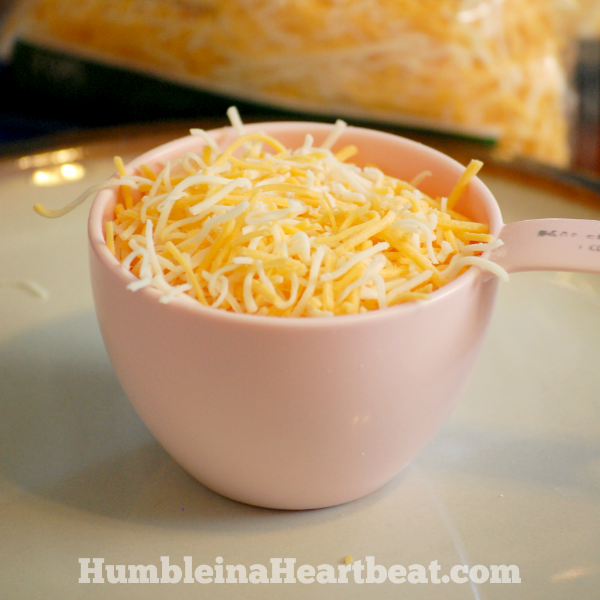 We'll start with pre-shredded cheese: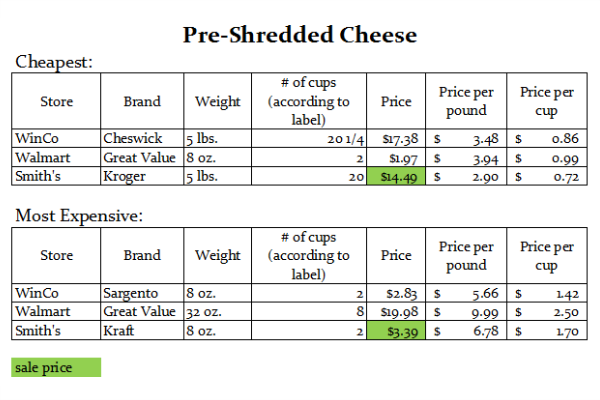 As you can see, the prices vary from as low as 72 cents per cup all the way up to $2.50 per cup.
A Block of Cheese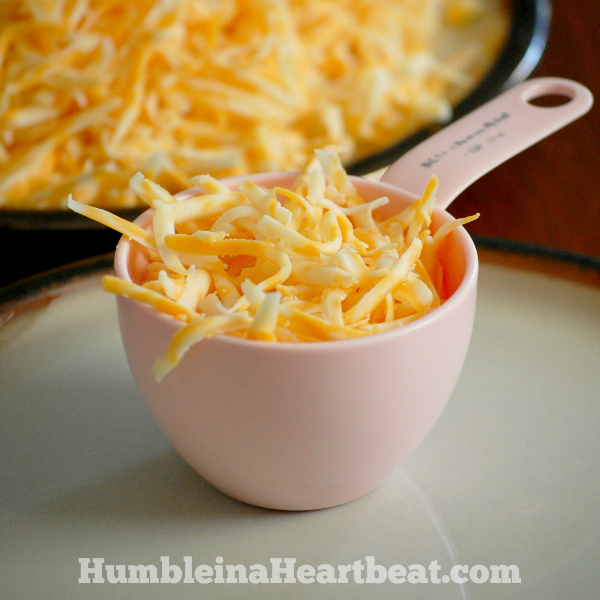 Now for the block cheese: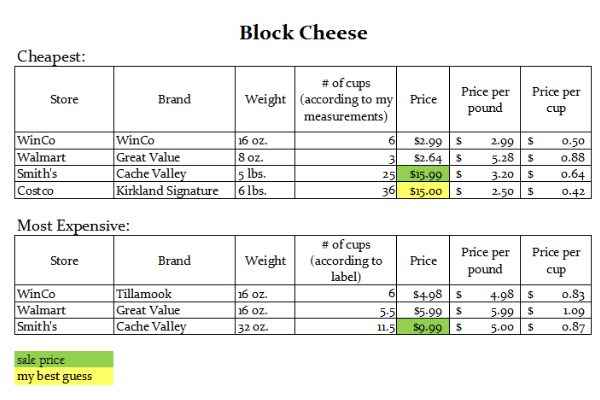 The price for block cheese goes from 42 cents per cup to $1.09 per cup. I had to guess on the price for the Costco cheese because I actually didn't go to the store and buy it. My brother-in-law bought it and I forgot to get the price from him.
I'm thinking I like the price of block cheese a whole lot better than pre-shredded. I'm glad that I could confirm my previous actions actually were correct. 🙂
Ok, now let's back up for one tiny second. I compared the price per cup according to what the package stated for the pre-shredded cheese. For example, I bought a package of Mexican Blend cheese that said there were 2 cups. But…I decided to buy it and measure it for myself. Lo and behold, there were actually 3 cups. That means that the price of the pre-shredded cheese actually goes down. So let's go back to the pre-shredded cheese and see what the price range is now. Every 8 oz. is now 3 cups instead of 2.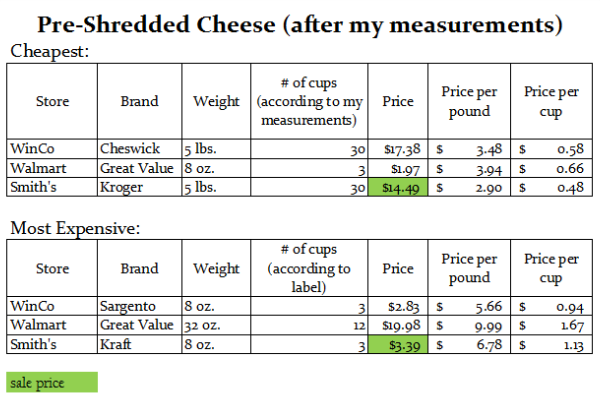 As you can see, the cost of the pre-shredded cheeses went down significantly factoring in the new measurement. The price range from cheapest to most expensive is now 48 cents per cup to $1.67 per cup. That's a huge change! You might also notice, and I didn't set out to do this on purpose, that Walmart has the most expensive cheese.
Things to consider when buying a block of cheese
• You need to have a grater at home if you want grated cheese
• It takes time to grate cheese
• You could accidentally cut your finger or your nails while shredding
• Trying to open the package can sometimes be a real pain. Until you finally decide to get the scissors out. 😉
• You can actually shred it yourself and freeze it
Things to consider when buying pre-shredded cheese
• It's a wonderful time-saver
• There are more ingredients than just cheese (see THIS and THIS article)
• It doesn't clump together like it does when you shred your own (thanks to the extra ingredients)
• The texture is very different from cheese you grate at home
So which should you buy? Block or pre-shredded?
According to my cost comparison over the past two months, this is my conclusion.
Price range for pre-shredded: 48 cents per cup to $1.67 per cup
Price range for block: 42 cents per cup to $1.09 per cup
If you go by the measurements that I got from measuring out the cheese at home, it looks like pre-shredded cheese is only a bit more expensive (on the low end) than block cheese. I was not expecting that!
Savings Over Time
Ok, so over a year's time, how much could you save? Let's say that you need about 6 cups of cheese per week. That means you need about 16 oz. (or 1 lb.) per week.
Pre-Shredded Cost
If you were to buy pre-shredded cheese all year, this is the price you would expect to pay (let's assume you purchase the most expensive):
At $1.67 per cup, you would pay about $10.02 per week for your cheese. After 52 weeks, you would have shelled out $521.04.
Block of Cheese Cost
Now, if you decided to shred your own and buy block cheese (again, the most expensive), you could expect to pay:
At $1.09 per cup, the cost per week for your cheese would be $6.54. For a year the cost would be $340.08.
So the price you pay one week to the next really makes a huge difference. I think I prefer to pay $180.96 less!
I wish I knew the exact price of the cheese at Costco, but I still think it will be the cheapest price of all. I might have to start buying all my cheese there! It would only cost $131.04 per year if I needed just 6 cups per week.
I do know that I won't be buying cheese from walmart anymore. Isn't the Great Value brand supposed to be their cheap brand?
Do you normally buy block or pre-shredded cheese? Was your decision on what to buy in the past solely based on price?
Linked to: Thrifty Thursday and Way Back Wednesday

Latest posts by Charlee Flaminio
(see all)