Before I got married I could focus almost 100% on my own needs. That meant that I had plenty of time to journal, so I have lots and lots of memories captured through written word. Once I got married, I got into a serious slump and have written very little over the years. That's why I'm so so grateful for cameras. I know that pictures don't tell you the whole story, but whenever I look at a picture I can usually remember other things that happened that day. It's seriously beneficial to always be taking pictures because I never get around to writing memories anymore.
Which is why I have always loved making photo gifts for my parents, my mother-in-law, my husband, and now my daughters. I try to always get pictures ready at the end of November to make some kind of photo gift for loved ones. Over the years I've made calendars, DIY tile photo coasters, little books, canvas prints, and photo books.
Disclosure: This post contains affiliate links (I've put a * by any link that is an affiliate link). If you click on one of these links and you make a purchase, I will receive a small commission from your purchase. Thank you for supporting Humble in a Heartbeat!
Photo Books by Blurb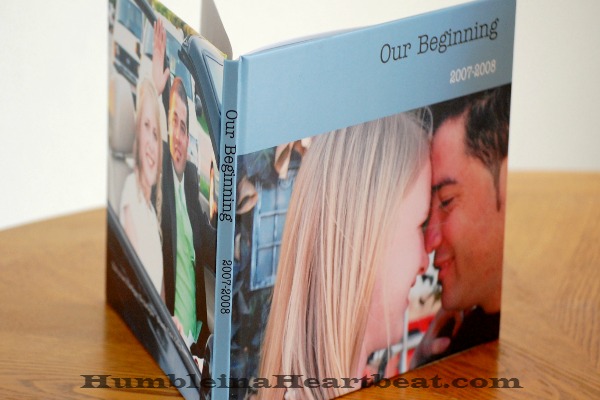 Of all the photo gifts I've made, my favorite are the photo books because you can tell a story. You can add words to any photo book so that the pictures don't have to be the only storyteller.
I have always wanted to make photo yearbooks for my little family, but I just never sat down to do it. Fortunately, with the help of Blurb* and my basic photo organization series here on the blog, I got motivated and made my first family yearbook for 2007-2008. My husband and I met in 2006, but I don't have any pictures of us until 2007 when we got engaged. I plan on making one yearbook as a gift for anniversaries, Christmas, and birthday. That means I better get a start on the yearbook for 2009 so I can give it to my husband for our 7th anniversary at the end of May!
The 2007-2008 yearbook was my husband's only gift for his birthday this week. He doesn't like presents, but he always appreciates any gift that has photos!
5 Motivators for Making Photo Books for Your Family
If you are having trouble finding a reason to make family yearbooks, you definitely need some motivation. Whenever I make a photo gift, especially a photo book, I always think of these motivators because it's not exactly easy to just hop on the computer and start making a photo book.
You never know when a disaster could wipe out your pictures, whether on the computer or in a box in the basement.
These books will be cherished for years to come by all members of your family. Who knows, they might even be a great source of information for your ancestors!
It's an easy way to give guests a more detailed story of your family.
They can be great storytime or bedtime books to help kids remember things or talk about what happened before they were ever born.
Before you start making the books, you will have more reason to delete pictures on your computer and organize your photos.
Bonus motivator: Photo albums are so last year.
Even if you have to spend $50 to make your photo book, it's better than spending $50 on a coffee table book that nobody ever looks at!
Remember to go through a site like Ebates (referral link) or Giving Assistant first before you go to the Blurb* website so you can get some cash back! If you're new to Ebates, you get $10 when you sign up and make your first purchase. Giving Assistant doesn't have cash back available for Blurb right now, but you can find a code to save some money through them.
Going on right now at Blurb, you can get 35% off all Blurb books with the code MAYFLASH35. Find out more here: Blurb Flash Sale*.
I appreciate you taking the time to read this post. You are more than welcome to like my page on Facebook or subscribe to my weekly newsletter via email!

Latest posts by Charlee Flaminio
(see all)